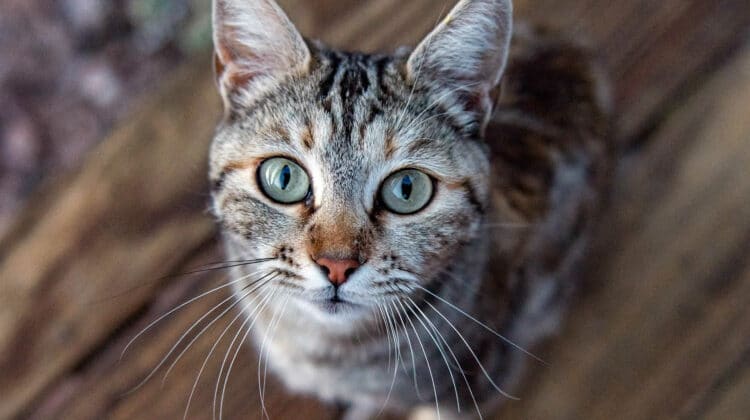 Many owners come to me with the same question: Why does my cat randomly meow? Cats only meow to communicate with people. They don't meow to other cats or other animals. Therefore, a cat meowing wants one thing: your attention!
The reason why your cat wants your attention is much more challenging to figure out. Your cat might want to be petted, let outside, or for you spend time playing together. Cats also meow when hungry, stressed, lonely, sick, or looking for a mate. How can you possibly tell what your cat is trying to communicate?
In this article, I answer this crucial question to help you better understand your kitty. I give you ten reasons your cat meows randomly, clues to figuring out the meaning, and tips on what to do to fulfill your cat's noisy requests.
Why Does My Cat Randomly Meow?
It can be confusing to hear your cat meow at nothing, meow excessively, or meow more loudly than usual. However, these random meows are never truly random. They all have their purpose, and your cat is likely trying to communicate one of the following things:
1. Confusion from Old Age
Random meows are common in senior cats when their cognitive function starts to decline, known as feline cognitive dysfunction (FCD). FCD is sadly a normal part of aging, causing cats to become confused and disoriented.
It affects more than 55% of cats aged 11 to 15 and 80% of cats aged 16+.
Confused kitties meow more than usual, crying out at seemingly ordinary situations. They often vocalize more at night when left alone in a dark and confusing place. Other signs your cat has FCD include issues with learning and memory, spatial awareness, and behavior, such as:
Eliminating outside the litter box despite being trained
Being unable to recognize familiar people and pets
Staring off into space and meowing at nothing
Wandering around your home aimlessly or getting lost
Less likely to explore their surroundings or self-groom
Seeming restless and agitated
2. Disease or Injury
Disease and injury both cause cats to meow more than usual. These vocalizations are in response to the symptoms your cat is experiencing. They might be meowing to tell you they are in pain, hungry all the time, or dealing with extreme thirst; this all depends on the underlying injury or disease.
Many cats make weird noises when sick, especially if they're suffering from a respiratory condition. These felines may have a weak and raspy meow. On the other hand, urinary conditions are more likely if your cat meows loudly after using the litter box, as these issues make it painful to urinate. Hyperthyroidism and kidney disease are also known to cause excessive meowing.
My best advice would be to look for other symptoms that could indicate your cat is suffering from a medical condition or injury. Cats always try their best to hide pain, so you might have to look for subtle signs like a change in cat sleeping positions when sick.
3. Meows as a Greeting
My cat always meows at me first thing in the morning and whenever I arrive home from work. She also does the same to my partner, meowing as soon as he walks in the front door. This is not a sign of old age or disease; it's my cat's way of greeting me.
Does your cat meow so much in the morning or when you arrive home? If so, they're probably just saying hello and expressing their excitement to see you. Some cats even do this when you see each other in the house. It might seem random at first as there is no instant need that you must fulfill, but it shows your cat loves you lots – aww!
4. Asking for Food
Most cats meow for food, begging you to fill their bowl up. When this happens around mealtimes, it is pretty apparent what your cat is asking for. However, some cats meow randomly every time someone walks into the kitchen, hoping that they will get a treat or a few more biscuits in their bowl.
Is your cat always begging for food? It can be tempting to give in if your cat is always hungry and meowing, topping up its food bowl so that you can have some peace. But this is the worst thing you can do! This teaches cats that meowing is rewarded with food, causing them to push your buttons more and more.
If you've always given in to their hungry calls, their random meows could be them asking for more food – even if you've just served up dinner.
5. Feeling Lonely
Cats are considered extremely independent creatures, but they still get lonely. All cats need love, attention, and enrichment. If your cat spends too long alone each day, this could lead to separation anxiety and result in random meowing.
Unfortunately, separation anxiety is common in cats. Around 64% of cats are attached to their owners; when these cats don't get the attention they need, they quickly become anxious. Excessive meowing and vocalizations are common symptoms, and your cat's meows will sound urgent and almost yowl-like. Other signs of loneliness and separation anxiety are:
6. Stress or Anxiety
Separation anxiety is not the only cause of anxiety in cats; other stressors can make your cat anxious or scared. Some stressors are obvious, such as moving to a new home or introducing a new pet to the household. However, some sensitive cats are stressed by tiny changes we humans may overlook, such as:
Changes to your cat's feeding schedule
Moving the furniture around or redecorating your house
Changes to your schedule, such as getting up at different times in the morning
Being stroked or handled in a way they don't like
A new cat in the neighborhood infringing on their territory
Cats meow when stressed, communicating the issue to you. However, these might seem random and unsolicited if you're unaware of the stress triggers.
The best way to identify if this is causing your cat's vocalizations is to look for other symptoms of stress. When they feel their territory has been compromised, you might see your cat rubbing against everything. Stressed cats are also more withdrawn, less tolerant of people, hide more than usual, and exhibit destructive behaviors.
7. Asking to be Let Out
My cat always randomly meows at night to be let outside. This might seem a random time for your cat to want to go and explore. After all, it's the middle of the night! However, cats are crepuscular creatures that are most active at dusk and dawn. This is the prime time for them to hunt.
Cats also meow to be let back inside once they're had enough fun exploring the outside world. Sometimes, my cat likes exploring for hours, whereas other times, she wants to come in almost immediately. This makes her requests for me to open and close the door unpredictable and random.
If an interior door in your home is closed, your cat may also meow for you to open this. Does your cat go into another room and meow? They probably want you to follow them! Other cats meow even if they don't want to go into the blocked-off room; they just don't like seeing the door closed.
8. Finding a Mate
Female cats yowl when in heat to be let outside, and the symptoms of heat are pronounced. Aside from their loud meows, females are restless, extra affectionate, and groom excessively. They also crawl low and close to the floor while raising their tails and sticking their butt in the air. Their meows won't be random – it's pretty clear what's happening.
However, male cats don't go through heat cycles. Once they have reached maturity, they are constantly active and able to mate. Therefore, their mating calls are much more random. Male cats randomly meow loudly when they detect an active female nearby, which can happen anytime!
If you want to stop your cat's mating calls, your best option is to neuter your cat. This is usually done in kittenhood, but it's never too late to neuter a cat. A female cat after spaying won't go through heat cycles, and males won't want to mate, so their loud vocalizations should subside.
9. Petting or Playtime
Another reason my cat randomly meows is when she wants me to pet or play with her. As their needs for playtime and petting aren't as blatant as an empty food bowl or dirty litter tray, it can seem like these meows are random. However, cats have mental needs as well as physical ones.
Cats need quality time with their owners and won't be afraid to ask for more attention if they're not getting enough. Besides, the more you play with your cat during the day, the more tired they'll be. And a tired cat is a quiet cat! Quality playtime is also a great way of calming a kitten down at night if they're hyper and active when you're trying to sleep.
10. Agitation and Aggression
Finally, cats meow when agitated. If this is the cause, you'll hear your cat randomly meow loudly. These loud vocalizations are often accompanied by hissing and growling. Your cats will also show changes in body language, such as fur standing on end, ears flat against the head, and dilated pupils.
Some objects or situations are clearly agitating, so this change in behavior and vocalizations isn't surprising. However, redirected aggression is one of the most unpredictable and confusing forms of aggression in cats. This is where cats are frustrated by stimuli outside their reach, such as a bird outside the window.
Your cat will likely meow in frustration at the stimulus. As it is outside the home, it can be unclear what has got your kitty so agitated. If you approach your cat in this state, it can attack you! Keep a close eye on the other signs of aggression I've just mentioned. If you spot any of these, stay away from your cat until it's calmed down.
How to Stop a Cat Meowing Randomly
If you want to stop your cat randomly meowing for no reason, you need to realize that there is always a reason – you might just be unaware of what this reason is! Figure out what your kitty is trying to communicate, then use some of the tips below to help eliminate the behavior:
Install a nightlight for cats with FCD to reduce their confusion at nighttime
Speak to your vet about medication for FCD to help ease discomfort and confusion
Take your cat to the vet to get diseases or injuries treated
Stop feeding your cat when she cries for food to help break the begging habit
Purchase an automatic feeder so that your cat doesn't rely on you directly for food
Consider having a pet sitter come to look after your cat if you think it is lonely
Use calming collars for stressed cats to help them better manage stress
Provide plenty of hiding places your cat can retreat to when anxious
Where possible, identify and remove the stressor to stop your cat's anxious meows
Consider installing a cat flap if your cat is always meowing to be let in and out
Build an outdoor cat enclosure for your cat so they can safely explore the outside world
Have your cat neutered if your kitty is meowing to find a mate
Spend quality time with your cat each day if it is asking to be petted or played with
Use deterrents or pull down window shades to help remove fear-causing stimuli
MY FINAL THOUGHTS
As you can see, "Why does my cat randomly meow?" has many possible answers. In all cases, your cat is trying to get your attention and communicate something to you.
However, you must pay attention to the type of meow, their behavior and body language, and the current environment to figure out what this is. If your cat is elderly, they likely suffer from FCD. Other possibilities include hunger, mating, stress, aggression, loneliness, illness, or simply greeting you.
Even if your kitty's meows seem incredibly random, try to figure out precisely what is happening. Once you've worked this out, use the appropriate tips from the list above to help quieten your cat and ensure all their needs are met.