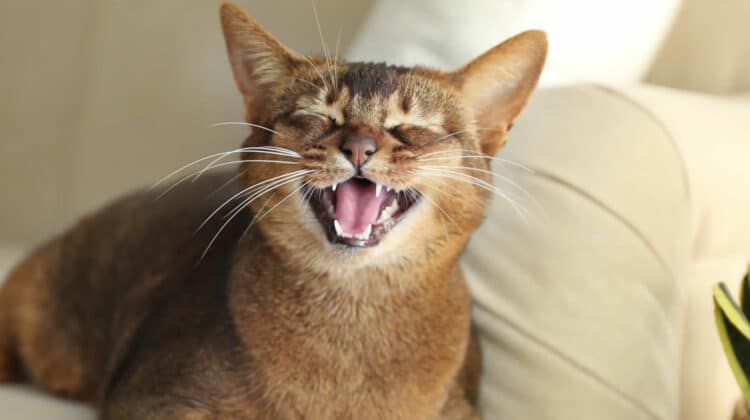 Lately, it's been impossible for me to get a good night's sleep. My cat has started waking me up every morning without fail. I'm grouchy and frustrated constantly! Why does my cat meow so much in the morning? Why can't she let me have a lie-in now and again?
This is a common question cat parents ask – no one likes being woken up early, even if it's by our favorite bundles of fur. Excessive morning vocalizations usually happen when your cat is hungry. I have recently invested in an automatic feeder that deposits meals throughout the night. Since using the gadget, my cat has remained calm and quiet at dawn.
Other reasons cats meow in the morning include seeking attention or comfort from their owner. Your cat might also meow as a morning greeting or because they've just had a bad dream! I discuss all these possible scenarios in this article and actionable solutions for keeping your cat calm and quiet, so you can finally get a good night's sleep.
Why is My Cat Meowing So Much in the Morning?
Cats are crepuscular creatures, meaning they are most active at dusk and dawn. Therefore, it is unsurprising that most cats are awake in the early morning. Some domestic cats adjust to their owners' sleeping schedules, but others never make the transition!
However, cats meow exclusively as a way of communicating with humans. Just because your cat is awake at dawn doesn't mean it should be disrupting your sleep. Your cat is asking for something through its excessive vocalizations, but what?
Here are five possible things your cat could be communicating through this behavior:
1. Your Cat is Hungry
The primary reason cats excessively meow in the morning is for food. They know that you feed them every day, and the only way for them to get breakfast is by waking you up! And unfortunately, many owners accidentally train their cats to exhibit this behavior.
When a cat meows for food in the early hours, most owners fill their bowls and sleepily return to bed. I used to do the same – it's the easiest way to deal with the situation! However, this teaches your cat that meowing gets them food, causing them to form a positive association. Your cat might meow earlier and earlier, becoming more and more disruptive.
Although challenging, you must ignore it when your cat is always hungry and meowing. Ignoring your cat's calls makes them learn this is no way to get food. Instead, feed them breakfast at the same time every morning or get an automatic feeder to do the dirty work for you.
2. They Want Your Attention
If you hear your cat asking for food but not eating, their morning meows might not be due to hunger; your cat might want your attention elsewhere! Perhaps they want you to let them outside, clean their litter tray, or show them some love.
For example, my cat meows loudly after using the litter box as a request for it to be cleaned. If you've neglected the litter tray, your cat could be asking you to sort out the mess. It's worthwhile keeping an eye on this behavior though, as it could also signify a urinary disease that needs veterinary attention.
Your cat's early morning meows may alternatively be their request for playtime. They're bored, having been left to their own devices all night, and want you to keep them entertained. Ensure you have at least one play session with your cat every day. I also have a selection of automatic cat toys I leave out at night that my kitty uses to keep herself entertained while I sleep.
3. Your Cat Had a Nightmare
Another reason your cat meows so much in the morning could be nightmares. Just like humans, cats fall into REM sleep and have dreams. There is no way for us to know what cats dream about, but most experts believe cats can have good and bad dreams just like we can!
If your cat has just woken up from a bad dream, it might seek comfort from its favorite human. This is comparable to how young children crawl into bed with their parents after a nightmare. It's a sure sign that your cat loves and trusts you.
If bad dreams are the reason for your cat's excessive meows, they won't feature every morning. Instead, their morning wake-ups will be more intermittent. Cats like it when you talk to them, so when they wake you because of nightmares, offer a few kind words and some cuddles to help your kitty drift back to sleep.
4. They're Saying "Good Morning"
Cats don't meow to one another; they only meow to communicate with people! If you hear your cat meow at the door in the morning, they could be greeting you. They know it is time for you to get up and are there to wish to a good start to your day.
In fact, cats thrive off routine and know what time things typically happen in your home. If your alarm usually goes off at 6 am, your cat knows this is your wake-up time. Fail to set your usual alarm, and your cat will be at the door, ready to ensure you're up on time!
I've found this pretty handy – my cat ensures I am always up when I should be, even if I forgot to set my alarm. However, it can be annoying when you want a lie-in on weekends. Remember, your cat isn't trying to be annoying, though. Cats hate changes to their routine and assume you feel the same way about waking up at 6 am without fail.
5. Your Cat is Stressed
Although unlikely, stress can cause excessive morning vocalizations. This is more common if there has been a recent change to your cat's environment or routine, such as rearranging the furniture or new people in your home. External changes, such as a new cat in the neighborhood, can also send your cat into a frenzy.
One way cats respond to stress is to become increasingly vocal. They are communicating their fear to you and asking for help and reassurance. Stressed cats also often mark their territory more, so stress is a real possibility if your cat keeps meowing and rubbing against everything. Other signs of stress include increased hiding behavior and appetite changes.
If stress is the cause, confining a cat to a room at night can help. This can give cats time to adjust to their new environment or get used to a new pet. However, confinement must be done correctly. Always ensure your cat has access to its essentials, or it can worsen the morning meowing!
How to Stop My Cat From Meowing in the Morning
When cats meow and wake up their owners, it is nearly always because they're after something. Usually, cats want their breakfast! But they might want a clean litter tray, some attention to ease boredom, comfort after a bad dream, or reassurance when feeling stressed.
Taking these five potential causes in mind, here are some solutions you can try at home. As I mentioned, I switched to an automatic feeder, which solved my early morning wake-ups. This could work for you, but you may need to try a few of these tips to see a real improvement:
Stop giving in to your cat's morning meows. This helps to break the positive association cats have with vocalizing, so they unlearn this begging behavior over time.
Feed your cat its evening meal as late as possible. This reduces the time between dinner and breakfast, so your cat doesn't get as hungry throughout the night.
Purchase an automatic cat feeder and schedule at least one meal at night. This helps to establish a feeding routine and means your cat doesn't get as hungry.
Don't feed your cat until you're up and dressed. This helps your cat learn that they only get fed at a set time, rather than whenever they wake you up.
Make time for a big play session with your kitty every evening. This helps tire your cat out, so it is more likely to sleep through the night, while also combatting boredom.
Invest in several automatic toys your cat can play with by itself. I have an automated laser pointer that my cat loves, but flopping fish or toy mice are other great options.
Rotate the toys your cat has regularly and try to get as many different style toys as possible. This keeps your cat mentally stimulated so that it doesn't feel bored.
Clean your cat's litter tray immediately before bed each night. This ensures that even if they go to the bathroom while you're sleeping, their litter box won't overflow with waste.
Try and limit the number of stressors in your home. Doing so reduces the chances of your cat having a bad dream and keeps stress levels low.
Provide plenty of enclosed spaces your cat can retreat to when stressed or scared. Cats need hidey-holes to better cope with stress, limiting their excessive vocalizations.
On top of these tips, I suggest managing your home environment. Close your bedroom door to limit the disruption your cat can cause. Your kitty can still meow at your bedroom door, but this stops your cat from climbing all over you or meowing directly in your face.
MY FINAL THOUGHTS
I never hear my cat meow at night when I go to bed, but excessive meowing in the early morning is a common problem. Throughout the night, my cat gets bored and hungry, demanding my attention at around 4 in the morning without fail!
Thankfully, I've managed to stop my cat from waking me up by investing in a timed feeder and ignoring her morning calls. It seemed impossible at first, but a little patience goes a long way! Find a routine, stick to it, and don't give in. You can reduce your cat's meowing in the morning and get that peaceful lie-in you deserve.
If your cat has suddenly started meowing excessively or none of my tips help, I suggest you call your vet. Sudden behavior changes can be caused by underlying medical conditions, so you'll want to get these checked out just in case.