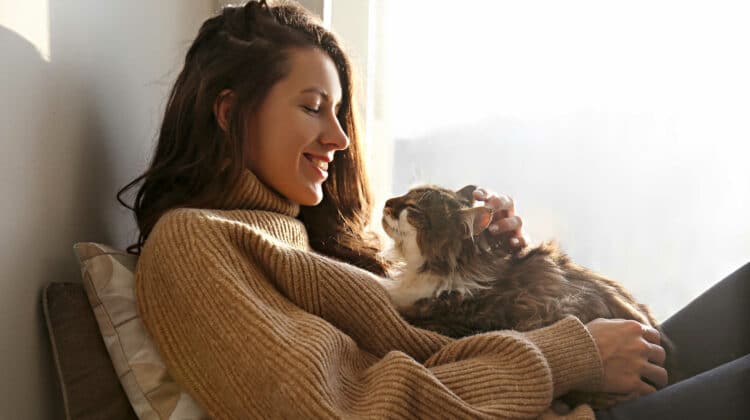 Cats and humans don't speak the same language, but that doesn't stop us from chatting away with our gorgeous felines. I love having conversations with my cat! As pet parents, I'm sure you feel the same; although it seems strange, talking to cats is normal among owners.
One day while I was happy nattering to my feline, I started wondering about her thoughts on the matter. Do cats like when you talk to them? Can they understand what we are saying? And do they enjoy the sound of our voices, or are they secretly wishing for us to shut up?
The general consensus is yes, cats like when you talk to them! Cats can recognize their owners' voices and find comfort in conversation. In this article, I discuss their opinions on being spoken to in more detail, the benefits of talking to your cat, and the best way to chatter together in a way your furry friend appreciates.
Do Cats Like When You Talk to Them?
In general, cats like being spoken to by their owners. One study found that cats pay attention to their owners' voices, indicating they enjoy listening to them. Cats do remember their owners' voices, too! They can recognize your voice as yours and respond accordingly.
According to research, cats don't always like being spoken to, though. Whether cats like being spoken to on not depend on two main things: tone and volume. Cats cannot understand your words, but they can identify these two characteristics of speech.
The softer and calmer the voice, the more likely your cat will respond positively. This is thought to be because cats have associated this calming voice with positive actions, such as being petted. Conversely, felines hate being shouted at – although they don't know what you're saying, they can easily detect that something is wrong.
The best way to determine whether or not your cat likes your voice is to pay attention to their behavior during conversations. I know my cat loves it when I speak to her, as she always responds fondly. When sitting on my lap during a conversation, my cat licks me and starts purring. She sometimes even meows back like we are having a genuine chat – we can't understand each other, but the exchange of vocals is comforting.
These aforementioned behaviors are all signs of affection cats use to communicate positive emotions. All cats show positive emotions differently, though. Sometimes my cat makes biscuits on me or rubs her face against me. Yours might show fondness in other ways, such as subtle changes in their body language or facial expressions.
What Are the Benefits of Talking to Your Cat?
As we've just learned, cats like when you talk to them – assuming you're using a comforting tone and volume. This in itself is a great reason to carry on those kitty conversations. As a cat mom, you want to do anything you can to make your furry friend happy.
However, regularly speaking to your feline carries additional benefits for you and your cat! Here are some of the main reasons you should talk to your cat often.
1. Your Cat Feels Understood
Cats cannot easily communicate with us through speaking. As two different species, we don't have a mutual language we can understand. However, cats can learn a lot about what we are saying through tone and volume. This is similar to how we can gauge the mood of someone speaking a foreign language based on their pitch and body language alone.
The same is also true in the converse – the more we listen to our cats' meows, the more easily we know what they mean. Meows vary in pitch and frequency to indicate different meanings. Below are some of the types of meows you might hear during a cat conversation:
Long, drawn-out meow = Asking for something
Repeated meows = Excitement
High-pitched meows = Pain or startlement
Low-pitched meows = Complaining
The more you talk to your cat, the more your cat will talk back. Before long, you'll be an expert in feline vocalizations! Knowing what your cat is trying to communicate makes responding correctly to their calls easier. This helps them feel more understood and live happier, more fulfilling lives!
2. It Improves Your Mental Health
There has been substantial evidence that having a pet benefits your mental health, which is why animal therapy is a type of psychological treatment available. Having an animal to care for gives people a sense of purpose, responsibility, and companionship, reducing low mood and depression.
Felines are fantastic at lowering stress levels as well. Cats purr when you pet them, and these vibrations have an instantly calming effect. The vibration frequency is the same frequency used in therapeutic practices, helping to ease anxiety and bring other health benefits.
Speaking to your cat is only thought to improve the mental health benefits of owning a fabulous feline. It ensures you're spending real time with your cat, helping to reap all the rewards. The more snuggles, playtime, and conversations you have, the happier you might find yourself feeling.
Besides, you can chatter to your kitty about your worries and frustrations, knowing your secrets are safe. They can't tell anyone your thoughts even if they wanted to! And although your cat cannot offer any advice on the situation, getting your problems off your chest is a great way to let go of the issues and start moving on with your life.
3. You Can Notice Illness Easily
Is your cat so affectionate all of a sudden and wants to chat more than usual? Or perhaps your cat is aggressive and more withdrawn? There are two traumatized cat symptoms that indicate something could be wrong with your furry friend.
The more time you spend talking to your cat, the easier it is to notice these subtle changes in their behavior you might otherwise overlook. These minor changes could be the first signs of illness or pain, and picking up on these signs early on means you can get your kitty treatment quickly.
In fact, cats are masters at hiding pain! Unless they obviously have something wrong – such as vomiting, diarrhea, or an open wound – it can be extremely difficult to pick up on the signs. Changes in attachment, aggression or sudden mood swings should all be taken seriously and are always easier to notice if you regularly speak to your cat.
4. It Teaches Commands
Cats are not as trainable as their canine counterparts, but they are more intelligent than many people realize! Talking to your cat regularly enables you to teach your kitty commands. This could be something as simple as getting your cat to come on command to teaching your kitty to play fetch.
Remember that cats understand tone and volume rather than words. They also have good spatial memories and respond well to gestures. If you want to train your cat, stick to the same volume and tone and use appropriate gestures to help your kitty learn your commands. The more you talk to your cat, the more likely these teachings will stick.
5. Talking Strengthens Your Bond
As a cat mom, I know nothing is more valuable than your bond with your cat. However, cats can be confusing creatures, and strengthening your bond can be hard! Sometimes they seem to love snuggling and spending quality time together, whereas at others they want their own space.
Talking is a fantastic, non-intrusive way to strengthen your bond and show your cat it's loved. It allows the two of you to spend time together and communicate. Why not call your cat and start talking to encourage them to interact with you? If they're in a social mood, they'll soon come closer.
In fact, respecting your cat's boundaries is essential to building an ever-lasting bond. Yes, building a relationship requires one-on-one time together, but you must also respect your cat's need for space. Encourage your cat with talking, let them initiate bonding (signs include purring, kneading, and bunting), and learn to recognize when it's time to step away.
6. Helps Eliminate Loneliness
Cats are deemed independent creatures that are a little sassy and love their own space. However, domestic cats are social creatures that crave interaction with others, and cats like when you talk to them. And their favorite person to socialize with is you, their loving owner.
Cats get lonely when this social interaction is deprived, which causes all kinds of psychological problems. Your furry friend might become depressed, anxious, or develop separation anxiety. Leaving cats alone for four days can be long enough for them to feel stressed out! Does your cat get in your face while you sleep? This is a sign they can't even go throughout the night without missing you!
Of course, talking is not the only way to ensure your kitty feels loved and appreciated. If you don't want to converse with your furry friend, you can spend time together in other ways. Playing with your cat every day or snuggling together each evening are two great alternatives, but with so many benefits of talking to your kitty, you might want to give chatting together a go!
How To Talk To Cats in the Right Way
Cats like it when you talk to them. It makes them feel loved, deprives feelings of loneliness, and helps strengthen your bond. Regularly vocalizing together also makes it easier to learn what your cat is trying to communicate and highlights when something is wrong. Besides, kitty conversations also have benefits for your mental health.
However, to reap all these rewards, you must speak to your cat correctly. They cannot understand your words and rely heavily on tone and volume. Here are some tips to help ensure you're sending the right message to your cat – and that they're enjoying the interaction:
When talking to your cat positively, speak softly and quietly. This helps your cat relax, and they're more likely to respond fondly to your words. They might even start purring in response or meowing back to you.
Use a high-pitched and happy voice when praising your pet cat. Cats associate these higher-pitched noises with praise and will understand they're done something you're pleased about. Add a smile into the mix to further show your appreciation.
Make sure you use a loud and authoritative voice when correcting bad behavior. The loud volume helps to startle your cat, and they'll soon realize they're in trouble. You can gently nudge your feline away to ensure you're sending the right message.
Never shout at your cat for misbehavior. Even when I find my cat attacking me, I never get angry! Shouting only scares your cat and makes aggressive behavior worse. Depending on what they're doing, firmly saying "No" or "Stop" is best.
Ensure you always use different tones for positive and negative feedback. This helps your cat understand the message that you're trying to communicate. Use another tone again (soft and calming) for general chit-chat.
MY FINAL THOUGHTS
So, do cats like when you talk to them? According to research, cats do enjoy being spoken to by their owners. They can recognize your voice, and regularly chatting together really helps strengthen the bond between you. It can also combat loneliness, help your mental health, and bring many other benefits to you both!
Look at how your cat reacts to help confirm whether or not they're enjoying the conversation. If they like being spoken to, you will notice your furry friend shows positive behaviors, facial expressions, and body language. On the converse, a cat that doesn't want to be spoken to will probably walk away. Respect their need for space and try chatting again later.
If your cat always responds poorly to conversations, consider the tone and volume you're using. While cats cannot understand words, they can know what you're trying to communicate through volume, pitch, and accompanying gestures. Keep your voice soft and gentle unless you're telling your cat off. Even then, never shout! An authoritative "No" is the best solution.