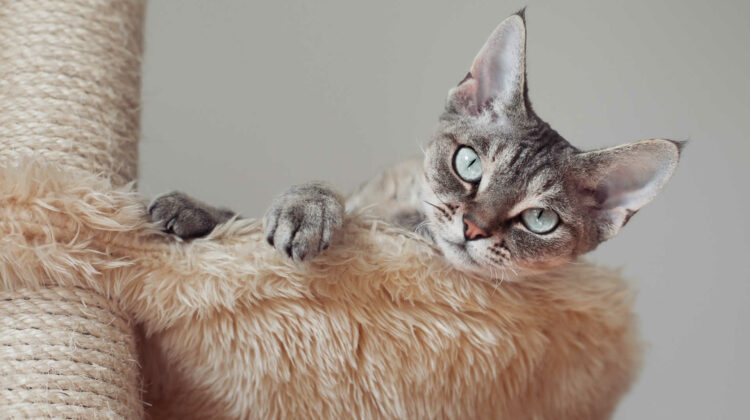 A cat tree with a feeding platform is a pretty self-explanatory bit of kit. These are just like regular cat towers, but alongside the scratching posts, hammocks, platforms, and toys, there is also a bowl for you to put your cat's food in.
There are several reasons why you might be looking for a cat tree with a feeding station. Perhaps you have a greedy dog that keeps munching on your cat's dinner! Elevating the food bowls keeps the food away from your pup so your cat can eat its dinner in peace.
Or maybe you have a small apartment and need to get creative with how you fit all of your cat's things into the space. You might even notice your cat seems nervous around mealtimes and have learned that giving your cat an elevated and private space to eat can help promote a healthy diet.
No matter what the reason, you're in the right place! In this article, I give in-depth reviews of the best cat trees with food stations on the market. I also review some great wall-mounted bowls that you can attach near your cat's current cat tree for a quicker and cost-effective solution.
My Top Pick
My favorite cat tree with a feeding station has to be this cat tree tower from Heybly. It consists of five different levels, providing somewhere to climb, jump, scratch, sleep, and play. This means it will keep your cat entertained for hours! You'll find the food bowl on one of the higher platforms too, perfect for keeping your cat's food away from other animals.
Additionally, you get all of these features for an unbeatable price, which is always a perk! You can find a full review for this product and my other favorites further down this article. But if you want to skip the long reviews, this is a great cat tree that suits most cats and owners.
Best Cat Tree with Feeding Station
Before I get into the reviews of my favorite cat trees, I want to let you know exactly what my criteria were when choosing products. Of course, having a built-in bowl is non-negotiable! But what else was on my checklist? Below is a summary of everything I was searching for:
Easy to Clean: All cat trees can get a little grubby, and when cat towers come with food bowls cleanliness is even more of a high priority. I searched for products with removable bowls that were easy to keep clean and cat trees that are easy to maintain in general.
Durability: Cat trees have to withstand a lot of rough and tumble! Unfortunately, cat towers are also one of the more expensive pieces of kit you need to get your cat. Therefore, any good cat tree has to be durable, made with strong materials, and designed to last a lifetime.
Excitement: The reason cats need cat trees is to keep them entertained and to channel their innate needs to climb, scratch, hide, sleep, and hunt. Just because the cat tower comes with a feeding platform, it doesn't mean it should sacrifice any of these other essentials.
Stability: Some cats – especially younger, more active felines – climb cat trees with speed! If the cat tower isn't stable enough, this can result in some nasty accidents. Wobbly products can also make some cats nervous to use them, meaning it's a total waste of money.
Whether you choose a product from my list of reviews or shop around yourself, keep the above list handy. Easy cleaning, durability, excitement, and stability are essential factors you need to consider before purchasing any product! But now, without further ado, here are my top recommendations.
As mentioned, my favorite cat tree with a feeding station is this product from Heybly. The food bowl is located on one of the top platforms, safely keeping it away from your dog or other animals. Your cat will also enjoy eating up here in privacy, away from the hustle and bustle of ground level.
The bowl is removable and is made of plastic so can easily be washed by hand. Unfortunately, cleaning the rest of the cat tree is a little more challenging. The whole thing is covered in a layer of plush carpet, so I suggest sticking to feeding dry kibble – wet cat food could be difficult to clean up if your kitty spills any out the bowl!
Aside from the feeding platform, this cat tree has everything to channel all of your cat's instincts. There is sisal rope scratching posts for your cat to sharpen its claws, five different tiers for jumping and climbing, and a combination of beds, hammocks, and condos for lazing around inside.
I also love that this cat tree is super stable. The base is reinforced and the cat tree is well balanced to prevent wobbling. There is also an anti-toppling device to ensure there are no nasty accidents or falls. It is also relatively durable with quality materials, so it will last you several years before needing to be replaced.
Pros
High feeding platform to keep food away from dogs
Provides cats with privacy to encourage healthy eating
A removable plastic bowl that can easily be washed
Channels all of your cat's instinctive behaviors
Made from durable particleboard, natural sisal, and plush carpet
Reinforced base and anti-toppling device for stability
Cons
Not large enough for big cats to use safely
Food bowl is only large enough to hold a small meal
Carpet can be difficult to clean food spills up from
Another fantastic cat tree with a feeding platform is this product from SPRICHIC. Firstly, this cat tower has two bowls rather than just one. This is great as you can place food in one and water in the other, or feed two kitties at once.
Like my top product, the bowls can also easily be removed and cleaned separately. They're even ceramic so they won't retain any stains or odors. You can also keep the entire cat tree easily clean as this tower is made from metal. Simply wipe down the feeding platform if your cat makes a mess!
The height of the feeding station and all other platforms are also adjustable. This is great as you can put the bowls at whatever height you wish – be that away from your dog's prying paws or at window level for the ultimate dining experience.
This product also proves there are cat trees that aren't ugly! That's right, the metal isn't only easy to clean but also looks minimalistic and modern. It has a distinctive Scandinavian design and has to be one of the sleekest cat trees with no carpet that I've ever seen.
Of course, metal is also one of the strongest materials you can find. Therefore, you can rest assured that this cat tree is both stable and durable. In fact, the manufacturer claims it can hold up to three cats at once safely, and even comes with a six-year warranty. The sisal scratch platform and cushions are also removable, so even these last a lifetime!
Pros
Two bowls for food and water, or feeding two cats
Bowls are made from ceramic which doesn't retain odors or stains
Removable bowls which are easy to clean
Strong, durable, and easy-to-clean metal frame
Can support up to three cats at once
Provides somewhere to climb, scratch, and rest
Beautiful Scandinavian design that works well in all interiors
Cons
No cat condos for hiding or retreating to when stressed
Slightly top-heavy design and could wobble a little
Not suitable for large cats such as Maine Coons
More expensive than other cat trees with feeding stations
Are you looking for a cat tree with food bowls as you're short on floor space in your home? Incorporating your cat's bowls into their cat tree is a great space-saving idea, but none do it quite as well as SAVANNAH DESIGN. They have made this elegant cat wall shelf that makes use of the vertical space in your home!
The product consists of a feeding platform that holds two stainless steel bowls. Both are removable and can easily be cleaned by hand, plus there is a felt cover to prevent your cat from slipping. There are then three smaller shelves that attach to your wall for your cat to climb up to their food.
Unfortunately, this wall-mounted feeding station doesn't channel any of your cat's other essential needs. However, there are all kinds of awesome wall-mounted cat trees on the market, such as this product from HAPYKITYS. This has five different platforms to climb and lounge on, and a big sisal scratching post to sharpen those kitty claws.
Therefore, a great idea is to purchase several wall-mounted cat products and combine them into an epic cat jungle gym! It is a great space saver for anyone short on floor space and means you can easily position your cat's bowls up and away from your greedy doggie.
Besides, wall-mounted products are extremely stable. As they attach directly to the wall, you don't need to worry about any wobbling whatsoever. In fact, the SAVANNAH DESIGN feeding platform is strong enough to support cats weighing up to 25lbs. This makes it great for larger kitties and gives you flexibility like never before.
Pros
Ideal for small apartments as no floor space is required
Contains two food bowls, one for food and one for water
Bowls are made from durable stainless steel
You can easily remove and clean the bowls for good hygiene
Can combine with other wall-mounted products to make any design you like!
Stable and can support cats weighing up to 25lbs
Cons
Nowhere to hide, sleep, or hunt unless combined with other products
Has to be mounted on a wall so not ideal for rented spaces
Not suitable for multiple cats sharing
These elevated bowls from Torlam are a great solution for anyone needing a quick and budget-friendly fix. Although not a cat tree with a feeding platform per se, these bowls easily mount to any smooth surface. This means you can attach them to the wall next to your cat's current cat tree to give them privacy when eating and keep dog paws away!
Alternatively, you can attach the bowls to a window your cat loves climbing up to. Or even in line with the back of your couch or a bookshelf. Doing so keeps your cat's food away from your curious canines, alongside providing a quiet space for your cat to eat, and making use of vertical space.
This product comes with two bowls in the pack. You can use one for food and the other for water, or use them to feed multiple kitties. As you're only purchasing dishes rather than an entire cat tree, you can even purchase multiple sets for several cats without breaking the bank.
The bowls themselves are made from grade 304 stainless steel, which is safe for eating from and easy to clean. You can remove the bowl from the holder for filling and cleaning, or even pop it in the dishwasher. Just remember that these are only bowls though, and you must provide another outlet for all your cat's other essential needs.
Pros
Bowls can easily be mounted above any shelf, window ledge, or cat tree
An ideal fix for anyone tight on budget
Two bowls which are made from stainless steel
Bowls are durable, stain-resistant, and easy to clean
Cons
Need a separate cat tree to channel hunting, climbing, sleeping, and scratching
Cat Tree with Feeding Station Buying Guide
As you can see, there aren't all that many cat trees with food bowls on the market. And those that are available are wildly different. Perhaps you're looking for a fully-fledged cat tree that comes with all the bells and whistles, or maybe you need a wall-mounted bowl to add to your cat's current tower.
Or perhaps you're not sure what you need! If this sounds like you, don't worry. You can use the handy buying guide below to help you find the perfect solution for you, your kitty, and your home.
Cat Tree vs Wall-Mounted Bowls
You first need to decide whether you want a cat tree with a feeding station, or whether your reasons for purchasing such a product can be fulfilled by purchasing elevated bowls instead. Here are some possible situations in which a cat tree with a feeding platform is necessary:
You live in a rented apartment and cannot mount anything to your walls
You don't currently have a cat tree for your cat and need to purchase one
Your current cat tree is broken and needs upgrading, so you might as well get an all-in-one
There are no suitable walls or windows to which you can mount a bowl
On the other hand, here are some possible situations where wall-mounted bowls might suffice:
You already have a cat tree that your kitty loves which you can add bowls to
You are on a budget and can't afford to splash out on a new cat tree
Number of Cat Bowls
Once you've decided whether you need a cat tree or can add on to your current cat tree, next you must consider how many bowls you need. Do you just want to keep your cat's food off the ground? Or do you need a second bowl for their water as well?
If you have multiple cats, you also need to purchase a cat tree with more than one bowl. Cats shouldn't share their food, or it can lead to conflict over mealtimes. In these cases, opt for a product that has two bowls, or consider purchasing multiple bowls or cat trees for all your kitties.
The number of cats you own also impacts the size and stability of the cat tree you need. Multiple cats sharing need more perches so they can both climb, sleep, and play at once. These cat trees also need to withstand more weight overall. As such, it is worthwhile investing in a heavy-duty cat tree that can take both of your playful kitties at once.
Size of Your Cat & Home
It is important to consider the size of your cat and your home when choosing a cat tree. The bigger your cat, the larger and more stable the cat tree needs to be. Thankfully, there are loads of unique cat trees for large cats on the market, so finding one you like should be easy.
On the other hand, cat trees for small apartments need to be small themselves and utilize as much available space as possible. You need cat trees with a smaller footprint, or to opt for a clever wall-mounted design like my #3 recommended product. I love cat wall shelves like this for small spaces, as they use the vertical space rather than your valuable floor space.
Aesthetic Design and Appearance
Cat trees come in all shapes, sizes, and colors! It may seem like a trivial factor to some, but I recommend taking the time to find a cat tree that you like the look of. Cat towers are large and can't easily be hidden in a corner of a room. They're going to be seen by you and all your guests, so choose one that you don't mind looking at.
Of course, appearance is entirely down to personal preference. You might love the traditional carpet-covered design like my #1 recommendation. Or perhaps you prefer mid-century cat trees that are as sleek and minimalistic as possible. You can even get cat trees that look like a tree if you want!
With that said, finding a cat tree you love the look of that also comes with a feeding platform might be a challenge. You may need to purchase wall-mounted bowls to attach near one of the top perches instead. It is up to you whether you want to prioritize a good-looking product and purchase separate bowls, or prioritize the built-in bowls and sacrifice a little on aesthetics.
FAQs
Q: Where should a cat's food bowl be placed?
A: You should place your cat's food bowls in a quiet place where they can enjoy their dinner in peace. Busy locations might stress cats out and deter them from eating! If you have a dog, you also want to keep the bowls away from your curious canine.
Q: Should I elevate my cat's food bowl?
A: This depends on your living situation. If you have a busy household with few quiet spaces, elevating your cat's bowls is a great idea. It ensures they have a private space where they can relax when eating. It's also a clever space-saving technique for small apartments, or for anyone with dogs.
Q: How can I elevate my cat's food bowls?
A: One way to elevate your cat's food bowls is to get a cat tree with a feeding station. These have bowls incorporated into the platforms for your cat to eat in privacy. You can also purchase wall-mounted feeding shelves, or bowls that mount above any shelf or platform in your home.
Q: What is the best cat tree with a feeding platform?
A: In my opinion, the best cat tower with a feeding platform is the Heybly Cat Tree Multi-Level Tower. This does only have one bowl, but it is removable, easy to clean, and located right at the top. The tower also channels all of your cat's other essential needs, besides being durable and stable.
MY FINAL THOUGHTS
Hopefully, this article has helped you in your search for a cat tree with a built-in bowl. There aren't all that many products to choose from, but most owners will be happy with one of the above options. And if not, remember that wall-mounted bowls can be added next to your existing cat tree for a quick and budget-friendly solution!