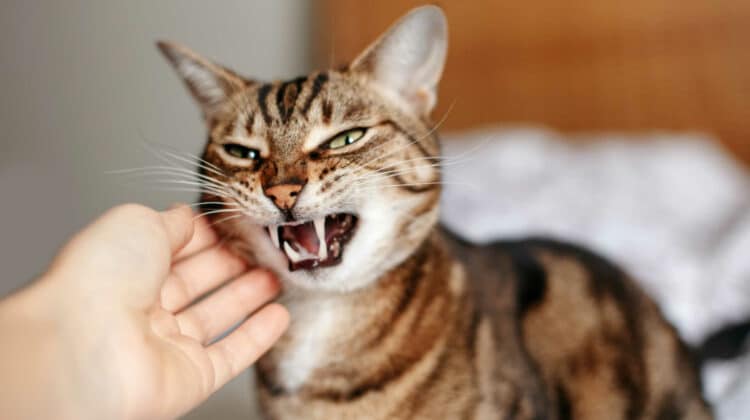 Cats' sounds are their primary way of communicating with us. After a bit of practice, you can usually tell what your feline thinks by listening to the noises they make. For example, my cat often trills to show she's excited when I get home, and I love hearing her welcome me as I walk through the door.
Unfortunately, my cat sometimes growls as well, a sound that no cat mom wants to hear! It's common knowledge that growling isn't a good sign and is often followed by an attack if you get too close. This means it can be confusing when your cat growls but wants to be stroked and cuddled simultaneously.
As always, there are logical explanations for this behavior! If your cat growls but wants to be petted, it may feel overstimulated, stressed, or in pain, or it may be overly possessive of you. Some deep purring can also sound like a growl, so it may just be that your feline is enjoying its cuddle.
This article covers these explanations in more detail so you can master your cat's communications. I also go over how to deal with your kitty's growls and hisses so that you don't accidentally overstep its boundaries or trigger aggressive behavior.
Why Do Cats Growl?
When your cat growls, it typically isn't a good sign. It usually indicates fear or annoyance and can be followed by aggressive behavior. As an owner, this can be hard to deal with, but there is usually a good reason behind our feline friends' growling. The most common causes include the following:
They Are Using It as a Warning: Your cat's growl could be its way of warning you to stay away. Other warning signs, such as bristled fur and flattened ears, will also be displayed if this is the case.
They Are Scared: If your cat gets spooked by something, it may growl to try and make itself seem more dangerous to the perceived threat. The more imposing and scary your cat looks, the less likely it will be attacked.
They Are Angry or Annoyed: Cats usually growl when they are feeling angry or annoyed. This is most likely when your cat will display aggressive behavior, so it is best to give it some space to calm down and relax.
They Are Showing Dominance: Hierarchy within the home is essential to cats, so they may growl at you or another feline to assert dominance. This is also why hissing is normal when introducing cats – they're letting the other know who is boss!
They Are in Pain: Cats often try to hide their pain. In the wild, showing they are suffering makes them seem vulnerable and a potential target to predators. However, growling is one of the few ways they signal distress.
In most cases, I think the best way to calm your kitty is by giving them space. This should help to de-escalate the situation before your cat resorts to violence.
Why Does My Cat Growl but Wants to be Petted?
As I've just covered, growling is often a sign of aggression, so it is best to keep your distance from your cat until it has calmed down. This means it can be super confusing when your cat growls and hisses but still wants to be petted.
To figure out what was going on, I did some research, and it turns out that there is a logical reason behind your feline's contradictory behavior.
Below I have laid out these reasons so you can better understand your kitty:
1. Overstimulation
The first thing I am going to cover is overstimulation. This is where your kitty initially enjoys petting but becomes uncomfortable when it has gone on for too long. When petting a cat, you often rub the same spot repeatedly. While it feels nice initially, the repetitive motion can cause the nerves in that area to become overstimulated. This makes the petting turn from pleasurable to irritating.
My cat bites me when I pet her; I know this is her way of asking me to stop rather than a random attack. While my cat bites gently, other cats may growl to the same effect. It's not that your kitty doesn't want cuddles; it just needs you to switch up where you're petting so it can relax once more.
2. Pain or Discomfort
If your furry friend isn't overstimulated, it may be that they want cuddles from you but are experiencing pain or discomfort in the place you're petting. This could be caused by various things, such as arthritis or an injury that occurred when they were out exploring.
My friend broke one of her ribs once, and she had to ask me not to hug her until she was healed because my way of showing affection was causing excruciating pain. Your cat will act the same way, but unfortunately, it can't say what it wants. So instead, your feline may growl, hiss or bite to communicate that you're hurting them.
At any sign of pain or discomfort, I would take your kitty to the vet so they can check for injury or an underlying condition. It is better to find the source of pain so that treatment can be issued before the problem gets worse.
3. Anxiety or Stress
Sometimes your cat may growl due to anxiety or stress. When I feel anxious about something, I try to surround myself with people I love and trust, which helps to comfort me. Cats do much the same thing. Your furry friend will want to come to you for cuddles so they feel comforted and safe but may also growl due to their negative emotions.
The cause of this stress and anxiety may be a change within your home, such as a new family member or pet, but it can also be triggered by something out of your control. For example, if your cat ran away and came back different, it may be that they experienced something traumatic during their travels, leaving them with leftover anxiety.
4. Protectiveness & Possessiveness
Sometimes your cat's growling has nothing to do with you at all! Instead, your feline is being possessive of you and uses its growls as a warning to other animals to back off.
When I first brought home a new kitten, I often wondered why my cat was so aggressive all of a sudden. It turns out she was being protective of me and didn't want to share my attention with another housemate. In fact, a cat hissing at new kittens or growling in a possessive way is typical behavior and should go away once your feline gets used to the new addition.
5. They're Purring, After All!
Finally, we come to the last reason why your feline is growling but still wants to be petted: They're not growling at all. I understand that this may sound confusing; after all, you can hear your cat growling. However, some cats' purrs are so deep that they can easily be mistaken for growls.
While this is a plausible reason for your cat's so-called "growling," it definitely isn't the case if your feline shows other signs of aggression. This could include bristled fur, pinned-back ears, dilated pupils, a swishing tail, and other furtive movements, such as cowering.
If your feline is displaying any of these behaviors, I'd go back to my previous explanations, as one of these is probably the cause of your cat's aggression. However, if your cat is showing no other signs of aggression, it might be that they're purring after all!
What to Do if a Cat Growls or Hisses?
Even when your kitty seems happy and relaxed, growls and hisses should be taken seriously. In most cases, these vocalizations are your cat's way of keeping you away, and things can quickly escalate if you don't take any notice. So, what should you do if your cat growls or hisses? I suggest you always pay heed to your cat's warning!
When I find my cat suddenly hissing at me, I always give her plenty of space so she can calm down, and I recommend you do the same. Stop petting them, allow them some alone time, and never punish them for growling or hissing. There is always a reason behind your feline's behavior, and punishing your cat could make matters worse.
If the growling and hissing continue or are accompanied by other behavioral changes, I recommend you book an appointment with your vet. It could be that a medical condition is causing these changes in your feline, and your vet will be able to rule these out or treat the underlying issue.
MY FINAL THOUGHTS
Among cats, a growl is a universal sign to stay away. It typically indicates that your cat is annoyed or scared, and approaching it at this point could escalate the situation and cause aggressive behavior. Therefore, it can be confusing when a cat growls but wants to be petted. What a paradox indeed!
Thankfully, there is a logical explanation for this behavior. It is likely that your cat does want cuddles but is also experiencing overstimulation, pain, anxiety, or a sudden bout of possessiveness. It may also be that they're not growling but instead have a deep, rumbling purr.
If your cat does growl or hiss at you, I recommend you heed their warning and give them some space, so the situation doesn't escalate. However, when a feline's growling is continuous or accompanied by signs of aggression, it is best to take them to the vet to rule out any underlying causes.