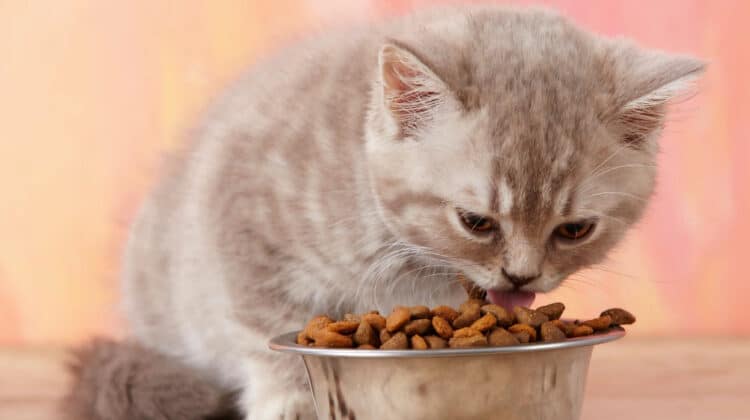 When choosing food for your cat, there are two options: wet or dry cat food. Both have pros and cons, and many pet parents choose to feed their cats a combination. However, some owners prefer to stick with dry kibble, often due to its convenience when it comes to feeding and storage.
If this sounds like you, you've probably got one question on your mind: Is it OK if my cat only eats dry food? The nutrition of our cats is extremely important, impacting their health and lifestyle. Therefore, any dietary choice has to provide a healthy balance of all cats' essential nutrients. So, can cats live on dry food only or not?
You'll be pleased to hear that, yes, they can! Kibble made specifically for cats contains all the nutrients needed to support the body. Yet there are concerns that cats on dry food diets are missing out on some of the nutritional benefits of wet food. In this article, we look at the risks and benefits of dry food on your kitty's health to help you make the best choice for your cat.
Can Cats Live on Dry Food Only?
Anyone considering feeding their cat kibble only will be pleased to hear that healthy adult cats can live on dry food only. In fact, many owners swear that cat food is far superior to its wet food counterpart. It contains all the nutrients your cat needs to live a happy and healthy life, providing balanced nutrition so your feline can grow and thrive.
Nevertheless, you must make sure you choose a high-quality kibble if this will be your cat's sole food source. Only then can you be sure that it provides balanced nutrition.
Look for commercial dry cat food that ticks the following boxes:
Low total carbohydrate content
Contains fiber-rich carbohydrates and no fillers
Made using high-quality, real animal protein sources
Contains added vitamins and minerals
Additional fatty acids to support immunity.
Dry food typically contains more carbohydrates than wet food, which can make the food harder to digest. By choosing a quality brand, you'll avoid carbohydrate "fillers" and instead provide your cat with fiber-rick, easily digestible options. These quality foods also contain as few carbohydrates as possible, making the kibble more like cats' natural diets.
Dry kibble also always contains protein. Cats are obligate carnivores, meaning they rely on protein for survival. Without protein in their diets, cats would die! However, protein comes in many different qualities. As long as you search for dry food that contains real animal protein (avoid by-meal and soy), there is no reason your kitty cannot obtain all the essential proteins from dry food.
If you want to give your cat a nutritional boost, you can also search for kibble that contains added vitamins and minerals. A healthy dose of omega fatty acids can also help to support immunity and vitality. These all contribute to a complete and balanced diet that your cat can thrive on.
What Are the Risks of a Dry Food Diet?
Although healthy adult cats can happily survive and even thrive on dry food diets, there are certain risks to be aware of. Below I run through the disadvantages and provide tips on mitigating these risks when feeding your kitty dry food only.
1. Higher Risk of Dehydration
Water is essential for cats; they need to keep their body hydrated to function optimally. Cats can obtain this water by drinking, but most felines are notoriously poor drinkers! Their food is a great way to get additional water into the body and boost their hydration levels.
Dry cat food contains around 10% moisture, far less than wet cat food. Therefore, cats on dry food diets are at greater risk of dehydration. They need to drink more water to compensate for the lack of moisture in their diet. For some cats, this is no issue! But many fail to consume enough liquids.
If you're feeding your kitty kibble only, I suggest investing in a cat water fountain. Most cats show a preference for running water, so a fountain can offset the risk of dehydration. You can also try adding meat broth to their water bowl to help encourage drinking if you're concerned.
2. Increased Risk of Obesity
Another risk of a dry-food-only diet is obesity. Many cats fed kibble are overweight, especially when compared to cats that eat wet food. However, this is due to portion control and grazing rather than the nutritional profile of the food itself.
Think about it – most owners with cats on dry food diets do so for the convenience factor. They can pour the dry biscuits into the bowl in the morning and leave them out all day for their cat to graze on, known as "free feeding." But this also makes it difficult to tell just how much your kitty consumes each day, and overeating is common.
Cats eating kibble get fatter because they're left to free-feed, not because the kibble is making them fatter. Therefore, what you feed your cat is less important than how you feed your cat. Don't leave the dry food out in the bowl all day; practice proper portion control, and the risk of obesity disappears!
If you're not available to feed your cat throughout the day, you can provide one big portion in the morning and another in the evening. However, I recommend purchasing an automatic feeder that releases potions at set times throughout the day. Almost all automatic feeders work with dry food, and you can even find feeders with fancy cameras and additional smart features.
3. Higher Risk of Urinary Tract Diseases
Feline lower urinary tract disease (FLUTD) is more common in cats on dry diets. This is because kibble contains an abundance of certain minerals like calcium, phosphorus, and magnesium. These are often referred to as "ash" on cat food packaging. When cats consume too much of these minerals, they can deposit inside the urinary tract and cause an obstruction.
The low moisture content of dry kibble also contributes to the formation of cystitis and other urinary problems. Nevertheless, urinary issues are relatively uncommon in cats. In fact, only around 5% of cats ever experience these issues, and they are usually triggered by stress.
If you're concerned, you can reduce the risk of urinary tract diseases by opting for low-ash dry cat food and encouraging your cat to drink plenty. However, if your cat regularly suffers from cystitis, a dry food diet might not be the best option. I suggest a wet-only diet in these cases but speak to your vet for a professional opinion.
When is it Not OK to Feed a Cat Dry Food?
Dry food is a perfectly healthy and balanced option for most cases, as long as you ensure you do all of the following things:
Choose a high-quality food that's low in carbs and high in protein
Encourage your cat to drink more to compensate for the low moisture content
Never free-feed your cat dry kibble – feed regular portions instead
Look for low-ash dry kibble to reduce the risk of urinary tract diseases
Nevertheless, there are some exceptions to the rule! Below are some scenarios in which a dry food diet is not recommended. If any of these apply, you'll want to switch to a wet food diet, even if that means sacrificing convenience – your cat's health is the most important thing!
1. Kittens Can't Eat Dry Food
Newborn kittens feed solely on their mom's milk. However, kittens start eating food quickly! By three weeks old, you can begin to wean your kittens off their mom and make the transition to food. It is best to do this gradually, mixing a little food with kitten formula to help the transition.
Kittens need wet food when first making the transition to solid food. This is their first attempt to chew and swallow, so dry kibble is out of the question. The softer and more easily chewable the food, the easier it is for your kittens to eat, and the less likely they'll choke when trying to swallow.
Therefore, a dry-only diet is unsuitable for tiny kittens. You'll need to wait until your kitten is a little older (five or six weeks old) before you attempt to feed them dry kibble. Start with soft dry cat food by adding a little water, and gradually add less and less until they can comfortably eat dry food.
2. Unsuitable for Cats with Urinary Issues
As I have already mentioned, feline lower urinary tract disease (FLUTD) is more common in cats that eat dry food. This is due to a combination of the high ash and low moisture content. It can cause mineral deposits to form in the urethra and cause all kinds of issues.
Some of the symptoms you might observe include:
Straining when trying to urinate
Going to the litter box frequently
Only passing a little pee at a time
Crying out in pain when urinating
Urinating outside of the litter box
Blood present in the urine
Excessive grooming of the genitals
If your cat is experiencing any of these symptoms or has a history of FLUTD outbreaks, dry food might not be the best idea. I recommend feeding wet food instead. The higher moisture content helps to lubricate the urinary tract to improve its function. The lower ash content can also help to prevent more urinary crystals from forming.
You should also take your cat to the vet as your kitty may need medication for FLUTD. While at your appointment, ask your vet for dietary advice. They may be able to offer a prescription food that actively treats and prevents FLUTD flare-ups.
3. Not for Cats with Digestive Trouble
Some cats struggle to digest dry food and might suffer from vomiting or diarrhea. This is often the case when feeding poor-quality dry food that contains plant proteins rather than animal sources. Fillers and carbohydrates lurking in poor-quality brands also make digestion a more taxing task.
Choosing a high-quality food that is low in carbohydrates and rich in real protein can help to solve digestive issues. However, if you're still seeing your cat throwing up undigested food, it might have a more sensitive digestive system or digestive health problem. For example, maybe your cat has irritable bowel syndrome or suffers from bad food allergies.
In these cases, I recommend avoiding dry food and instead feeding wet cat food for sensitive stomachs. As wet food is more like to cat's natural prey, it is generally easier to digest. Make sure you're choosing high-quality food if you want to make a real improvement.
4. Cats with Dental Diseases
Dry cat food carries dental health benefits. The hard texture of the food rubs against the surface of the teeth as your cat chews. This helps to remove bacteria and plaque that would otherwise accumulate and cause dental issues. It's beneficial for young cats to eat kibble for this reason, helping to keep their teeth clean and healthy throughout life.
However, cats that have already got dental issues often struggle to eat dry kibble. Dental conditions cause the gums to become swollen and inflamed, and the hard pieces of food can make eating painful! If your cat refuses to eat because of this discomfort, it can quickly become malnourished and wet food is a much better alternative.
There are several signs that your cat is suffering from a dental issue. My cat stopped eating dry food but eats treats, presumably because dry food hurt its gums. Other signs are:
Pawing at the mouth
Reduction in appetite
Only chewing on one side of the mouth
Red, swollen, bleeding gums
Drooling from the mouth
MY FINAL THOUGHTS
So, is it OK if my cat only eats dry food? Assuming your cat is a healthy adult, you can absolutely feed it an all-kibble diet. Cat foods are made to be nutritionally balanced and provide optimal levels of proteins, carbohydrates, fats, vitamins, and minerals. Ensure you choose high-quality food, encourage your cat to drink water, and avoid free-feeding, and you won't have any issues!
However, dry food is not suitable for all cats. Wet food is a better alternative if your cat has dental disease, a sensitive stomach, or urinary problems. Kittens should also be fed wet food initially and gradually transitioned to dry kibble. If in doubt, ask your vet for dietary advice.