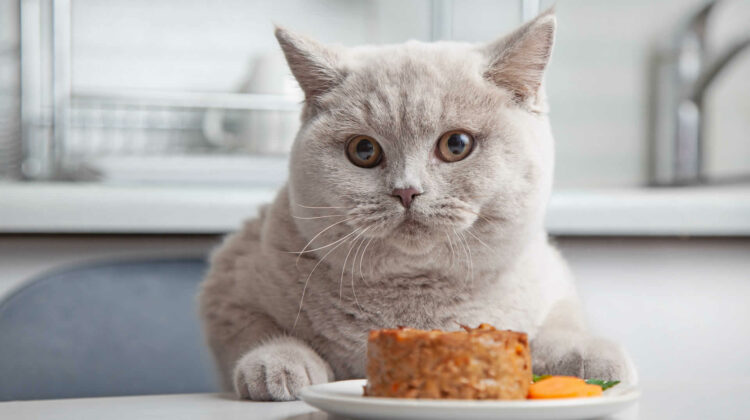 Cats are known for being pretty fussy eaters in general. Finding a food they like that has a good balance of nutrition and taste is already quite a challenge. When your cat has a sensitive stomach and constant digestive problems, this becomes even more of an impossible task.
Thankfully, I'm here to help! Here I look at the best wet cat food for sensitive stomachs that provide all the nutrients your cat needs. Every product listed here is soothing and contains easily digestible ingredients. Your cat won't be as sick, their diarrhea will subside, and they might find a love of eating once more!
It's important to remember though that several things can cause a sensitive stomach. All the wet cat food for digestive problems listed here will work for most cats. However, those with several allergies might need a special veterinary prescribed diet. Speak to your vet if you can't seem to get the symptoms to subside on your own.
My Top Pick
The best wet cat food for sensitive stomachs is this pate from Purina. It's made with real protein, is free from grains, and has no artificial additives. The food also contains prebiotics and 25 vitamins and minerals. Combined, these things make for an easily digestible blend packed with nutrients. Keep reading for a full review of this product and to discover six other great alternatives!
Best Wet Cat Food for Digestive Problems
Choosing a cat food for sensitive stomachs isn't that difficult once you know what to look for. Here are all the criteria I reviewed when comparing products. All the wet cat food for digestive issues ticks each of these boxes:
Easily Digestible: The easier food is for your cat to digest, the less likely they'll experience digestive problems. All easily digestible food contains high-quality protein from real meat sources and a limited amount of grains and hard-to-digest carbohydrates. Limited ingredient diets with one source of each as also much easier on the digestive system.
Nutrient-Dense: Cats with sensitive stomachs often vomit or suffer from diarrhea. This makes it difficult for them to absorb the nutrients they need, leading to deficiencies. Food for sensitive stomachs needs to be nutrient-dense with plenty of vitamins, minerals, proteins, and antioxidants to help ensure your cat absorbs everything it needs from its diet.
Wet Cat Food: Wet cat food is generally better for cats with sensitive stomachs. Firstly, wet food is easier to digest than dry or soft dry cat food and so can soothe an upset stomach. And secondly, wet cat food is more aromatic and thus encourages cats to eat. This is beneficial, especially as loss of appetite is a common symptom.
There are some additional considerations you need to make on a personal basis. Cats that are allergic to chicken should avoid chicken-based foods, for example. On the converse, those with beef allergies are better off sticking to chicken-flavored food.
I've written a buyer's guide further down this page, so you can help find the right food for your cat. But for now, let's crack on with the reviews!
The best wet cat food that scored top in all categories is this food from Purina. It is available in several flavors including duck, tuna, turkey, and herring, but I love the one made with Arctic char. It is made with real fish and lists Arctic char as the first ingredient. Plus, my cat loves the taste!
There are some meat by-products included in the recipe, but a good amount of the protein comes from a high-quality source. This cat food also contains no artificial colors, flavors, or preservatives and is 100% grain-free. These four things all help increase the digestibility of the food.
Both I and my cat love the pate consistency as well. Pate is easier for the body to break down when compared to big meaty chunks. To further aid digestion, Purina has included natural prebiotic fiber. This feeds the good bacteria in the gut to help promote a healthy microbiome and aid digestion.
This cat food is also nutrient-dense, with 25 essential vitamins and minerals including vitamins A and E. There is a healthy dose of taurine added as well. This is an essential amino acid cats need for digestion, vision, and heart muscle function. All in all, it's perfect for cats with sensitive stomachs!
Pros
Made with real meat as the first ingredient
Free from artificial colors, flavors, and preservatives
Easily digestive grain-free formula
Nutrient-dense with 25 vitamins and minerals
Contains prebiotics for a healthy gut microbiome
Pate consistency that is easier to break down
Available in multiple flavor options
Cons
Does contain some meat by-products
Sensitive stomachs can sometimes be caused by food allergies, the two most common being chicken and beef. This wet cat food from Blue Buffalo helps to tackle these allergies easily by eliminating all chicken and beef from the formula.
Additionally, there is no corn, wheat, soy dairy, or eggs – all of which are also known to cause allergies in cats. To make things better, there are no artificial flavors or preservatives either. And its smooth pate-like consistency makes it even easier on your cat's sensitive stomach.
So, what does Blue Buffalo put in their wet cat food? They like to keep things as simple as possible and use a single source of protein in every can. Their available options are duck, fish, or turkey. Your cat might still have an allergy to one of these protein sources, but you can easily put your cat on an elimination diet until you find a food that works.
The ingredients used are of the highest quality. Real meat is used as the protein source, along with potatoes and pumpkin for a digestion-friendly dose of fiber. You can use pumpkin for cats with diarrhea to help bulk up their stools, so this is a great option for cats with runny stools. There are also added Omega 3 and 6 fatty acids for good skin and coat health.
Pros
No common allergy-causing ingredients
A single animal protein source in every can
No artificial flavors or preservatives
Can be used for a food elimination diet
Uses quality real meat and healthy carbohydrates
Easily digestible pate consistency
Added Omega 3 and 6 fatty acids
Available in three different delicious flavors
Cons
No added digestive-boosting pre- or probiotics
Limited ingredient cat food is a great option for cats with food sensitivities as you can narrow down and eliminate what your cat is eating. And this food from Reveal is as limited as it gets! The only ingredients in each can are real fish chunks and broth. It's 100% natural, and as tasty as ever.
By using pure fish, Reveal has managed to replicate a cat's natural diet. It goes without saying that a natural diet is the easiest to digest – cats' bodies have evolved to break down protein like the tuna and mackerel in these recipes with ease. It comes from high-quality sources and tastes delicious.
There are also no artificial colors, flavors, and preservatives either. Plus, as a fish-only recipe, you don't need to worry about hard-to-digest carbohydrates and other common allergy-causing ingredients, like chicken, beef, soy, or wheat.
The only downside of having such natural food is that it isn't the most nutrient-dense option on the market. Cats are missing some of the essential vitamins, minerals, and fiber needed for all-around good health. Nevertheless, it is a great complementary food ideal for cats with digestive issues.
Pros
Made from 100% natural real meat protein
Two or three ingredients only (depending on flavor)
No artificial colors, flavors, or preservatives
Mimics a cat's natural diet so easily digestible
Grain-free and soothing on the tummy
Cons
Intended as a complementary cat food only
Doesn't contain all essential vitamins and minerals
Another cat food for sensitive stomachs is this product from Hill's. This is a veterinary recommended formula that comes from the Hill's Science Diet range. All the recipes in this range are inspired by science to help improve and promote the health of your furry friend.
To help cats with stomach issues, Hill's has developed an easily digestible recipe. It is made from the chicken so isn't appropriate for cats with chicken allergies or intolerances. However, the protein used is of high quality, and the recipe is free from grains, meaning it's super gentle on the tummy.
Additionally, natural fiber is included to help the formation of healthy stools and make for easy stool pick-up. There is also prebiotics to feed and balance the bacteria in the gut. And there are added vitamins and Omega-6 fatty acids, which are particularly beneficial in promoting healthy skin and fur.
All the ingredients are natural, further aiding digestion. Chicken is also an all-around winner loved by most cats, so you can trust your kitty will love the taste! Unfortunately, it is a little more expensive than other products on this list, but worth it if you have a little extra to spend.
Pros
Approved by vets according to a 2021 survey
Contains prebiotic fibers from improved digestion
A grain-free formula that is gentle on the stomach
Also supports healthy skin and coat
Added vitamins and Omega fatty acids
Delicious chicken taste most cats love
Cons
More expensive than other wet cat food
Chicken is known to cause allergies in some cats
This wet cat food from Wellness promises to be easily digestible and gentle on your cat's sensitive stomach. It is made from high-quality protein sources with no meat by-products. Cats can easily break down these quality proteins and extract all the essential amino acids from them.
There are digestive enzymes included in the recipe to further aid the breakdown of food. It is also 100% grain-free and instead uses superfoods as a healthy source of fiber. Examples are pumpkin and papaya – two fiber-rich superfoods that help to firm stools and ease digestion.
Wellness has added probiotics to this cat food as well. Unlike prebiotics found in some other foods that feed healthy gut bacteria, probiotics are beneficial bacteria themselves. Ingestion of these good bacteria replenishes the must-have bacteria in the gut to promote a healthy microbiome.
Additionally, this food is so dense in nutrients that it promotes overall good health rather than just good digestion. There are Omega-3 fatty acids for good skin and fur, antioxidants to support the immune system, and plenty of vitamins and minerals for all-around improved vitality. It's the go-to wet cat food for a total health boost!
Pros
Made from quality protein with no meat by-products
Contains digestive enzymes to aid digestion
A 100% gain-free, easily digestible formula
Added probiotics for a balanced gut microbiome
Superfoods for a source of fiber and good stool formation
Antioxidants for improved immunity
Added vitamins, minerals, and Omega-3 fatty acids
Blended into a soft, easy-to-eat meat pate
Cons
More expensive than other wet cat food
If your cat's stomach upset is caused by allergies, try this hypoallergenic cat food from Forza10. This brand was set up in 1995 by a qualified vet that specializes in food intolerances called Dr. Canello. Therefore, this cat food and all other products from this brand are formulated by qualified veterinarians, providing recipes you can trust.
As a hypoallergenic cat food, it doesn't contain any known common allergens, such as beef and chicken. High-quality lamb and salmon are used as the protein source instead. These animal proteins are less likely to cause food intolerances, and their good quality makes the food easy to break down.
This real animal protein is coupled with natural extracts of papaya, pomegranate, and turmeric for plenty of fiber, vitamins, minerals, and antioxidants. These promote overall good health by strengthening the immune system and helping with the formation of healthy stools
I also love that all these great ingredients are blended into a smooth pate. Pates and pastes require less work to be digested, perfect for cats with sensitive stomachs. However, the price of this food is much more expensive, so not ideal for anyone on a budget. This is also not a suitable option for cats with salmon or lamb allergies, as these are the core ingredients.
Pros
Doesn't contain any common allergy-causing ingredients
Provides high-quality real animal protein
Papaya, pomegranate, and turmeric for added health benefits
Smooth pate consistency to help digestion
Nutrient-dense recipe with vitamins, minerals, and antioxidants
Cons
Not hypoallergenic for salmon or lamb allergies
More expensive than other cat foods for sensitive stomach
No added pro- or prebiotics, or digestive enzymes
If you have an indoor-only cat, this wet cat food from Instinct is a great option. Indoor-only cats often don't get as much exercise as outdoor cats, so their muscles aren't as strong. They, therefore, benefit from high-protein diets to give them these lean muscles, despite the lower activity levels.
Instinct has crammed protein into this recipe, so much that it accounts for 11.5% of the total ingredients! This comes from only one animal source (which varies depending on the flavor), so it is great cat food for indoor cats with sensitive stomachs. The protein is high-quality too, further enhancing the digestibility of this food.
Like most other products on this list, this wet food for cats is grain-free. In fact, it is made without grain, dairy, eggs, chicken, beef, sweet potato, potato, chickpeas, wheat, corn, soy, artificial colors, or preservatives. These are all known to be harder on digestion or trigger food sensitivities, so their absence is a huge perk.
All of this goodness is blended into a pate that cats love. Moreover, you can feed this to your kitty no matter which stage of life they're at. From kittens to elderly cats, the blend of protein, vitamins, minerals, and Omega fatty acids offers balanced nutrition for all ages.
Pros
High protein and ideal for indoor cats
Limited ingredient food with one source of protein and carbohydrates
Free from all ingredients known to cause food sensitivities
Grain-free and gentle on the tummy
Suitable for all life stages, from kittens to senior cats
Includes natural Omega fatty acids
Soft pate consistency to help digestion
Cons
No added probiotics or prebiotics
Canned Cat Food for Sensitive Stomach Buying Guide
As you can see, there are loads of great wet cat food options for sensitive stomachs. However, stomach sensitivities can be caused by all kinds of different things! Choosing a food appropriate to your cat's dietary requirements is a must.
Below are some factors to consider before purchasing any of the products on this list.
Age-Based Nutritional Needs
Most commercial cat foods are targeted at cats of a specific age. As kittens grow into young adults and then into senior cats, their nutritional needs change. Therefore, it is vital to check the age range of the cat food before you purchase it to check it aligns with your cat's needs.
For example, kittens need special wet food that's packed with nutrients to help their growth and development. It is more nutrient-dense and contains more calories. On the other end of the spectrum, it is common to see an older cat losing weight and muscle mass. They need higher protein content to support lean muscle and added antioxidants to support their weakening immune systems.
Underlying Health Conditions
The health of your cat is also a deciding factor in choosing the perfect wet cat food for sensitive stomachs. While trying to stop your cat throwing up after eating or experiencing other digestive upset, you cannot let these other underlying conditions be forgotten!
Below are some special diets and their corresponding diseases you need to be aware of. Try to find a food that ticks these boxes and helps digestion if you're dealing with any of these issues:
Low Sodium Cat Food: Sodium – aka salt – is found in many commercial cat foods. It draws water from cells and is a no-no for any cats with heart failure. If your cat suffers from heart issues and digestive upset, you need low-sodium food for sensitive stomachs.
Low Ash Cat Food: The ash seen in the ingredients of cat food refers to inorganic mineral content, such as calcium and magnesium. These minerals can form deposits in the urethra, so cats with urinary and digestive issues need low-ash cat food for sensitive stomachs.
Iron-Rich Cat Food: Iron is an essential mineral whose primary function is producing the hemoglobin found in red blood cells. Anemic cats need iron-rich cat foods to increase the amount of hemoglobin and increase the oxygen-carrying capacity of the blood.
Cause of Stomach Sensitivity
You also want to consider what is causing your cat's stomach sensitivity. This ensures the food you choose targets the issue. There are three main causes of stomach upset in cats:
Food Intolerances: Food intolerances are where the body cannot metabolize a certain food effectively, often caused by an enzyme deficiency (similar to lactose intolerance in humans). If your cat is throwing up food but acting normal, or if your cat has runny diarrhea but seems fine, they're probably dealing with food intolerance.
Food Allergies: Food allergies are where a specific food item triggers an immune response and treats the digested food as a pathogen. This has a more severe reaction and might mean your cat has runny poop all the time. Other allergy symptoms are also usually seen, such as itchy skin, inflammation, or even an allergic shock.
Eating Too Quickly: I often see my cat throwing up undigested food. This is a sure sign that she isn't dealing with food intolerances or allergies – she's simply eating too damn fast! Cats' stomachs cannot handle the sudden and unexpected amount your cat has just eaten, so the food gets thrown up immediately all over your floor.
Each of these three causes has different treatments. If your cat has a food intolerance, any cat food containing probiotics, prebiotics, or digestive enzymes can help. Ideally, you should also eliminate the food trigger, but mild intolerances can be improved by simply bettering digestion itself or using more easily digestive food sources (such as quality protein and no grains).
On the other hand, foods that cause allergies will trigger an allergic reaction no matter how good your cat is at digesting the material. Therefore, it needs to be eliminated from the diet. If you know what causes the allergy, limited ingredient diets are an easy way to cut this food source out. If not, you might need to put your cat on a food elimination diet to figure out the trigger.
If you think your cat is eating too quickly, you might not need to change the food at all. Buying an automatic wet cat food feeder to feed smaller more frequent meals can be a great solution. Slow feeder bowls are another alternative to slow down eating and improve digestion.
Ingredients List
Finally, I just want to summarize all the things to look for if you want to find the best wet cat food for sensitive stomachs. Use this list when comparing the ingredients lists of different brands to find a winning product that your cat loves:
High-quality protein as the first ingredient and no meat by-products
Single source of real animal protein rather than a mixture
No known common food triggers (beef, chicken, eggs, soy, wheat, dairy, etc.)
Probiotics or prebiotics to promote a healthy gut microbiome
No grains – superfoods such as pumpkin are better sources of carbohydrates
Avoid all artificial colors, flavors, or preservatives which impede digestion
Additional vitamins, minerals, antioxidants, and Omega fatty acids
High-moisture pate-like consistency to improve digestion
How to Change Your Cat's Food – Without Causing Stomach Upset!
Changing your cat's diet can drastically improve the symptoms of a sensitive stomach. However, you need to introduce the new food the right way. Failure to do so can cause more harm than good – suddenly changing your cat's diet can actually cause stomach upset.
Use these tips when changing to wet cat food for digestive problems for a better chance of success:
Change Gradually: Always mix a little of the new food with the old to being with. Over the next 1-2 weeks, you can slowly add more of the new food and less of the old until you have completely transitioned to their new wet food diet.
Veterinarian Advice: If your cat has a sensitive stomach, it is worthwhile speaking to your vet before changing cat food. They'll be able to advise you on brands or ingredients to look for based on your cat in particular.
Store Correctly: Wet cat food goes off quickly, and opened cans should be stored in the refrigerator and consumed within a few days to prevent spoiling (and stomach upset!). Cats can eat cold wet food from the fridge, but warming it slightly can encourage consumption.
FAQs
Q: What are the symptoms of a sensitive stomach in cats?
A: Vomiting, diarrhea, and flatulence are the three most noticeable signs of a sensitive stomach in cats. Loss of appetite is also common as nauseated cats don't want to eat. In the case of food allergies, skin irritation and scratching are other notable signs.
Q: Why does my cat have a sensitive stomach?
A: Your can might have a sensitive stomach as it is intolerant or allergic to one of the ingredients in the commercial cat food it's eating. Alternatively, your cat might throw up after eating when they eat too quickly and fill themselves up too much.
Q: Is wet food better for cats with sensitive stomachs?
A: Yes, wet cat food is generally better for cats with sensitive stomachs. It contains fewer carbohydrates and more protein than dry kibble. As carbohydrates are not parts of a cat's natural diet, these are harder to digest than proteins.
Q: What is the best food to feed a cat with a sensitive stomach?
A: The best cat food for a sensitive stomach is generally a hypoallergenic diet. These help cats with protein sensitivities by making the protein more easily digestible. Low carb diets also help to stop cats from throwing up after eating as they're also more easily digestible.
Q: What are the types of hypoallergenic diets for cats?
A: There are three main types of hypoallergenic diets for cats. The first is a limited ingredient diet that contains one carbohydrate and one protein source. The second is a novel protein veterinary prescribed diet better for highly allergic cats. And the third is a hydrolyzed protein prescription diet.
Q: How else can I help a cat with a sensitive stomach?
A: Aside from switching the type of cat food, I recommend you try a different feeding routine. Cats that eat large meals are more likely to throw up immediately after. Break your cat's daily food intake into several smaller, more manageable portions and it can help ease their sensitive stomach.
MY FINAL THOUGHTS
Choosing the best wet cat food for a sensitive stomach is a great way to improve your cat's digestion. Opting for an easily digestible formula, limited ingredient blend, or hypoallergenic option are all great solutions. Many even come with added prebiotics, probiotics, and digestive enzymes!
Be sure to transition to the new canned cat food for sensitive stomachs slowly and store all open food in the fridge. If your cat still doesn't show signs of improvement, speak to your vet. Bloody stools, constant diarrhea, straining to poop, and other signs of illness shouldn't be overlooked either. Your cat might have more than a food sensitivity and might need professional help.