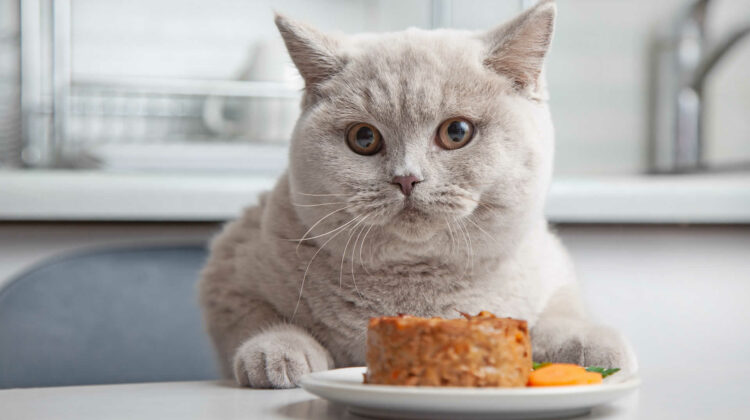 Cats are extremely fussy creatures. They love their routine and hate if you change something suddenly. And one of the things cats are fussiest about is their food. Some cats will only eat wet food, other cats will only eat dry food. Then you have cats that will only eat fish but not chicken, or cats that only eat one particular brand.
I feed my cat wet food as this is her preference. But I noticed she never seems as happy with her food when I serve the second half of the can from the fridge. This got me thinking, can cats eat cold food? Or is she just being a fusspot like usual? And does wet cat food even need to be refrigerated?
So, I did my research and it turns out that cats can eat cold wet food. However, more often than not felines will turn their nose up at it. It doesn't smell as strongly and the cool sensation in their mouth might not feel pleasant. I run through this in more detail in this article, plus offer some methods of warming cat food up.
Can Cats Eat Cold Wet Food?
The simple answer to this question is yes. Cats can eat cold wet cat food. But then again, cats can eat anything if they really want to. Therefore, a better question to ask is should cats eat cold wet cat food, and the answer is no they shouldn't.
Eating food straight from the refrigerator won't do your cat any harm, but as cats are known to be fussy it is best that they don't. This will increase the likelihood of your cat eating their dinner and getting the nutrients they need. There are several reasons why cats turn their nose up at cold food, which I cover more in the below sections.
With this all being said, if you're cat doesn't seem to have a problem with eating refrigerated cat food then you can continue doing as you are. If there isn't a problem, don't try and solve it!
1. It Doesn't Mimic the Temperature of Prey
The main reason cats don't like eating cold wet cat food is because it doesn't mimic the temperature of prey. In the wild, cats eat small rodents and birds for food. The meat from these small birds and mammals will be the same temperature as the animal itself. The warmer the meat is, the fresher it is. And the colder it is, the more likely their prey died a while ago.
For this reason, cats have a natural preference for warmer meat. This means it is fresher and less likely to have gone off. Although cats – especially indoor-only cats – aren't relying on hunting for food and survival, the instinctive preference for warmer meat persists. Even though the food in your fridge is fresh, your cat won't see it this way.
2. Colder Food Can Make Cats Sick
There is also a chance that eating cold food might make your cat feel sick. This can start as soon as putting the food in their mouth. The cold temperature can make strange sensations in your cat's mouth that they don't like. If your cat has sensitive teeth, biting down on the cold food to chew it can also cause them pain.
For this reason, many cats that eat cold wet cat food will eat it quickly without chewing it properly. These larger lumps of food eaten at record pace and make your cat sick. Some will just feel a little uncomfortable for a while, whereas others might go as far as to regurgitate their dinner all over the floor!
3. It Doesn't Smell as Appetizing
The warmer food is, the smellier it is. The added heat gives more energy to the molecules in the food, leading the odor-causing compounds to release into the air more easily. Cats already have a powerful sense of smell, but having warm food can really entice them to eat every last mouthful.
On the other hand, cold cat food has a much less intense odor. This is a great perk for us – I don't miss the smell of fish lingering in my home! However, for cats, it can put them off their dinner. If it doesn't smell tasty, why would they want to eat it?
How To Warm Up Refrigerated Cat Food
If you do have a fussy cat that isn't eating cold wet cat food, you'll want to heat it up. Ideally, the food should be at room temperature. This will be closest to the temperature of prey that cats instinctively show a preference for. Besides, too warm and you run the risk of burning your cat's mouth.
So, how can you warm up refrigerated cat food? Can you microwave cat food? Or is there another way of heating it? Here I look at a few different methods you can try at home.
1. Microwave Cat Food
The first option available is to simply microwave the refrigerated cat food. If you want to microwave your cat's food, follow these steps:
Start by putting the wet cat food into a microwaveable bowl. Putting metal in the microwave is very dangerous, so never leave the cat food in the can.
Turn the microwave down to the lowest setting. You don't want to heat the food on full blast or it could become too warm for your cat to enjoy.
Heat the cat food in the microwave for 30 seconds, then give it a stir. Stirring helps the heat to dissipate through the food so it is all the same temperature.
Check the temperature of the food using a clean finger, and repeat step 3 as many times as necessary. Then put the food in your cat's bowl and let them enjoy it.
2. Heat it Using Hot Water
If you don't have a microwave, this is another great method. It is also easier to keep track of precisely how warm the cat food gets so you never overheat it. To use this method, follow these steps:
Boil the kettle and pour a small amount of boiling water into a shallow bowl. You will be putting the can of food in this, so ensure the water level isn't too high.
Get the cat food from the fridge and place the can directly in the bowl of water. Let it sit here for a few minutes, stirring now and again.
The heat from the water will travel through the can and slowly heat the food up. Once it is an appropriate temperature, serve it to your hungry cat.
3. Leave it On the Kitchen Counter
Finally, you can heat cat refrigerated cat food simply by leaving it out on the side. Through a gradual process, the heat will penetrate the cat food and the coolness will leave. The benefit of this method is that the cat food will only ever reach room temperature and never higher. Therefore, you never need to worry about heating the food too much.
However, this method does have some drawbacks. For one, you need to be prepared! It will take around an hour or more for the food to reach room temperature. This is not one for busy owners or anyone who is remotely forgetful!
Also, leaving wet cat food out on the side can run the risk of going off. How long can canned food sit out? Never leave the food out for longer than four hours. Ideally, cover the cat food with clingfilm as you leave it to warm up. This will help to keep bacteria out so it stays fresher.
Other Feeding Options for Cats
If you don't want to heat wet cat food, don't worry. There are a few other options available to you, which include:
Dry Cat Food: Switch to dry cat food that doesn't need to be refrigerated. You can simply get this out of the bag and it will already be at room temperature – voila! If you do switch to dry food from a wet food diet, be sure to introduce the new food slowly. This will help encourage your cat to accept the change and reduce associated stress. Bear in mind that young kittens need wet food, so don't switch to dry food before your cat is old enough!
Smaller Portions: Another option is to simply purchase smaller portions of wet cat food. This means you can feed your cat an entire can each mealtime, and there won't be any leftovers that need to be refrigerated. Of course, this might not be an option for all brands of cat food, but see if it is available. If it's not, you could consider switching brands. Again, switch to the new brand slowly for the highest chance of approval from your cat.
Automatic Cat Feeder: You could also consider purchasing an automatic wet cat food feeder. This way, you can put your cat's food into the different sections when you first open the can. Ice packs below the sections of the feeder keep the food fresh throughout the day, without cooling it down too much. A lid then covers the food to prevent bacteria from getting inside, while simultaneously stopping your cat from accessing all their food at once.
I personally use the automatic cat feeder option. Not only do these feeders remove the need for me to heat cat food, but they also make it easier to stick to a feeding schedule. I know I'm never going to forget to feed my cat, and she loves the consistent routine.
These pieces of kit are so popular that you're spoilt for choice. From dog-proof cat feeders to cat feeders with a collar sensor, the choice is yours. Have more than one kitty? Don't worry! There are even automatic cat feeders for multiple cats on the market.
Does Wet Cat Food Need to be Refrigerated?
Hold on – can't we just not refrigerate cat food? Won't that solve the issue? Unfortunately, that isn't an option. Wet can food needs to be stored correctly. Otherwise, bacteria can grow on the food. When your cat ingests this bacteria, it will fall sick. Incorrect storage can also impair the taste and the nutritional value of the food.
How you store wet cat food depends on whether it is opened or unopened:
Unopened Wet Cat Food
Unopened wet cat food does not need to be refrigerated. Instead, you need to keep the food at room temperature. Leaving the cans in a cupboard or on a shelf is perfectly fine. However, try to choose a place that doesn't deal with extreme temperature fluctuations as this can impair the taste.
You'll also want to keep the food in a dark place where possible. Prolonged sun exposure can make the contents of the cans spoil more quickly than they should. A dark cupboard in your kitchen tends to be the best place for this reason.
Opened Wet Cat Food
Once you open a can of cat food, any remaining leftovers need to be refrigerated. This helps stop the food from growing bacteria and keeps it fresh. Cover the open can and put it in your fridge. It can last here for up to 5 days, but any longer and you will need to throw the contents away.
In terms of the wet food in your cat's bowl, this will be good for around 4 hours. If there is any food your cat hasn't eaten 4+ hours after feeding time it needs to be thrown away.
MY FINAL THOUGHTS
So, can cats eat cold wet food? They can indeed. However, many cats are fussy eaters and will turn their noses up at cold food. It won't smell as appetizing, plus cats instinctively prefer eating warmer food that is at the same temperature as their prey.
If you are feeding your cat wet food that's been in the fridge, try heating it up first. I can almost guarantee your cat will happily eat it as if it was a fresh can!