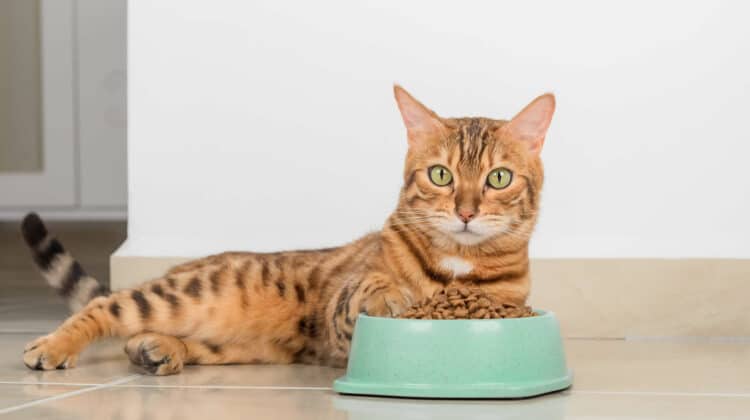 If your cat isn't pooping but acting normal, it's probably constipated. Seeing your furry friend struggling to poop can be very upsetting. They often yowl in pain and strain when trying to defecate, and sometimes you'll even see blood in their stools. My cat's stomach is bloated and hard when he is constipated, and you can tell he's in pain.
Some causes of constipation are serious and need treatment from a vet. Call for a professional opinion if your cat is sleeping all day and not eating. Likewise, a cat not eating or drinking for three days is a medical emergency! However, it is always best to get your vet's advice whenever you notice a change in your cat's digestion so underlying conditions can be corrected.
But sometimes, constipation is caused by nothing but a poor diet. You can correct your kitty's stomach upset by choosing the right food for cats with constipation that contains high amounts of fiber and water. Here I list and review some of the best foods for constipated cats on the market, so keep reading to help your struggling and straining feline.
My Top Pick
My favorite food for cats with constipation is the Blue Buffalo Basics Skin & Hair. The food contains high-quality, easily digestible protein, avoiding known allergy-causing chicken and beef. The manufacturers have also eliminated all grains, soy, corn, dairy, and eggs while adding fiber-rich pumpkin to help with healthy stool formation.
As wet cat food, the Blue Buffalo range is also high in moisture and ensures your cat isn't dehydrated. Plus, it comes in multiple flavors, has an enjoyable pâté consistency, and includes fatty acids for healthy skin and coat.
Best Food for Cats with Constipation
There are many cat foods on the market, all of which serve different purposes. Some cat foods are nutrient-dense recipes intended for kittens. Others are iron-rich formulas perfect for anemic cats, or recipes containing low phosphorus are best for kitties with kidney problems.
But what makes food suitable for cats with constipation? And what factors make some foods better than others? Here are the must-have features all my top-rated products have:
High Fiber Content: Many cats are constipated because they lack dietary fiber. Fiber is known to soften stools and is imperative to healthy digestion. As such, all the best food for cats with constipation is high in this valuable nutrient (but not too much, or this can make matters worse).
High Moisture Content: Dehydration is another leading cause of constipation in cats. It can be difficult to get a cat to drink water, but one way to increase fluid intake is to use wet food or soft dry cat food. These are higher in moisture than kibble and help to soften stools.
High-Quality Ingredients: High-quality ingredients are easier for your furry friend to digest, such as real animal protein sources, whole grains, and no fillers. By choosing highly-digestible diets, stool output is reduced. Mobility along the GI tract is also improved, helping ease digestive discomfort.
High Protein, Low Carb: A diet containing high amounts of protein and low amounts of carbohydrates most closely resembles a cat's natural diet. Like quality ingredients, this makes the food more digestible and less likely to cause constipation.
Digestive-Boosting Ingredients: Many cat foods that support digestive health contain additional digestive-boosting ingredients. This may include prebiotics which activates the gut microbiome, or digestive enzymes to help break down everything your cat consumes.
There are a few other factors to consider when choosing the best food for cats with constipation, including flavor and texture. Cat food comes in various forms, from poultry-flavored pâté to meaty morsels of beef in gravy. Felines are notoriously fussy when it comes to eating, and each has its own preferences.
To cater to the taste buds of all our furry friends, I have included a range of products on this list. This way, there should be a suitable product for everyone! Keep reading, and all will be revealed.
The best food for cats with constipation is this wet food from Blue Buffalo. First and foremost, this food contains high-quality turkey, fish, or duck (depending on the flavor you choose). These protein sources are easily digestible and help promote digestive health. They're also good alternatives to chicken and beef, two common food allergens in cats.
Alongside eliminating chicken and beef from the recipe, Blue Buffalo has also removed all grains, thickening agents, corn, soy protein, dairy, and eggs. It's also free from artificial flavors and preservatives, making this one of the most easily digestible formulas on the market.
So, what has Blue Buffalo included in its formula? Despite being a limited ingredient option, it still contains plenty of digestive-enhancing ingredients, such as pumpkin. Pumpkin is a brilliant natural source of soluble and insoluble fiber that aids in gentle digestion.
It also has a high moisture content to counteract any constipation caused by dehydration and is a soft pâté consistency cats love! This food is also rich in Omega-3 and -6 fatty acids to promote healthy skin and coat. This is a bonus, and I love foods that provide overall health benefits to my kitty.
Pros
Made from high-quality protein sources
No chicken and beef, which are common food allergens
Free from corn, wheat, soy, dairy, and eggs
No artificial flavors or preservatives
Easily digestible formula that helps ease constipation
Contains fiber-rich and nutrient-dense pumpkin
High-moisture food with a pâté consistency
Also promotes healthy skin and coat with added Omega fatty acids
Cons
A little on the pricier side compared to alternatives
Another excellent food for cats with constipation is this wet food from Wellness CORE. As the name suggests, this food has been specifically formulated to improve cats' digestive health. This makes it perfect for felines with hard stools or any other digestive problems.
Firstly, the food is made from high-quality and easily digestible protein. You can choose which protein source you want based on your cat's preferences; your options include chicken, poultry, salmon, seafood, turkey, or whitefish. These protein sources supply your cat with all the necessary amino acids and help support healthy digestion.
Further enhancing the digestibility of the food are digestive enzymes, which work alongside your cat's natural enzymes to break down food efficiently. Superfoods such as pumpkin and papaya are also included. These contain vitamins, minerals, and a healthy dose of fiber to help soften stools.
Digestive function is not the only aspect of your cat's health this food supports. The recipe includes antioxidants and prebiotics to support immunity (the latter also boosts digestion), and Omega-3 fatty acids for healthy skin and coat. Its high moisture content, delicious flavor options, and veterinary-approved status further make this a must-try product.
Pros
Specifically formulated to improve digestive health
Contains high-quality and easily-digestible proteins
Pumpkin and papaya to help nutrient absorption
Fiber-rich food for healthy stool formation
Prebiotics to activate the good bacteria in the gut
Comes in multiple delicious flavors
Also supports immunity, healthy skin, and coat
High moisture content to help soften hard stools
Helps with other digestive issues, including diarrhea and vomiting
Cons
More expensive than alternative food options
Have you struggled to find a food your cat likes the taste of? If so, the Tiki Cat food for cats with constipation could be an excellent product to try. This selection box comes with two pouches of five different flavors, so ten in total. Try each one and see which your cat best likes the taste of!
The flavors in this multipack all have tuna as a base, which is the first ingredient of all pouches. This high-protein source is gentle on your cat's stomach and easy to digest. One of the flavors is simply tuna, whereas other fish has been added to the others to make new flavor combinations. These additional flavors are tilapia, shrimp, calamari, and whitefish.
Another core ingredient in all the flavors is pumpkin. This natural and gentle source of soluble and insoluble fiber helps improve healthy stool formation. It also promotes mobility along the gastrointestinal tract, giving less time for water to be absorbed so that stools become softer.
This cat food for constipation is also free from potatoes and grains and is a broth-style food that is very high in moisture. Plus, it is an "all life-stages" food, which can be fed in kittenhood through to their senior years. This makes it an extremely versatile food and one that's truly effective in helping ease your kitty's tummy troubles.
Pros
Five-flavor multipack, ideal for fussy eaters
Contains quality, easily digestible tuna as the first ingredient
All pouches contain fiber-rich pumpkin
Wet food that is high in moisture to improve stool formation
Free from indigestible potatoes and grains
Suitable for all life stages
Toy mouse and animal facts book also included in the bundle!
Cons
Low in protein content compared to other foods
Wet food is generally best when your cat is constipated, but sometimes a wet food diet isn't practical. Some cats also dislike wet food and prefer munching on dry kibble. If this sounds like your situation, try the Perfect Digestion range from Hill's Science.
As a dry food, this doesn't contain as much moisture as the wet food alternatives on this list. Therefore, you must ensure your cat is still drinking enough water. However, it does contain ActiveBiome+, an exclusive blend of prebiotics, whole-grain oats, and pumpkin.
These three ingredients provide enough fiber to help soften stools and promote healthy digestion. The blend of prebiotics provides even more digestive-enhancing power! They stimulate the growth of the good bacteria that make up the gut microbiome, helping to ease digestion and mobility along the gastrointestinal tract.
This cat food is also made using the highest quality ingredients. Chicken is the first listed ingredient, along with whole grains, vitamins and minerals, and other protein sources. This creates a nutritious and delicious blend that almost all cats love the taste of.
Pros
Contains whole-grain oats and pumpkin for healthy fiber content
ActiveBiome+ technology to promote good gut health
Contains prebiotics to activate the gut microbiome
Made using high-quality ingredients
Added vitamins and minerals for overall good health
A healthy yet delicious formula most cats love the taste of
Cons
Lower in moisture than wet cat food alternatives
Intended for senior cats, so it is unsuitable for younger felines
You don't need to change your cat's food to ease constipation; you can add digestive-friendly supplements instead. One brilliant option is this pureed pumpkin supplement from Weruva. This product contains only two ingredients: pumpkin and water.
Many owners swear on pumpkin for cats with constipation. The large orange fruit naturally contains high levels of soluble and insoluble fiber, which helps to support the healthy formation of stools and improves gut mobility. This food's water element helps improve your kitty's digestion, helping to loosen stools effectively.
As a limited ingredient cat food supplement, this product is free from grains, gluten, starch, carrageenan, GMOs, and MSG. The pouch it comes in is also BPA-free, making pouring and mixing with your cat's current food as easy as ever.
If you know you have a fussy eater, using a supplement such as this rather than swapping to a new cat food could be beneficial. Your kitty doesn't need to get used to an entirely new diet and are more likely to eat what you put in their bowl. It's also 100%, which I think is fantastic!
Pros
Contains high levels of soluble and insoluble fibers
Only contains two ingredients: water and pumpkin
Can add it to your cat's regular food rather than changing diet
Supports stool quality and healthy digestive function
Contains all natural ingredients
Comes in an easy pour BPA-free pouch
Cons
Can cause diarrhea if too much of the supplement is used
My final recommendation is the Reveal Natural Wet Cat Food. This is an excellent food for cats with constipation as it is an all-natural product that contains only two ingredients: tuna fillet and broth. Fish is part of cats' natural diets and can be easily digested, helping to promote healthy stool formation.
Other flavor combinations are available if your cat isn't a fan of tuna. This includes chicken, chicken and cheese, chicken and pumpkin, tuna with crab, and a few other options. All these flavors only contain these ingredients plus a broth. It's 100% natural, replicates a cat's natural diet, and is undeniably delicious for your furry friend.
The broth part of the cat food also makes it an excellent option for cats with constipation. In fact, the moisture content is as high as 90%! This ensures even cats that hardly drink any water are adequately hydrated so that a lack of fluids doesn't contribute to their digestive upset.
As a limited ingredient diet, this food does have some drawbacks. It should be fed alongside dry cat food to ensure your cat's diet is nutritionally balanced. The food also doesn't contain additional digestive-boosting ingredients such as enzymes, prebiotics, or fiber-rich foods. However, its simplicity is proven effective in easing constipation, and it is a fantastic all-natural solution.
Pros
Replicates a cat's natural diet, making it easily digestible
Uses only two or three ingredients in every can
Food is in broth to help improve hydration
Free from indigestible grains, artificial colors, and preservatives
Made from 100% natural ingredients
Cons
Should be fed alongside dry food for balanced nutrition
No additional digestive-boosting ingredients
Food for Constipated Cats: Buying Guide
As you can see, many foods on the market are known to ease constipation and support digestive health. Choose from one of these six top-rated products or shop around yourself! But when selecting a product, keep this buying guide handy to ensure the food you buy will be effective.
As you'll learn from this guide, the right cat food largely depends on the cause of your furry friend's constipation. High-moisture, fiber-rich, high-quality food generally improves symptoms, but this depends on the cause. Therefore, I suggest first speaking to your vet about your cat's symptoms and then using this guide to help you choose a suitable solution.
1. Moisture Content
Hydrated cats can be constipated, but dehydration is a contributory factor. The less fluid there is in the body, the less moisture there will be in the stools. This causes stools to become harder and more painful to push out. Therefore, opting for moisture-rich cat food is a good solution.
Wet cat food contains more moisture than dry food, so this is your best option for easing constipation. If you want to increase your cat's fluid intake even further, look for foods that contain broth. Some of these are up to 90% moisture and are a great way to effortlessly increase your feline's fluid intake.
However, some cats can be well-hydrated and constipated. If you know your cat drinks a healthy amount, it doesn't matter if you choose wet or dry cat food. These kitties will benefit more if you focus on providing easily digestible ingredients and other digestive-enhancing perks. This is a great example of why finding the cause of your cat's constipation is essential in finding a food that works!
2. High Fiber Content
Many assume cats don't need fiber for a healthy, balanced diet. As obligate carnivores, their diets are predominantly made from protein. However, people forget that cats' prey are herbivores! When cats eat mice or small birds, they also consume some of the fiber and other partially digested plant matter found within these small animals.
Most of the time, constipation is caused by a lack of insoluble dietary fiber (soluble fiber also exists, but this is less important when dealing with hard stools). Insoluble fiber is a bulking agent and holds onto moisture, helping stools soften and become more easily passable.
There are many different sources of dietary fiber, but a known favorite is pumpkin. It is natural and contains additional vitamins and minerals. Looking for cat food containing this fiber-rich fruit can be very beneficial. Other fiber-rich supplements you might find in digestive supporting foods include:
Chia seeds and flaxseeds
Green beans
Powdered cellulose
Cooked carrots or broccoli
Whole-grain wheat bran
Nevertheless, too much fiber can also cause digestive upset. Although it seems counterintuitive, it can lead to constipation! This is because dietary fiber feeds the bacteria in your gut, leading to the production of gas. When too much gas is produced, constipation can worsen.
Once again, this proves why determining the cause of your kitty's digestive discomfort is crucial before purchasing any cat food. If caused by a lack of fiber, boosting fiber will help. But if your cat is already consuming a healthy amount, this fiber boost can make matters worse.
3. Easily Digestible Ingredients
Easily digestible cat food is beneficial, regardless of the cause of your cat's digestive upset. The digestibility of food largely depends on two factors: (1) The quality of the protein and (2) The balance of proteins, fats, and carbohydrates.
There is no doubt that high-quality protein is more easily digestible than lower-quality options. When choosing cat food, always ensure real animal protein is used and that it's listed as the first ingredient. Avoid foods containing soy protein or poultry by-meals. You might also want to avoid foods containing chicken and beef, which are known to be less easily digestible and more likely to cause allergies.
As obligate carnivores, cats also digest protein much more easily than carbohydrates. They contain more digestive enzymes to break down proteins as they need amino acids for survival. Therefore, look for recipes with higher percentages of protein and lower amounts of carbohydrates. This is more similar to cats' natural diets.
Below are some other factors that can make food for cats with constipation more easily digestible:
Wet cat foods are easier to digest than dry foods
Choose recipes containing novel proteins (turkey, duck, and lamb) over chicken and beef
Find products containing additional digestive enzymes to help breakdown food
Look for foods containing prebiotics to activate the gut microbiome
Opt for whole-grain carbohydrates and avoid fillers
Always choose foods made from high-quality ingredients and natural sources
Feed your cat smaller and more frequent portions to put less stress on the GI tract
4. Flavor and Texture
The cat food you purchase is only beneficial if your cat eats it! It can be tempting to rush out and buy the first food you see to ease your feline's symptoms quickly. However, you must consider your cat's preferences and find a food she likes to eat.
There are two main factors to consider when choosing cat food, which are flavor and texture:
Flavor: Your cat needs to enjoy the taste of the food you serve. All cats have different palates; some prefer fish-flavored food, whereas others prefer poultry. Consider the flavor of food you're currently feeding your cat and perhaps match this with whatever new food you buy. This will increase the likelihood of her liking her new food.
Texture: Cat foods come in wet and dry varieties, but there are multiple options under these two categories. Wet foods might be in broth or gravy, could consist of meaty chunks or flakes, or be in pâté form. Likewise, dry food comes in various shapes and sizes. Wet food is usually a hit with cats, but you may need to try a few options before finding the winning solution.
5. Age and Health of Your Cat
Specifics regarding your cat's age and health impact on which foods are the best. Always check the stage of life for which the food is intended. This might be kittenhood, adult, or senior years (usually considered 7+ by commercial cat food brands). You must choose the right food for your cat's current age so they receive the nutrients they need for that stage of life.
Some cat food – such as my third recommendation – are suitable for all life stages. This means you can feed your cat this food no matter their age! These foods could be a good option if your cat has intermittent tummy troubles, so you don't have to keep swapping foods.
The health of your cat also plays into what food is best. Yes, it is important to try and correct their constipation – but do they have any other health issues that require specific diets? For example, cats with kidney disease need low-phosphorous food, whereas cats with urinary problems benefit from low-ash food. Keep this in mind when searching for the best food for cats with constipation.
FAQs
Q: How can I tell if my cat is constipated?
A: You can tell your cat is constipated by looking out for common symptoms. This includes a bloated abdomen, not passing stools, hard and dry stools, and straining when defecating. Cat sleeping positions when sick can also be a giveaway – look out for cats that are reluctant to lie on their bellies.
Q: Why is my cat constipated?
A: There are many causes of constipation in cats! A common one is dehydration. Cat poop turns black when it dries, so fresh dark poop is a sign your kitty is lacking in fluids. Other causes include too much or too little fiber or more severe conditions such as kidney problems or GI obstruction.
Q: What should I do if my cat is constipated?
A: Always take your constipated cat to the vet. Constipation could be the result of an underlying condition that needs veterinary treatment. Even if not, it is a good idea to get professional advice and learn more about the underlying cause so you can figure out the best solution.
Q: How can I ease my cat's constipation at home?
A: Start by feeding your cat food for cats with constipation. These recipes promote healthy digestion and stool formation. You can also increase your cat's fluid intake by investing in a cat water fountain and stimulating mobility through their intestines through daily exercise.
Q: What type of cat foods promote healthy digestion?
A: Cat foods that promote healthy digestion are made from high-quality protein sources and free from fillers, soy protein, and dairy. Many also contain prebiotics, digestive enzymes, and fiber-rich superfoods like pumpkin. They've also got a high moisture content to prevent dehydration.
Q: What is the best food for cats with constipation?
A: The best food for cats with constipation depends on what is causing your kitty to have hard, dry stools. I have listed six excellent options on this page but use my handy buying guide to discover the best solution for your furry friend's tummy troubles.
MY FINAL THOUGHTS
Constipation is a relatively common issue cats face. Unfortunately, it is not a nice problem to face and is unpleasant both for your kitty and you! It also has multiple potential causes, including dehydration, lack of fiber, poor-quality diet, kidney disease, lack of exercise, GI obstruction, and more!
Therefore, the first step to correcting your cat's tummy troubles is figuring out the cause. Your vet can help with this, so don't hesitate to ask for a professional opinion. In the meantime, try one of these foods for cats with constipation; they're rich in fiber, high in moisture, and made using the highest-quality ingredients.
You can also improve digestive function in other ways. Encourage your cat to drink more water by purchasing a cat water fountain or adding a little meat broth to her bowl. You can also encourage play – exercise is known to get the intestines moving and help with healthy stool formation. Besides, it is a wonderful bonding activity for you and your furry friend!