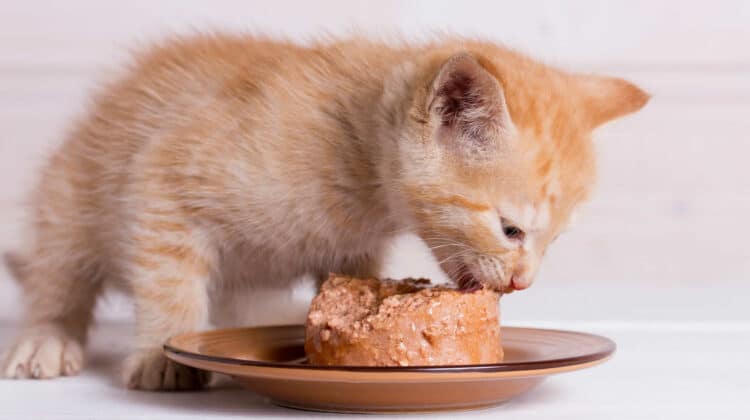 Kittens have different nutritional needs than adult cats. They're growing rapidly and need a nutritious and balanced diet for healthy development. They're also still strengthening their immune system, improving mental function, and learning new skills.
Therefore, all young kittens need to be fed specific kitten food – it has the optimal nutrients they need for the early stages of life. But as kittens mature, there comes the point where you need to switch your kitten to cat food. Their nutritional needs change as adults, and their diet has to match!
But how long should kittens eat kitten food? How do you successfully transition to the new food? And what type of adult cat food is best for your growing feline?
As you might imagine, randomly swapping to a new food without notice isn't a good idea. You need to make the transition at the right time and in the right way. In this article, I reveal all there is to know so you can successfully ensure your cat's diet meets the demand of its body.
What's the Difference Between Kitten Food and Cat Food?
Before I explain how long kittens should eat kitten food and when it is time to transition to an adult diet, it is essential to understand the difference between the two types of food. For this, we need to consider the nutritional needs of kittens and adult cats.
Let's start with kittens: kittens are constantly growing! Therefore, they require a diet that is packed with essential nutrients. This includes plenty of vitamins and minerals, proteins and amino acids, and healthy fats. Feeding a diet rich in these nutrients supports proper growth and development, giving them the best start in life.
Kittens are also more vulnerable to illness and infection than fully-grown adult cats. As such, kitten food is rich in antioxidants that support a strong immune system. Not including these in the diet might mean your kitten is weak and sleepy. Kittens are also bundles of energy, so a higher calorie content is essential. Omega fatty acids are equally crucial, contributing to healthy brain development.
As cats age, the demands of their bodies change. Adult cats don't require as many calories or proteins as growing kittens. Their immune systems are also more robust, and their energy levels are slightly reduced. Therefore, adult cat food contains the optimal nutrients for these specific demands. It tends to have less fat and protein as their bodies are no longer growing and fewer calories.
When to Stop Feeding Kitten Food?
As we've just established, it is crucial to consider your cat's age when choosing a type of food. Kittens need to be fed kitten food to support healthy growth and development. Similarly, adult cats require food that is lower in fats, protein, and calories to avoid issues such as obesity.
Therefore, the question "How long should kittens eat kitten food?" has a simple answer in theory: up until they're adult cats! However, this over-simplifies the question. Kittens don't suddenly wake up as an adult one day – it's a gradual process, and it's hard to put a definitive cut-off marker between kittenhood and adult life.
Moreover, the rate of growth varies between breeds. Most cats are considered fully-grown adults by around one-year-old. However, Maine Coons and other large breeds can take up to two years to reach full maturity. These cats growing for a more extended period need nutrient-dense kitten food for longer than most other cats.
Therefore, I would suggest switching from kitten food to adult cat food when:
Your cat weights approximately 90% of its fully-grown weight for its breed
Your cat is between ten and twelve months of age for most standard breeds
Your cat is between eighteen months and two years old for large breeds
Of course, this is a generalization. However, it's a pretty good rule of thumb to follow. As long as your kittens are nearly their full-grown adult selves, it is time to make the change to adult food. And if you're unsure, call your vet. They'll let you know their thoughts based on your cat's age, breed, and current weight.
How to Switch Your Kitten to Cat Food?
Is your furry friend quickly approaching adulthood? Have they reached their fully-grown size, or are they nearing their first birthday? If so, it's time to make the transition from kitten to cat food! However, you cannot just switch your kitten to cat food overnight.
Cats are sensitive creatures, and a sudden change like this can cause a lot of unnecessary stress! The digestive systems of cats are also more sensitive than you might realize. Suddenly changing food can disrupt their delicate gut microbiome and cause all kinds of digestive issues. They might suffer from bouts of sickness and diarrhea or refuse to eat their food altogether.
Therefore, the key to successfully switching to adult cat food is to take things slowly. This avoids stress and prevents potential digestive upset. Besides, it increases the chance of your kitten happily eating their new adult food without kicking up too much of a fuss!
As such, I recommend phasing the new food in over a ten-day period as detailed below:
Day 1-3: 75% kitten food and 25% adult cat food
Day 4-6: 50% kitten food and 50% adult cat food
Day 7-9: 25% kitten food and 75% adult cat food
Day 10: 100% adult cat food – the transition is complete!
By day ten, your cat should be eating their adult cat food without any issues. However, make sure you speak to your vet if your cat isn't eating its food for whatever reason. You might need to try a different brand to find one your kitten likes the taste of, but it's good to get veterinary advice and ensure nothing is wrong with your furry friend.
You can also try certain tricks to make the new food seem more appetizing if you're experiencing issues. For example, cats can eat cold wet food, but warming the food makes it more aromatic and appealing. If switching from wet food to dry kibble, you could also try adding a little water to the dry food initially to make the texture more familiar.
How to Choose the Right Adult Cat Food?
Choosing the right cat food for your furry friend is crucial for a smooth dietary transition. But when it comes to adult cat food, there are endless options out there. Trying to decide which food to feed your cat for the rest of its adult life can seem like quite the task.
Kittens need wet food when they're first weaned off their mom. They aren't used to chewing and swallowing and should never go straight onto dry kibble. However, their adult teeth will slowly start to come through, and you'll need to invest in kitten chew toys to help ease their sore gums. As kittens gradually become more accustomed to eating solid foods, you can transition to dry kibble if you wish.
Therefore, by the time your kitten switches to adult cat food, they can handle wet food, dry food, or soft dry cat food. Even within these categories, there are a variety of textures to consider – from pâté to gravy-covered meaty chunks and everything in between! On top of this, you're left with multiple brands to choose between, different cat food flavors, and a variety of macronutrient ratios.
So, how can you choose the right adult cat food for your cat? Below are some factors to consider to help ensure your adult cat is happy and healthy:
Quality of Ingredients: The most important consideration when choosing cat food is the quality of the ingredients used. You want recipes that contain real meat protein, naturally-sourced products, and no filler ingredients.
Wet vs. Dry Food: It is a personal preference whether you feed your cat wet or dry adult food. I like to use a combination of both for truly balanced nutrition. If you cannot decide, I recommend using the same style of adult food as kitten food – this helps smooth the transition and keep your cat happy.
Macronutrient Content: There are three macronutrients – carbohydrates, proteins, and fats. Make sure the nutrient profile of your chosen cat food is well-balanced for adult nutritional needs. Ideally, you're looking for 30-50% crude protein and 10-25% fats.
Special Requirements: For most cats, standard adult cat food is your best option. However, some medical conditions require a more tailored nutrient composition. Anemic cats should be fed iron-rich cat food, for example. Similarly, wet cat food for sensitive stomachs is preferable if you know your furry friend struggles with digestive discomfort.
Can You Feed an Adult Cat Kitten Food?
Hold up – do you really need to change to adult food? After all, you can technically feed kitten food to an adult cat. They're unlikely to turn their nose up at it, especially if they've eaten this food their entire life. So, why is it so important to transition to cat food at the right time?
As mentioned, kittens and adults have different nutritional needs. Feeding an adult kitten food forever is like feeding a teenager baby food! The food simply isn't formulated to meet the demands of their body and can result in a range of issues.
Now, feeding kitten food to an adult cat isn't going to cause serious problems immediately. Don't feel any pressure to swap foods right away, and don't panic if your kitty has passed its first birthday and you've yet to make the swap. However, consider changing foods soon to avoid these unwanted long-term effects:
Obesity or Weight Gain: Kitten food is higher in calories than adult food as it needs to support healthy growth and development. When adult cats eat kitten foods, these excess calories can cause them to pile on the pounds. Weight gain and obesity are risk factors for all kinds of illnesses, including diabetes, heart issues, and some cancers.
Kidney Problems: Kitten food generally contains more protein than adult cat food. Kittens need these proteins and their amino acid building blocks to facilitate growth. However, protein is processed by the kidneys, and high-protein kitten-friendly diets can put a strain on the kidneys and exacerbate underlying kidney problems.
Can You Feed a Kitten Adult Cat Food?
Switching your kitten to cat food can be a difficult process. In most cases, kittens will happily take to their new food when it's introduced gradually. However, some kittens don't respond well to the change. They might not like their food's taste, texture, or flavor.
To avoid this issue, many pet parents wonder if they can feed adult food to a kitten. This bypasses the transition period and makes things easier for everyone, right? Wrong! Specially formulated kitten food is crucial for healthy growth and development. Feeding adult cat food before the point of full maturity can cause all kinds of issues, including:
Poor Development: Specially formulated kitten food is high in calories and essential nutrients, which are required for healthy growth and development. Failure to fulfill these dietary needs could result in malnourishment, poor development, and stunted growth. This could have a lasting impact throughout adult life.
Weakness & Lethargy: Kittens need more energy than adults, and they get this energy through their diet. Adult cat food won't contain as much energy, meaning kittens fed an adult diet could be weak and lethargic. Where kittens should sleep at night and nap during the day, constant fatigue is a sign something is wrong.
As commercial kitten food is available at most pet stores, there is no excuse for feeding kittens adult food or vice versa. If you desperately want to avoid the transition process, I suggest opting for food labeled for "all life stages." This suits the needs of both kittens and adult cats.
However, as "all life stages" cat food is trying to hit the nutritional needs of both ages, it misses the mark slightly for both. It is an okay option and won't cause kittens or adult cats any harm whatsoever. But it's beneficial to use a specific kitten and adult formula for anyone wanting to give their furry friend a truly optimal diet.
MY FINAL THOUGHTS
So, how long should kittens eat kitten food?
You should consider switching your kitten to cat food at around the one-year-old mark. Most breeds are almost fully grown by the time they reach their first birthday. They no longer need the additional calories or proteins supplied in kitten-friendly formulas and benefit more from a diet tailored to the demands of the adult body.
However, this does depend on the breed of your cat. Large breeds such as Maine Coons take longer to reach full maturity. Therefore, they need the extra calories and proteins for longer. This ensures they reach their full adult size and grow into happy, healthy, fun-loving felines.