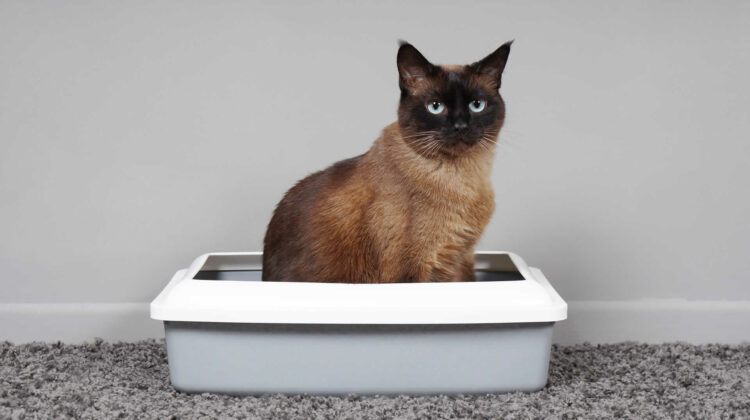 Seeing black poop in your cat's litter box fills us with worry. I know as I have been there myself! You can tell a lot about your cat's internal health by looking at their feces, and black cat poop certainly doesn't look good! It sends us into all kinds of thoughts about what could be wrong.
One of the questions I'm asked the most is "Does cat poop turn black when it dries?". Is it possible that you've just not scooped all the old poop away? And while it's been sat there, it has become dry, dehydrated, and black? Or is there actually something wrong with your cat that needs treating?
In this article, I answer these questions and more. Make sure you read all of this article – black cat poop is a sign of some pretty serious conditions. You need to figure out whether this could be the case with your cat so you can get the treatment it needs.
Does Cat Poop Turn Black When it Dries?
The quick answer to this question is yes – cat poop does turn black when it dries out. The longer feces has in contact with the air, the darker it becomes. But why is this?
Well, healthy cat feces is a characteristic brown color. There is some variation in this depending on what your cat has eaten, but all healthy poop should be brown. This color comes from the mix of the food your cat eats combined with bile. Bile is a yellowish fluid mainly made of water than contains several enzymes needed for digestion.
When cat poop sits around for long enough, this bile starts to evaporate into the air. As a result, cat poop gets darker and darker the more dried out it becomes. If a stool has been sitting in your cat's litter box for several days, it might turn very dark brown or black in color.
What Else Causes Black Cat Poop?
A very old, hard, and dry cat poop might be black. However, if there is black cat poop in your cat's litter box, don't assume this is the reason. It is possible that your cat pooped out black feces, and you need to figure out if this is what is happening or not. These black stools might be caused by a serious underlying medical condition that needs urgent veterinary care.
Below are six common causes of black stools in cats. Use this list to try and determine whether or not your cat does need an appointment with the vet.
1. Severe Dehydration
Old cat poop that is left to sit around will dry out and turn black. However, the same thing can happen in the body. If there is not enough liquid in your cat's stools in the first place, they will be black from the point of defecation. This is usually a sign of severe dehydration.
Alongside being dark in color, the poop will be noticeably hard if your cat is dehydrated. Therefore, it is also common to see your cat not pooping but acting normal. The hard, dry stools are difficult for your cat to pass, so they suffer from constipation and are unable to defecate. Other symptoms of dehydration you might notice include:
Low energy or lethargy
A reduction in appetite
Skin that's dry and flaky
Dull and sunken eyes
Gums that are pale, dry, and sticky
Panting/open-mouth breathing
Dehydration might not sound like anything too serious, but if your cat's fluid levels aren't replenished it can fall very sick. Their bodies rely heavily on water, and it is a main component of blood. As such, dehydrated cats have a reduced blood flow. This can lead to shortages of oxygen in vital organs, alongside electrolyte disturbances and a build-up of toxins.
2. Ulcerations in the GI Tract
Another cause of black cat poop is nothing to do with the hydration of the stools. Instead, it is to do with its blood content. When blood is digested, it turns the stools black and tarry. Therefore, any bleeding along the upper gastrointestinal tract can cause your cat's poop to change color.
Ulcerations commonly lead to internal bleeding. In fact, internal bleeding of ulcers is the most common complication. This happens when your cat has ulcers at the site of a blood vessel. The ulcers will steak to leak blood into the GI tract. They might bleed a little or a lot – it all depends on placement and the size of the vessel beneath.
Ulcers can appear anywhere along the digestive tract for all kinds of reasons, including parasites, inflammation, and infection. However, for your cat's poop to turn black, the ulcerations are either in the stomach or small intestine.
3. Parasitic Infection
Black cat poop can be caused by parasitic infections, such as intestinal worms. Worms are very common in cats, the most notable symptom being diarrhea. When a cat has runny poop all the time, intestinal worms are one of the first things your vet will check for. Another common sign is your cat suddenly pooping outside of the litter box.
Although less likely, worm infections can also cause cat poop to turn black. This is only the case with severe infections. As with ulcerations, this is due to the presence of digested blood in the stools. This blood comes from the lining of the small intestines where the worms attach themselves.
Thankfully, deworming medication is readily available and easy to use. After deworming a cat, their stools will turn to a normal color and consistency. But beware that worms are resilient and highly contagious. You might require two or more rounds of treatment to completely clear the infection.
4. Ingested Foreign Bodies
Another cause of black tarry stools is foreign bodies. Cats are intrinsically curious and can easily ingest sharp objects accidentally. One of the most common culprits is small sharp parts from cat toys, such as bells or bits of plastic. However, thorns or sharp stones are just as likely.
When any sharp object is swallowed, it can pierce the lining of the digestive tract as it passes through. Damage to the stomach and small intestine might cause blood to run out from the lining of these organs. This is then digested by the body, causing the stools to become black, tarry, and sticky. You should speak to your vet at this stage to prevent more damage from occurring further down the tract.
If the object isn't removed, the material can cause bleeding in the large intestines as well. This cause the appearance of fresh red blood in the stools. If you spot your cat has blood in cat stool but acting normal otherwise, this could be the explanation.
Your cat might eventually eliminate the foreign object if it hasn't been removed already. However, some objects are too large and can cause partial or complete obstruction of the gastrointestinal tract. These will need to be professionally removed by a vet and are considered a medical emergency.
5. Raw Food Diet
Although not a medical condition, raw food diets are worth talking about. Now, cats can technically eat and thrive from a raw food diet. However, raw meat contains a lot more blood than cooked protein or commercial cat food. The excess blood from the diet is digested and oxidized in the colon. This causes your cat's stools to become very dark.
The type of raw food you are feeding your cat also dictates how black the stools are. The more blood present in the meat, the darker they become. Organs such as the liver and other offal are particularly high in blood and iron, resulting in the darkest of poops. Venison and beef have similar effects.
I fed my cat a raw food diet for a while, but my cat's poop smells so bad when she's just eating raw food! This is because raw meat is predominantly protein and lacks other essential nutrients needed for digestion. Therefore, it is best to stick to high-quality commercial cat food so your cat isn't missing out on any vitamins, minerals, or fiber.
6. Kidney Failure
Finally, kidney failure can cause black cat poop. Note that I have said kidney failure, not kidney disease. Black tarry stools happen in severe cases only in which the kidneys essentially have no function left whatsoever.
This is because initially, cats with kidney disease will produce excessive amounts of urine. The kidneys cannot successfully concentrate the urine, so a lot of liquid is lost through urination. However, right at the end when the kidneys are about to fail, the reverse happens. Urine production sharply decreases as the kidneys lose all of their functions.
When this occurs, ulcers start to form in the stomach and small intestine. These ulcers often bleed and cause black tarry stools. If you've reached this stage of the disease, there is not much your vet can do. There is no cause for kidney disease, and kidney failure is the final stage before your cat passes away.
What Should I Do About Black Cat Poop?
I've gone through six possible causes of black cat poop. But how can you tell which is responsible? Are you just dealing with old, dry cat poop? Or do you need to get your cat to the vet urgently? Thankfully, it is easy to tell the difference! Take a closer look at the poop and you'll discover it reveals all there is you need to know.
Hard, Dry, Black Poop
If there are hard, dry, black feces in the litter box, it means one of two things. Either (1) the poop has been left there for so long that it's turned dried out and black, or (2) your cat is constipated due to severe dehydration.
Make an effort to start scooping the litter box multiple times per day. Are the stools still hard and black? Or are they a normal brown color again? If they're a normal brown color again, you need to start scooping the litter box more regularly. Waste shouldn't be left there long enough to turn black!
If the stools are still black and dry, it looks like you're dealing with a case of dehydration. Encourage your cat to drink as much water as possible and book a veterinary appointment. Dehydration can be a simple case of overexertion or not drinking enough, but it can also be something more serious. Your vet will take a closer look and offer treatment options if there is an underlying condition.
Sticky, Black, Tarry Poop
If there is sticky, black, tarry feces in the litter box, this is much more alarming. Cat poop only ever looks like this where there is digested blood in the feces. This is almost always a sign of internal bleeding in the stomach and small intestine and should be treated as an emergency.
If your cat is found to have kidney failure, there is little your vet can do to help. However, they can remove foreign objects, offer deworming medication, or treat the cause of ulcerations. This will stop the bleeding and your cat's poop will look brown and healthy once again.
As mentioned, raw food diets can also cause black tarry poop. Unlike the medical conditions listed, this is not a major cause for concern. Yet you might still want to consider switching your cat to a more nutritiously balanced diet. You should also easily be able to tell if this is the cause – if you've just changed your cat's diet to a raw food one, you've got yourself the answer!
MY FINAL THOUGHTS
So, does cat poop turn black when it dries? Yes, it does! However, cat poop turns black for all kinds of other reasons as well. Some of these are pretty serious and shouldn't be taken lightly. Therefore, it's advisable to call your vet if you see any changes in your cat's stools.
Make a note of anything else different as well. Has the poop changed consistency? Does it smell worse than usual? Is there red blood or mucus present? This is all useful information your vet can use to help diagnose and treat your cat quickly.