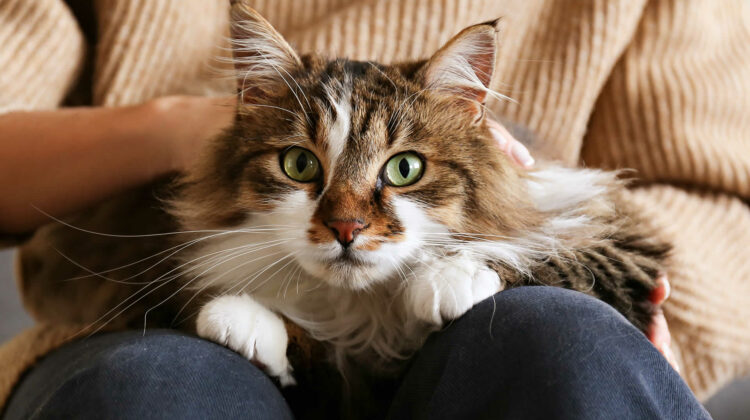 Every cat is wonderfully unique. Different breeds come in a range of various shapes and sizes, and even those of the same breed have unique appearances. However, changes in their appearance can be a cause of concern for owners and an indication that something is wrong.
A common change that owners see is their cat losing weight in its hindquarters. And I know how stressful this can be! While a cat's hindquarters are usually slightly narrower and more muscular than the rest of their bodies, a sudden loss of weight in this area can be due to aging, loss of appetite, certain illnesses, or mental health issues such as depression.
As there are so many different reasons why a cat is losing weight in its hindquarters, whenever my cat looks thin at the back I always take her to the vet. This is more for peace of mind to check that nothing is seriously wrong. If you have noticed a change in your cat's weight, this is a good idea.
However, knowing the stresses pet parents face I have written this guide – to give you an idea as to why your kitty's rear end is looking thin and offer advice on what to do next. So, if you've noticed your cat looking a little thin in the hind end, keep reading.
Why Is My Cat Losing Weight in its Hindquarters?
Seeing your cat with a thin behind can be alarming and concerning. As a cat owner, it is important you know all the possible causes and other symptoms to look out for. This can help you figure out what is wrong with your kitty and know what to do next. From various medical conditions to aging, loss of appetite, or anxiety, here is a closer look at all the possible explanations.
1. Overactive Thyroid
One of the most common reasons a cat is losing weight in its hindquarters is because of an overactive thyroid. The medical name for this is hyperthyroidism. Cats with this condition produce an excess of the hormone thyroid which plays a critical role in managing your cat's metabolism.
Due to the role of thyroid hormones in metabolism, one of the most common symptoms of this condition is weight loss. Often, the first place cats will lose weight is from their rear end. As the disease progresses, you'll notice your cat losing weight all over their bodies.
However, despite their loss of weight, cats with hyperthyroidism will have an increased appetite. Is your cat always hungry but skinny? This is another indication that they have an overactive thyroid. They will also have increased thirst and urination. Occasionally, other symptoms include vomiting, diarrhea, and hyperactivity.
2. Old Age
Do you have a senior cat? If so, they may look thin at the back as part of the aging process. As cats get older, they will start to lose weight, causing them to become thin in their hindquarters. In most cases, this weight loss is due to the loss of fat and is part of the natural aging process. Therefore, it is nothing to be too concerned about.
However, when large amounts of muscle are lost from the area, this is known as cachexia. Usually, senior cats will only lose muscle if they are already sick or unhealthy, such as heart disease, kidney disease, other common conditions associated with old age.
With that being said, muscle loss does still occur in older cats without any other illness or injury. This is known as sarcopenia. Because of this natural weight loss, older cats do have a lesser muscle mass than younger cats, so don't be surprised to see your cat lose a little muscle and fat as they enter their older years.
3. Loss of Appetite
The loss of weight in your cat's rear end could also simply be a side effect of them losing their appetite. This can affect cats of any age and could be because of multiple reasons, such as:
Dislike for Their Food: Cats are notoriously finicky creatures, and if your cat doesn't like what you serve up on their plate, don't be surprised if they refuse to eat it! Is your cat not eating much but acting normal? If so, this is the most likely reason why. Some cats prefer wet cat food, whereas others have a preference for dry. You could try a few different brands before finding a food that they like.
Dental Issues: If your cat has tooth or gum disease, this can cause pain and discomfort when eating. As such, your cat might refuse to eat altogether or only eat wet food that is easier for them to chew. Is your cat not eating but drinking as usual? This is another sign of dental problems. Issues such as these are more prevalent in senior cats and can usually be treated.
Digestive Issues: Digestive issues could also be the reason why your cat has lost its appetite. When cats have problems with their digestive tract, they will feel sick or have stomach pains, which is enough to put anyone off eating! Is your cat throwing up food but acting normal in all other aspects? If so, stomach upset and digestive issues are the likely culprits.
4. Diabetes Mellitus
Diabetes mellitus is another reason for cats losing weight in their hindquarters. Cats with this condition can either (1) not produce enough of the hormone insulin, or (2) be unable to respond to the insulin that the body produces.
Insulin is one of the vital hormones involved in regulating blood sugar levels. In cats with diabetes, their blood glucose levels will remain high and they will be unable to absorb sugar from the blood to use as energy. As such, you will usually see an increase in appetite as they try to eat more food to provide them with more energy and nutrients.
However, despite the increase in appetite, cats with diabetes will often lose weight. In fact, weight loss is an important sign of this condition, especially if you notice your cat becoming thin at the rear end. You will notice a loss of fat as well as muscle loss. Other symptoms of diabetes include increased thirst and frequent urination.
5. Cancer
In some cases, cats that have cancer will gain weight rather than lose it. However, weight loss can also be indicative of cancer, just as in people. When weight loss and muscle wasting are associated with cancer, this condition is known as neoplastic cachexia.
The reason cats with cancer can lose weight is simple. When in a cancerous state, a cat's body will use up a lot more energy than a healthy cat's body will. To keep up with this demand, the cat will increase the production of glucose. Muscle and fat often break down to be used to make glucose that cancer feeds off, causing weight loss.
There are many different types of cancer that a cat could suffer from. The most common types that present in felines are lymphoma, soft tissue sarcoma, and cancer of the blood. As each of these affects different areas of the body, other symptoms will be hugely varied.
6. Feline Immunodeficiency Virus
Feline immunodeficiency virus (FIV) is comparable to human HIV. This virus attacks the cat's immune system, making it weak and unable to effectively fight off other infections. Because of this, cats with FIV are much more likely to fall ill and are extremely vulnerable to contracting other infections which can lead to severe illness.
Cats can pick up FIV from other cats, usually through an open wound or a bite from a cat already infected with the virus. The cat may carry this infection for a while without anyone knowing – FIV itself is asymptomatic. However, when the cat comes into contact with another infectious pathogen and falls seriously ill with a secondary infection, this is usually when FIV is discovered.
Weight loss is a common symptom of most secondary infections seen in cats. As your cat is sick and trying to fight off the infection with limited success, its fat and muscle sources will be depleted. The other symptoms that present simultaneously will depend on the type of infection picked up, for example:
Gingivostomatitis: This is a dental disease whereby the gums are inflamed and is common in cats with FIV. Cats with this condition may have a loss of appetite, bleeding and swollen gums, and excessive salivation.
Upper Respiratory Infections: Cats infected with FIV are more prone to upper respiratory tract infections. Common symptoms of these types of infection include coughing and sneezing, nasal and eye discharge, drooling, and lethargy.
Skin Infections: Bacterial skin infections can also get out of control if a cat is infected with FIV. Signs of a skin infection include red skin, swelling and blistering, itching, and hair loss. You may also see a rash develop or crusting and scaling of the skin.
These are just three examples of the types of infection cats with FIV can contract. The severity of the illnesses varies greatly but can usually be treated. It is when cats become sick with multiple different infections simultaneously that the situation can become life-threatening.
7. Gastrointestinal Disease
Gastrointestinal diseases will cause a loss of appetite, vomiting, and/or diarrhea – the three most common clinical signs. As such, weight loss is a common symptom and your cat will not be obtaining enough nutrients from their food. This can cause them to look thin at the back and lose weight from their hindquarters.
Our cat's digestive systems are made up of many different organs, including their stomach, intestines, and colon. Therefore, there is a range of different gastrointestinal diseases that can affect different areas along the GI tract. Examples of conditions include:
Intestinal Parasites: Intestinal parasites such as roundworms, tapeworms, hookworms, and whipworms are common in cats, who can be infected by eating a contaminated substance. These parasites live inside your cat's intestine and cause them to become very sick.
Ingesting a Foreign Body: Heard of the saying "curiosity killed the cat"? Well, the phrase didn't come from nowhere! Cats are extremely curious and will put just about anything in their mouths. If this object can't be digested and gets lodged somewhere along the GI tract it can cause them to become sick and experience extreme discomfort.
Inflammatory Bowel Disease (IBD): IBD has multiple causes, such as food allergies, immune dysfunction, or metabolic disease. It will cause many gastrointestinal issues, including vomiting, weight loss, and a reduction in appetite.
These are just some of the most common examples, but many different illnesses or medical conditions can cause GI disruption.
8. Anxiety & Depression
The final reason why your cat could be losing weight in its hindquarters is due to anxiety or depression. Just as humans deal with stress differently, so do cats. Some will eat in excess when feeling anxious as it's a behavior they know and can control. On the other hand, many cats will lose pleasure in eating and you'll see a huge reduction in appetite accompanied by weight loss.
Cats are creatures of habit, loving their routine and finding it extremely difficult to deal with any type of change. This means they can feel stressed and fall into spells of anxiety and depression pretty easily. Examples of changes to your cat's environment that can cause stress include:
Changes to their usual feeding routine
Switching to a different brand of cat food
Not keeping their litter box clean enough
Using a different type of cat litter
Having new and unknown guests in your home
Introducing a new baby or pet to your household
A family member or other pet passing away
On top of changes to their environment, senior cats may develop anxiety or depression due to cognitive dysfunction which affects 80% of cats older than age 16, and 55% of cats aged 11-15. This is where their brain function starts to decline as they age, meaning they become more disorientated and restless. Cats with cognitive dysfunction will usually sleep more and vocalize excessively too.
What to Do if My Cat Looks Thin at the Back?
If you have noticed that your cat looks thin at the back and you're not sure what to do about it, there are two main things you should try: (1) visit your vet for diagnosis or to rule out any medical conditions and (2) change their diet to help your cat gain all the nutrients they need to maintain a healthy weight.
1. Visit the Veterinarian
It goes without saying, but the first thing that you should do if you notice any changes in your cat – be that their behavior or physical appearance – is to call your vet. A cat losing weight in its hindquarters can be a symptom of several medical conditions, and so changes like this should be taken seriously.
When talking to your vet, they will ask you what other symptoms you have noticed, if any. They will also ask about behavior changes and will call you in for a check-up and to run tests if they think something is wrong.
When at your appointment, your vet will physically examine your kitty and run any required tests to help them rule out illnesses or diagnose a medical condition. Based on these results, your vet will offer advice and recommend treatment where required – be sure to follow this to help your cat become a healthy weight and overcome any illness they're suffering from.
2. Change Their Diet
You should also look closely at your cat's diet if they have started losing weight in the hindquarters, especially if your trip to the vet showed your feline was perfectly healthy. Providing them with food that contains the right nutrients can help them gain everything they need from their diet and ensure they maintain a healthy weight.
The perfect diet for your cat depends on multiple factors, such as their age and health. However, as a general rule, opting for a high protein diet is best. In the wild, cats eat mostly protein and so this is what their bodies have adapted to use most effectively. High-protein diets will help support their muscles, bones, and organs. If your vet recommends a specific diet, listen to their advice instead!
If you have a fussy eater, you can also try to change their food to make it tastier and more enjoyable to eat. If they like wet food, feed them this, whereas if they prefer kibble, give them a big bowl of biscuits to tuck into and they may just eat more of it.
MY FINAL THOUGHTS
If your cat is losing weight in its hindquarters, it should be taken seriously. This can be indicative of several serious illnesses that need treatment quickly. Weight loss is usually one of the last symptoms to present, which means getting your cat the treatment they need is even more important.
On the other hand, your kitty may just be fussy about their food or have developed a food allergy or intolerance. Switching up their food could be the only change you need to help increase their appetite and make them a healthy weight once more.