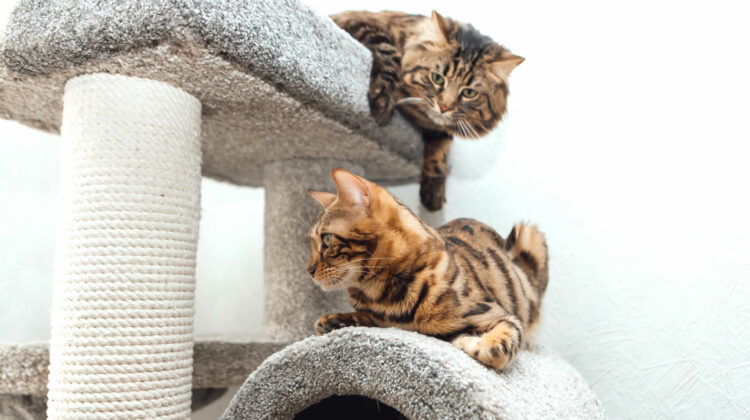 Having more than one cat is a blessing, with more lovable kitties to cuddle and play with. But multiple cats also require double the amount of care and equipment. To live happily together, your kitties need to have a decent share of your time, along with their own food bowl, water bowl, litter tray, and bed.
Thankfully, cat trees are the one piece of cat equipment your furry friends can share. As long as the piece of cat furniture is strong enough to hold all your cats and large enough to provide each with privacy, there is no reason sharing is off the cards.
Anyone looking for a cat tree for multiple cats is in the right place. In this article, I review eight of the best cat trees for multiple cats currently on the market. I've written a convenient buying guide as well, so you can ensure you make the right purchase for you, your cat, and your home.
My Top Pick
This cat tree from HYABi is the product I've bought for my three cats to share. It is large and spacious, with multiple perches and levels they can climb. There are also several scratching posts, two cat condos, and two plush ball toys. With at least double everything, there is nothing for my cats to fight over. It's also solid and durable, so perfectly safe for multiple kitties sharing.
Unfortunately, this cat tree is enormous and so not suitable for all homes. But don't worry – I've reviewed seven other great options to suit all cats, homes, budgets, and other preferences below. Keep reading, and all is revealed.
Best Cat Trees for Multiple Cats
Before I continue with the ratings and reviews, let's look at the must-have features of all the best cat trees for multiple cats. I looked for these when reviewing the products, and these considerations are vital while searching for a great cat tree for your kitties:
Enrichment: Cat trees are highly entertaining for your cats. They must channel all cats' instincts to run, climb, hide, and scratch. The best cat trees for multiple cats have features to channel all these needs and numerous of each for all of your cats to enjoy simultaneously.
Large in Size: You want all your cats to be able to fit on the cat tree at once. Therefore, large is generally best when multiple cats are sharing. Anyone with large breeds needs an even bigger cat tree that can house them all at the same time.
Stability: A cat tree must be stable when two or more cats share. Poor-quality cat towers can shake when your cats climb with speed, which can deter them from enjoying it. Unstable cat trees also pose a health risk as they could topple over and cause injury.
Cleaning: Cleaning is also essential, especially when you have several cats sharing. Shared cat trees get dirty twice as quickly. Ideally, the best cat trees for multiple cats have surfaces you can wipe, removable parts, or replacement sections sold separately.
Additionally, you'll have personal considerations to think about. The available space in your home might limit what trees are suitable. Likewise, you may prefer a specific cat tree design or seek additional features like food bowls and litter box cabinets.
Keep these in mind as you read through the reviews. My handy buying guide is further down the page, too – use this to ensure you purchase the perfect product for you and your cat.
The cat tree I purchased for my cats is this huge activity center from HYABi. You can see from the picture why this is ideally suited to several cats sharing. There are multiple perches, two cat condos, two toy balls, and six scratching posts. This provides more than enough fun for all your cats!
I also love how spacious the design is. HYABi uses horizontal and vertical space rather than cramming multiple platforms vertically. This gives your cats plenty of room to run and climb while having their own separate areas within one cat tree, providing privacy and a place that's "theirs."
You can assemble the cat tree in two different layouts. It does take up a fair amount of floor space in both, so it isn't the best option for small apartments. However, this does make it more flexible in different space environments. You can even combine it with the smaller HYABi HB-005 model to create the ultimate jungle playground if you've got available space!
The wider width ensures the design is stable and can handle several energetic cats at once. It's also made from high-quality particleboard and uses a mechanical structure design for enhanced stability. Durable sisal that is less prone to damage than regular sisal also covers the scratching posts.
Pros
Large and spacious design that's perfect for multiple cats
Can combine with another HYABi cat tree for even more space
Channels cats' essential needs (climb, hide, run, jump, and scratch)
Mechanical structure and made from particleboard for enhanced stability
Durable sisal that won't damage as easily
Modular design that is flexible in different space environments
Available in three different colors to match your home decor
Cons
Requires a lot of floor space and is unsuitable for small apartments
Needs to be hoovered clean, and carpet/platform covers cannot be washed separately
My second-favorite cat tree for multiple cats is this wooden design from Heybly. This is one of those modern cat tree towers made without traditional plush carpet. Instead, it has a beautiful wooden finish that looks the part in any contemporary home.
The wooden design is as functional as it is stylish. Firstly, wood is much easier to clean than carpet; wipe the smooth surface with a damp cloth to remove all dirt and debris. The top perches do have cushioned pads, but these are removable and washable for easy cleaning. They also provide grip for your cats as they climb to the upper tiers.
Secondly, the wooden structure ensures the cat tree is stable and durable. This is vital for several cats sharing as it needs to withstand more weight and play than regular cat trees. You can rest assured that this product isn't going to shake or topple, no matter how many cats climb to the top.
You'll also notice there is a cupboard as the base. This adds yet more stability; however, it also acts as a space to hide a litter tray. One of the biggest issues with having several cats is finding enough room for all their equipment! By including litter storage, this all-in-one design removes this problem. There is even a feeding bowl, so you don't need to stress over when to keep the extra bowls either.
Pros
One of the most beautiful chic cat trees for your home
Smooth wooden surface and removable cushions for easy cleaning
Litter box storage cupboard and food bowl included
Stable and durable, perfect for several cats sharing
Provides somewhere to hide, climb, rest, play, and scratch
Cons
More expensive than other cat trees
Not as large, so your cats won't have as much private space
Finding enough space in your home for all your cats' equipment is challenging, but it's even more impossible when living in an apartment. This product is one of the best cat trees for small spaces for anyone struggling with this issue. Technically, it's a selection of cat wall shelves but serves the same function without taking up valuable floor space.
The set contains four cat shelves, two wall-mounted houses, two ladders, and a small scratching post. This provides plenty of fun for two or more cats. But you can make it even more elaborate by combining two or more sets. If there is space, you could cover an entire wall in your home!
Like the previous product, these shelves are made from solid pine wood and quickly wiped clean. This also provides a more sleek and contemporary aesthetic that I love. Plus, as a wall-mounted product, you don't need to worry about stability much. Single shelves are much more stable than a huge tower.
The only drawback of this product is that it must be installed on a solid wall, which limits placement. You've got to abide by this rule; the shelves cannot support your cats' weight when installed on a cavity wall. The wooden surface is also slightly slippery, so you might consider purchasing removable pads for each platform.
Pros
Perfect for small homes as it requires no floor space
Consists of two houses, two ladders, and four shelves – ideal for multiple cats sharing
Made from solid pine wood that quickly wipes clean
Stable wall-mounted design that won't wobble under your cat's weight
Has a contemporary style that works in most homes
Channels all of your cats' natural instincts to climb, play, hide, and scratch
You can easily combine multiple sets for even more fun!
Cons
More expensive than other cat trees
Can only be placed on a solid wall
No gripping surface, so cats might slip when climbing with speed
Do you need a cat tree for large cats? A cat tree for Main Coon cats or other giant breeds needs to be ultra-stable, especially when multiple cats share. And if you've got a bigger kitty, this cat tree from Hey-Brother is ideal! It's solid and stable enough to support several fully-grown bigger breeds at once.
The stability primarily comes from the shape of the cat tree. It is wider at the bottom and has three central platforms that join the three scratching posts at various levels. An additional ladder at the base also juts out and provides more stability. For further sturdiness, Hey-Brother has used a reinforced bottom, scratching posts, and anti-topple wall attachments.
This cat tower is also large, perfect for multiple cats to enjoy together. There are seven platforms alongside a cat condo, a hammock, a basket, three toy balls, a scratching ladder, and multiple scratching posts. I especially love the trio of padded platforms at the top. Cats love to survey the room from an elevated position; with this tree, none of your cats need to fight over the top spot.
Despite its extravagant design, this cat tree is surprisingly easy to assemble. However, it's another story when it comes to cleaning. It's mainly covered in carpet you must hoover to remove dirt, debris, and fur. Thankfully, the carpet and sisal and high-quality and can withstand a lot of rough and tumble.
Pros
One of the best heavy-duty cat trees, perfect for big breeds
Reinforced base and posts for stability
Anti-topple wall attachments for additional support
Plenty of exciting features to channel all your cats' instincts
Easy to assemble despite its extravagant design
Trio of cushions platforms at the top for multiple cats to enjoy
Available in three different colors to suit more home decors
Cons
Covered in carpet and challenging to clean
Cat trees are notoriously expensive, especially those big enough to accommodate multiple cats. But this cat tower from MQ is an outstanding option for anyone on a budget. It is one of the cheaper products on the market but still promises excellent quality for an unbeatable price.
This multi-level cat tower has two huge cat condos, so there is no fighting over which of your furry friends gets to hide away. There is also a cushioned platform and a hammock for lounging, plus several scratching posts to keep those claws sharpened. The only feature your cats must share is the single toy ball that dangles from the top platform.
The cat tree is predominantly covered in a thick plush carpet. It's durable to withstand kitty paws while simultaneously providing comfort and acting as a non-slip surface. Sisal is used for the scratching posts, another durable material your cats will love digging their claws into.
For stability, MQ has included a reinforced wood base plate. The cat tree also has a wide box-like design for added support and a wall anchor for double security for your cats. The tower isn't going to wobble or shake, even with all your cats scaling to the top at high speed!
Pros
An affordable option without sacrificing quality
Two of almost every feature, perfect for several cats sharing
Features a reinforced wooden base for stability
Channels cats' instincts to climb, hide, play, scratch, and sleep
Wall anchor to provide double security for your cats
Covered in a combination of durable carpet and sisal
Suitable for several large cats to share
Cons
Scratch posts are not as large as other designs, so not ideal for heavy scratchers
Older cats tend to be less active than younger felines and often struggle with mobility. Therefore, cat trees for seniors don't need to be the tallest, most elaborate design you've ever seen. Instead, you're better off purchasing a product with an emphasis on comfort, like this product from Hey-Brother.
This is like the other Hey-Brother cat tree I have already reviewed, only smaller; it measures 41 inches high. This provides enough height for senior cats to explore without having unused platforms at the top. There is even a scratching board leading to the first main platform that doubles as a ladder, helping elderly cats with weaker joints make it to the top.
All the perches are perfect lounging spots for your aging feline, too. They can choose to curl up in a cushioned bed, a basket-style hammock, or either of the two condos. This provides enough choice and different spaces for several cats to share comfortably. And if your cats get a burst of energy, there is a hanging toy ball to keep them entertained.
Other perks include the three different color options, compact design (ideal for smaller spaces), and easy assembly. Stability is also a priority. This cat tree has anti-toppling fittings, a reinforced base plate, and a quality wood structure to ensure no wobbling or nasty accidents.
Pros
Comfort-focused design with a ramp, making it ideal for senior cats
Sturdy and safe with a reinforced base and anti-topple fittings
Compact design that works in small spaces
Multiple condos and sleeping spots for cats to share
Three different color options to suit all home decors
Suitable for cats of all ages and all sizes
Cons
A shorter design that isn't well-suited to climbers
Kittens also have different needs than adult cats. They have bundles of energy and generally need cat trees with plenty of height and toys, meaning this product from MidWest Home Pets is a great option. It has five tiers stretching 62 inches tall, and your kittens will love scaling to the top at speed!
This product also features four dangling toy balls. In comparison, most cat trees only feature one or two! This is perfect for playful kittens and helps develop hunting skills. Your kitties will also enjoy the two-tier cat condo and the tunnel enclosure.
Despite all these features, this cat tree is easy to assemble, and all the necessary tools are included. It is also made from wood, and its bottom-heavy design ensures it is stable. Plus, all the posts are wrapped entirely in sisal, so there are plenty of places for your kittens to scratch and claw.
However, it isn't large enough for some fully-grown adult cats – bear in mind you may need to upgrade the tree as your kittens grow. But for younger cats and smaller breeds, this is an exciting cat playground guaranteed to provide fun and enough space for several cats to share.
Pros
Four toys balls, which are perfect for playful kittens
Measures 62 inches tall and ideal for climbing
All posts are covered in sisal to provide several scratching areas
Wood construction and bottom-heavy design for stability
Several platforms, condos, and scratching posts to share
Cons
Not big enough for some fully-grown adult cats
Last but not least is this cat tree from Armakat. Do your cats constantly climb to the top of your bookcases and always seek the highest vantage point? If so, you need to check out this cat tree! With a whopping seven different platforms, it is the perfect product for cats that love to climb.
The large number of perches also means this cat tower is well-suited for multiple cats sharing. Your cats have no shortage of places to scratch either. There are eleven scratching posts wrapped in durable sisal rope, so your furniture is guaranteed to have a break from kitty claws. This is combined with hanging toys and a cozy cat condo.
For assurance of stability, Armarkat has used engineered wood to build the frame and opted for a large baseboard that prevents wobbling or tipping over. This frame is covered in comfortable faux fur your cats will love snuggling on. This material also ensures the platforms are non-slip, further enhancing safety and avoiding nasty accidents.
The fleece covering is permanently glued to the frame, so cleaning is more challenging – you'll need to vacuum the cat tree to remove all fur and debris. However, it is easy to assemble, can support up to 70 lbs, and comes with a six-month warranty.
Pros
Seven perches stretching 78 inches high, perfect for climbers
Eleven scratching posts wrapped in durable sisal material
Can safely hold up to a maximum of 70lbs
Made from engineered wood with a large baseboard for stability
Includes a cozy cat condo and two hanging toys
Covered in comfortable, non-slip faux fur fleece
Cons
Carpeted surface not removable and so harder to clean
Not large enough or giant breeds such as Maine Coons
Cat Tree for Multiple Cats Buying Guide
Knowing the best cat trees for multiple cats is only half of the equation; you now must choose the best option for your specific situation. Use the buying guide below to help you get this right. It'll help you ask the right questions and consider all you must look for.
Price and Budget
Cat trees are a significant investment. They're one of the most expensive pieces of kit you need to buy for your cats, so figuring out your budget before starting your search is an excellent place to start. You don't need to spend a fortune to get a fantastic product your cats love.
With that said, don't purchase the cheapest cat tower on the market, especially with multiple cats sharing. More affordable products are made with lower-grade materials and more prone to breakages. Their stability is also questionable, which could lead to accidents happening. There is no price on your cats' safety, so consider spending the most you can for the ultimate combination of fun and quality.
Size of the Cat Tree
All the best cat trees for multiple cats tend to be large. They've got to have enough room for all your furry friends simultaneously. However, the available space in your home and the size and age of your cats also have a significant impact on the right size cat tree for you.
Below are some questions and solutions to think about regarding size before making a purchase:
Space in Your Home: Always consider the available space you're working with before investing in a cat tree. If you have a lot of space, you can purchase a cat tree of any size! However, cat trees for small spaces need to take up less floor space. Consider using the vertical space in your home or investing in cat wall shelves as an alternative.
Breed of Cat: Do you have a large like a Maine Coon or a small breed like a Devon Rex? Anyone owning a bigger breed needs to have a bigger cat tree. Cat trees for large cats aren't solely bigger overall either! A cat tree for Maine Coon cats has larger platforms and spacious condos for your bigger kitties to use comfortably.
Age of Your Cat: The age of your cats plays into the size cat tree you need. Tiny kittens are smaller than adult cats and are comfortable using smaller cat towers, but bear in mind your kittens will grow, and you'll need to upgrade the cat tree to match. The same applies to older felines. Senior cats aren't as mobile and don't need as much vertical space as younger cats.
Number of Cats: Another crucial consideration is how many cats will share the cat tree. Do you have two cats sharing? Or will there be three, four, or even five cats using the cat tree simultaneously? The more cats you have, the bigger and more elaborate you need your chosen product to be.
Safety and Stability
All cat trees must be stable to ensure your cats feel safe climbing to the highest perches. Accidents can also be avoided by making stability a priority. The last thing you want is your cat tree toppling over while your cat lounges on top. Or worse, it falls on your cat, another pet, or child!
However, stability is even more crucial if you own more than one cat. The cat tree you purchase needs to support at least double the weight, so always check the maximum weight detailed in the product description. If searching for your own products, always search for heavy-duty cat trees. These are made using solid materials and a bottom-heavy design that makes accidents less likely.
Choice of Material
Traditional cat trees are covered in a combination of carpet and sisal. These materials work wonderfully on cat trees. The sisal replicates bark and is an ideal surface for cats to sink their claws into, while the carpet is soft, cozy, and prevents slipping.
However, modern cat tree towers are generally carpet-free designs. Popular alternative materials include wood or metal frames. These cat trees without carpet are more contemporary and stylish, while the smooth surface makes for easy cleaning. With that said, I recommend looking for one with removable carpeted cushions for comfort and safety.
The material you decide to use is down to personal preference. You might prefer the look of carpet over wood or the cleaning advantages of non-carpeted cat trees. You may even be interested in cat trees that look like a tree! There is no right or wrong option; it's up to you! With that said, always look for quality materials. The more durable they are, the longer your cat tree will look its best.
Preferences of Your Cats
Nearly all cats have the same instincts to climb, hunt, scratch, hide, and jump hardwired into their DNA. However, all cats are different and have different likes and dislikes. You must consider the unique personality of your furry friends to find a cat tree that's suited to them.
Most have an innate desire to scratch, for example. They dig their claws into certain surfaces to sharpen their nails, prevent ingrown claws, and mark their territory. Yet some cats like to scratch more than others, and some are horizontal scratchers, whereas others prefer vertical. Choose a cat tree with a scratcher aligned with your cats' preferences.
Similarly, most cats like being on elevated platforms. If your cats love to climb, choose a product that offers multiple levels they can explore. But if your cats spend more time curling up sleeping, they may prefer a smaller cat tree with a more significant focus on lounging. Perhaps it has several cat condos and cushioned platforms where they can lase around.
As you have at least two cats sharing, you must consider both their preferences. This might mean you need an elaborate cat tree that has everything to tick both their likes and dislikes, whereas two cats with similar likes may be content with a simpler design.
Additional Features
Most cat trees have platforms to climb, sisal posts to scratch, condos to hide, and elevated platforms to lounge. Some also come with hanging toys to stimulate your cats' hunting instincts. But there are plenty of additional features you might be interested in.
You must consider whether there are any other features you want your cat tree to have. Below are a few examples of the sorts of features I'm referring to:
Feeding Bowls: A cat tree with a feeding station is an excellent option for households with cats and dogs. Elevating your cats' food bowls keeps your cat's food out of your dog's reach! All multi-cat households have several bowls, so these cat trees are also a great way to save on floor space and provide a place for your cats' food.
Litter Box Cabinets: Likewise, anyone with more than one cat needs multiple litter boxes. You should ideally have one more litter box than you do cats. Anyone with three cats should have four litter boxes, for example. But finding space for all these litter trays can be a nightmare! Some cat trees have built-in litter cabinets, providing an all-in-one solution.
Ramps and Ladders: Healthy adult cats don't require ramps and ladders on their cat tree. They're happy to jump between the different levels and exercise their muscles. However, senior cats with mobility issues might need these ladders to help them climb to the top. Investing in a cat tree your elderly cats cannot climb is pointless!
Other Must-Have for Owners of Two or More Cats
A cat tree for multiple cats is an essential piece of kit for owners of two or more felines. Investing in a cat tree that's large enough for all your furry friends to have their own private spaces reduces conflict, provides enrichment, and encourages exercise.
I live in a three-cat household, and a cat tree for multiple cats is an excellent addition to my home. However, I use plenty of other products to make caring for three kitties even easier! Here are a few of my all-time favorite products I suggest investing in for added convenience and time-saving perks:
Automatic Cat Feeders: These feeders take control of mealtimes for you. Simply set the portion sizes and feeding times, and the feeder drops food on demand. You can get automatic cat feeders for multiple cats, ideal for owners of several furry friends.
Self-Cleaning Litter Boxes: All cats should ideally have their own litter boxes. However, you can get away with less if you invest in self-cleaning litter boxes for multiple cats. As the name suggests, these clean themselves periodically so your cats don't mind sharing as much.
Smart Cat Flaps: Conflict between cats is common, and it is wise to give your kitties their own space to prevent competition. I use microchip cat flaps on the doors of individual rooms to limit access around the home. Every cat has a room that's solely theirs!
FAQs
Q: Can cats share a cat tree?
A: Yes, several cats can share the same cat tree. However, the cat tree must have at least as many perches as you do cats. And the bigger the cat tree, the better; there is less competition between your furry friends. Cat trees for multiple cats must also be extremely sturdy and able to support the weight of all your cats at once.
Q: Do all cats need cat trees?
A: No, cat trees are deemed as a non-essential piece of furniture. However, your cats' lives will dramatically improve if you purchase one, especially if you have indoor-only cats. They offer everything your cats need to be fulfilled and provide an alternative to scratching your furniture!
Q: What should I look for in a cat tree for multiple cats?
A: Cat trees for multiple cats need multiple perches, condos, and scratching posts. This makes sharing easier and reduces competition between your cats. Stability is another priority; the cat tree needs to be sturdy enough to support the weight of all your cats simultaneously.
Q: What is the best cat tree for multiple cats?
A: The best cat free for multiple cats is the HYABi Cat Tree Activity Center. It is incredibly stable, large enough for several cats to share, and channels all cats' instincts. I also love its flexible design and ability to combine it with other HYABi products to make an even more elaborate activity center for your cats.
Q: What is the best place to put a cat tree for multiple cats?
A: The best place for your cat tree is in a social part of your home. Your cats love surveying everything that's going on from the top perches and want to be involved in the fun. Make sure there is a good view from the top, and don't tuck it away in a corner. Next to a window is another great option.
Q: How can I get my cats to use their new cat tree?
A: Some cats start using the cat tree by themselves, whereas others need a little encouragement. Use treats or catnip to entice your cats over. You can also lure your cats towards the cat tree using their favorite toys. With a bit of positive encouragement, your cats won't be able to resist!
MY FINAL THOUGHTS
Having more than one cat can be challenging! Conflict is common in a multi-cat household, and you must supply double of everything to keep bullying to a minimum. But cat trees are the one exception! Several cats can happily share a cat tower, and there is no need to purchase one per cat.
The best cat trees for multiple cats have enough perches, condos, and scratching posts for each of your felines to have their own. They also need to be stable and durable, so they're strong enough to support all your fur babies at once.
All the best cat trees for multiple cats are listed here, but ensure you use the buying guide to decide which is best for you, your cat, and your home!