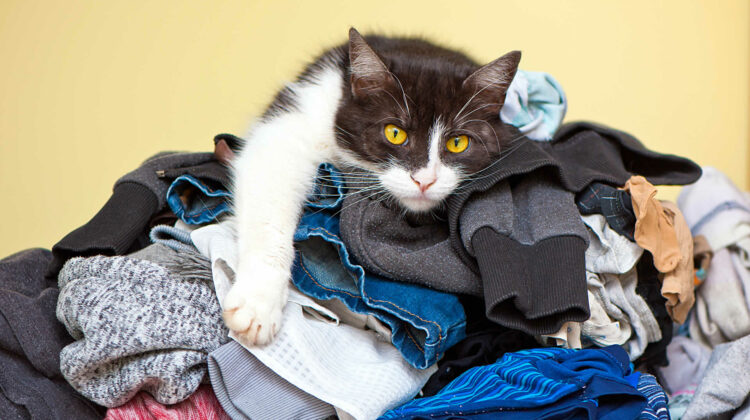 Cats are adorable and lovable creatures indeed. Most of the time, they're also very clean and hygienic. However, cats do misbehave occasionally and there is nothing more frustrating than realizing your cat has peed on your laundry, especially the clean pile that's waiting to be put away!
I went through a short period where I kept catching my female cat peeing on my stuff. She'd pee on anything soft and comfortable such as clothing and blankets. It was extremely frustrating and pretty gross, so I did a lot of research on how to stop a cat from peeing in the laundry basket. And I fixed the problem!
I realize I am far from the only pet parent that's had to deal with a cat peeing on blankets and clothing. Therefore, I decided to share my findings with you so you can also put an end to this frustrating behavior. Keep reading for my eight easy steps on how to stop a cat from peeing and why they exhibit this behavior in the first place.
Why is My Cat Peeing on My Clothes?
Before we discuss how to stop a cat from peeing on your clothes, we need to understand why they do it. Only then can we cut the problem at the source and truly solve the issue.
Here I discuss six different possible causes, which can be divided into medical and behavioral issues. Pay close attention and see which you think could apply – this will make it easier to find a solution that works the first time around.
Medical Conditions
If your cat peed on your laundry, it could suffer from a medical condition that is impacting its usual urinary function. This causes cats to pee more often, and they might not make it to the litter box in time. Unfortunately, your laundry is the target instead!
The three most common examples of medical conditions that lead to increased urination are:
Urinary Tract Infections: This is where bacteria travel up the urethra and cause infection and inflammation. Your cat then finds it difficult to pee, thus strains when urinating, and only pees small yet frequent amounts. They will also lick their genital area, and you might spot blood in their urine.
Kidney Disease: This is where the kidneys stop functioning as they should. The kidneys play an essential role in urine production, concentrating the urine and ensuring toxins are passed in the pee. Therefore, cats with kidney disease pee much more frequently and have increased thirst. Other symptoms include reduced appetite, increased lethargy, muscle wasting, vomiting due to toxin accumulation, and weight loss.
Diabetes: This is where the body doesn't produce or stop responding to insulin. This hormone plays a critical role in blood glucose balance, meaning blood sugar levels are high in diabetic cats. To compensate, the body removes this excess glucose through the urine, pulling out extra fluid and increasing the need to pee and drink.
In all of these medical conditions, cats pee a lot more frequently. But how often should a cat urinate in 24 hours? On average, a healthy cat should pee around twice per day. If you spot your cat urinating more than this, pay close attention to see if you can spot any other symptoms of disease or signs of discomfort when urinating.
Other non-urinary conditions can also be the reason why your cat is peeing on your clothes. A common example is arthritis. This condition makes movement extremely painful and climbing in and other of the litter box can be a particular nuisance. Therefore, your cat might find somewhere closer and more comfortable to do their business… like your clothes!
Behavioral Issues
If you see your cat peeing on blankets, clothes, or laundry, they might suffer from a behavioral issue rather than a medical one. This is actually more likely than a medical condition, but it is important to be aware of the symptoms of the disease so you can get your cat help if it needs it.
In most cases, seeing my cat peeing everywhere all of a sudden means there is some territorial problem going on and they feel like their space is being invaded. Cat pee contains chemical messengers known as pheromones which other cats can smell. By peeing on your clothes, they're marking their territory and claiming your clothes and home as "theirs".
This is much more common in active male cats who have more territorial instincts. However, all cats can become territorial and misbehave in certain situations, such as:
Extreme Stress: Cats get stressed very easily, and extreme stress can cause cats to urinate in places they shouldn't. Common stressors that can lead to this behavior are unfamiliar guests or animals entering your home. Your kitty can smell them in their space and pee to ensure their smell remains. My cat follows me everywhere when stressed, so this and other minor behavior changes can indicate what's going on.
Multi-Cat Households: Cats are naturally solitary creatures, and living with other animals can be stressful. If you have just bought a new kitten or cat home, this could spark territorial issues. Even cats that have lived together for some time still suffer from conflict and one can take authority of the litter box. This leaves your other cat looking for somewhere else to pee, such as your clothes or laundry.
Litter Box Issues: Cats are extremely fussy over their litter boxes, and if things aren't quite right they will pee elsewhere. Common examples include a litter box that is too dirty, shared with other cats, or the wrong size. Litter boxes that are kept in inaccessible or hard-to-reach rooms can also cause your cats to find an easier and more accessible place to pee instead.
How to Stop a Cat From Peeing on my Clothes?
Now you understand why a cat is peeing on your clothes, you can start taking the steps toward stopping it. Below are eight different things you can try to eliminate this unwanted behavior. You can work from top to bottom, or skip straight to the step you think is most likely to help.
1. Get Medical Conditions Ruled Out
I always recommend taking your cat to the vet before trying any of the other tips on this list. As mentioned above, if your cat peed on your laundry it might suffer from an undiagnosed medical condition. Examples include urinary tract infections, kidney disease, diabetes, and arthritis.
Some of these conditions are minor, such as urinary tract infections. Your vet will prescribe a treatment of antibiotics to help fight off the infection and, once cleared, there won't be any lasting damage. Still, it is important to get the treatment early to avoid the infection spreading to the kidneys.
Conversely, conditions such as diabetes and kidney disease are more serious and can become life-threatening if not treated correctly. Untreated diabetes has all kinds of complications, such as heart conditions, kidney problems, and eye issues. Similarly, kidney disease can progress to kidney failure. In stage four of the disease, the average survival time for cats with kidney failure is a mere 35 days.
Although not life-threatening, arthritis should also be taken very seriously. It can be extremely debilitating and causes your cat a lot of pain and discomfort. Being aware of the condition ensures you make changes and administer pain medication so your cat can still live life to the fullest. Therefore, ruling out these conditions is vital – it's better to be safe than sorry.
2. Get Your Cat Neutered
If you want to stop a cat from spraying indoors, neutering should be your next step. This is a must for active male cats who are naturally more territorial than females due to high testosterone. When neutered, their testicles are removed so they don't produce as much testosterone. Therefore, their territorial instincts are reduced.
If you continuously see your female cat peeing on clothing, getting her spayed might still help. She will no longer go into heat once spayed, and the fewer hormonal changes can help prevent this unwelcome urinary behavior. Plus, you don't have to deal with the other symptoms of heat which can be difficult to manage.
3. Purchase Multiple Litter Boxes
If you have ruled out medical conditions and got your cat spayed, I suggest next turning your attention to your cat's litter box. As mentioned earlier, having a litter box they don't like is enough to prevent them from using it – they'll just pee on your clothes and blankets instead!
If you have more than one cat, purchase more litter boxes. You should aim to have one more litter box than you do cats. For example, if you had two cats you should have three litter boxes. This helps to avoid litter box conflict as each cat can have a box of its own. This will encourage its use and avoid the number of toilet accidents. Plus, both your cats will be happier!
Having multiple litter boxes can also be useful if you have a big house or a cat with mobility issues. You can put a litter box on each floor in your home. This way, your cat can easily access the litter box on time no matter where they are and no matter how slowly they have to move.
4. Change Your Cat's Litter Box
The number of litter boxes is only half of the issue – you need to ensure the litter box itself is perfect for your cat. Below are all the features you need to assess and try changing. Once you have the right combination, your cat will stop peeing on your clothes and use their designated toilet instead:
Size of the Litter Box: Most cats have litter boxes that are too small for them to use comfortably. As a general rule, your cat's litter box should be around 1.5x their length. This gives them enough space to turn around inside and pee without any urine going over the edge. If the box isn't large enough, give it an upgrade!
Litter Box Design: Litter boxes come in all shapes and sizes, from basic trays to top-entry designs. Make sure your cat is comfortable using the design you have gone for. For example, timid cats might struggle to use a swinging door or prefer to watch what's going on around them when they pee. On the other hand, older cats or kittens might struggle to jump onto the lid of a top-entry litter box. Think about your cat's needs and get a litter box to match.
Type of Cat Litter: The type of cat litter inside the tray is as important as the tray itself. I recommend getting unscented, low-dust litter for cats who pee outside the box. With no aggravating fragrances or dust, most cats prefer using this type. The majority of cats also prefer granular litter as opposed to pellets as it is more gentle on their paws.
Cleanliness: Of course, how clean your cat's litter box matters too. If the litter box is smelly and dirty, your cat will simply turn its nose up! Make sure you scoop pee and poop from the tray at least once per day. You should then completely empty, clean, and refill the litter tray around once per week.
5. Eliminate Stressors from Your Home
Stress can cause poor bathroom habits, so anyone that wants to stop a cat from peeing on their clothing needs to keep stress to a minimum. When it comes to peeing outside the litter tray, the cause of stress is usually unfamiliar people or animals in the home. Therefore, ensure your cat has breathing space when you do have guests over or don't invite people to your house as much.
Your cat might have also seen neighborhood cats outside the window and felt territorial. Or worse, perhaps these cats snuck through your cat flap and into your home! I recommend investing in a smart cat flap with a microchip ID sensor to prevent this from happening.
6. Clean Mess Up Correctly
Cats have an incredible sense of smell and use it to navigate the world. Even after washing your clothes again, your cat might still be able to smell its scent on them. Therefore, it will assume that is somewhere they can pee and will keep urinating here again and again!
As such, cleaning urine up properly is essential. Usually, an enzyme cleaner for cat urine should be your go-to as this breaks down the odors and eliminates them for good. However, while this is a great thing to use if you want to get cat pee out of a couch, you don't want to damage your clothes!
Instead, use an enzyme detergent and one pound of baking soda to remove the stains and odors. Other people recommend running one washing cycle with a cup of white vinegar, then a second cycle with regular detergent. This helps to break down the urine and remove it for good.
7. Use Synthetic Pheromone Products
I mentioned earlier how cat urine contains pheromones that mark out territory. Cats pee on clothes to deposit these pheromones and mark them as "theirs", usually as there is a lack of their pheromone in your home or the presence of pheromones from another animal or individual that needs covering up.
Thankfully, you can purchase a range of synthetic pheromone products from pet stores that mimic these natural pheromones produced by your cat. They diffuse pheromones into the air, making your home feel calm. This eliminates stress and territorial issues, meaning your cat stops peeing where it shouldn't.
There are several different pheromone products on the market, including:
Pheromone Diffusers: These plug into a socket in your room and diffuse pheromones. I recommend getting one to put in the room your cat keeps peeing in, or wherever it is you keep your laundry basket.
Pheromone Collars: These are worn around your cat's neck like regular cat collars. They gradually release pheromones into the air around your cat, which is great as they help to keep your cat calm wherever it goes.
Pheromone Sprays: You can spray pheromones onto certain objects or places in your home that often get peed on. I wouldn't recommend spraying this on your clothes, but you could spray the laundry basket itself. Bear in mind sprays have to be frequently reapplied.
MY FINAL THOUGHTS
After reading this article, you should know how to stop a cat from peeing on clothes. If all else fails, I recommend speaking to a behavioral specialist who will be able to talk through a range of positive reinforcement training you can try with your cat.
You could also simply keep your clothes out of reach. I don't even like it when I see my cat lay on my clothes as she leaves fur all over them, so making them inaccessible is an option to prevent both peeing and fur-covered clothes!
Most importantly though, know that your cat isn't trying to be a nuisance. It's either sick or stressed out, and so getting annoyed with your cat isn't going to help – it might even make it worse. Don't get annoyed and keep trying these tips instead to put a stop to the behavior for good.