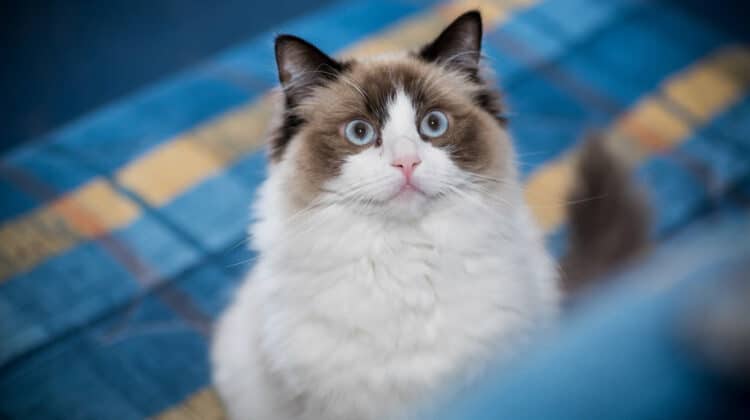 My cat follows me everywhere and won't cuddle. She's been like this for as long as I've known her, and I have learned to accept this is her personality. I know my cat loves me! She shows her affection in other ways, and cuddling simply isn't her thing.
You're in the right place if you've noticed your cat constantly following you but doesn't like being touched. In this article, you'll find seven possible reasons for this behavior. It could be that your kitty doesn't have an affectionate personality like mine, or your cat might be following you for a reason other than cuddling!
You'll then find a list of other signs of affection in cats. It can be disheartening if your furry friend doesn't like curling up on your lap, and you can't help but wonder if your cat doesn't love you. But all cats are different, and there are plenty of other ways to show their affection – you just need to know what to look out for.
7 Reasons My Cat Follows Me but Won't Cuddle
I've learned my cat follows me but won't cuddle as she's not a touchy-feely animal. There isn't anything wrong with my cat, and she certainly does love me.
This same situation could ring true for your cat. However, your cat's clingy behavior could be caused by something else. It might reflect past trauma, driven by curiosity, or a sign of separation anxiety. Keep reading to learn more about these possibilities and more.
1. Not an Affectionate Cat
If your cat follows you around but won't cuddle, you likely have an unaffectionate feline. No two cats are the same, and the amount of physical contact they enjoy varies tremendously. Some cats are extremely cuddly, and other cats aren't cuddly at all.
According to feline behavioral experts, this is down to evolution. All domestic cats have evolved from wild ancestors that lived solitary lives. Cats are naturally independent creatures, and this solitary lifestyle remains a part of their intrinsic behavior.
The presentation of this behavior varies between cats. Like my cat, some felines have strong "wild" social behaviors and prefer to communicate from a distance. My cat sits next to me but not on my lap and follows me around but hates being picked up. She wants to be with me but being in the same room is enough for her. Cuddles are a step too far!
2. Doesn't Like to be Touched
Unaffectionate behavior in cats could be described as a dislike for physical touch. Cats are solitary and independent and don't need comfort in the form of cuddles. My cat follows me everywhere and sleeps with me, but cuddles are off-limits!
However, cats can dislike touch for other reasons. One example is a phenomenon known as overstimulation. Have you ever been happily petting your cat, then suddenly wondering, "Why is my cat so aggressive all of a sudden?" This is classic overstimulation and can lead to seemingly unprovoked aggressive behavior.
I learned my cat likes to be near me but not touched the hard way! I dealt with my cat attacking me all of a sudden during what I thought was a pleasant petting session. As you stroke your cat repeatedly in the same spot, it can feel overwhelming and painful. All cats have different limits, and if their overstimulation is high, they likely won't enjoy cuddles.
3. Traumatic Past Experiences
Previous trauma could explain why your cat follows you around but won't cuddle. Any experience in which physical touch caused them pain could have put them off cuddling for life. They have formed negative associations with being petted and would rather avoid potential pain.
Trauma is more likely to be responsible if you have adopted a cat from a shelter. Many of these cats have sadly experienced previous abuse and are consequently wary of human touch. However, even cats from loving families may have experienced poor handling. This is often the case with young children that haven't learned to handle with gentleness and care.
If your cat has sustained recent trauma, keep your eyes peeled for emotionally traumatized cat symptoms. You might notice your cat is hiding and acting weird, urinating outside the litter box, or vocalizing excessively. You must regain your cat's trust if you want them to cuddle you.
4. Following Out of Curiosity
Many assume cats follow their owners around because they want to be petted. When cats seem reluctant to cuddle, owners are confused! However, petting is just one of the reasons cats follow people around, curiosity being another main driver.
Have you ever heard the phrase "curiosity killed the cat"? Cats are intrinsically curious creatures, and there is one thing they want to learn about more than anything else: you! By following you around, they can see what you're up to and get a better insight into your daily life.
Additionally, cats can use their fine-tuned senses to learn more about you than where you're going. Their noses are fourteen times stronger than ours, so any scents you carry with you provide them with information. This could be where you've been that day, what people you've met, or what other pets you've been around. Cats can sense illness in humans, too; their noses are that powerful!
5. Requires Your Attention
Cats also follow their owners as they need something from them. They might require you to replenish their water, scoop waste from their litter tray, or let them into your backyard. Cats cannot communicate this verbally, so they use such behaviors to show they're in need.
Another way cats communicate to owners is through meowing. This noise is reserved exclusively for communicating with people; whenever you hear a meow, your cat is trying to tell you something. Therefore, when my cat follows me everywhere but won't cuddle, I check all her essentials are attended to and fix any issues I can see.
If you do the same, you'll likely be pleasantly surprised with the result. With their needs attended to, your cat will follow you around less. And even better, your unaffectionate furry friend might even give in to a cuddle when everything else is catered for.
5. Separation Anxiety
As I've mentioned, my cat is unaffectionate by nature. Whenever I wonder, "Why is my cat so affectionate all of a sudden?" I know something is wrong. Many cats get much more affectionate when stressed. They might want to be always close, sit next to you, or let you cuddle them!
Thankfully, most causes of stress in cats are short-lived. As soon as the stressor has subsided or your cat has adjusted, their stress-related behaviors subside. This includes your cat licking its fur off, vocalizing more than usual, or exhibiting hiding behaviors. Yet cats can experience chronic stress, most commonly brought on by separation anxiety.
Separation anxiety can be defined as an over-attachment to the cat's owner and constant fear of being abandoned. This may stem from previous experience, but some cats are naturally clingier than others. To ensure you don't leave, your cat follows you everywhere. They don't necessarily want to be cuddled; they just want to keep you close.
7. Feline Pregnancy
Many cats become affectionate when pregnant due to hormonal changes in their bodies. Their maternal instincts are kicking in, manifesting as increased affection towards you. Cats that are naturally unaffectionate may show this by following you everywhere, but cuddles are still off-limits.
Increased affection is just one of the pre-labor signs in cats. Others include changes in heat cycles, pinking nipples, increased appetite, and a greater need for sleep. Of course, this is only a possibility for unspayed female cats. Males or spayed females cannot be pregnant, so their behavior is due to another reason on this list.
Congratulations if you were planning a pregnancy and now have a litter on the way! But for anyone else, pregnancy can be a costly and time-consuming ideal. To prevent future pregnancies, speak to your vet about spaying your cat. Note that female cat behavior after spaying also tends to be affectionate, so you may still have to put up with your cat following you until they recover from the op.
Can I Make My Cat More Cuddly?
Cuddling is one of the most bonding and affectionate times you have with your cat. However, seeing cats and their owners snuggling together can be depressing if your cat isn't cuddly. It is easy to feel like your cat doesn't love or want to touch you.
Some cats become more affectionate with time. For example, those with negative associations with petting due to trauma can be taught cuddles are good through positive conditioning. The secret to this is never to force physical contact on your cat. Always wait for your cat to come to you. Once they do, reward your cat with a treat so positive associations form.
Other cats don't respond to training and will remain their unaffectionate selves. I don't think I'll ever not experience my cat meow when I pick her up; she is not a cuddly feline whatsoever. This is who your cat is, and you should learn to love them for their quirks.
Other Ways Cats Show Love & Affection
If your cat doesn't like cuddles, don't feel disheartened. They're likely showing their love and affection in another way. For starters, your cat follows you wherever you go! This in itself shows they like you; cats would attempt to spend as little time with you as possible if they didn't.
Below are seven other ways cats show affection. Have a read through the list; I'm sure you'll surprise yourself with how many apply: here
Headbutting: Also known as bunting, headbutting is a sure sign your cat loves you. Cats use bunting behaviors to communicate love to other cats and mark them as family. If your cat is head-butting you, it's marking you as a friend.
Stomach Showing: Does your cat sleep on its back with its tummy exposed? This is a vulnerable position for cats, so this posture signifies trust. Please don't assume it's an invitation to tickle your cat's furry tummy; most cats hate belly rubs!
Purring: A purring cat is usually a happy cat! Cats make this low rumbling noise when happy like dogs wag their tails. Please take it as a sign of affection whenever your cat purrs in your presence. Your cat loves being around you and spending time with you.
Bringing Gifts: To owners' dismay, outdoor cats regularly bring mice from the yard. Dead mice are not welcome in our homes, but your cat is trying to bring you a gift. Next time you deal with a dead rodent, remember it's only there because your cat loves you.
Gurgling: Most people don't associate gurgling noises with cats. However, cats make a gurgling meow sound when feeling excitable or highly cheerful. Hearing this noise in your home regularly shows your cat is loving life, you included!
Making Biscuits: When cats knead their paws rhythmically, it's called making biscuits. They usually do this on a blanket but might choose to make biscuits on their owner! Kittens knead their paws on their mom, so kneading is a sign of contentment and love.
Slow Blinking: Slow blinking is another sign of love and affection. Some people call this a "kitty kiss" because of the love behind it. Whenever you see your cat blinking slowly at you. Show your love by slowly blinking back.
MY FINAL THOUGHTS
My cat follows me everywhere but won't cuddle, and that's okay! All cats are unique; some are cuddly, and others aren't. I'm sure you discovered several alternate signs of affection in the list above and feel reassured in your cat's opinion of you.
Nevertheless, cats can become clingy and follow you when something is wrong. Ensure you check they have all the essentials they might need. If the behavior comes on suddenly, I suggest taking your cat to the vet. Your vet can provide more advice and reassurance that your kitty is okay.