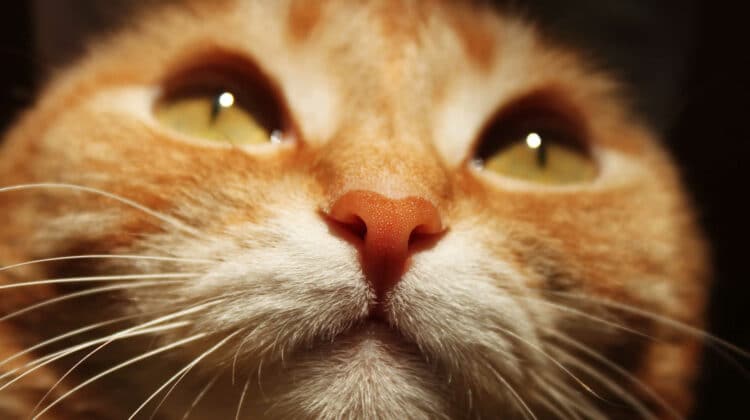 It's common knowledge that a cat's nose is often cold and wet to the touch, and many believe that this indicates your cat is fit and healthy. Therefore, it can be very concerning when you suddenly notice your cat has a dry nose, and even more concerning if your cat has a dry nose and is not eating!
You're probably wondering what has caused these changes and whether it is a sign that something is wrong with your furry friend. In most cases, a dry nose and loss of appetite are signs of respiratory infection, but these symptoms also result from dehydration or cancer.
I've had to deal with this problem myself in the past, so here I share my knowledge and help you understand what is going on with your feline. Read on to discover what causes a cat's nose to dry and when to start worrying. I also cover the best ways to help your feline get back to their usual selves!
What Causes a Dry Nose in Cats?
It is a common misconception that a healthy cat's nose is always wet, but a dry nose doesn't mean your kitty is sick at all! In fact, it is perfectly normal for your cat's nose to vary between wet and dry throughout the day.
These changes are based on several factors, including the amount of time spent grooming, the circulation of your home, and the amount of time a feline is in a warm environment. The less your cat grooms, the colder their environment, and the better the circulation, the dryer their nose becomes.
However, if your kitty has a dry nose alongside other negative symptoms, particularly a loss of appetite, there is a high chance that something isn't right. It is a good idea to take note of your cat's sleeping positions when it's sick, as this can tell you more about what may be going on.
Why Does My Cat Have a Dry Nose and Isn't Eating?
A dry nose on its own is not a sign of illness in your kitty. However, if your cat is sleeping all day and not eating much, it can suggest an underlying health condition. The reasons behind these symptoms are wide and varied, so I will review some of the most common causes below.
1. Respiratory Illness
If you often see your cat with watery eyes and a runny nose, it may be that they are suffering from a respiratory illness. A wide range of respiratory diseases can affect cats, but one of the most common is an upper respiratory infection (URI). This illness can be caused by various viruses or bacteria, similar to the human cold.
Because URIs affect a feline's upper airway, you're likely to see symptoms associated with the nose, throat, and sinuses. This includes a dry nose, lack of appetite (perhaps due to a sore throat), and watery eyes. You may also notice that your cat coughs after drinking water.
Alongside these symptoms, your feline may also have:
A red, crusty nose
Nasal discharge and/or swelling
A persistent cough
Congestion
Sneezing
Fever
Lethargy and weakness
A hoarse voice
If a URI is left untreated, it can have long-lasting adverse effects, like breathing problems or blindness. Some variations can also turn into pneumonia. Because of this, I would take your cat for a check-up if you notice any of the above symptoms. Your vet can advise the best course of treatment so that your feline can start to feel better.
2. Dehydration
Dehydration occurs when a cat experiences a sudden loss of fluid from the body. This not only means that your kitty's water levels are low, but essential minerals, such as sodium, potassium, and chloride, are also in low supply. Left untreated, it could cause more serious medical conditions.
When dehydrated, the lack of fluid in your cat's body means that its nose will feel very dry. Your kitty may also stop eating due to feelings of nausea. Unfortunately, this could further dehydrate your feline, as it won't be taking in any water from their food.
A great way to determine if your kitty is dehydrated is to use the "skin tenting" test. To do this, gently pull up a small section of your cat's skin over the shoulders and then let it go. The quicker your feline's skin goes back into place, the more hydrated they are!
Other signs of dehydration you can watch out for include:
Lethargy and weakness
Continuous panting
Dry gums
Sunken eyes
Although many cases of dehydration are caused by your cat not drinking enough, other factors can lead to excessive water loss. These include diarrhea, fever, vomiting, and heatstroke. Therefore, if your kitty is showing any of the above symptoms, you must contact your vet immediately so they can examine your cat.
In the meantime, one of the best ways to treat and prevent dehydration is to try and increase your feline's fluid levels. For example, when my cat has a fever and is lethargic or hasn't drunk anything in a while, I always make sure to up her water intake as I know this can soon lead to dehydration.
3. Cancer
It is devastating when your cat is diagnosed with cancer. My friend's kitty has just been diagnosed, and she feels completely helpless. The good news is that many forms of cancer can be treated if caught early enough. The bad news is that most cats try to hide sickness as it makes them seem vulnerable. This means it's vital that we pay attention to any symptoms our felines do show.
If your cat is breathing heavy, has a dry nose, and lacks an appetite, it may be that it has a form of cancer. The types that most commonly cause these symptoms are lymphoma, carcinomas, and sarcomas.
The symptoms your feline shows will vary depending on the stage of their cancer and the type that they have. However, some of the common signs include:
A persistent cough
Breathing difficulties
Urination or defecation difficulties
Sores that don't heal
Enlarged lumps
Lethargy and weakness
If your cat displays several of these symptoms, I would take it to the vet as soon as possible. There, they will be able to determine what kind of cancer your kitty has and take you through the best treatment options available.
4. Other Causes of a Dry Nose in Cats
Alongside those I mentioned above, a series of other conditions could be responsible for causing your cat's dry nose. These include skin conditions, sun damage, and trauma.
Skin Conditions: There are plenty of skin conditions that can impact your kitty's nose, including fungal and bacterial infections, allergic dermatitis, and pemphigus foliaceus. These can cause your cat's nose to become dry and may result in nasal discharge and sores.
Sun Damage: Like us, cats can sometimes spend too much time lounging in the sun and accidentally burn themselves. This can make your kitty's nose appear red and dry. There may also be some scabbing or peeling of the skin.
Trauma: No matter how hard we try to keep a cat safe, there is always the chance your feline will experience trauma. This could include burns, insect bites, and accidental injuries. When this happens, it could lead to dryness, redness, bumps, and swelling of the nose.
Although these issues can all cause a dry nose, it is rare that they are accompanied by a loss of appetite, so it is less likely that one of these is the culprit of your feline's current state. It may just be that your cat doesn't like its current food or that you leave it down for too long, causing it to go stale!
That being said, cats, like us, often refuse to eat when feeling under the weather. So, it could also be that your kitty has a different condition causing them to leave their food. Good examples of these include dental diseases or stress. If you're ever unsure, I would recommend speaking to your vet. When it comes to a pet, it's always better to be safe than sorry.
When Should I Worry About a Dry Cat Nose?
Like I said at the beginning of this article, a dry nose doesn't always suggest that your cat is ill. A healthy cat nose can be both wet or dry, and so, by itself, a dry nose is nothing to worry about.
However, when your feline has a dry nose and has lost their appetite, there is a possible cause for concern. Some other concerning symptoms that you may see alongside a dry nose are:
Nasal discharge
Breathing difficulties
Crusty, flaky, swollen, or damaged skin
Warm skin and/or a fever
If your cat is displaying any of these symptoms, it is imperative that you take them to the vet. Your vet will be able to determine the underlying cause of your kitty's condition and put together an effective treatment plan so that your cat can get back to its regular self. Take note that this treatment plan will differ based on the underlying causes.
How Can I Help My Cat's Dry Nose?
Alongside talking to your vet, one of the best ways to help your cat's dry nose is by increasing their water intake. Cats don't have the same urge to drink that we do, so you must make their water as inviting as possible to encourage drinking.
I do this by mixing a little water into my kitty's wet food every day, but you could also try using a water fountain or mixing some meat broth into your cat's water so that it smells good. Switching to wet food can also help, as it has a much higher water content than dry food.
If you want to encourage your feline to eat, I suggest changing their food to something that it may find more appealing, feeding them smaller portions throughout the day, or leaving some dry food down all the time for your kitty to graze on.
At the end of the day, though, I always think it is best to visit your vet if a sudden change in your cat worries you. Of course, it may turn out to be nothing, but getting a professional's opinion will help put your mind at ease and ensure that your kitty receives any help it needs.
MY FINAL THOUGHTS
A dry nose on its own is nothing to worry about. However, when this occurs alongside other negative symptoms, such as a lack of appetite, it becomes a problem. This may be a sign that they have an underlying condition that is making them unwell.
The most likely causes are respiratory illness, dehydration, or cancer, but various other conditions can also cause one of the two symptoms. There is a chance your feline has been unfortunate and contracted two conditions at once, or has another reason for not eating.
If you notice your kitten is weak and sleepy, your feline isn't eating, or your cat is coughing with its tongue out, it is probably time to go and see your vet. In the meantime, you can use my tips to try and increase your kitty's water intake and encourage it to eat.