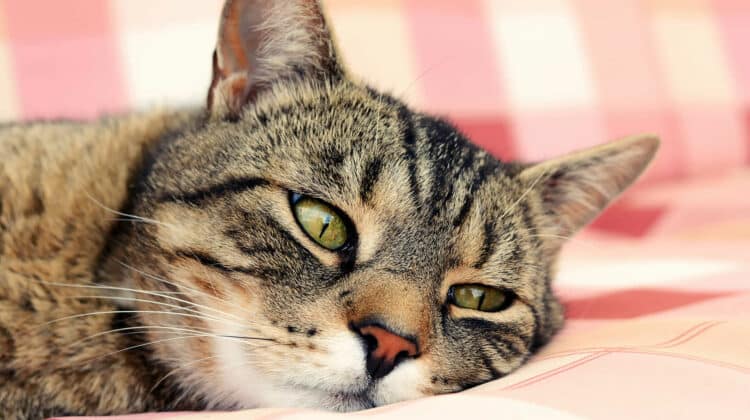 Rapid breathing can be highly concerning for pet parents. Medically known as tachypnea, it is a symptom of many severe conditions that can potentially become life-threatening. Examples include asthma, anemia, heart disease, and even tumors.
But what if your cat is breathing fast but otherwise normal? Is something wrong? Or is their abnormal breathing not that strange after all? After all, cats can breathe rapidly in some everyday situations, such as after exercising or in emotional distress.
Nevertheless, these are all pressing questions for owners – we need to know whether to take our feline friends to the vets or whether we'd be wasting vets' valuable time in doing so. Thankfully, this article reveals all you need to know about tachypnea in vets and when you need to start panicking.
What is Rapid Breathing in Cats?
First of all, we must be all on the same page in defining rapid breathing in cats. It can loosely be described as a cat breathing fast and shallow. However, cats do have a naturally faster respiratory rate than humans. It is important to never compare your cat's breath to yours – we are two different species, and our respiratory rates are incomparable.
In cats, an average respiratory rate is considered to be anything between 20 to 30 breaths per minute when at rest. On the other hand, typical respiration rates of an adult human at rest range from 12 to 16 breaths per minute. As you can see, cats do breathe more rapidly than we do!
But this is not rapid breathing for cats; this is just their normal and expected healthy breathing rate. Rapid breathing is any respiration rate of more than 30 breaths per minute while sleeping.
You can determine your cat's breathing rate by following the steps below:
Wait until your cat is sleeping or extremely calm and relaxed – respiration increases with exercise, so measurements always need to be taken at rest.
Set a timer for 30 seconds and count how many breaths your cat takes in this period. You can count the breaths by watching the chest closely. One breath consists of the chest rising and then falling.
Take the total number of breaths and multiply it by two to determine the number of breaths per minute. This is referred to as their respiration rate. Anything over 30 is classified as tachypnea.
How to Identify Rapid Breathing in Cats?
The most apparent sign of tachypnea in cats is the rapid rising and falling of the chest. One way to confirm this fast breathing in cats is to use the process I've just explained. If you see your cat breathing fast but otherwise normal, this might be the only method for identification you can use.
However, often rapid breathing is accompanied by other symptoms. These signs are usually some kind of noisy breathing or a clear difficulty getting enough oxygen into the lungs. Here are some signs of fast breathing you might observe:
Rapid rising and falling of the chest, diaphragm, and stomach
Showing a reluctance to move or exercise
Lethargy and fatigue due to shortage of oxygen
Why is My Cat Breathing Fast But Otherwise Normal?
If your cat is breathing fast but otherwise normal, don't panic. When the only sign of tachypnea in cats is the rapid rising and falling of the chest, this usually means nothing serious is wrong. Severe medical conditions nearly always show other symptoms!
So, why is your cat breathing quickly? Well, respiratory rate increases at certain times when there is an increased oxygen demand in the body. I look at three of these options below and touch more on how cats' natural respiration rates are faster than ours.
1. Physical Exertion
Our felines are constantly seen catnapping or soaking up the sunshine. However, cats do have their mad moments! Some run around like crazy at night, chase mice in the yard for pleasure, or perhaps you're involved in a heavy play session with your kitty.
This exercise increases the body's need for oxygen. Your cat's muscles work hard and use a lot of energy and oxygen to facilitate movement, so its breathing rate increases to compensate. They're trying to replenish the oxygen they have expended to aid recovery.
If you see your cat breathing heavily while resting immediately following exercise, they're likely still in recovery. However, their respiratory rate should quickly return to normal within a few minutes. When breathing doesn't slow, this could indicate a more severe condition.
2. Emotional Distress
Emotions can have various physical effects on the body, including breathing. Respiratory rate increases when dealing with negative emotions such as stress, fear, or anger. This is because your cat's body is going into its "fight or flight" mode, supplying the muscles and organs with oxygen in preparation for fleeing the scene or squaring up to the threat.
This is also considered a normal physiological response and is nothing to worry about. Your cat's breathing should return to normal after the emotional distress has subsided. They need the chance to calm down and realize the cause of their negative emotions isn't anything to worry about.
Occasional stress is common in cats as they're very sensitive creatures. However, if you notice your cat sleeping all day and not eating, they might be dealing with chronic stress, anxiety, depression, or fear. This is more worrisome, and you should speak to your vet about environmental changes and treatment options.
3. Overheating
If you see your cat breathing fast and shallow, it might be overheating. In this instance, an increased respiratory rate is again considered beneficial. Cats can breathe through their mouths quickly to help cool themselves down as the moisture evaporates from the tongue.
This is not the only mechanism cats use to cool themselves down. They may also curl up in a shaded spot, groom themselves (the saliva evaporates and cools), or drink lots of water to replenish the fluids lost through panting and grooming. Cats that are overheating also become more reluctant to move.
Assuming these cooling methods work, your cat's breathing rate will soon return to normal. However, sometimes cats cannot cool themselves down, leading to potentially life-threatening heatstroke. One of the most common situations in which this occurs is leaving a cat in a vehicle. On hot days, the inside of cars becomes stiflingly hot, and you will often see your cat panting in the car.
4. Natural Respiratory Rate
Finally, it's essential to remember that cats naturally breathe faster than us! If you notice your cat's chest moving up and down rapidly, make sure you're not comparing their breathing rate to yours. Healthy cats breathe at almost double the speed that we do.
If everything else seems fine, you're probably stressing about nothing. However, ensure you count your cat's breaths while resting using the method detailed further up this page to make sure. Remember that over 30 breaths per minute is true tachypnea, but anything as low as 20 is totally fine.
Also, bear in mind that this figure applies to adult cats only. Kittens breathing fast while sleeping is relatively common; unlike adult cats, their lungs are not fully developed! Therefore, kittens' average resting respiratory rate is approximately 24 to 48 breaths per minute, rather than 20 to 30 breaths.
Other Causes of Rapid Breathing in Cats
If your cat is breathing fast but otherwise normal, they're likely fine. Perhaps they're recovering from physical exertion, emotional distress, or overheating. And remember – cats have a much faster breathing rate than us humans, so you should never compare the two.
However, several illnesses and injuries also cause fast and shallow breathing in cats. Here is a quick overview of some potentially more serious causes:
Allergies: Cats can be allergic to many airborne allergens, including dust mites, pollen, and mold. If your cat suffers from allergies, they often exhibit sneezing, coughing, watery eyes, congestion, and fast breathing.
Anemia: Cats with anemia have a low red blood cell count and struggle to carry oxygen around the body. This results in increased oxygen demand, so the breathing rate increases. Alongside fast breathing, the primary symptoms are pale gums and lethargy.
Asthma: Asthma is caused by constricted airways, often due to allergens or cold air. The constriction makes breathing difficult and speeds up respiratory rate. The two other common signs are your cat coughing with its tongue out and characteristic wheezing noises.
Foreign Body: Objects can get stuck in the airways and cause breathing difficulties. Gagging, regurgitation, and trouble swallowing are likely when something is stuck in the throat. My cat starts drooling all of a sudden when she inhales a foreign body, too.
Tumors: Tumors in the chest or throat can also obstruct the airways if they grow large enough. Along with tachypnea, cats usually show dyspnea (difficulty breathing), low energy levels, and hemoptysis (coughing up blood), depending on severity.
Respiratory Infection: All infections that target the respiratory tract cause rapid breathing. Other common "cold-like" symptoms are also present. For example, my cat can't meow just squeaks – like how I lose my voice. Coughing and congestion are other signs.
Pleural Effusion: This can be described as an accumulation of fluid inside the chest cavity. The presence of fluid means the lungs cannot expand like usual, contributing to a faster breathing rate. Other symptoms are loss of appetite, dyspnea, and open-mouth breathing.
Pulmonary Edema: When the lungs themselves fill with fluid, this is known as pulmonary edema. This again impairs the lungs' ability to function, so breathing rate increases. Other clinical signs are coughing, breathing difficulties, blue tongue, and weakness.
What Should I Do About My Cat's Rapid Breathing?
All pet parents feel overwhelming dread when they notice something wrong with their kitty. When the issue concerns something as important as breathing, it can be extremely difficult not to panic. What should you do about their fast respiratory rate? Are they okay? Or should you call the vet?
Well, I have some excellent news: rapid breathing in itself is not an emergency. As I have already mentioned, it is a normal physical response to exercise, stress, and heat. In fact, it is highly beneficial, acting as a feedback loop to ensure the body has as much oxygen as it needs.
You don't need to do anything in these instances! Keep an eye on your cat to ensure their breathing slows down. You can also remove any factors that could contribute to their heavy breathing. For example, stop playing with your cat if they're physically exerted, remove your cat from the sun on a hot day, and eliminate known stressors from your home.
However, fast breathing can indicate an underlying issue if your cat isn't too hot, stressed, scared, or tired. This can signify that medical care is needed. Keep a close eye for other symptoms can book a veterinary appointment for diagnosis and treatment.
In other cases, rapid breathing is a medical emergency. Your cat needs urgent care if it is showing breathing difficulties, taking extremely shallow breaths, or breathing particularly loudly. Collapse is another obvious sign your cat is severely low on oxygen. This often happens when breathing deteriorates, which is why it's essential to check respiratory rate returns to normal.
MY FINAL THOUGHTS
Your cat breathing fast but otherwise normal is ordinarily nothing to worry about. This happens after exercise, in hot climates, or when feeling stressed. Your cat's respiratory rate will soon return to normal once the body has reached the oxygen demand it needs. Remember that a kitten breathing fast while sleeping is also considered normal – their smaller lungs aren't as well developed.
However, always call your vet if your cat's condition deteriorates or none of the above reasons apply. Severe breathing difficulties, open-mouth breathing, shallow breathing, and collapse require urgent medical care. Life-threatening conditions might be responsible, so don't hesitate to contact a professional.