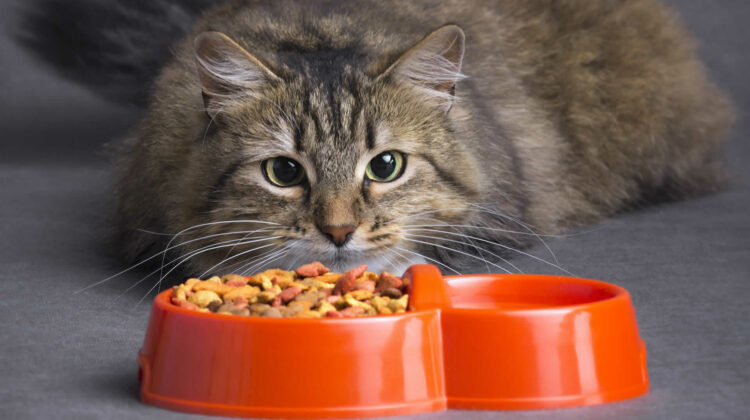 Cats are known for having extremely fine-tuned senses. Their sense of smell is 14 times stronger than ours, their whiskers can detect tiny movements in air current, and their eyes have excellent night vision. But a cat's sense of taste isn't so sharp. In fact, their sense of taste really isn't that great at all.
So, what can cats taste? Well, one of the strongest flavors of the food we eat has to be spice. Some people love it, others hate it, but all of us can taste it! This got me thinking, can cats taste spicy food? Or can their poor taste buds not even pick up on flavors such as wasabi, black pepper, jalapenos, and hot sauce?
Believe it or not, cats actually cannot taste spicy foods at all! Their taste buds are only designed to find protein delicious, so flavors such as sweet and spicy are completely non-existent to them. To learn more about this keep on reading.
Can Cats Taste Spicy Food?
Interestingly, cats cannot taste spicy food at all. This is simply because cats do not need to taste spice. They are obligate carnivores, meaning that their diet is made up of predominantly meat and protein. Therefore, cat taste buds have developed to only register flavors found in protein.
Spice is simply not a flavor found in meat. Yes, we might add some chili, paprika, or pepper to our meat to make it tastier. However, in its natural form without the addition of any herbs and spices, meat doesn't have a natural hot taste. Although we may occasionally feed our pet cats with flavored meat, their wild ancestors never needed to taste spice.
As such, cats never developed the taste buds to recognize this flavor. It didn't benefit them or aid their survival, so it is not a gene that was deemed as strong or useful. Being able to taste all the flavors in protein is much handier.
Why? Well, there are two main reasons for this:
Detecting Spoiled Food: When protein goes off it often tastes bitter or sour. Cats can register these flavors with their taste buds. If they bite into a rodent that is rotten or carrying diseases, they'll know after one bite! They'll recoil and stop eating the meat. This can prevent them from falling sick or contracting any nasty disease.
Encouraging Protein Consumption: Only registering tastes found in protein encourages cats to eat more of it. For example, cats are unable to taste anything sweet. To them, anything sweet just tastes bland. This means that cats won't get distracted filling themselves up on sweet stuff that doesn't contain the nutrients they need. Instead, they're drawn towards meat, which contains everything they require to be strong and healthy.
Yet just because cats cannot taste spicy food, it doesn't mean they cannot feel it! Spicy food such as hot sauce and wasabi can still create that burning sensation in your cat's mouth the same way that it does in yours. Instead of balancing the painful sensation with the pleasurable taste, cats just experience the painful sensations.
Can Cats Eat Spicy Food?
Cats cannot taste spicy food, but can cats eat spicy food? And if so, can what about all different types of spicy foods? Can cats eat hot sauce? Can cats eat jalapenos? What about wasabi, chili peppers, black pepper, and other hot foods?
Technically speaking, cats can eat anything. They're very curious creatures and put all kinds of things in their mouths. A better question is "Should cats eat spicy food?".
The answer to this question is much more straightforward: no they shouldn't!
And here is why…
1. Spicy Food Contains Capsicum
Almost all spicy foods contain capsicum. Hot sauce, jalapenos, chili peppers, and many other spicy foods all contain capsicum in abundance. Capsicum contains a substance called glycoalkaloid solanine, or solanine for short. This substance is released when your cat chews the chili or other spicy food it is eating.
Solanine is a compound that is toxic to cats. If your cat consumes too much of it, it can cause gastrointestinal upset. This usually presents itself as vomiting and/or diarrhea which will continue until your cat has eliminated the spicy food from its body. It also causes my cat's poop to smell so bad! Their bodies cannot handle the spice which is reflected in their poop!
In cases where large quantities of spicy food are eaten, things can get even worse. Some cats will become extremely dehydrated. If you find yourself thinking "my cat has runny poop all the time," dehydration is a real concern. Moreover, the solanine toxin can cause detrimental effects around the body, leading to coma and death.
However, toxicity from spicy food is rare. For your cat to ingest enough capsicum to be toxic they have to consume 1% of their body weight in spicy food. As such, don't panic if your cat has diarrhea but seems fine after eating spicy food. Just keep an eye on their symptoms and call a vet immediately if their condition deteriorates.
2. Cats Can Feel Spicy Sensations
Another reason why spicy foods should be avoided is that they cause your cat oral discomfort. Like I said earlier, the ability to taste and feel spice are two different things. While cat taste buds don't pick up on spicy flavors, they do still feel that painful burning sensation. And as cats are not well-adapted to eat spicy foods, they can't handle half as much heat as we can!
If you notice your older cat not eating but drinking, it could be that the spicy food has burned its mouth. They're trying to cool it by drinking plenty of water! Likewise, if your cat isn't eating much but acting normal, there is a possibility that their mouth is in too much pain. They might have a reduced appetite until their taste buds calm back down.
This painful sensation might also cause your cat to spit out spicy food or regurgitate it. Don't stop your cat from throwing up after eating spicy food. In fact, it is probably best to encourage it. If your cat spits out the spicy food before they can ingest it then they will avoid any GI upset and potential toxicity.
3. Other Dangerous Ingredients
Capsicum isn't the only dangerous ingredient lurking inside spicy foods. Many spicy foods contain other dangerous ingredients! Onions and garlic are both common examples. These are added to many human foods, such as spicy sauces or to add further flavors to spicy meat.
Onions and garlic are both extremely toxic to cats – far more than capsicum! Ingesting even a small amount of these can cause severe gastric problems and there is a much higher chance of toxicity. This is one of the reasons that cats can't eat hot dogs. Many contain onions and garlic as flavorings or are topped with fried onions.
Sodium – better known as salt – is another danger potentially lurking in some spicy foods. Cats can't eat beef jerky because of its high salt content, and spicy foods are the same. Eating too much sodium can affect the sensitive electrolyte balance in your cat's body. This often leads to severe dehydration and, in worst cases, sodium ion poisoning.
What Spicy Foods Are Safe for Cats?
Not all spicy foods are as dangerous for cats as others. Raw spicy food such as red pepper will be far less dangerous than highly processed spicy food such as salami or pepperoni. Likewise, red hot chili is going to be far more unsafe than mild chili. Here I look at some of the most common spicy foods that humans eat and how dangerous they are for cats.
Can Cats Eat Curry?
Curry is one of the most popular spicy meals eaten by people. My cat always runs and begs for food when I dish up a curry for my dinner. I think it must be the combination of the strong aroma and the fact that it nearly always contains some kind of meat.
However, it isn't wise to give in to your cat. The spices used and the overall spice level varies hugely. Whereas a korma is mild, something like a jalfrezi could really hurt your cat's mouth. Besides, most curries contain onions and garlic. They're also generally high in fat which is bad for your cat and can contribute to unhealthy weight gain.
Can Cats Eat Hot Sauce?
Cats definitely shouldn't eat hot sauce! The addition of hot sauce to our meals might make them more appetizing and mouth-wateringly good. However, the opposite is true for cats. Adding hot sauce to your cat's dinner is going to put them off eating it rather than encouraging consumption.
The reason hot sauce should be avoided is that it is made from chili peppers. These contain capsicum and can cause tummy troubles. Besides, many hot sauce recipes have salt and other added ingredients to make them tastier. Licking a little hot sauce off the spoon shouldn't cause your cat much harm, but avoid giving them a large amount.
Can Cats Eat Jalapenos?
Of all the hot foods available, jalapenos have relatively low consequences. They are in their raw form, so you don't need to worry about the addition of salt, fats, onions, garlic, or other dangerous ingredients. A jalapeno is simply a jalapeno! Their size and texture also make them a good size to fit inside your cat's mouth.
However, they do contain a fair amount of capsicum and so are best avoided. Your cat won't be able to taste the spice, but they'll be able to feel it burning their tongues. It can also cause stomach upset and bouts of sickness and/or diarrhea. Jalapeno seeds are particularly high in capsicum and should be avoided at all costs!
Can Cats Eat Cinnamon?
When considering spicy foods, most people automatically imagine chilies and paprika. However, cinnamon is also considered a spice. Cinnamon is technically classified as non-toxic to cats and so it's one of the safest spices they can eat. A little cinnamon here and there isn't going to do your cat any harm! Plus, it doesn't produce a burning sensation in your mouth when being eaten.
However, cinnamon can become toxic at certain levels. This is because cinnamon contains a small amount of the compound coumarin. This is often used in rat poison! A little won't do any harm, but a lot can cause vomiting and diarrhea, coughing and wheezing, and skin irritation. In worse cases, cats with cinnamon toxicity can also suffer from liver damage.
Can Cats Eat Wasabi?
Wasabi is another spicy food you might want to know whether your cat can eat. However, this is another food that should be avoided. A little wasabi is unlikely to do your cat any real damage, but there have been reports that eating wasabi peas can cause throat constriction and breathing difficulties in cats.
Moreover, wasabi is from the same family of plants as horseradish known as the brassica family. In these plants, it is glucosinolates that give them their spicy flavor. Large amounts of these enzymes have been found to cause oral pain and stomach upset in our furry friends.
Do Cats Like Spicy Food?
Cats are quirky and unique creatures, and no two are quite the same. Some cats like exploring outside, whereas others prefer being lap cats. Some cats love climbing up your furniture whereas others are sleepy and lazy. And some cats like spicy food whereas others hate it.
If we are going with the majority, most cats don't like eating spicy food. Any cats that have eaten it before might have learned from this experience. They have associated the smell of spicy food with oral pain and stomach discomfort. Many will even turn their nose up at their favorite food if you add a little spice to it.
On the other hand, some cats may seem to have a preference for spicy food items. Whenever you have something hot and spicy on your plate, your cat might beg for a bite! This might seem strange – your cat cannot taste the spice and eating it causes them discomfort. So, why are they so persistent about trying a mouthful? There are several theories as to why this might be:
Delicious Aroma: Spicy foods are one of the strongest smelling foods we eat. Think about it, things like curries and chili con carne has a much more powerful aroma than vegetables or plain pasta. Cats have an extremely good sense of smell, so they may be curious as to what this spicy food could be.
Meat Ingredients: Many spicy foods are made with meats which cats are naturally drawn towards. For example, you might use spices to flavor meat, in a sauce for curry or chili con carne, or as a topper for hot dogs. In these instances, it is more likely that your cat is wanting the meat itself rather than the spice.
Warm Temperature: In the wild cats eat prey they kill. Fresh prey will still be warm, so cats have a preference for warmer foods. They associate this with freshness, plus the added temperature brings out the delicious aromas. Most spicy foods we eat are hot temperature-wise, so this could be another reason that cats want to try a bite.
What Are Good Alternatives to Spicy Food?
If your kitty is begging for spicy food, you might want to give them another human food alternative. Or, perhaps you want to share your dinner with your can and want to know what human foods are safe for them to eat. Here is a quick look at some other options you can feed your cat as a one-off treat.
Remember, these foods are means as treats and should only be given in moderation as part of a healthy balanced diet:
Fish
Fish is part of a cat's natural diet and so you can happily share this food with them. Fish is high in protein which is one of the essential nutrients that your cat needs. Plus, it is rich in omega-3 fatty acids which are beneficial for overall good health. In particular, the fatty acids are beneficial for cats with arthritis and kidney disease.
When feeding your cat fish, always give them cooked fish and try to avoid spices and seasonings. Oily fish from a can such as tuna and mackerel is a good option when given in moderation. But be careful to not overdo it – too much tuna can lead to mercury poisoning.
Meat
Meat is another good option. Cat are meat eaters and meat makes up the bulk of their natural diet. It is made of protein and easily digested by your furry friend, besides filling them with the nutrients that their bodies need to function efficiently.
Always choose plain meats such as beef and poultry, and avoid highly processed meats such as hot dogs and hams. Also, never feed your cat raw meat. Although cats eat raw meat in the wild, it can carry bad germs and bacteria that can make your cat sick.
Cheese
Cheese can also be safely eaten by cats. As an animal product, it is high in protein. It also contains a lot of calcium which is good for strong bones and teeth. However, only feed cats a very small amount as they don't have the enzymes to digest lactose.
Eggs
Eggs are another possibility for anyone wanting to share their breakfast with their cat. Like meat, fish, and cheese, eggs are full of proteins and amino acids. Cats can digest both of these substances well and need high quantities of these nutrients in their diet.
Always feed your cat hard-boiled or scrambled eggs, and avoid raw eggs at all costs. Raw eggs could contain salmonella which would make your cat sick!
Wholegrains
This one might come as more of a surprise, but some wholegrain carbohydrates can be enjoyed by cats. This includes things like oats, brown rice, couscous, and corn. In fact, many commercial cat foods contain grains as a "filler". However, the addition of these grains also adds fiber, vitamins, minerals, and essential fatty acids to your cat's diet.
Vegetables
Most cats won't want to eat their greens. However, if you have a cat that agrees to try their veggies, let them go ahead! Vegetables are also full of vitamins and fiber which are only going to benefit your cat. A few examples of vegetables that are safe for your cat to eat include cucumber, steamed broccoli, and peas.
Fruits
Fruits are also packed with vitamins and minerals that your cat can benefit from. Most fruits also have a high water content, so this can help keep your cat hydrated too. Good fruits you could feed your cat include watermelon, blueberries, and bananas. Peeled and de-seeded apples are another good option.
Yet, getting your cat to enjoy eating fruits could be challenging! Did you know that cats cannot taste sweet things? Like spicy foods, cats lack the taste buds that recognize sweetness, so they might not like the taste of fruit all that much. İn fact, it won't taste like much to them at all!
MY FINAL THOUGHTS
So, can cats taste spicy food? As you've learned through reading this article, cats lack the taste buds that recognize spice. To them, spicy food doesn't have a taste. However, cats can still feel the sensations of spice, including a hot burning sensation in the mouth.
For this reason, it is best to avoid giving your cat spicy foods. The capsicum in spicy food can cause severe oral discomfort! If any is ingested, it can also cause digestive issues and stomach upset. When too much spicy food is eaten, it can even lead to toxicity in cats.
Most cats will happily avoid eating spice. However, if your furry friend is begging to try some of your dinner, try and distract them with different human food. Cooked meats, fish, eggs, and even fruits and veg are all viable options. Just steer clear of spicy seasonings on any of them!