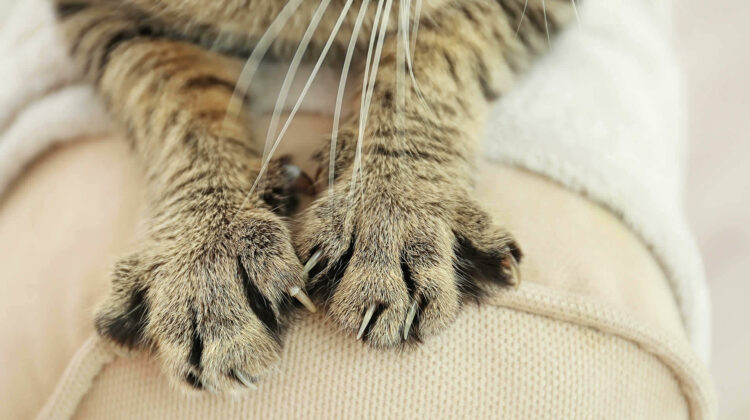 When people bite their nails, it's rarely a good sign. Often this is a nervous habit that people do subconsciously when they are anxious or stressed. It is also common for cats to bite their nails, but why do cats bite their nails? Is this something to worry about? Or is this a normal feline behavior?
You'll be pleased to hear that you can sleep easy tonight. The majority of the time, cats biting paws and chewing nails is a normal part of their self-grooming routine. They do it as part of their regular nail maintenance to help shed the outer layer and remove any dirt from between the toes. However, when it becomes excessive it can signal a problem and there are a few medical conditions to be aware of.
In this article, I'll run through all the reasons why your cat is chewing on its own nails and when this behavior is classed as abnormal. I'll also discuss examples of some medical conditions that a cat chewing paws can indicate, covering symptoms, treatments, and what your next steps should be.
1. Part of Their Self-Grooming Routine
Cats are notoriously clean creatures, spending hours of the day making sure every inch of them is clean. The majority of their coat they will lick with their specialized textured tongue, but their paws with lots of indents and hard-to-reach areas benefit best from biting.
By biting on their paws, your cat is making sure they clean away all the dirt and debris from between their toes. As the part of their bodies that is always in contact with the ground, their paws are often the dirtiest – be that covered with litter, sand, or mud. They will then use their clean paws to moisten with their tongue and clean other areas of their body, such as their adorable little faces!
Secondly, your cat could be helping their nails to shed, which is also part of their self-care routine. Shedding is a healthy part of the lifecycle of a cat's nails. Their claws grow in layers similar to an onion, and every 2 to 3 months the outermost layer will peel away and look like a cat nail split, before falling off and being discarded. This leaves stronger, healthier, and sharper nails underneath.
By biting their nails, your cat is helping to remove this outer layer and speed up the natural shedding process. Cats can also facilitate nail shedding by scratching and filing their claws. And you can help by keeping their nails trimmed and in good condition. Besides, this also helps avoid a whole other host of issues that comes from not trimming your cat's nails.
Not sure what happens if you don't trim your cat's nails? Well, here's just a few things you can avoid:
As you can see, nail trimming is a great thing to start doing and working into your routine. This will not only help your cat out with their self-grooming but will also mean they don't resort to excessive chewing. Investing in a good scratching post or cat tree will also ensure they can properly look after their claws without the need for constant biting and chewing.
2. Suffering From a Medical Condition
Unfortunately, while a cat chewing its paws is such a normal behavior, excessive chewing and biting is not a good sign. It is easy to notice if the chewing becomes excessive and obsessive. You should only see your cats pull at their paws a little, and often will do it in private. If you suddenly notice them doing it more and them being more aggressive, it's a sign for concern.
You should always take your cat to the vet who will be able to give them a proper diagnosis. However, common medical conditions linked with excessive cat paw chewing include ringworm and pemphigus or other skin autoimmune skin infections. Here's a better look at both of them.
Ringworm
Ringworm is a common type of parasitic infection of the skin and nails. Many people assume that it is caused by worms because of what this infection is called. However, the infection is caused by a fungus called dermatophytes. In fact, the name "ringworm" comes from the red ring-shaped markings that appear on the skin of people who contract the infection.
Cats will also get red lesions on their skin, but these are less protruding and their thick fur coats tend to hide any inflammation well. However, hair loss is common when the fungus infects the hair follicles and causes them to be must more delicate. If your cat has hair loss accompanied by thicker areas of skin, this is a sure symptom of ringworm.
The spores will usually latch on and infect your cat on their head, chest, and along their spine. However, they will occasionally infect their nails. This nail infection has its own medical terminology: onychomycosis. The nails won't be itchy, but will become scaly at the base and can become deformed. Your cat will end up biting their paws and nails excessively as a result.
If you think your cat has ringworm, take her to the vet. They will examine your cat and provide treatment based on the severity of the infection. In the majority of cases, this will involve applying a topical treatment to the skin and nails, as well as administering an oral anti-fungal medication like griseofulvin or terbinafine.
One thing that is important to note is that ringworm is highly contagious and transmitted through direct contact with the fungus. It can be passed on both to other cats and people, especially children. For this reason, try to keep your infected cat away from others for at least three weeks until they recover and become non-contagious.
Pemphigus Foliaceus
Pemphigus Foliaceus is an autoimmune skin disease in cats. To understand how this class of diseases work, it's important to understand how our cats' immune systems work. To put things simply, a healthy immune system will sense foreign bodies such as bacteria and fungi in the body and attack. This way, they can fight off infection and keep themselves free from disease.
However, the immune systems of cats with autoimmune diseases mistake their own cells as foreign material and start attacking themselves. It's not entirely sure what causes their immune systems to go faulty like this – some people think it is genetic whereas others believe it is down to the environment – but it can have several severe implications.
With Pemphigus Foliaceus, cats will start to develop scabs and ulcers on certain areas of their bodies, including their paw pads and within their nail beds. This will trigger your feline to obsessively chew and pull at her paws as they try to pull the scabs off and clean their feet. Other areas you may notice the scabs and sores include around their eyes, ears, groin, and nose.
Pemphigus Foliaceus isn't the only autoimmune skin disease in cats, but it is the most common. There are actually five other Pemphigus group diseases: Pemphigus Vulgaris, Pemphigus Erythematosus, Panepidermal Pustular Pemphigus, and Paraneoplastic Pemphigus. Each causes slightly different blisters and lumps and varying severity.
For all of these skin diseases, and any other autoimmune disease for that matter, the usual treatment prescribed by vets is immunosuppression. This won't cure the disease, but it will help to calm down your cat's immune response to make the condition manageable. So, if in doubt, get your cat to the vet as soon as possible.
3. Behavioral Issues
If you see a cat biting its paws, it may also be due to behavioral issues. Similar to how some people bite their nails, excessively chewing on their paws is thought to be linked with anxiety and stress. In fact, grooming excessively is an extremely common symptom. As well as pulling at their paws more often, you'll see an increase in overall grooming which can lead to hair loss, sores, and lesions.
You'll likely know if your cat is stressed as they will also exhibit other symptoms, including:
Withdrawing from social interaction
Hiding under furniture or in corners more often
Showing destructive or aggressive behavior
Failure to use the litter box
Diarrhea or sickness
Cats are sensitive creatures, and so there are many different stress triggers. These can be split into three main categories: changes to routine, aging or medical conditions, or separation anxiety. Here's a closer look at each cause and what you can do to help.
Changes to Routine
Firstly, cats are creatures that love routine and hate change. For this reason, many suffer from anxiety due to even the smallest changes! For example, it could be there being a new person or pet in your home, you forgetting to change their litter box, or you altering their feeding schedule.
In these cases, the anxiety is often short-lived – your cat will be back to their usual self once they have either adapted to the change or things have reverted to how they were before. However, to limit the number of times your cat feels anxious, you should try to introduce any changes as gradually as possible. Doing so will help to make your cat feel at ease throughout the process.
For example, moving home is one of the biggest changes your cats will face. Everything about this experience can be triggering. They may not like their cat carrier, will be confused and disorientated on the journey and will have entirely new surroundings on arrival at your new home. Therefore, you should try to:
Introduce your cat to their cat carrier a few weeks before the move
Go on a few shorter car journeys together first if you're moving far away
Introduce your cat to one room at a time in your new home
Try to keep your cat's routine as similar to the old one as possible
By being extra-careful like this, your cat will be less stressed.
Old Age or Disease
In other cases, stress and anxiety could be linked with old age. As cats get older their brain function will start to decline and they will be more likely to suffer from dementia or cognitive dysfunction. These can both cause high levels of mental confusion which can be very upsetting and triggering for cats.
In addition, older cats also frequently suffer from arthritis. This is where their joints will become inflamed and sore as the cartilage is worn away. Every time your cat moves, these swollen joints will cause them pain. As such, felines with arthritis are often highly stressed as they can't have a good quality of life, knowing every time they move it will hurt.
Likewise, other medical conditions that cause high levels of pain can also cause stress. In these cases, you must take your cat to the vet as soon as possible so they can treat the underlying condition. The prescribed treatment will, of course, depend on the specific disease or condition your cat is suffering from. When not curable, there will be some medication that can be offered to ease the pain and make the condition more manageable.
Alongside medication, lifestyle changes can also go a long way. For example, simply switching to a litter box with a low entry this is easy to climb into will ease stress for cats with arthritis. Similarly, changes to your home environment can help cats with cognitive dysfunction feel more at ease.
Separation Anxiety
The most common cause of anxiety in cats is thought to be separation anxiety. This is where cats that are left at home for long periods start to feel stressed and anxious. Not all cats will mind you being out at work or busy with friends – some are really independent creatures. However, this type of anxiety is especially common in:
Rehomed cats with a sad history of abandonment
Certain clingy breeds such as Burmese and Siamese cats
Cats with overly clingy and affectionate parents
Cats that are lacking physical and mental stimulation
Alongside grooming excessively and biting their nails a lot, cats with separation anxiety also tend to be a lot more vocal. For example, they may cry like a baby at night while you're shut in your bedroom. If they can't be away from you while you sleep, chances are they are being just as noisy in the day. You're just simply not there to see or hear it!
Cats with separation anxiety can hugely benefit from having lots of home enrichment. Try to give your cats lots of different toys to play with, objects to climb, and boxes or condos to hide in. You could even stimulate their brain when they're eating by purchasing a feeder puzzle. If you are out of the house for extended periods, automatic cat toys are another great idea.
You should also provide a scratching post for your cat. This will not only offer them some enrichment and help alleviate stress, but also give them a way to trim their own nails so they don't need to bite them as much. This will also help to facilitate the natural shedding process of a cat's claws. So, scratching posts are a great way to kill two birds with one stone.
Another option is to buy a pheromone releasing plug-in. Simply plug this into your wall and pheromones will be released into your home. Pheromones are chemicals that help your cat to feel happy and relaxed. Don't worry, you won't be able to smell them. They're made specifically for cats and can really help them to feel more at ease when stressed and alone.
MY FINAL THOUGHTS
As you can see, the question "Why do cats pull their nails?" doesn't have a straightforward answer. It is a natural and normal part of their grooming process, helping to shed to the outer sheath and remove any dirt and debris stuck between their toes. Therefore, in the majority of cases, it's nothing to stress over. However, when done excessively it could be a cause for potential concern.
Firstly, medical conditions should be ruled out by a vet. It is usually either ringworm or the autoimmune skin disease Pemphigus Foliaceus that leads to obsessive paw chewing. Yet, it could also be something else. The vet will run tests, give a diagnosis, prescribe treatment, and get your cat back up and running in no time.
On the other hand, excessive grooming is one of the most common symptoms of a stressed cat. This includes licking their whole bodies excessively, as well as chewing on their nails. Try to pinpoint the cause of stress – be that changes to their routine, a medical condition, or separation anxiety – so you can make your cat feel more comfortable and live a stress-free life.