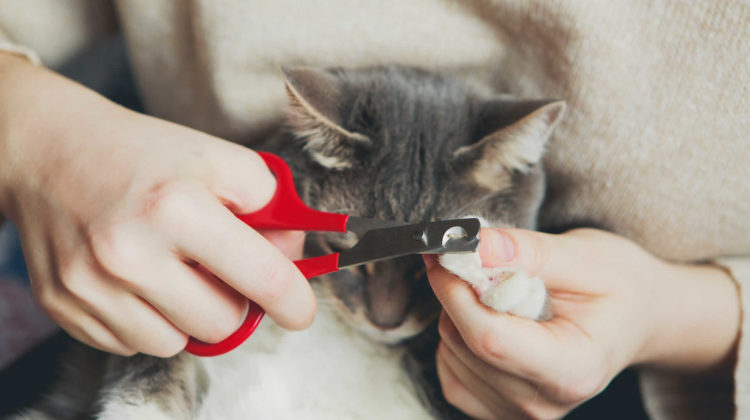 Having claws is necessary for cats. Cats in the wild rely on their claws for hunting and catching prey, but even indoor domestic cats rely on their claws for balance and climbing, playing, and grooming. In fact, with cats relying on their claws, is there any real issue with neglecting to keep them short? What happens if you don't trim your cat's claws?
As a cat owner myself, I learned the hard way that keeping your cat's nails trimmed is so important. Long claws can be extremely uncomfortable for your cat as they can potentially curl back on themselves and grow into their paw pads. Besides, trimming your cat's nails is key in preventing damage to your furniture and protecting yourself from injury.
In this article, I will run through why it is so important to keep your cat's nails a healthy length, both from first-hand experience and research. Also, I will discuss how you can trim your cat's claws easily and how else you can help to file their nails down.
Why Must I Trim My Cat's Nails?
When a cat's nails get too long it is bad for several reasons.
Firstly, it can cause them pain and discomfort. Secondly, they will try to file their nails down on anything they can get their paws on – meaning your carpet, couch, bookcase, and any other furniture in your home. Thirdly, long nails pose a risk of injury to you!
By trimming your cat's nails regularly, you help to prevent them from overgrowing and causing these issues. Let's take a close look at the reasons why you should trim your cat's nails.
1. Added Comfort for Your Cat
As a cat owner, your top priority is keeping your cat happy and healthy, right? Well, if you leave your cat's claws to grow excessively long, then they can actually cause more pain to your animal than good! Just as our fingernail and toenails grow continuously, as do a cat's claws.
Cat's nails have a natural curvature so that the claws can easily be retracted and extended and hook onto prey or predators, the ground, or objects they're climbing. However, nails that get too long are difficult to retract and can cause discomfort and pain when pressure is applied to their paws, such as when walking on them.
If the nails get extremely overgrown, they also have the potential of puncturing the paw pad. This will cause immediate pain, but can also leave open wounds that make walking painful, and these open wounds could also be infected.
Longer nails are also more likely to become torn. Whereas the tip of a cat's claws cannot be felt, the base of their claws which are pink in color have a large blood supply. Tearing the claw low down is extremely painful and it will often bleed for an extended period.
By trimming your cat's nails, you're providing them with added comfort. Short nails can easily and comfortably be retracted and extended, there is no chance of them cutting or damaging your cat's paws, and there is less risk of the nails being torn.
2. Helps Reduce Furniture Damage
Cats love to scratch. This is an instinctive behavior and all owners should expect their cats to scratch. In fact, it is more a cause for concern if they stop scratching altogether!
Cats scratch to mark their territory as sweat is released from their paws which travels down their claws and onto the object they're scratching, leaving their scent behind. Some cats will also scratch as they are curious about an object and scratching will give them some information about it. It is also common for cats to scratch more when stressed and feeling vulnerable.
Unfortunately for us, cats love to use our furniture to scratch, be that your carpet, your favorite bookcase, or your brand-new couch. Whereas all cats will scratch, the shorter and blunter their claws, the less damage scratching will cause.
Additionally, because of the pain and discomfort that overgrown nails can cause cats, they also scratch to help file their nails down and keep them a comfortable length. Therefore, by trimming your cat's claws regularly, you're not only reducing the damage caused – you're also likely reducing the frequency of their scratching behaviors too!
3. Reduces the Risk of Injury to Owners
The last reason it is advisable to keep your cat's nails trimmed is to reduce the risk of injury to you, the owner.
Playing with your cat is essential in forming a close bond with them, and play also helps to encourage your cat to exercise so that they can stay happy and healthy. Unfortunately, how cats play is similar to how they hunt in the wild, which means claws will get drawn and there is a possibility they could accidentally scratch you.
Whereas most owners will inevitably have been caught by their kitty's claws at some point, the longer and sharper your cat's nails, the more likely it is that they can cause you serious damage. The wound can bleed and sting, and, in the worst-case scenario, become infected and make us sick. The longer and sharper the nails, the greater the risk of substantial trauma.
Depending on your situation, this reason for trimming your cat's nails could have varying importance. If you or a family member has a weak immune system, cuts and wounds are more likely to become infected. Homes with young children should also be more cautious.
Do All Cats Need Their Nails Trimmed?
You may be wondering if all cats need to have their nails trimmed. Truth be told, the above problems – discomfort for your cat, damaged furniture, and a higher risk of injury for the owner – are not caused by owners not trimming their cat's nails. They are caused by cats having nails that are too long.
So, not all cats do need their nails trimmed, as long as they can manage to keep them short by themselves. Cats can keep their nails short and at a healthy length by scratching, playing, and even just walking on their feet and being active. Because of this, outdoor cats are often okay without trimming, but less active indoor cats need a helping hand.
However, regardless of how active your cat is, it is important to look out for signs that your cat's nails are getting overgrown so you can trim them as soon as possible if needed:
Claws Catching the Carpet: Cat's claws are retractable and when they walk their claws should be drawn back into their paws. If you notice their claws catching on the carpet when they walk, they are likely getting too long.
Claws Tapping the Floor: Similarly, if you have hard floors in your home, you will be able to hear your cat's claws tapping on the floor as they walk if they are overgrown.
Claws Visible When Resting: For the same reason, your cat's claws will be getting too long if they are showing when they are resting or sleeping, they're as they should be retracted when in the relaxed state.
If you have a long-haired cat, be sure to check their claws regularly as these signs may be more difficult to notice because of their extra fur. Likewise, elderly cats often have issues such as arthritis which can cause pain when moving and scratching, meaning their claws get longer more quickly and will need to be trimmed regularly.
How Do I Trim My Cat's Nails?
If you randomly take a clipper to your cat's nails when they are least expecting it, it is bound to end badly. The noise of the nail clippers themselves can make some cats nervous, and that is without the strange feeling in their paws and potential pain if it is done wrong.
I started trimming my cat's claws from a young age to help them get used to the process, helping to make nail clipping a calm and enjoyable experience. However, even older cats can learn to enjoy having their claws clipped – it just takes a little time and patience.
Here is everything you need to know about how to trim your cat's nails.
Instructions For Trimming Your Cat's Nails
Try following the below steps and don't rush the process. You will unlikely be able to go through all the steps in one sitting immediately, but gradually work through the steps over a few weeks:
When your cat is already in a relaxed mood such as after they have just eaten, take them to a quiet room with no distractions and place them on your lap. Stroke them for a little until they are settled.
Once content, start massaging your cat's paws gently with your hands for a few seconds at a time. Initially, they may instinctively withdraw their paws away from you. However, keep patiently trying until they are comfortable with you touching them.
Then, try pressing down on each paw pad to make their nails extend outwards. Let go immediately and reward your cat with a treat each time so that they learn that this is good behavior. Repeat slowly and calmly until they will happily let you do this on all their paws.
Every time you press down on their paw pads, now simultaneously also use the clippers to cut through a piece of spaghetti and follow with a treat. This will allow your cat to become accustomed to the noise that the nail clippers make so that when it comes to trimming their claws they won't be frightened.
After your cat is content with this, you can take the clippers to their nails and gently cut the end off. Only ever trim the tips of their claws which are white as any pink bits of nail they will be able to feel and clipping here will cause pain. If unsure, it is always best to cut off less than more.
Don't attempt to trim all your cat's nails in one go initially. Instead, start by trimming a couple one day, a few more the next day, and so on. As they get used to you trimming their claws regularly, you will eventually be able to clip them all in one sitting.
What Types of Nail Trimmers Should I Use?
There are a few different types of nail trimmers that you can use to cut your cat's nails. Personally, I use human nail clippers as I am used to using these on myself and they make it easy for me to see exactly where on their claws I'm clipping, ensuring I don't cut too low down.
However, there are a few other types of nail trimmer that you may prefer to use:
Pet Nail Scissors: At your local pet store, you will be able to find nail clippers that look like scissors and are designed to cut the claws of small animals. If you're used to using scissors on your own nails, you may get on well with these.
Cat Nail Clippers: You can also purchase professional nail clippers designed specifically for cats and dogs. This is what a groomer or vet would use and they come in various sizes, but I find human nail clippers easier.
Guillotine Clippers: Another option is guillotine clippers which are another great alternative for cats as they're successful at cutting thinner nails.
Whichever type of clipper you use, quality does matter. You want the blades to be sharp enough to easily cut through your cat's nails in one motion. Also, always practice using the clipper in the air or on a piece of spaghetti before attempting to cut your cat's nails with them so that you can gain good control and are used to using the tool.
How Can I Keep My Cat's Nails In Good Condition?
While trimming your cat's nails is important, you also want to keep them in good condition. This means you will have to trim their claws less frequently, which is useful for cats who hate having their nails trimmed. It is also the next-best option for owners that don't want to clip their cat's nails.
Think of it this way – wild cats don't trim their nails, they simply wear them down naturally through hunting, climbing, playing, and scratching. If you can encourage your pet cat to naturally keep their nails a healthy length, as already mentioned, you may never even need to trim them!
There are a few things you can do to help keep your cat's nails filed and healthy at home.
1. Purchase a Cat Scratching Post
Cat scratching posts are a must for any cat owner. These products are typically made from sisal and, in some cases, real wood. These materials are all great for your cat to scratch as they mimic tree trunks which are predominantly where your cat will be filing their nails in the wild. Plus, sisal and wood are both extremely durable and effectively file your cat's claws down when scratched.
If on a budget, you can also purchase cardboard scratching posts, but these are not as durable and are definitely not a long-term solution unless you want to continue buying replacements.
Regardless of which type of scratching post you buy, they all also come with a second added benefit – they deter your cat from scratching the furniture. By providing an alternative and preferable scratching option, your cat will spend less time scratching your couch, carpet, and other furniture, and more time clawing at their scratch post.
Therefore, while cat scratching posts won't necessarily be an alternative to trimming your cat's claws, they work hand-in-hand with them by protecting your furniture and simultaneously stopping your cat's nails from getting too long.
2. Purchase a Cat Tree
Similar to cat scratching posts are cat trees. These are made from the same material, but instead of being a singular scratching post, cat trees are made from multiple posts, platforms, and boxes. This is great for your cat as it acts as something for them to scratch, climb, and hide in.
Because of the dual function of cat trees, you may find that your cat uses their cat tree more than their scratch post. The more your cat uses the item, the better filed their nails will be! However, cat trees aren't suitable for all cats and all homes.
If you live in a small apartment with limited floor space, cat scratching posts will take up less space. Additionally, elderly cats may have mobility issues which means they cannot jump up to the multiple levels. Young kittens who are still developing will also struggle to leap up to high platforms.
However, the majority of cats will be more captivated by a cat tree when compared to a scratch post, which arguably makes it more effective at filing nails and keeping your furniture from harm.
3. Maintain a Healthy Weight
Cats in the wild keep their nails healthy through hunting, playing, and even just moving around. This is true for your pet cat too, and the more active they are, the better condition their claws will be in.
If your cat is a healthy weight, they are more likely to want to exercise, whereas overweight or obese cats won't want to spend as much time on their feet as they'll feel tired more quickly. Therefore, keeping your cat a healthy weight can also hugely help maintain the condition of their claws.
You should be able to tell if your cat is overweight simply by looking and feeling them. Cats of a healthy weight should have a small pad of fat on their stomach, and you should be able to feel their ribs, hips, and spine through touch. However, you don't want these bones to be visible as otherwise, your cat could be underweight. If you're unsure, take your cat to the vet and they can carry out a routine check-up.
If your cat is overweight, try to encourage more play to help keep those nails in good form while also helping them to shift some extra pounds.
Should I Get My Cat Declawed?
Instead of frequent trimming and searching for ways to keep your cat's claws short, some owners wonder whether it is possible to permanently remove their claws. This is also known as declawing. But no matter how desperate you are to keep your cat's nails trimmed, it should be avoided. Just as claws that are too long can cause your cat pain, as can declawing your feline altogether.
Removing the claws for your cat's paws changes how their feet touch the ground and parts of their paws that usually never come into contact with the floor can now touch it. This can make walking and moving uncomfortable for your feline, comparable to permanently wearing a pair of shoes that are the wrong fit.
Besides, claws are not intended to be removed and will often try to grow back following surgery. Not only will this cause extreme pain, but also has the potential to cause nerve damage. The wounds from the surgery are also prone to infection and even using their litter tray can cause discomfort on their paws.
Therefore, getting your cat declawed is not a suitable alternative to regular nail trimming and will only come with many more drawbacks and issues.
CONCLUSION
Keeping your cat's nails a healthy length is vital as claws that are too long can cause your cat discomfort, pose a risk to you, and will cause more damage to your furniture. If you notice your cat's nails getting too long, you need to trim them to prevent these issues.
Whereas cats don't enjoy getting their nails trimmed to start with, using my tried-and-tested method will help them to gradually feel relaxed and enjoy the experience. Plus, by providing scratching posts, cat trees and plenty of toys, and encouraging exercise, you can help keep your cat's claws healthy without the need to clip them!
Remember, no matter how desperate you are, declawing your cat is never an appropriate solution and will only cause more pain and discomfort.