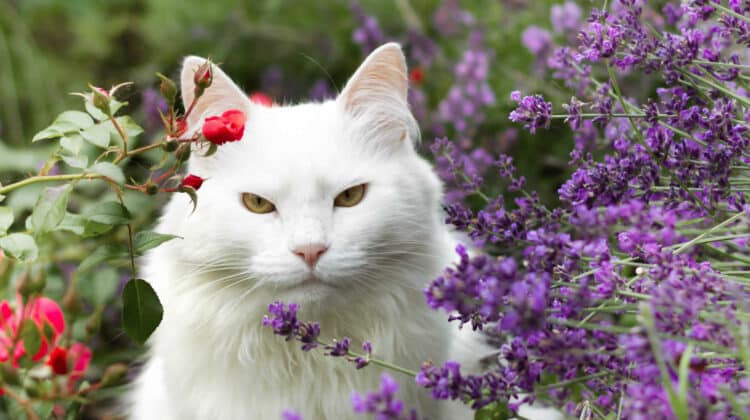 Imagine you've just brought a lavender diffuser to help keep your house smelling fresh. You take a deep breath as the delightful smell starts wafting around your home. But then you notice your kitty reeling back from the diffuser with its mouth wide open, and you start questioning your decision: Do cats like the smell of lavender? Is this your cat's way of showing disgust?
Like many cat moms, I have been in this exact situation in the past. To us, lavender is a beautiful, relaxing smell that has multiple uses in our lives, so it can be confusing when your kitty looks horrified by the scent. It can make you hesitant to use the fragrance at all!
Thankfully, I'm here to answer all your questions concerning cats and lavender. In this article, I will cover whether or not cats like the smell of lavender, why their preference may be different from ours, and whether lavender is safe to use around your furry friend. I'll also tell you what other smells cats love and hate and how you can use these to your advantage. Read on for all you need to know!
Do Cats Like the Smell of Lavender?
Lavender is one of those smells we humans can't get enough of. We use it in our baths, to help us sleep, and as a way to freshen up our homes. My family went to a lavender farm just a few weeks ago, where we harvested our own bouquets and dug into some amazing lavender and lemon cupcakes. It can be hard to imagine that anyone could dislike the smell!
Because of this, it may surprise you that many cats hate the smell of lavender. A feline's nose is 14 times as strong as ours, so what seems like a mild floral fragrance to you becomes an extremely overpowering smell to your kitty. It's like a metaphorical punch in the face!
However, not every cat is the same. Some felines aren't as sensitive to odors and may actually enjoy the smell, while others will simply be indifferent. In most cases, it's best to avoid using lavender around your home if you want your house to feel welcoming for your furry friend.
Why Do Cats Hate the Smell of Lavender?
Humans love the smell of lavender, so why do felines have such a strong aversion to it?
Lavender is one of the smells that cats hate for two reasons: (1) their powerful sense of smell and (2) the fact that the plant is mildly toxic to them. Read on for a more detailed explanation of why these reasons contribute to your kitty's hatred of lavender.
Strong Sense of Smell
Cats are incredibly sensitive when it comes to their sense of smell. Scent is the primary way your feline identifies the people and objects in their environment, so they have adapted to have a sense of smell that is fourteen times better than ours! While humans only have five million odor receptors in our noses, cats have over 200 million.
On top of this, cats also have odor receptors on the roof of their mouth that help them to identify different smells. This area is called the vomeronasal organ, also known as the Jacobson's organ. This area is behind the disgusted face your kitty sometimes pulls when exploring a new smell! Pulling back their upper lip allows air to be sucked into your feline's mouth and filtered through the receptors.
It's hard to imagine how strong odors must seem when you have such a good sense of smell, but it makes sense that cats are much pickier when it comes to the scents they do and don't like. So, whenever you bring a new fragrance into the house, even if it's something you can't smell, it's important to remember that the change could upset your kitty.
Lavender is Mildly Toxic
Despite the beneficial qualities lavender can have for humans, the calming scent is mildly toxic for cats. Exposure to the plant can lead to fatigue, vomiting, and decreased appetite. Over time, felines have evolved to avoid substances that could harm them, so it's no shock that your cat may show a hatred for lavender around the house.
The toxicity of lavender increases when it is used as an essential oil, as the scent can be inhaled and absorbed much quicker. Because of this, it is best to avoid using essential oils in any place your feline friend can access.
It's important to note that lavender isn't the only plant that is toxic for your kitty. Below is a list of other plants you may have around the house. Feel free to check this list and ensure the plants you use around the home are safe for your furry friend.
Is Lavender Safe for Cats?
Because the smell of lavender repels cats, many people use it as a deterrent. For example, lavender can be planted in the garden to stop nearby cats from digging up your flowerbeds, and sprays can be used to stop a cat from peeing on clothes. However, lavender is poisonous to cats, so you must be extra careful when using it around your home.
The safest practice would be to avoid using lavender, but if you're unwilling to do this, make sure you use lavender in a way that is safe for your furry friend. At the very least, never spray lavender directly at your cat, and avoid lavender essential oils at all costs. Eating large quantities of lavender can cause mild nausea in your kitty, but the ingestion of essential oils is particularly dangerous.
If your feline friend has ingested lavender essential oil, you'll likely see some of the following symptoms:
Fatigue and weakness
Staggering while walking
Drooling
Vomiting
Breathing problems
Muscle tremors
Liver failure
Pawing at the face and mouth
Burns and/or redness on the gums, tongue, lips, and skin
If you think your feline has come into close contact with lavender, don't wait for any symptoms to develop. Instead, schedule them in to see the vet as soon as possible and take the form of lavender your cat came into contact with along with you so that your vet knows what they're dealing with.
After careful examination, your vet can tell how bad the poisoning is and what form of treatment will best help your kitty. Your feline should fully recover as long as they are examined quickly.
What Other Smells Do Cats Hate?
There are many other smells aside from lavender that your kitty is also likely to hate, some of which are toxic to cats and some of which aren't. Again, each cat is different, so your feline friend may not have such an adverse reaction to a particular scent compared to another cat. If you're looking for a cat deterrent, some trial and error will be needed to determine which smells work best.
Some of the other smells that your cat might show a disliking to include:
Citrus fruits (e.g., oranges, lemons, and grapefruits)
Peppermint
Plectranthus caninus (i.e., the "scaredy cat plant")
Pennyroyal
Cinnamon
Rue
Vinegar
Coffee
Citronella
Rosemary
Wintergreen
While any of these smells can technically be used as a deterrent, it is always best to stick to the scents that are safe for cats. Remember that essential oils should be avoided for all smells, not just when it comes to lavender. You wouldn't want to make them sick accidentally!
Out of those listed above, citrus fruits, pennyroyal, vinegar, coffee, citronella, and rosemary are all non-toxic for cats. When used in spray form, all these scents work wonders in reducing the amount of inappropriate urination you experience when dealing with a new kitten. They can also deter cats from scratching the furniture, digging up plants, or entering certain off-limit rooms.
Vinegar deters cats from peeing and is found in nearly every home, so this is my go-to repellant. While vinegar can also help with lingering smells, you an enzyme cleaner for cat urine that is much better at eliminating odors. The "scaredy cat plant" is another safe option and is highly effective but has been said to smell like dog pee, so it isn't the best choice for use in the house.
What Smells Do Cats Love?
In this article, I've focused a lot on the smells that are either hated by cats or should be avoided due to their toxic nature. However, it can also be good to know which scents felines tend to love! Most cat moms are already aware of the alluring nature of catnip, but there are various other smells that either have a similar euphoric effect or smell really good to your furry friend.
Some of these smells that you may want to try using in your home include:
Olives
Silvervine
Roses
Valerian Root
Basil
All these smells are non-toxic to cats, meaning you can add some greenery to your home and leave your house smelling amazing while also making it a comfortable environment for your kitty to live in. Olives, silvervine, and valerian root can cause your feline to become hyperactive and therefore make great catnip alternatives.
I don't know about you, but I can fully get on board with the idea of having a home that smells great not just to me but also to my feline. Not only does my house smell inviting to me and my cat, but it also gives me an excuse to always have fresh roses. To me, that's a no-brainer!
MY FINAL THOUGHTS
So, do cats like the smell of lavender? Surprisingly, no! Although lavender gives off a pleasant scent to us, a feline's sense of smell makes the odor overpowering. It is also mildly toxic, so most cats will subconsciously avoid the plant as it could cause them harm.
Because of this, you need to be super careful when using lavender around cats, especially if it's an essential oil. Make sure to take your kitty to the vet if you think they've been poisoned to increase their chances of making a full recovery.
If you're looking for a fragrance to use as a cat deterrent, vinegar, coffee, and rosemary are all excellent cat-friendly alternatives. They can work just as well as lavender but are safe for use around cats! In comparison, roses are a great flower choice if you want a smell that you and your kitty can both agree on.