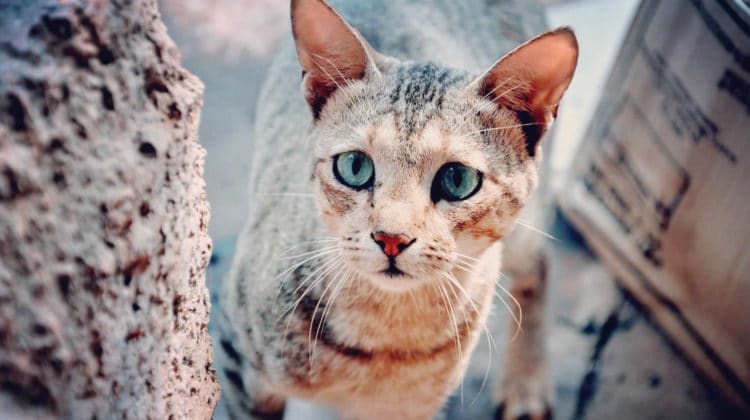 Letting your cat outside for the first time can be stressful.
It's hard to know when they will be safe to explore the outside world on their own and how to prepare them for the big day. As an owner, there is also another huge worry hanging over our heads: will my cat come back if I let him outside?
The thought of your feline not coming home is scary and can make letting your cat outside a very nerve-wracking experience. Some owners decide to have house cats because of this, but even indoor cats often want to go outside. Thankfully, as long as you go through the right steps, your cat will come back home.
In this article, I will explain how you can make sure your cat will come back when you let it out, whether it is a kitten, an adult cat, or a cat that has been an indoor pet its entire life. I'll also run through the benefits and risks of letting your cat outside, so you can decide what's best for your feline.
How Do I Let My Cat Outside for the First Time?
Will your cat come back if you let them outside? Yes! But if you have a cat that has never been outside before, you need to ensure you prepare them for the big wide world. You should ease them into going outside slowly to help them transition and ensure they always find their way back home.
Here are all the steps you should go through to ensure your cat can survive outside and always makes it back.
1. Take Their Breed Into Account
The majority of cats can safely survive the outdoors and love having as much time outside as possible. However, some breeds cannot survive outdoors and are made to be indoor cats only.
For example, hairless breeds such as the Sphynx are not equipped for the great outdoors. Their lack of fur makes it challenging for them to regulate their body temperature and they cannot survive weather extremities. The Cornish Rex and Devon Rex are also indoor-only cats due to their extremely short coats.
More docile breeds of cats that are typically lap cats are also not good outdoor cats. This includes Ragdolls, Persians, and Russian Blues. They have gentle temperments and wouldn't do well in a catfight. They also love sleeping and are quite content snuggled up next to you instead.
2. Make Sure They're Ready
If your cat is a breed that can handle the outside, that's great! But you need to make sure they are ready to face the outside.
If you have a kitten, you shouldn't be letting them outside until they are around 4 months old. This allows your kitten to get completely settled in your home so that they know where they need to come back to. By this age, they should also have had their vaccinations and have been neutered, ensuring they can explore outside safely.
For anyone with an adult cat, things are a little different. If you have just adopted an adult cat, it is recommended you give them 4-6 weeks to settle in before letting them out, even if they were previously an outdoor cat. They need to learn to recognize your house as their new home.
What about an indoor cat that wants to go outside? If your cat is showing signs that it wants to venture outside, then it is likely ready. They will already know that your home is their home, and by the time they are an adult, they will have had all of their vaccines. If they're keen to explore, go for it!
On the other hand, house cats that are extremely content with indoor life should not be forced to go outside prematurely and could become extremely stressed. It's best to judge each unique situation separately and decide what is best for your cat.
3. Ensure Your Cat Can Be Identified
Once you know your cat is mentally ready and has been neutered and vaccinated, you need to make sure it can be identified in case it gets lost. Always get your cat microchipped. The microchip will be linked to your contact details and can be scanned so your lost cat can be returned home safely.
Even if your cat has been microchipped, you should still get a cat collar with your mobile number on it. Microchips can only be read by a scanner, and so your contact details can be accessed more easily if they are on a collar. This should mean your lost cat is returned more quickly.
Giving your cat a collar to wear also signals to people that your cat has a home and a loving owner and isn't a stray. Sometimes, people will think they are looking after a cat on the streets and feed them, but this could cause your cat to run away. Deterring people from doing this will make it less likely they'll find a new home.
Cat collars are becoming more and more advanced nowadays, so depending on how cautious you are about letting your cat out, you could look at getting a GPS cat collar. These enable you to track precisely where your cat is at any given moment. If they do get lost, you can check their location, collect your cat, and bring them home.
4. Prepare a Safe Outside Space
Although many cats love to roam and will often explore outside the parameters of your garden, preparing a safe and inviting outside space can encourage them to not travel too far. Making your garden cat-friendly is relatively easy; simply provide them with lots of different stimuli and things to explore. For example:
High up places that they can climb and have a good view of your garden
Enclosed places that they can hide and feel safe
Non-toxic and cat-friendly plants they can discover and sniff
Shelter from bad weather conditions
Something for them to scratch, such as a tree
Empty sunny spots that they can relax in
You also need to remove dangers from your garden. Cover all ponds so your cat doesn't drink the pond water or accidentally fall in. Some weed killers or pest control chemicals are also toxic to cats, so look for environmentally-friendly options that don't pose a risk.
Ideally, you should also install a cat flap in your backdoor so that your cat and come and go as they wish, ensuring they always have access to shelter, water, and food. However, some people worry about other cats using their cat flap or only want to let their feline out at specific times. This is totally fine, but the importance of providing shelter and water in your garden then becomes essential, otherwise, your cat may seek these two necessities elsewhere.
You can also purchase microchip cat flaps with timers which are highly recommended if you are unsure about a regular cat flap. These respond to your cat's microchip and so will only open to them, meaning other cats cannot get into your home. You can then use the timer setting to prevent the cat flap from opening after a certain time, so you know your cat is safely at home for the night.
5. Train Your Cat to Come When Called
Before letting your cat outside, you should also teach them their name and train them to come to you when called. Using treats for this works wonders. Simply call their name out loud and shake a bag of their favorite treats. When they come towards you, give them a treat and a scratch in their favorite spot.
After doing this several times with your cat nearby, try calling them while you're in separate rooms and different areas of your home. This will show that they are listening to your call and responding to it, and will give you confidence that you can call your cat back in when they are out exploring.
This is also a great tactic to use when figuring out how to get a cat to come home at night. When it starts to get dark outside, you can call their name, shake their treats, and watch your kitty happily come in for the night.
6. Go Outside With Them for Short Periods
Once your cat is ready, your outside space is prepared, and your cat comes to you when called, you can finally let them outside. The first few times you do this, always go outside with them.
You should never force your cat outside. Instead, go outside yourself and leave the door open so they can follow you out if they feel comfortable. Take their treats outside with you, then take a seat and watch your cat explore, seeing how they respond. Cats are cautious, and instead of bolting for it, they will usually venture at a slow pace, taking it all in.
If your cat is going too far away or is trying to get out of the garden, call them back and give them a treat. You can then let them explore again, but keep calling them back when they go too far. This also helps them not to associate being called with going back inside and makes it more likely that they will come back when called from afar.
You should limit their time outdoors initially. Whereas 30 minutes is recommended, there is no right length of time; just see how your cat responds. If they are confident, letting them out for longer is okay. On the other hand, more timid cats are better off having shorter outdoor sessions to begin with or they may become scared of the outside.
You could also try using a cat leash or harness for your first few ventures outside. I would suggest getting your cat used to a leash from an early age and introducing it gradually. You can try putting a harness on an adult cat but they are more likely to object. Cats love to roam and explore on their own, so they may not appreciate being tied to you. Try it and see what works for you.
7. Let Them Out Unaccompanied
When your cat seems confident in exploring your garden, you can let them outside on their own. Don't panic if you notice they have left your garden and are nowhere to be seen. This is a good sign that your cat is comfortable outside and they will likely be back in a few minutes.
After your cat has been outside for a while, they may make their way back to your door all by themselves. Cats can find their way back home and don't need you to call them for them to find their way. If so, let them back in and reward them for coming home.
If your cat doesn't make their way back home after a little while and you're getting anxious, call your cat's name and shake their treats and you'll likely see them hop over the fence and come straight back inside.
Should I Let My Cat Outside?
We've established how you can make sure your cat will come back when you let it out and the steps you need to go through before letting your cat out for the first time. But should I let my cat outside?
As long as you don't have one of the indoor-only breeds I mentioned earlier – the Sphynx, Ragdoll, Cornish Rex, Devon Rex, Persian, Russian Blue, or Ragdoll – whether you should let your cat outside or not is entirely down to you.
Here are the benefits and risks so you can decide which is the right avenue for you.
Benefits of Letting Cats Outside
1. Channels Natural Behaviors
The main advantage is that outdoor cats get to hunt, whereas indoor cats may have to suppress these natural behaviors. They also get to jump, climb, scratch, and explore, which are all inherent behaviors that cats have a natural urge to fulfill. Therefore, outdoor cats are often happy cats, and this natural urge is why most cats want to go outside in the first place.
These activities also promote exercise and help to keep your cat a healthy weight. Whereas you can encourage play with indoor cats, the running, jumping, pouncing, climbing, and scratching they do outside will work all their different muscle groups and give them a better full-body workout.
2. Provides Mental Stimulation
Cats also benefit from going outdoors because the environment is exciting and provides them with lots of new stimuli, such as smells, sights, sounds, and tastes. This helps to ensure cats have good mental well-being. For busy owners who are out of the house all day, letting your cat outside can ensure they have fun at home and don't get bored while you're not there.
Cats that are bored at home are more likely to exhibit destructive behavior, such as scratching your couch and furniture, not using their litter box, or acting aggressively towards you or others. Letting your cat outside can help to ensure they are well behaved when at home.
3. Gives Them Personal Space
Allowing your cat to go outside also acts as a form of escapism. Although your cat loves its home, there are times when it may prefer not to be there. For example, if you had a lot of guests over at once, it may feel stressed and overwhelmed. Letting your cat outside ensures that it can get personal space as and when it needs to. If you don't want to let your cat outside, ensure they have lots of places they can hide in your house that they can retreat to if they are feeling vulnerable or scared.
4. Lets Them Enjoy the Sunshine
There is a common misconception that cats need sunshine for Vitamin D, but this isn't actually true. Do cats need Vitamin D? Yes! But unlike humans, cats cannot synthesize this vitamin through sunlight and instead have to get Vitamin D through their diet. However, this doesn't mean that your cat won't benefit from lazing around in the sun.
Cats have a higher core body temperature than humans and are drawn to warmer areas and objects, which is why you may often find your cat lounging in the sunniest spot in your home. They are natural-born sun-seekers and letting them enjoy the warm weather will make them very happy.
Risks of Letting Cats Outside
1. Car Traffic Accidents
One of the biggest risks to cats is cars, which can injure or kill outdoor cats. If you're wondering "should I let my cat outside at night?", the answer is no! The incidence of road traffic accidents is always much higher at night, as any cats crossing the road are not as clearly visible to drivers.
It is also usually younger cats that end up in car accidents, or when making an indoor cat and outdoor cat as they are still learning the dangers of the road. Unneutered cats are also more likely to be in accidents as they will roam much further when looking for a mate.
To reduce the risk of road traffic accidents, neuter your cat, only let them out during daylight hours, and take into account the area you live. If you live in an area with lots of traffic, it could be better to give them a secure outside space in your garden rather than letting them roam free. Also, a reflective cat collar can increase their visibility at night and reduce the risk of accidents.
2. Catfights
Cats that go outside will meet all your neighbor's cats that live in the vicinity, and sometimes these cats don't get along well. This can lead to catfights and could result in your cat getting injured.
Often, neutering your cat will reduce the likelihood of them ending up in fights. However, cats are independent and territorial creatures and could get into fights over territory. If you have just moved home or are letting your cat outside for the first time this is more likely, but the more you let your cat out the more they will learn to share and live harmoniously.
3. Disease & Parasitic Infections
Outdoor cats can pick up diseases from other cats or the outside environment itself. To protect against this, ensure you only ever let a cat outside that has been vaccinated which protects against many of the common diseases.
Cats are also more likely to pick up parasites such as fleas, worms, and ticks. However, these are also a risk to indoor cats if they are not treated regularly. Flea collars are a great and easy option to keep fleas at bay, and you can deworm your cat regularly. Your vet will also be able to give you more advice on the prevention and treatment of any parasitic infection.
4. Getting Lost
Perhaps the biggest concern for cat owners is that their cat will get lost. However, cats can easily find their way back home! Make your cat is settled in their home before letting them outside and responds to you calling their name and you should have no issues. Microchipping and cat a collar are also essential for ensuring that if your cat does get lost, they are returned home safely.
Sometimes, cats aren't lost at all but instead are trapped. Cat collars can get caught on branches or other objects, so purchasing a breakaway collar can prevent this. Cats can also accidentally get trapped inside sheds or garages when looking for shelter. However, providing your cat with a safe shelter in your garden can help deter them from hiding in others' properties.
CONCLUSION
So, will your cat come back if you let him outside? Most likely, yes! As long as you introduce your feline to the outside world gradually and in a safe way they should always return home.
That isn't to say the outside world doesn't have its risks. There is always a chance your cat could get lost, taken in by another person, or get trapped or injured. However, by putting the right precautions in place you can give your cat a happy and enriching outdoor life while keeping them as safe as possible.