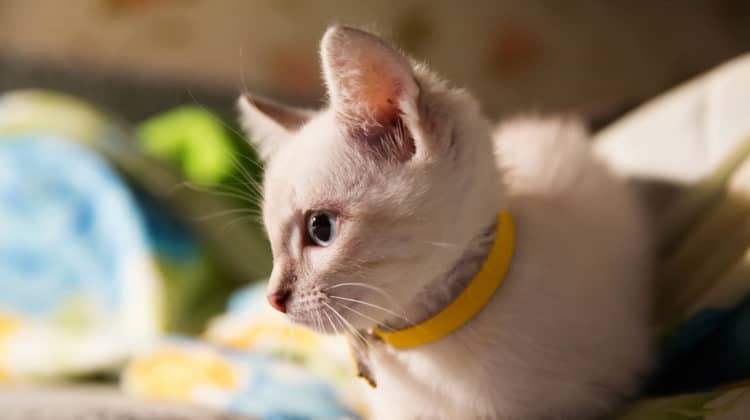 Aside from being a cute accessory, cat collars are extremely useful if your cat escapes.
They can help ensure your missing kitty is returned home and indicate to any good Samaritan that tries to help that they aren't a stray cat. Collars are useful even for indoor cats, who can easily sneak out an open door when you're not looking!
However, if you're like me, you may be worried that your cat's collar could end up being a hindrance. What if their collar gets caught on a fence they're walking past or on a tree as they play? Could they choke themselves on their collar?
While there is only a slim chance this could happen, breakaway cat collars, also known as quick release collars, are the perfect solution. These collars have a safety buckle that automatically releases if your collar gets stuck on an object, setting them free. This way, you have one less thing to worry about when your cat plays outside.
As always, some of these breakaway collars are fantastic, and others… well, they're not so good. That's why I've reviewed some of my favorite products so that you can find the best breakaway cat collar that is both stylish and functional.
My Top Pick
The breakaway cat collar that I use is the GoTags Personalized Cat Collar. Not only does this collar's breakaway mechanism help to keep your cat safe, but it can also be personalized with your cat's name and your mobile number for is they get lost. It also comes with a bell which is a perk for me as it means I have fewer mice dragged in, but for any owners who prefer not to have a bell attached it can be easily removed.
In case this is not the product for you, I also have some other great quick release cat collars with a range of features, different materials, and styles.
Best Breakaway Cat Collars
Before I run through my reviews of the best breakaway cat collars, here are the different features that are essential for your cat's collar to be functional and effective.
Durable Material: Cats can get themselves into tight spots and will wear their collar 24/7, so I wanted a cat collar made from a durable material that was designed to last.
Adjustable Size: It can be difficult to know what size collar to get your cat, and if you only have a kitten they will be growing rapidly. Therefore, I wanted to find a product that has an adjustable size.
Comfortable: As cats will be wearing their collars continually, they have to be comfortable. This is largely down to size and fitting, but also material. Therefore, I also looked out for cat collars that were soft with smooth and tapered edges.
Stylish: Collars are a cats main accessory, and I wanted one that was stylish and suited my cat's personality.
Additional Safety Features: As well as having a breakaway clasp, I also looked out for other safety features, such as a reflective surface or the option to personalize the collar in the event my cat does go missing.
Finding the right cat collar is largely down to personal preference and your cat, so I have reviewed a range of different designs. No matter what your needs are, there's bound to be one to suit you!
The breakaway cat collar that I love and use for my cats is the GoTags Personalized Cat Collar.
Firstly, these collars are made from durable yet comfortable nylon with no harsh edges that could be uncomfortable for your cat. Plus, the collars adjust from 8" to 12" in length depending on the size you need. This means you can ensure the perfect fit and ultimate comfort.
The breakaway buckle is also effective and will release automatically if your cat becomes caught. I have been using these collars for four months and have gone through two, so the buckle definitely works while not being too easy to undo.
You can also get these breakaway cat collars personalized which I love – if your cat does get lost, whoever finds them will easily be able to get in contact with you and arrange for your cat to be returned home. What makes these collars great though is that the information is embroidered and so cannot be rubbed off, making it extremely long-lasting. Plus, this is better than ID tags which can easily fall off.
The only downside of this collar is that depending on the size you need the collar adjusted to, some of the embroidery may not be visible all the time. Nevertheless, I see this as only a minor fault.
It also comes with a bell which is a perk for me as it means I have fewer mice dragged in which is also great for saving wildlife, but for any owners who prefer not to have a bell attached it can be easily removed. There are also five color options and 25 different colors for the embroidery, so you have control over the design.
Pros
Effective breakaway collar to ensure safety
Adjustable length from 8" to 12"
Comfortable yet durable nylon material
Personalized with name and telephone number
Embroidered ID information
Bell to warn prey of your cat's presence
Five collar color choices and 25 thread color choices
Cons
Some embroidery is partially covered when wearing
Another fantastic quick release cat collar is the Rogz Glow in the Dark Reflective Cat Collar, which is fully adjustable from 8" to 12" to suit all different sized cats.
These breakaway collars have an advanced buckle which doesn't just break away when it gets caught. Instead, the force needed for the buckle to undo can be adjusted depending on the weight of your cat. Therefore, if you have a bigger cat that constantly loses its quick release collar, this could be a good option as more force will be required to cause the collar to break away.
Aside from offering quick release safety features, this is a reflective cat collar. This gives your cat enhanced night-time visibility as headlights or street lamps will reflect off the collar and notify drivers that your cat is crossing the road, helping to avoid traffic accidents. The breakaway cat collar also glows in the dark for even more night-time protection!
As far as material goes, I only have more praise. This cat collar is made from high-grade nylon for unbeatable durability and comfort, and the reflective and glow-in-the-dark layers are stitched into the nylon fabric for superior quality. You also have five funky designs to choose from.
The only downside of this breakaway cat collar is that the red slider controlling the collar tension can come loose, which is crucial in ensuring you set the correct resistance needed for the breakaway buckle to release. Nevertheless, only a few customers seem to have had issues with this.
Pros
Adjustable breakaway buckle
Glow in the dark and reflective for enhanced night-time visibility
High-grade nylon for comfort and durability
Five different patterns and colors
Fully adjustable from 8" to 12"
Cons
The red slider can come loose
Are you fed up with having to continually purchase new breakaway collars as your cat has lost their previous one on their adventures? Try the Bemix Reflective Cat Collar with Bell, which comes as a pack of 6 collars for an extremely affordable price!
The six breakaway cat collars in the pack are all different colored – red, blue, orange, green, purple, and pink. This makes this product ideal for multi-cat households too as each of your cats can have their own color, or great if your feline has just had a litter of kittens and you need an easy way to identify each of them.
If your cat roams at night, you'll also be pleased to know that these breakaway cat collars come with a reflective strip to help minimize road traffic accidents, and a bell to warn prey of their arrival.
These collars are also easily adjustable and can be set from 7" up to 11" depending on the size of your cat. Generally, cat collars range from 8" to 12", and so this slightly smaller size makes these collars more tailored towards kittens and small cats as opposed to large breeds.
The only minor downside of this product is that the safety clip is cat-shaped. While this looks adorable, the ears of the cat do have pointy tips that could irritate or dig into your cat, depending on the position they sit in. Therefore, I suggest sanding down the ears to ensure your cat is always comfortable.
Pros
Pack of six for an extremely affordable price
Ideal for litters of kittens, cats who frequently lose their collars, or multi-cat households
Easily adjustable from 7" to 11"
Reflective strip to reduce road traffic accidents
A removable bell to scare off prey
Effective breakaway buckle to ensure safety
Cons
Pointy tips of the breakaway clasp can cause discomfort
If your cat is your best friend, why not get the Pettsie Cat Collar Breakaway & Matching Friendship Bracelet? It is both unique and stylish, and you can your cat can match, helping to strengthen the bond between you both.
Aside from this being a super cute breakaway cat collar, it is also made from 100% cotton that is safe, lightweight, and comfortable for cats. This makes it a great collar for cats who hate collars, as the added comfort will make them forget the collar is even there! However, overly active and playful cats could see the collar get damaged and frayed more quickly.
This collar also can easily be adjusted from 7.5" to 11.5", ideal for most cats. Similarly, the friendship bracelet is also adjustable from 6.3" to 11", ideal for most humans! Also, while this cat collar does not come with an ID tag or bell, there is a special D-ring so that you can add your own if you wish.
What's great about this breakaway cat collar is that it makes the perfect gift for any cat owner. Each one comes in a pretty and eco-friendly gift box, so why not treat your cat to one and purchase one for a friend too?
Pros
Cat collar and friendship bracelet help form a strong bond
Made from 100% cotton for ultimate comfort
Ideal for cats that hate collars
Super cute design with three different colors to choose from
Adjustable from 7.5" to 11.5"
Breakaway clasp to ensure your cat's safety
Ideal gift for any cat owner
Cons
More prone to fraying than other materials
While the Joytale Breakaway Cat Collar with Bowtie may not be the most practical option for outdoor cats, it is great for stylish indoor cats. Trust me, you'll have never seen your cat look so handsome!
The bowtie design also makes them great for special occasions or holidays. I bought an orange collar for my cats to wear on Halloween and was impressed with how well my cat adjusted to wearing a bowtie over a traditional collar – they are made from 100% cotton and are super lightweight, meaning your cat isn't too confused by the change.
As well as being light, cotton is also a great option as it is more comfortable than nylon or leather while being thick and high-quality. While it is not as durable as these other materials, as an occasion collar or one strictly used by indoor cats, this does not matter as much.
As with all the other collars on this list, these breakaway collars are also easily adjusted from 7" to 11" depending on the size of your cat. The bow itself is also a great size and small enough to fit under your cat's chin so they can eat and drink without it getting in the way.
The main downside of this bow, as with the Bemix Reflective Cat Collar with Bell, is that the breakaway buckle is cat-shaped and the ears are pointy and hard. Some positions that your cat sits in can cause these to dig in and cause discomfort, so simply sand these down before use.
Pros
Cute bowtie design to make your cat look dapper
Ideal for special occasions or everyday wear
Fully adjustable from 7" to 11"
Available to buy singularly or as a two-pack
100% cotton and lightweight yet thick and durable
Breakaway collar to keep your cat safe
Cons
Would not recommend it for outdoor cats
Breakaway buckle has pointed parts which can be uncomfortable
Looking for a leather cat collar that is safe for your feline? It is hard to find a leather breakaway cat collar, so your best bet is the CollarDirect Leather Cat Collar, handmade from soft, genuine leather and available in twelve different colors.
Leather is a great material for cat collars to be made from as it is durable and long-lasting, while also being stylish and elegant. Genuine leather will also be comfortable for cats to wear as it is a soft material. However, leather collars do weigh more than cotton or nylon collars which could be irritating depending on your cat.
This cat collar is also, strictly speaking, not a breakaway collar in that it doesn't have a safety buckle that unclips when tension is applied. Rather, there is an elastic portion of the collar that means the collars can stretch and your cat can easily wriggle free from its collar if it gets caught on something.
Therefore, while being a lot safer than an entirely leather collar, it does not offer the same protection as true quick release designs. That being said, it is still a good option if you want a leather collar for your cat, and will less likely be lost from boisterous cats brushing past walls!
These collars are also adjustable as you can set the buckle to whatever size you need, but the adjustable range is not as large as other cat collars. To ensure the best fit for your cat, try measuring the circumference of their neck and buying the right size accordingly. For most kittens and small cats, the 6" to 7" collar will offer the best fit, whereas bigger breeds should opt for the 9" to 11" size.
Pros
Leather material is durable yet comfortable and elegant
Available in twelve different colors
Adjustable from 6" to 7" or 9" to 11" for larger breeds
Easy release elastic to help your cat escape when caught
Handmade from genuine leather
Less likely to fall off
Cons
Elastic rather than a true breakaway design
Heavier than other materials
Need to measure your cat's neck to find the appropriate size
If your main concern is comfort, look no further than the Kittyrama Breakaway Cat Collar.
This collar is made from hypoallergenic silicone, which is lightweight, soft, and waterproof. Together, these three characteristics make this one of the comfiest collars there are on the market – there are no sharp edges to cause discomfort, it is not heavy so will not put a strain on your cat's neck, and it won't hold onto water which can be itchy.
However, silicone is not as durable as other materials and is more prone to tearing if it gets caught. That being said, the whole point of a breakaway collar is that it snaps open once tangled on a nearby object. Plus, silicone does have the benefit of not fraying at the edges.
As one of the only collars recommended by vets, the winner of a "Cat Friendly" award, and previously featured in Vogue magazine, there's a lot to love about this product. In fact, the only major downside is that it is only suitable for adult cats as, while being adjustable, the smallest size setting is 7.7" which is too large for kittens.
Pros
Winner of a "Cat Friendly" award by the International Cat Care charity
Hypoallergenic silicone is soft, waterproof, and lightweight
Quick releases at 5.5lbs of force or greater
Super stylish and previously featured in Vogue magazine
Six-month warranty
Cons
Only suitable for adult cats as the smallest size is 7.7"
Not as durable as other materials
A weak quick-release force needed for the safety buckle to undo
Breakaway Cat Collar Buying Guide
As you can see even from these seven products, there is a huge variety of breakaway cat collars on the market! Which one best suits your cat will depend on a range of different factors which vary from owner to owner, so here are the things you should consider before making a purchase.
Durable & Comfortable Material
Your cat is going to be wearing its collar all the time, which means it needs to be both durable yet comfortable. Often, more comfortable collars are less durable and vice versa, so it is about finding the material that is right for you.
Nylon: Nylon collars are the compromise between comfort and durability. This material is soft and smooth on your cat's neck, is relatively lightweight which also makes it more comfortable, and is durable. However, it is not waterproof and can be irritating for your cat when wet, plus the ends can fray if you have an energetic outdoor cat who always gets into mischief!
Leather: Leather is the most durable cat collar material which is great for outdoor cats, but it is also more uncomfortable for many cats because of its weight, and the buckle on leather collars can dig in. Genuine leather, however, is soft and won't cause irritation.
Cotton: Cat collars made from 100% cotton are the most lightweight and soft, meaning your cat will barely notice it's there! This makes cotton an ideal option for cats who hate collars. However, it is not ad durable as other materials so it is better suited for indoor cats or for use on special occasions.
Silicone: Silicone is another comfortable material thanks to it being soft, lightweight, and waterproof. However, it is more prone to tearing than any of the other typical cat collar materials.
Bell vs. No Bell
The bell vs. no bell argument remains a hot topic amongst cat owners and is entirely down to personal preference.
Indoor cats benefit from having a collar as it means you will always be able to locate them in your home, no matter which strange new hiding place they've found. For outdoor cats, it means the bell will scare off prey and will reduce the number of dead mice and birds brought in.
However, some owners find the noise of the bell irritating, and others worry it will damage their cat's hearing. Thankfully, several studies have been conducted to show this isn't the case! That being said, owners are still wary as if the bell comes loose, it can be a choking hazard.
Most breakaway cat collars that come with bells attached can have the bell easily removed, so regardless of whether you wish to use a bell or not, this shouldn't cause too much concern when selecting a product. If you do decide to keep the bell on, make sure it is tightly fastened so that it poses no risk to your cat.
Breakaway Buckle Force
Breakaway buckles automatically release when a certain force or greater is applied to the collar, however, as some cats are much larger and stronger than others, finding a collar that has the correct amount of force for your cat is essential for it to function correctly.
If the breakaway buckle releases too easily for your strong and boisterous cat, you will be losing cat collars on a weekly or even daily basis. On the other hand, if you have a small cat or a kitten and the buckle resistance is too high, your feline could get trapped on something and the collar would not release even if they pull away with all their strength!
As a general rule of thumb, breakaway forces of 5.5lbs to 6.5lbs should be for small cats and kittens, whereas big strong tomcats could have the strength to pull upwards of 11lbs.
Additional Safety Features
While having a breakaway cat collar is great to ensure your cat's safety if they get caught on a tree, fence, or another object, this is not the only risk for cats venturing outdoors. Therefore, you may be interested in looking for additional safety features.
Outdoor cats will benefit from having reflective or glow in the dark bands on the collar. This will make them more visible to drivers and will help to reduce the risk of road traffic accidents.
You should also have some personal information on your cat's collar even if your cat is microchipped, at minimum your phone number. This will mean that if your cat does go missing, they will more likely be returned. Whereas ID tags can be attached to most collars, having the information embroidered means it cannot accidentally get lost.
Correct Size
Your cat's collar also needs to be the correct size – too loose and your cat will be able to easily wriggle free from their collar, yet too tight and it will be uncomfortable to wear.
Adjustable collars are great as these can be set to a range of sizes, ideal for if you're not sure what collar size you need or if your cat is only a kitten and you know they will be growing. Check too whether the collar is intended for adults, kittens, or all ages! For the best fit, measure the circumference of your cat's neck using a measuring tape and buy a collar that can adjust to the same size.
FAQs
Q: Should cats wear breakaway collars?
A: Yes, breakaway collars are highly recommended, regardless of whether you have an indoor or an outdoor cat. These collars help to ensure your cat doesn't accidentally get hurt or caught by their collar, keeping them safe.
Q: Are quick release collars safe?
A: Yes, quick release collars are some of the safest cat collars you can purchase as they automatically undo when they feel tension, such as when your cat gets caught on a tree branch or fence.
Q: How do breakaway cat collars work?
A: Breakaway cat collars have a safety buckle that simply pulls apart when enough force is applied. Therefore, if your cat has tangled its collar on a nearby object, the collar will simply undo and break free when your cat tries to walk away.
Q: What is the best breakaway cat collar?
A: In my opinion, the best breakaway cat collar is the GoTags Personalized Cat Collar as it has an effective quick-release mechanism and can be personalized with your cat's name and your mobile number to ensure a safe return home if your cat does wander too far.
Q: Is it cruel to have a bell on a cat collar?
A: No, cat collars with bells are perfectly safe and numerous studies have found that they cause no damage to your cat's hearing. However, make sure that the bell is securely attached, as if it comes loose it could act as a choking hazard.
MY FINAL THOUGHTS
All cats should wear a collar to help keep them safe, and when considering breakaway cat collars vs non breakaway cat collars, there is an easy winner. Breakaway collars are so much safer for your cat and prevent them from getting stuck on objects. Although some cats have a tendency to lose their quick release collars more than others, their safety benefits hugely outweigh this inconvenience.
Try one of my reviewed products and be sure to use the buying guide to find the perfect collar for you. This way, next time your cat goes out to play you have one less thing to worry about!