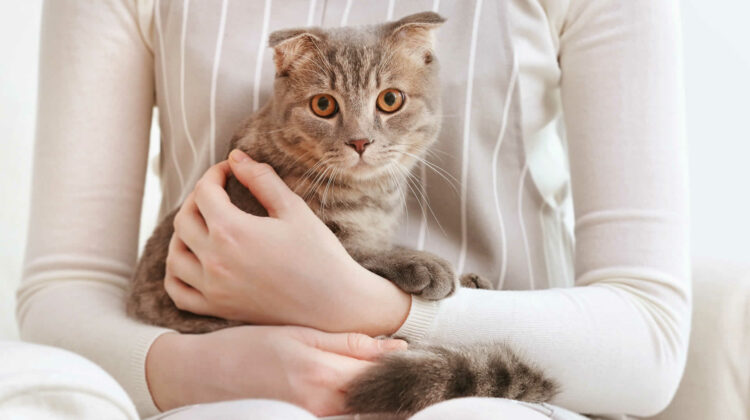 Cats are loved most for their strange quirks and behaviors. However, many of their odd and unpredictable traits leave us confused, wondering about what they're trying to communicate. And understanding all of your kitty's "language" of strange postures and behaviors is key to making sure you give them a happy and fulfilling life.
As a cat owner, one thing you may be scratching your head over is why cats act strange when you scratch the base of their tail. We've all witnessed it – you scratch their lower back and they raise their rear in the air. Maybe they'll roll over sideways onto the floor. Or, perhaps they might turn round and bite your hand! In any case, their behavior certainly isn't normal.
Thankfully, the answer is quite a simple one – this area has a cluster of highly sensitive nerve endings. Some cats will enjoy these being touched, whereas others may find it over-stimulating or painful. Either way, it can result in all kinds of funny behaviors.
In this article, I'll go through more detail as to why cats respond in this way. I'll also give you tips on how you can tell whether your cat is enjoying your petting or whether you're annoying them. Soon, their quirky actions will all make perfect sense to you.
Why Is The Base of a Cat's Tail Sensitive?
The area of skin located at the base of every cat's tail is highly sensitive. Why? This is all down to your cat's anatomy. A cat's tail is simply an extension of its spine that runs from its skull. Similar to the human spine, a cat's spine contains a group of nerves that make up the spinal cord. These are used for sending signals between the brain and all parts of their bodies.
However, while the bones of the spine continue to form the tail, the spinal cord stops at the base of the tail. At the point where the spinal cord stops, there is a cluster of concentrated nerve endings. These are highly sensitive and touching these nerve endings through the skin can cause all kinds of weird behavior.
Some cats will have more sensitive nerve endings than others, which explains the varied response we may see when scratching this delicate area. To some kitties, it will feel like a pleasurable tickle, but for others, it can cause over-stimulation and pain. This all depends on your cat, but you can determine whether they enjoy tail tickles or not by paying close attention to their response.
What "Weird" Responses Could You See?
Our furry friends are all unique, and some cats will enjoy you scratching their lower back, whereas others will want you to get off immediately. Therefore, when you scratch the base of a cat's tail, their responses won't all be the same. It will depend on your cat.
Here are some of the "weird" responses you may see when tickling their lower back:
Raising their hindquarters into the air
The skin of the back rippling
Biting or nibbling at your hand
Making high-pitched meowing noises
Rolling over from standing onto her side
Of these responses, the most common is for your cat to raise their rear into the air. This is usually a good sign and shows that they're finding your petting pleasurable. However, if they start to act more on the crazy side such as biting your hand, making high-pitched noises, or rolling over to get you off their back, it's time for you to get off!
Here's a closer look at these positive and negative responses and the reasons behind them.
Why Do Cats Raise Their Reer When You Scratch Their Lower Back?
As mentioned, seeing your cat raise their hindquarters into the air is the most common weird response you may see. This behavior is due to several reasons. It could be reminiscent of mating or kittenhood, they could be trying to mark their territory or mark you as family, or it could be an indication that it simply feels good! In all cases, this is considered a "good" response.
Here's a look at these four possible explanations in a little more detail.
1. It's Reminiscent of Mating
As the base of the tail is one of your kitty's most sensitive areas, it makes sense that it is linked to mating. In fact, you may notice that female cats will act more strangely when scratched at the base of their tails than males, and this is partially related to how cats have sex.
When a male tomcat mounts a female from behind ready to mate, the male's body position hits the female's sensitive nerves found at the base of her tail. It is then the natural response of the female to raise her rear in the air. She isn't necessarily thinking about doing this – it is just an instinct that happens subconsciously. This raised-rear position facilitates mating, helping more effective reproduction.
Scratching your female kitty as the base of her tail will fire up the same neural pathways that are stimulated when two cats try to mate. As a result, her hindquarters may lift into the air instinctively. Don't worry, your kitty isn't necessarily sexually aroused by your or your scratching – it simply is a movement linked to reproduction and survival that she can't control.
For this reason, even female cats that have been spayed may still raise their butts into the air. They aren't sexually charged, but their automatic response is still the same. However, you will likely find that cats who have not been spayed respond more strongly to tail scratching. This isn't always the case though and it all depends on each individual cat.
2. They're Enjoying Themselves
As the base of a cat's tail is stimulated when mating, her raising her rear in the air could be an indication that you're hitting the right spot. These tail tickles will likely fire up some kind of pleasure and excitement, even if not in a sexual way. Therefore, as long as your kitty seems happy and content while you're scratching this area, keep going!
You'll easily be able to tell whether your cat is enjoying how you are petting them by observing their other body language. Vocalizations such as purring are a sure sign that they're having a good time. If cats purr when you pet them, they're trying to tell you they're enjoying themselves. It's a sign of calmness and contentment.
You can also keep an eye on their tail movements. If cats thump their tails when lying down or the end of their tail twitches, it could be a sign that they are mildly irritated or frustrated. They're likely getting over-stimulated as this is such a sensitive area. Use this movement as a sign of caution and stop stroking your cat immediately – otherwise, they may end up nipping your fingers to get you off!
3. It's Reminiscent of Their Mom
Aside from mating, having a sensitive cluster of nerves on their lower backs is also linked to kitten behavior. When a mother grooms her kittens along their back, this patch of sensitive nerves will cause them to raise their rear in the air. This is a similar reflex to mating, but for a different purpose. This also explains why male and female cats both show this weird behavior.
By raising their hindquarters they are facilitating cleaning, making it easier for the mother. They can reach all areas of their bodies much easier and ensure they're nice and clean. Also, mother cats need to lick the kittens' anal canals to stimulate bowel movements and aid their digestion. By raising their butt high, their job is again much easier.
When you scratch the base of your kitty's tail, experts think it could be reminiscent of this time they had with the Mom when they were younger. Besides, as you are their human parent, this makes this more likely! Even in adult cats who can clean themselves and go to the toilet with little issue, their reflex still naturally persists.
4. They're Spreading Their Scent
Cats are very territorial creatures and use scent as a form of communicating with other cats. They do this by spreading chemicals called pheromones that smell unique for each feline. These chemicals are produced by scent glands on their bodies. Predominantly, these are found on their paw pads, on their faces, and at the base of their tails.
To spread the pheromones around their home to mark their territory, cats will rub their faces on things, knead their paws, and file their claws on objects. When cats flop down in front of you and roll around, they are also transferring their scent onto the floor. You won't be able to smell these pheromones as they can only be picked up by cats. But they will help your cat to feel at ease.
By raising its rear in the air when scratching the base of its tail, your cat could be trying to rub the scent glands found near its tail on you. By transferring the pheromones onto you, you can then help your feline spread these around your home. There's nothing like a bit of teamwork!
Additionally, your cat could also be trying to mark you as her territory. This might sound a little strange, but it really is a sign of love. When a group of cats live together in the wild, they will all rub their pheromones on each other as a sign of affection. By doing so, all the cats in the "family" have one familar smell that helps them to bond. So, by rubbing its butt on you, your cat could be telling you it knows you're its family.
Why Do Cats Act Crazy When You Scratch Their the Base Off Their Tail?
Raising their rear might be a good sign, but if you witness a more crazy response then it's probably time for the tail scratches to stop! Here's a look at why they may be finding this form or petting uncomfortable and what you should do.
1. They Are Over Stimulated
While raising their rear in the air could be a good sign, this isn't the only weird response you might see. Often, you'll notice your cat turn their head around to try to bite or nibble your fingers. They could also roll over onto their side to try to get away from you, or make loud, yowling meow noises. These are all a cat's way of communicating that they've had enough.
The reason for this aggressive and weird behavior is usually down to over-stimulation. Cats with hyper-sensitive nerve endings may act like this immediately. However, cats with less sensitive nerve endings may initially show signs of enjoyment when petting. But if you repeatedly keep stroking the base of their tails, it can quickly become overwhelming.
Recognizing and learning when these boundaries have been crossed is crucial. This helps to keep your cat happy, besides preventing you from getting nipped by your irritated cat. Some cats are cuddly, and some are not. Some love back scratches, and some don't. Pay attention to the behavior of your cat to establish what they like.
2. They Have a Skin Condition
It is also possible that your cat could be acting so strangely due to a skin condition. If the area around the base of their tail is infected or has another dermatological condition, the skin can become itchy and inflamed. When you scratch the base of the tail, this can irritate the skin further and cause pain, discomfort, and annoyance.
When it comes to having an overly sensitive tail, there are three main conditions they could be suffering from:
Feline Hyperesthesia Syndrome: This is a rare condition that can occur at any age and causes the nerve endings found at the base of the tail to become hypersensitive. Aside from their tails being sensitive to touch, your cat running around like a maniac, tail chasing, and excessive vocalization are all other common symptoms.
Supracausal Glad Hyperplasia: More commonly known as stud tail, this condition is caused by an overproduction of sebum from the glands found at the base of a cat's tail. This patch of fur will become oily and itchy, with the potential to become infected if not treated. It is again common to see cats chase their tails if they suffer from this condition, and it is more common in males than females.
Parasitic Infections: Your cat could also have a parasitic infection, with the most common being fleas. These will cause your cat to become itchy and irritated. As a result, they may act weird when you pet them, especially at the base of their tails – one of the favorite places for fleas to bite.
If you think your cat has any of the above skin conditions, give your vet a call and schedule an appointment. They'll be able to diagnose the condition and prescribe effective treatment, helping your felines feel like their usual selves again in no time!
It's important to note that these three skin conditions aren't the only possible medical explanations. Your cat could also have an allergy that is causing a rash, inflammation, or other skin-related symptoms. An infected cut at the base of their tail will also be painful for you to touch. Inflammed or infected anal glands could also make this area more sensitive.
Cats are inherently good at hiding pain, so it's important to look out for other signs of illness as well. Keep a lookout for changes to their appetite, mood, activity levels, and self-grooming habits. Sickness and diarrhea are other common and notable symptoms for an array of conditions. If ever in doubt, take them to the vet.
MY FINAL THOUGHTS
As you can see, there's a whole host of reasons why cats can act a little strange when you scratch their lower backs. This is all down to the highly sensitive nerve endings found at the base of their tail. These are much more sensitive in some cats than others, explaining why cats all react differently.
They may be trying to mark their territory or signaling to you that you're hitting the spot. Or it could be an automatic response to this area being touched, linked both with kittenhood and mating. Get a more aggressive reaction out of your kitty though and they could be trying to tell you to get off! Most of the time this is because they are over-stimulated. However, the area could be more sensitive than usual due to a medical condition, so always get this checked out with a vet.
Now you know more about your cat's body language, you can better understand what they want and need.