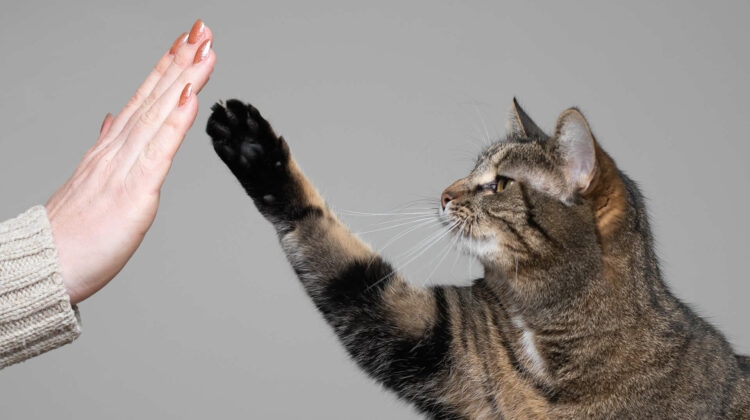 I absolutely love it when I see my cat stretching his paws out towards me.
My cat puts his paws on me like this all the time! He'll be sitting happily next to me then reach out his little paw to touch me. It is such an adorable behavior that carries with it feelings of love and affection.
My immediate response when my cat touches me with his paw is to give him bundles of love and start petting him. However, one day I suddenly started thinking about it more. Why does my cat reach his paw out to me? Is he after cuddles and affection? Or is this behavior related to something else.
Some of the curious behaviors of cats we still don't fully understand, and why cats reach out their paws is one of them. However, I have come up with nine theories that all could explain this behavior. Take a read through them and see if you agree with any.
It's super important that we trying to understand the curious ways of a feline so we can learn more about what they are trying to communicate. The better we understand each other, the tighter our bond will become.
Why Does My Cat Reach His Paw Out to Me?
1. They Want Your Love & Affection
Of course, this one had to make the list! Whenever a cat taps me with its paw I stop whatever it is I am going and immediately make the kitty my sole focus, showering them with love.
Despite being independent creatures, cats require a lot more attention than people realize. They go to all kinds of efforts to pull on our heartstrings, persuading us without words to show them some love. For example, things like flopping down on the floor in front of you or gently headbutting you are other common attention-seeking behaviors.
You can usually tell if your cat is stretching its paws towards you in the hope of some love and affection by paying close attention to their body language. When a cat is happy and content, it will likely start purring and seem very relaxed. To fulfill their need for attention, give them a pet in their favorite spot.
2. They Have a Request for You
It is also possible your cat is after your attention for something other than love and cuddles – they could have another request for you. Whenever my cat reaches out and touches with his paw before proceeding to get up as if for me to follow him, I know this is the case. He's got my attention and is now taking me to where my attention is needed.
In most cases, my cat will lead me to one of three places:
Food Bowl: Most of the time, my cat leads me directly to his food bowl and starts meowing. He's asking for more dinner and cleverly put his paw on me knowing I'd follow. If it's mealtime then go ahead, but don't overfeed your cat just because they've asked for it. This could cause them to become overweight.
Water Bowl: Sometimes my cat leads me to her water bowl. Then, my cat paws at her water bowl as if asking for more. If this happens to you, spill-proof cat bowls are a good investment to help contain the splashing water. Make sure you top up the water bowl if it is empty or hasn't been changed for a few days.
Litter Box: Whenever my cat takes me to her litter box, I know she's trying to tell me she wants me to clean it. Cats are extremely clean creatures and hate a dirty litter tray! My cat meows loudly after using the litter box if it's too dirty as well. Make sure you do as she asks, scooping her poop daily and completely cleaning the litter box once per week.
3. They're Trying to Play
Sometimes I'm sure my cat puts his paw on me as he wants to play. Whether or not your cat does this all depends on your cat. All cats are different – some will tap you with their paws directly, whereas others will go and fetch their favorite toy if they want a play session.
If your cat is tapping your hand as it wants to play, it's pretty easy to spot. A cat that is trying to play won't reach out its paw and hold it there. Instead, it will pull it back quickly in a playful manner and will seem very active and alert. Your cat is gently swatting you as if you were a mouse or toy.
Of course, it is a bad idea to ever let your cat play with your hand. By doing so, you're only teaching your cat that your fingers are a toy that it can bite and scratch at as it pleases. As such, you should remove your hand and replace it with a toy right away and try your best to direct their attention towards this instead.
These tips should be followed for all cats regardless of their age. It may seem harmless letting little kittens play with your fingers, but an adult cat is a completely different story. So, no matter what age your cat is, make sure you teach them no. The younger you teach this behavior is bad, the better.
4. They're Copying You
The idea of your cat copying you may seem bizarre, but stay with me on this! We stretch our hands out to pet and stroke our cats every single day. So, isn't it possible that our cats have seen us stroke them and are copying this behavior?
According to scientists, this could potentially be true. In one study, an owner stood in front of her cat and touched a box, either with her hand or her face. Her cat accurately copied the owner in 81% of cases, correctly touching the box with its paw or face, respectively. This is the first real evidence that cats can learn and mimic our movements and behaviors.
My cat putting his paw on me isn't the only example of possible imitation. My cat meows when I sneeze, which some theorize is our furry friends trying to copy people saying "bless you". Some cats even sit like humans, and if this hasn't been observed and copied then where did it come from?! İf you ask me, cats are much more capable and intelligent than we think.
5. They Love You
After all, if your cat didn't like you they certainly wouldn't want to touch you. So take their stretching paws as a symbol of their care and affection.
Think of it this way: a cat reaching out and touching you could be their way of getting close to you. I guess it's comparable to how we hold hands with our partners when walking down the street. Or how mothers often hold the hands of their little ones as they fall asleep.
This isn't the only way cats show affection, so if your kitty isn't reaching its paw out to you don't worry! They will still love you, they'll just display their affection differently. Other ways they can show their love include:
Purring while you pet them
Kneading their paws on you
Rubbing their face against you
Sleeping on your lap
Greeting you when you arrive home
6. They're Marking You as Family
Cats use scent to communicate and use their unique smelling pheromones to mark their territory and claim ownership of objects in their environment. These pheromones are produced by their bodies and are excreted from glands found on their chin, forehead, ears, cheeks, ears, tail, and paw pads.
It follows that your cat could be reaching its paw out to you to try and wipe these scented pheromones onto you. As these chemical messages are released from their paws, this would be an effective method to do so. Some of the other ways cats can mark you with their scent include:
Licking: If you're wondering "Why does my cat lick me when I pet him?", scent marking is a likely option. Their saliva also contains these pheromones, and so with every lick, they are depositing more and more of their scent onto your skin and claiming ownership of you.
Headbutting: When a cat rubs his head against you it is known as headbutting or bunting. This is how cats greet other members of their pack in the wild and helps to share the familial scent among all members. As pheromones are released from the chin, forehead, cheeks, and ears, they transfer pheromones onto you with every rub.
The idea of your cat "claiming ownership" over you might sound like a strange idea. However, cats like to spread their scent over their owners to mark them as family. They are essentially saying to other cats in the neighborhood that you are their human. They don't wish to share you with any other cat and want your undivided attention all to themselves. So, take it as a compliment!
7. They're About to Knead Their Paws
Have you ever seen your cat making biscuits? Also known as kneading, this behavior is a sign of contentment learned from kittenhood. Kittens gently move their paws in this rhythmic pattern on their mother's stomach to stimulate the release of milk. Despite no longer feeding from their mothers, kneading behavior usually extends into adult life.
A cat may stretch out its paw when they are about to start kneading. The stretching motion wakes their paws up in preparation for them to make biscuits on whatever surface they choose. Cats may make biscuits on anything, but they often like to do so on a blanket or cushion. Sometimes, my cat likes to make biscuits on me, a great sign of love and affection.
If this is the reason for your cat's behavior, you'll notice they get up and start kneading their paws shortly afterward. It is best to let them get on with it. However, if they are making biscuits on you and their claws are getting involved it can get a little painful!
Here are some tips to help if you find their kneading is getting too intense:
Stand up and walk away from your cat
Place a blanket or pillow on your lap for them to knead instead
Stop petting your cat until they stop making biscuits
Trim your cat's nails regularly to prevent them from getting too sharp
Use positive reinforcement to train them not to knead on your lap
Never punish your cat by shouting or hitting them
Despite kneading being common in adulthood, not all cats retain this behavior. Therefore, instead of kneading properly, some cats partially knead by reaching out and stretching their paws. Therefore, your cat could be stretching its paws in place of kneading, showing a sign of pure happiness and contentment.
8. They Are Stretching
There is a chance that your cat is simply reaching its paw out as they're stretching its muscles. It just so happens that you're close by and their little paws touch you as they stretch.
Stretching is a sign of a contented and happy cat as cats will only stretch when they feel completely relaxed and at ease. So, if you see your cat reach out its paw and touch you and you don't think any of the other reasons on this list fit, don't worry! Take it as a positive sign that you must be looking after your cat pretty well for them to feel so comfortable.
9. They're in Pain
I don't think this is a very common reason – in most cases, cats will only stretch their paws out to touch you when extremely relaxed. However, it is still a possibility that I need to cover.
If a cat is stretching its paws toward you in pain, it is usually within its limbs that the pain is concentrated. There are a few possible causes of this, common examples being:
Physical Injury: Injuries of the paws and limbs are common, especially for adventurous outdoor cats. They may have trodden on a sharp object or got into a catfight with another kitty in your neighborhood that results in physical injury.
Feline Calicivirus: Some medical conditions can also lead to sore limbs, and Feline calicivirus is one such example. This is a virus that infects the upper respiratory tract, causing sneezing, congestion, and conjunctivitis. However, some strains can also cause joint pain and limping, especially in young kittens.
Ingrown Nails: When a cat's nails grow too long they can curl back on themselves and start growing into their paw pads. This can cause extreme pain and discomfort, especially when applying pressure on their paw when walking.
Regardless of why your cat is struggling with pain in their paws or limbs, they may find that stretching their paws eases the pain and stiffness. Moreover, you'll usually notice other symptoms such as limping or trouble getting up. Cats that have hurt their paws often sit in the cat loaf position too, hiding their injuries and discomfort from the world.
MY FINAL THOUGHTS
This cute and endearing behavior is usually nothing to worry about. More often than not, it's just your cat's way of getting your attention. They may be after cuddles, a play session, or trying to tell you about an issue with their food or litter tray.
Cats will only reach their paw out and tap you if they feel safe and comfortable, so next time your cat touches you with its paws you can feel happy. Take it as an indication that you're a great cat parent and a sign that your kitty is living a contented and relaxing life.
However, do look for signs of injury or pain in their limbs, such as limping or difficulty putting weight on their paws. Although less likely, your cat might be stretching out as a way to ease the discomfort they're feeling. A quick trip to the vet should have them back to their usual old selves in no time.