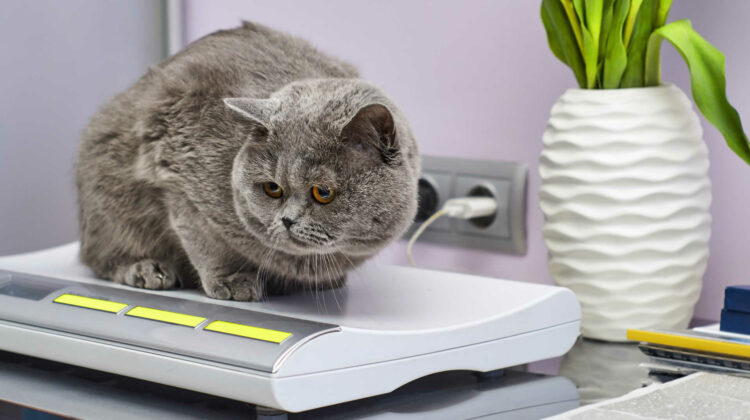 Does your cat appear a little on the chunkier side? If you've always wondered how heavy your cat should be and how much it should eat, this article will explain a lot of things. Monitoring a cat's weight is an essential part of keeping it healthy since these furry creatures can't tell you themselves if something is wrong.
This is just one of the reasons I decided to try many pet scales for cats and share my honest opinion.
It might not seem like it, but weighing scales for cats are an essential device in the home of any cat parent. These scales don't cost a lot but can serve you for years and tell you a lot about your feline's health.
Aside from using the scales to determine their current weight, you can also use these devices to see if your furry friend is gaining or losing enough weight as recommended by a vet, measure their growth, and much more.
So, without any further ado, let's see which pet scales I love the most and the other products you should consider when shopping.
My Top Pick
The Beurer BY80 Pet Scale is my absolute favorite cat weight scale! Aside from being an affordable purchase, it's equipped with many features that make my life easier. For example, I love that it offers Bluetooth connectivity so that I can keep all the information about my furry pal on my phone.
This device also has Hold, Tare, and Auto-Lock functions for bigger accuracy when delivering the results. The LCD screen is big enough, and you can easily read the numbers. All that's left is for you to check out the detailed reviews and decide whether it's a good fit for you. Plus, I share the other best cat weighing scales on the market.
Best Pet Scales For Cats
Before getting into the in-depth reviews, I wanted to discuss some of the essential factors and features you should keep in mind when scrolling online for a new cat scale. The features below guarantee a product you'll use for a long time:
Size: Before you even start looking at cat weighing scales, you should know your feline's approximate size and breed. For example, do you need the scale to measure a kitten or a large Maine Coon? Since this device is a long-term investment, you should still keep in mind the breed of the cat and the estimated weight and compare it to the scale's weight limit.
Platform: Platform scales are similar to those you see when you visit the vet. They are located on the floor and feature a large platform where your cat can stand or lay down. This type of scale is best for larger dogs and cats because they are less likely to sit still on a compact scale on a table or a chair.
Compact: compact scales are smaller and excellent for at-home use. They're typically lighter, easy to move around, and you can place them almost anywhere you want. The only downside of compact designs is that they have a lower weight limit, and you can't always measure larger pets.
Price: Although the price isn't always a determining factor in the hunt for a good scale, you should still opt for a trusted brand. You can skip professional veterinary scales and go for at-home products that don't cost an entire fortune.
Comfort: Cats are lively creatures that want to do things their way. As you can probably already guess, a feline is only calm when sleeping or doesn't feel well. This is why the scale you'll buy should be comfortable, so you might trick the cat into sitting for at least a minute while you're measuring.
Material: The material is another factor that can influence comfort. Most cats prefer rubber surfaces, and they're also anti-slip. Surfaces coated with metal and sharp edges can be a little dangerous since you can't predict how your cat will feel once you put it on the scale. If you get a metal scale, you can cover it with a blanket of your cat's favorite throw.
Readability: Being able to read the numbers with ease is a top priority. Most modern scales are equipped with digital screens that show large numbers and are simple to operate. Some more advanced designs even have touch screens that allow you to adjust the settings by pressing the screen with your fingers.
Special Features: Another significant factor on my mind when choosing scales was whether they come with additional features or not. Even though a basic scale will do the job, there are a few extra features that can be very helpful. Examples include a Hold function to measure moving pets with accuracy or a removable tray to make cleaning accidents easy.
Buying pet scales for cats might sound like a simple task, but I'm living proof that it isn't. As you can see, there is a lot to think about! Yet after spending months looking at different features and testing many scales, I'm finally ready for an honest verdict.
The reviews below are entirely based on my personal experience, and you'll find products for every pet owner. I tried finding alternatives for different budgets, needs, cat breeds, and sizes so that everyone has a reliable device at home. Keep reading to find out all about the top picks.
The Beurer BY80 Pet scale is one of the most accurate devices I've ever had. Since it's equipped with high precision sensors, it can measure your cat with high accuracy and show the weight in kilograms, ounces, or pounds.
The maximum weight capacity of the Beurer scale is a huge 44 lbs. This means it can measure big breeds such as Maine Coons with ease. You can even use it for dogs or infants. Plus, since there are no sharp edges on the scale, it's safe for literally everyone. I also noticed that most of my cats like this scale because of its platform. The top part is curved, making it very comfortable for them to lay on.
Another feature that I find very useful is the auto-lock function that lets you measure with higher accuracy and locks the weight once the device is stable. On the other hand, the tare function considers the weight of other objects you put on the tray, such as a blanket or a bowl.
Since we live in a digital era, Beurer made sure to make their scale quite advanced and upgraded it with Bluetooth. This means connecting the device via Bluetooth and getting all the cat measurements on your phone or other devices. In other words, it's perfect for all pet parents who need to follow the weight of their felines continuously.
If there's one thing I don't like about the scale, it is that it doesn't have a removable tray. That would make my life so much easier in terms of cleaning, but thanks to all the advanced features it's still the best overall scale I've tried in a while.
Pros
Curved edges that make it safe for everyone
Backlit LCD screen that's easy to read
Tare function for more accurate weighing
Auto-lock function
Measures up to 44lbs fo ideal for all breeds
Equipped with precision sensors for more accurate reading
Cons
It doesn't have a removable tray
This IBE Supply digital scale might be shaped like a platform, but it's surprisingly lightweight and can fit into every corner of your home. Plus, since it's on the smaller side, I can take it with me when I need to travel without fearing it will take too much space.
What surprised me the most is that all of my furry pals love spending time on it, so I don't have to trick them with treats when weighing them. Surprisingly, two of my cats became so obsessed with it that they occasionally take a nap on the scale when no one is watching! I guess they enjoy it so much because of the sleek curved lines without any edges or sharp corners.
This scale doesn't come with multiple advanced features, so if you want a smart weight scale you should look somewhere else. However, I think its simplicity is one of the best things about it. It's meant for everyone because it's so easy to use. The digital screen shows large numbers, and there are two buttons around it.
Moreover, I was afraid these scales wouldn't fit my medium-sized cats. But that wasn't the case; it can take cats of most sizes. However, since the platform isn't too big, this scale is not the best choice for large cats. This doesn't mean it won't fit your Maine Coon, but the feline might not be able to lay down on the scale and stay still while you're measuring. It also lacks a removable tray.
Pros
Lightweight and portable
Smooth design without curved edges
Stable design great for moving pets
Great for small and medium cats
Tare function for more accurate measuring
Cons
Doesn't have a removable tray
Not suitable for large pets
Have you got a large cat such as a Persian, Norweigan Forest Cat, Bengal, or another big breed? If you, give the MINDPET-MED Digital Pet Scale a go. It is one of my favorites because it's easy to use, I can see the numbers even in the dark, and I can measure my furry friends even when they're not standing still.
This scale is so great because it has a removable tray that you can clean within seconds. In addition, it makes it ideal for households with multiple pets because the cleaning process between weight each one is very straightforward. Simple weight one pet, remove the tray and clean it, then put your next cat on the scales to be weighed.
Another excellent thing about the device is that if your furry friend outgrows it, you can simply take off the tray and use it without the tray. This means it can quickly become a scale for larger animals as well. I bought this scale when I adopted a kitten, and I still use it even though it's been a year since then. Your kitty won't outgrow it.
In addition, the scale's weight limit is 220 lbs/100 kg, and it works with a precision up to ±0.02lbs (10g). I also have to mention the useful Hold function that shows accurate numbers even if your gorgeous furry friend is moving. Finally, the screen has a high-contrast feature to see numbers even when it's dark.
Pros
Has a removable tray that's easy to clean
Has a digital screen that's easy to read
Works great for all large cats and even dogs
Hold function that presents accurate numbers
Has a weight limit of up to 220lbs
Removable platform if your cat outgrows it
Can be used in the dark
Easy for use in multi-cat households
Cons
The tray measure range is 60 cm
Following the weight advancement of small felines is important because it lets you know whether they're eating enough and growing into strong and healthy adult cats. If your kitten is weak and sleepy, that might be a sign that something's going on. Therefore, tracking their weight is essential!
If you're looking for a great kitten scale, you should look no further than the W.C. Redmon Precision Digital Pet Scale. This device is ideal for small pets. I also love that the design is sleek and lightweight, and you can move it wherever you need to with ease. This means it is great for travel and anyone with a smaller apartment.
The maximum weight capacity of the scale is 55 lbs, and I love it so much because it's a multi-purpose device. It is great for measuring and tracking your kitten's growth, but can also be used for measuring food. Smart cat feeders are an excellent purchase, but if you can't afford one, you can use this digital scale to measure the meals you give your cat.
One of the best examples of when accurately weighed food is needed is for elderly cats and felines with health issues. Once you learn what to feed an older cat that is losing weight, you'll learn that you need to measure its meals. For example, if you find your cat not eating or drinking for three days, it means that you should head straight to the vet.
Once you've discovered the issue, you should be meticulous with the food and give her the right meals for the feline to regain its strength. This is when the scale will become your best friend and favorite device! So whether you're weighting kittens, small cats, or food, these scales can help.
Pros
Shows weight in pounds, ounces, and kilograms
Small, lightweight, and portable
Digital display that's easy to read
Tare function for more accurate measuring
Low battery indicator
Perfect scales for kittens and food
Memory features to easily track weight loss and gain
Cons
Not suitable for larger animals
Requires batteries that aren't included
Cat Weighing Scale Buying Guide
How can you determine which are the best weighing scales for pets when there are so many choices on the market? Since I don't want you to spend your money in vain, I researched many different features that will make your life easier and make the measuring experience faster.
It's no lie that cats are active creatures that don't want to stay put, and it can be incredibly hard to get them on a scale unless they want to be there. However, if you go over this guide, you'll understand how you can choose a scale that is within your budget and is suitable for your cat. Use this as your buying bible and you'll have some great cat weighing scales in no time!
Price of the Scales
Are you ready to pay a hefty price for a professional scale, or do you want an affordable one that will do the job? Every successful buying guide starts with a budget. Once you set the budget limit, buying a scale will become much easier, and you'll have fewer options to choose from.
You don't have to opt for the most expensive scale, considering that you'll be using it at home. However, you should ensure that it lists all the features you need it to have. On the other hand, if you're a vet or a groomer, your new scale has to fit all the animals, be bigger, and be meant for professional use.
Size of the Cat
The size and breed are two intertwined factors. Although many pet parents have mixed breeds, and it's hard to tell how large their feline will grow, you should always keep size in mind. In most cases, it's better to purchase a scale for larger cats if you're not sure of the weight and size once your cat is fully grown instead of getting a small scale and only using it for months.
Owning a Maine Coon and a Munchkin are two different things. The cat breed will also determine the type of scale you should get. If you're a proud owner of a large breed, you'll know the approximate weight limit, and you should focus on fining a scale within that limit. You should also think of the weight of a fully grown cat since you'll be using the scale for a while.
If you have more than one feline in your home, you can feel free to get a device with a higher weight limit. However, buying a scale for small animals will only serve you for the smaller cats and won't be helpful for the large ones. Therefore, purchasing one for large animals will cover both categories.
Material of the Scales
Material is important when choosing cat weighing scales for two reasons: cleaning purposes and comfort for your cat. Smooth, flat surfaces are the easiest to clean; however, many cats prefer being on rubber scales. On the other hand, rubber devices are a bit harder to clean, but they can feel much more comfortable for the feline.
Which option you choose depends on you and your cat. If you know you have a cat that simply won't sit still, you might prioritize comfort over the ease of cleaning. On the other hand, if your cat has runny poop all the time, scales that are easier to clean are a must.
Regardless of the material you end up going for, always opt for a scale with curved edges and not sharp. Sharp corners are more dangerous and can end up hurting restless cats. If you get a scale with sharp edges, ensure to cover it with a blanket, towel, or pillow.
Reason for Purchase
Why do you need a scale? Is it because you're a professional vet, or do you need it for at-home use? If you're a professional, you probably already know the benefits of a high-quality product with all the essential features. Professional groomers are also often searching for a great scale, and they need one that can accommodate most pet sizes.
On the other hand, you can settle for a simpler design that shows accurate numbers if it's for at-home use. This will give you a rough guide on your cat's weight range. Coupled with vet readings from regular veterinary check-ups., you'll know right away when something is wrong. These scales are also perfect for measuring food portions when your cat is always hungry and meowing.
Additional Features
Finally, there are some additional features you might choose to prioritize, namely:
Auto-Lock Feature: If a scale is equipped with an auto-lock feature, it will lock the numbers it reads once it's stabilized. This is great for moving cats and means the numbers on the screen aren't going to disappear before you've had a chance to read them.
LCD Display: An LCD with large numbers is essential for scales. In addition, a backlit LCD will help you see all the numbers even when it's too bright or dark outside. You need to be able to weigh your feline no matter the weather!
Tare Feature: The tare function will eliminate the weight of the products you put on the scale together with your cat. For example, if you put a bowl of treats, it will consider it when calculating the final weight.
FAQs
Q: What is the best cat weight scale?
A: In my opinion, the best cat weight scale is the Beurer BY80 Pet Scale. I love these cat weighing scales as they are lightweight, accurate, and easy to use. They also have several advanced features like Bluetooth connectivity, a tare function, an auto-lock function, and are affordable.
Q: Why should I measure my cat?
A: You should measure your cat to monitor its health. Is your cat suddenly lethargic and weak? Felines are great at hiding pain, so you can rarely tell if they don't feel well until they are at their weakest. Weight loss or gain is one of the earliest signs something is wrong. Weight change is also one of the most common pre-labor signs in cats.
Q: Can I weigh my cat on a human scale?
A: Yes, in theory, you can weigh your feline on a human scale, but you risk not getting accurate results. It's very unlikely for a cat to stay put on a human scale; therefore, experts recommend getting a special pet scale that will give you the most accurate weight.
Q: How do I get my cat on a scale?
A: Cats are curious animals, so one of the easiest ways to get them on a scale is by letting them smell and explore the device. You can also put a few of its favorite toys on the scale or place a few treats. Finally, cover the scale with your cat's favorite blanket if none of these techniques work.
Q: Are cat weighing scales accurate?
A: Yes, cat weighing scales are accurate, and there is no need to worry that there will be any mistakes. These are trusted devices that are tested for a long time before being released for sale. In addition, most of the scales also mention the accuracy they offer in their product description section.
Q: Are vet scales more accurate than at-home scales?
A: Yes, professional vet scales tend to be slightly more accurate than at-home devices since they are equipped with a larger measuring area. This means that the weight is more evenly distributed, and the scale can provide more accurate results.
MY FINAL THOUGHTS
Are pet scales for cats a necessity in every home of cat parents? Yes, this device is a must if you care about your feline's health. Measuring its weight daily will help you see if the cat is within the healthy weight limits or shows any signs of being over or underweight. Another use of these scales is to measure the weight of kittens, elderly and sick cats, to track if there's any improvement.
After reading about many scale types and testing over ten products, I found several that I like and shared my honest reviews. If you're a dedicated cat parent, you should take a closer look at the products I wrote about and find one that fits your cat and budget. There is nothing more important than the well-being of your furry friend, and supervising its weight is the best way to promote it.