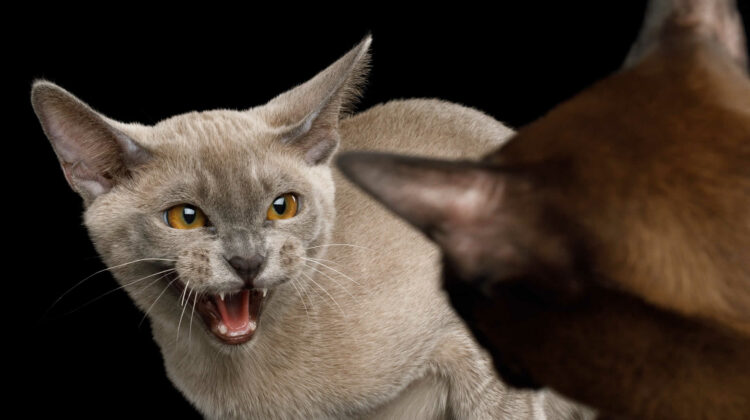 I have two cats that have always got along well together. I have never had to stop my cat from bulling my other cat, and never experienced any kind of conflict between them. In fact, I'd have said they were best friends. So you can imagine my surprise when one cat is hissing at my other cat after a vet visit. What is going on? Why are my cats suddenly fighting after vet visits?
As it turns out, this is an extremely common form of cat aggression known as non-recognition aggression. Your cat doesn't recognize your other cat when it returns home and thinks it is an imposter. This is because of unfamiliar smells your cat has picked up on their time away from home.
In this article, I explain how this is possible – how can your two cats seemingly have forgotten each other after a short time apart? And more importantly, I share tried and tested tips on how to stop cat aggression after a vet visit. Or at least, to speed up the re-introduction process.
What is Feline Non-Recognition Aggression?
The reason for your cat hissing at your other cat after the vet – or after any time spent away from home for that matter – is because of feline non-recognition aggression. This is where your cat fails to recognize your other cat after they return home. They see your cat as an intruder that is infringing upon their territory!
Cats hate new people and animals being in their space. Think about it, when you first brought your second cat home, did your old cat dislike it? Cat depression after a new kitten is introduced into the family is extremely common. I bet you worked hard to make your cat stop hissing at the new kitten. And slowly, your two cats became best friends.
However, failure for your cat to recognize your other cat on their return home essentially resets this initial dynamic. It is as if you are bringing a new kitten into the home all over again. Your cat is scared of the "new" family member. Both your cats need to re-learn to trust and like each other again before they can live together comfortably.
What Causes Aggression After Vet Visits?
So, feline non-recognition aggression is to blame for your cat's hissing and other aggressive behaviors. But hold up – how can a cat completely forget its best friend after such a short time apart?
In truth, this type of aggression is not fully understood, but it is all to do with changes in your cat's scent while they are away. Cats rely heavily on scent for communication. Their sense of smell is 14 times as strong as ours! Therefore, it is thought that cats identify other cats not through what they look like, but rather through how they smell.
Cats that live in the same household will share the same family scent. It is this scent around your home that helps cats feel calm and why moving to a new environment is so stressful. But when your cat returns from the vet, it might not smell like it did before it left. Below are some examples of how your cat's scent has changed:
Hormonal Changes: The hormones of sick cats will be all over the place as their bodies try to recover from illness. Because cats have such a strong sense of smell, your other cat might be able to sense these changes. In other words, your cat smells sick. This smell overlays the family scent, causing your other cat to not recognize them.
Stress Pheromones: Most cats hate going to the vet. I have to deal with my cat biting and attacking me every time I put her in the cat carrier! This stressful experience will cause your cat to release stress pheromones from their anal sacs. Once home, your other cat will be able to smell these stress pheromones and assume that danger must be nearby. This can cause them to act aggressively.
Vet Smells: There is also the chance that your returning cat smells of the vet. For example, they might smell of alcohol, medication, cleaning products, or disinfectant used. This will cause your other cat to not recognize your cat. Plus, your cat probably has negative associations with these scents, further worsening their aggressive behavior.
Other Animals & People: Your cat will also have picked up smells that belong to other animals and people on their trip to the vet's office. This could be the vet themselves or from the other pets waiting to be seen. Your other cat can detect these smells and get confused about who your cat is when they come home.
How to Prevent Aggression After a Vet Visit?
If you are dealing with feline non-recognition aggression, know that your cats will recognize each other over time. The lingering smells from the vet's office will gradually get lost and your cats will be friends again. So don't panic that this new dynamic will last forever – it won't.
However, aggression after a vet visit is not easy to deal with even if it is only temporary. You're going to need to take your cats to the vet regularly for check-ups and more so as they age and develop more serious medical conditions. You don't want to be dealing with hissing and aggression after every vet visit!
Therefore, it is a good idea to prevent your cats from acting aggressively in the first place. Here are just some things that can really help with this.
1. Schedule Vet Visits Together
This is a simple but effective fix. If both your cats go to the vet together, they will both have been handled by the same staff and in the waiting room with the same animals. They're being exposed to the same cleaning products, disinfectants, and so on.
This means that your cats will be able to understand these scents when they come home. They'll still be able to recognize each other for who they are under the lingering vet smells. As a result, they'll be much less likely to attack each other or any other animals and people in your home. Scheduling routine veterinary visits together can work wonders!
2. Keep Sick Cats Separate
One of the reasons your cat might not recognize your other cat is because sick cats smell differently. Therefore, it might be a good idea to keep your sick cat in a separate room on their return home. If your kitty is recovering from an illness, the last thing they will want is to be attacked! As they recover, their hormones and "sick smell" will fade so they are recognizable once more.
Besides, removing your sick cat initially will give them time to groom. Through grooming, they'll remove any lingering smells from the vets, such as alcohol and disinfectants. It also gives your sick cat a chance to calm down from the stressful vet visit, which is another big plus.
3. Spread the "Family Scent"
All cats that live in one household share the same "family scent". This is what your cats use to know who is a friend and who is a foe. You can help spread the family scent back onto your cat that has been away so they are recognizable to your cat that has stayed at home.
To do this, take a towel and gently rub it on the cheeks of your cat who has stayed at home. Cats produce a lot of pheromones from glands in their cheeks. Rubbing here will transfer these pheromones and the family scent onto the towel. You can then rub this towel all over the cat who has been to the vet to transfer the scent onto them.
4. Make a New Communal Scent
Some owners find making a new communal scent and spreading this on both of their cats to be more effective. The cats will still smell alike which will help them to identify each other as family. Just be sure that whatever scent you choose is (1) safe for cats, (2) pleasant for cats, and (3) strong smelling.
One good example would be to use juice from a can of tuna. We all know that cats love the smell and taste of tuna, so it is pleasant. Tuna is also safe for cats and won't do them any harm. And tuna has to be one of the smelliest fish there are. Simply pour a little tuna juice on your hands and rub it on both cats to transfer the scent onto them.
Using this method will also encourage cats to self-groom. Doing so will help to remove any lingering smells your cat has picked up from the vet. It will also help to renew the family scent and potentially even lead to your two cats grooming each other.
5. Brush & Bathe Your Cat
You can also help remove the unfamiliar veterinary scents from your cat yourself by brushing and bathing your cat after their trip to the veterinarian. Most cats will enjoy being brushed and it can even help them calm down after their stressful vet visit. Bathing is a less popular pastime for cats, but if you're up for the challenge it can help remove foreign smells.
6. Be Patient with the Re-Introduction
Most importantly, you need to be patient with your cats' re-introduction. When bringing your cat back from the vet, be very aware that your other cat may be aggressive. Watch for the first signs of confrontation to help avoid fights from breaking out.
For example, cats arch their backs when scared and defensive. They'll also have puffy tails, flattened ears, and wide eyes. This will usually be the case for the cat returning to the household. The cat that is left behind will instead show attacking signs. This includes staring with small constricted pupils and facing the other cat as if ready to pounce.
If you notice any of these early warning signs, you should separate your cats for a little while. Moreover, if your scared cat hides, leave them to it. Dragging your cat out of hiding could make them more fearful, which in turn leads to more aggressive behaviors. Slowly re-introduce your cats at a pace that works for them.
What to Do if My Cats Are Fighting?
Despite trying your hardest at preventing non-recognition aggression from arising, sometimes it still does. Here are some tips on keeping things under control:
Never let your cats fight it out! This could result in injury and tension. Instead, try and stop the fight by clapping your hands or spraying the attacking cat with a water gun. This could cause the cats the stop fighting long enough for your to separate them.
Heard the attacking cat (usually the one left at home) into a separate room and give them time to calm down. Try to do this without picking your cat up as it could result in them scratching and hurting you. If you need to pick the cat up, pick them up in a towel.
Let your other cat (the one that has just returned from the vet) retreat and hide. This is an instinctive response to stressful situations and soothing your cat too early can make the situation worse. Let them come to you and offer them comfort and affection when they want it, never before.
Once both cats have calmed down, you can reintroduce them. It is usually a good idea to do this gradually. For example, you might want to feed them on separate sides of a screen door. Once they seem relaxed like this, you can slowly let them spend more time together.
MY FINAL THOUGHTS
Your cat hissing at your other cat after a vet visit is extremely common. This is known as feline non-recognition aggression, and it all boils down to cats and their powerful sense of smell. Your returning cat will smell different and be perceived as a risk.
However, hissing can soon lead to attacking and a full-blown catfight! Therefore, it is important to try and prevent non-recognition aggression before it happens. Also, watch for the early warning signs that a fight could be brewing and separate your cats as soon as possible.