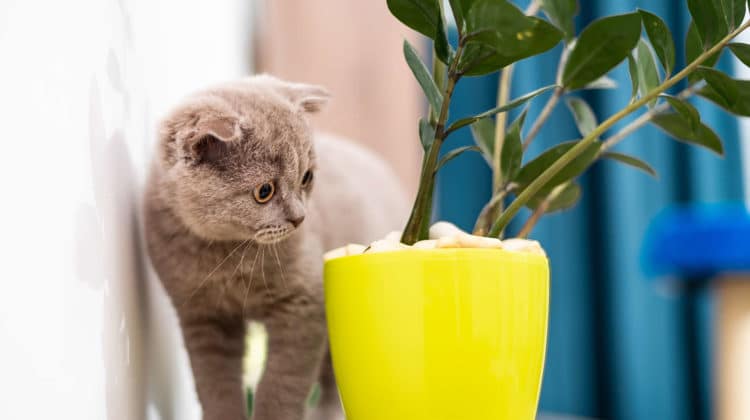 Cats have amazing instincts.
They can find their way home from many miles away, they know how to leave their scent behind to ward off potential invaders and they can sense when it is about to rain. But when it comes to what is safe to eat, they are not always so smart.
Cats will eat plants and there is always a big supply both indoors and outdoors. It is wise to know your plants so you can protect your cat from eating the wrong kind of plant.
You can start with house plants. One of the most common house plants are ferns.
Are ferns toxic to cats?: The answer is yes and no.
Some ferns are fine for cats to chew on and others are toxic and can lead to illness or death.
Common Ferns That Are Safe for Cats to Eat
It is vital to understand that your cat can get sick from eating any plant.
For example if they eat too much of any food they can get sick, or if they have a sensitive stomach to start with they could get sick.
Sometimes they even eat plants to make themselves sick. More on that later.
For the ferns listed below they are not toxic to cats. But remember if your cat eats some it still could get an upset stomach.
Boston Fern
Maidenhair Fern
Button Fern
Sword Fern
Mother Fern
Carrot Fern
Rabbit's Foot Fern
Bird's Nest Fern
Staghorn Fern
There are so many species of fern in the world. Far too many to list here.
Please note this is not a complete list, but does include the most common varieties of ferns that people often grow inside.
Common Ferns That Are NOT Safe for Cats to Eat
If your cat eats any of the following types of fern seek medical treatment as soon as possible through your local pet clinic or veterinarian. Some vets have emergency numbers in case of out of hours urgent situations.
Asparagus Fern (also known as lace, emerald or plumosa fern)
Sprengeri Fern
Fern Palm
Sago Palm
Winter Fern
Don't hesitate to make a trip to the vets if you think your cat has been poisoned. Kidney damage is a side effect of poisoning and it is not reversible.  While your cat might survive it could have ongoing health problems after being poisoned the first time.
For a complete list of plants including ferns that are both toxic and non-toxic for kittens and cats prepared by the American Society for the Prevention of Cruelty to Animals, you can find it here.
What Will Happen if My Cat Eats an Unsafe Fern?
There may be many degrees of reaction if your cat eats a fern ranging from mild to severe.
For example if your cat nibbles on Asparagus Fern, which is a common house plant, the leaves are mildly toxic but the berries can be poisonous.
Your cat will probably suffer from stomach pain, drooling, vomiting and diarrhea. Your cat might be meowing loudly or be unusually subdued.
Contact with this fern can also result in skin irritation and a burning sensation.
If you cat is showing signs of distress, discomfort or pain and you suspect it has eaten a poisonous plant you should go to your professional veterinarian to seek advice and treatment. If you know for sure what plant your cat ate take a sample to the vet so you can confirm what caused the sickness.
Vets are often treating cats that have digested toxic plants. It is more common than you might imagine. Most cases are mild or treatable but now and then vets will be faced with a case that is fatal and there was nothing they would do to save the cat.
What to Do if You Don't Have Access to a Vet?
If you live in a very remote area you may not have access to veterinarian services or may have a long trip ahead of you.
The following steps you can do at home to reduce the effects of the toxins eaten. Follow these steps as quickly as possible before going to the vet.
If you can't reach a vet an over-the-phone consultation could be your only option and is better than nothing.
Wash your cat's mouth out with fresh water.
If your cat has vomited it is a good sign as some of the toxins would have been eliminated. If you cat hasn't vomited you should encourage it.
Other Kinds of Plants You Might Have in Your Home
Your home will probably have many kinds of plants that might be for food, cooking or decoration.
Your curious cat can reach almost any place and plants need to be out and exposed to the light so can't be put away in cupboards.
So, its best to make sure you only have plants that are safe for your pet cat inside (assuming you allow your pet cat inside of course).
If you have flowers delivered from the florist be aware that they may be sprayed with chemicals which are bad for your cat. Cats love exploring new things and a big, colorful bunch of blooming flowers on the bench will surely be a point of interest. Also you won't want your cat destroying your lovely floral gift! So keeping it away from bouquets from the florist or any you picked up fro yourself from the supermarket is a good idea.
See the list below of plants that you might have inside or outside your home which may be a big no no for your cat.
Plants Outside of Your Home
There is a big wide world outside of your cozy home.
Your cat may roam around your garden and never go further. But most cats are curious explorers by nature (as it is what they had to do in the wild to survive) and will visit the neighbors and even further afield. There is no way to know what plants they might come in contact with if you have an outdoors cat.
So you can start by taking a look at the plants in your garden and making sure its free of any toxic plants or flowers.
Here is a list of some common plants and flowers that are dangerous for your cat's health if digested.
Ivy – there are many types of ivy, including the obvious poison ivy, and they are all actually poisonous to cats
Pothos – likely to make your cat sick but not fatal
Philodendron – likely to make your cat sick but not fatal
Kalanchoe
Christmasy Poinsettia – not deadly but likely to cause illness
Tiger Lillies
Tulips
Cherry blossoms – the cherries are fine but the stems, flowers, and cherry pits are toxic with cyanide
Other fruit trees contain cyanide, such as apple trees, apricot trees, plum trees and peach trees.
High levels of cyanide can be found in nectarine seeds, pits, leaves and stems.
Cyanide poisoning symptoms can show up 15 to 20 minutes after you cat eats the plant.
Symptoms include:
Increased breathing rate
Fast heartbeat
Shortness of breath
Wide eyes
High-pitched meowing
Dilated pupils
Bright red gums
Excessive saliva and drooling
Nausea or vomiting
Muscle weakness
If you suspect your whiskered friend has eaten cherry blossoms you should contact your veterinarian immediately and treat it as an emergency situation.
Reasons Cats Eat Certain Plants
Our feline friends are carnivores, meaning they eat mostly a diet of meat. But they will eat plants to get needed fiber or nutrients or just because they like the taste. Sometimes house cats will even eat plants for something to do.
When a cat feels unwell it will eat grass or other plants to heal itself. A cat with a sore or upset stomach will chew some lawn grass and the reason is it helps them regurgitate. Together with the grass any toxic or indigestible food can be expelled from the body.
Studies show chlorophyll is cleansing and may even help prevent cancer so if grass isn't available a cat's instinct might drive it to eat any other green plant.
Cats will eat herbs like their all-time favorite catnip. It is a herb from the mint family that drives cats crazy – in a good way. It gives them a kind of high when the chemical nepetalactone is released from the leaves.
Catnip can boost your cat's mood and lower its stress levels. If cats eat catnip it can act as a sedative. Smart cats always know when catnip is around because they can smell it and are so attracted to it. So it's not surprising they will eat it if given half the chance.
They also favor edible flowers such as zinnias, marigolds and rosemary. It is unknown why these flowers appeal to cats but probably they like the taste as they are all used in cooking and can be eaten raw by humans. They are considered a tasty treat for people and cats alike.
How to Discourage Your Cat From Eating House Plants?
There are some commercial sprays you can buy that will discourage pets from biting and chewing things.
The non-toxic repellant spray is harmless for pets but they don't like the taste of it so is usually effective. Pet owners use it to stop animals from biting hot spots on their bodies, from chewing on furniture and also to stop them eating plants. It is not noticeable to humans.
It is affordable but you need to spray every day or two. Also it's not ideal for the health of the plant to be spraying it continuous. Still it's a product that could be worth a try if your cat is really keen on eating your house plants. You can buy it online, at pet stores and some big supermarkets.
For a DIY cat repellent you can mix some vinegar and water and put it on the plant leaves. Cats really dislike it and will stay away. If you use the homemade repellent for several weeks and then stop your cat might have learnt to stay away. Try cutting back on the repellant or stop using it and keep a close watch on your cat to see if it goes back for more.
You can try to put some plants out of reach such as putting them in hanging pots that your cat can't reach.
If your cat scratches up your expensive sofa you will surely say "No!" and shoo it away or clap loudly to give it a fright.
Whatever your method is to growl at your cat for bad behavior you can use it when it eats plants too. Your cat is smart and will learn not to eat your plants.
What Plants Are Good for Cats to Eat?
Lemongrass and cat grass are great plants for hungry cats. They are easy-to-source and most cats, even fussy eaters, seem quite fond of a nibble now and then.
Cat grass is any kind of grass considered safe for cats including barley grass, oat grass and wheat grass. It helps remove fur balls and eases upset stomachs.
Many pet stores stock cat grass. You can buy some so your cat has its own special grass. Of course it might just ignore the cat grass and head to the front lawn to get its grass fix. But if you have an indoor cat it will surely go for the cat grass from the store.
Cat grass is affordable and easy to find. You can even grow your own.
Here's how you do it:
Buy seeds and soil from a garden center or supermarket. Try a few different types if your kitty is a fussy eater.
Put the soil in a shallow container. Sow the seeds about quarter of an inch deep.
Water the soil as often as needed so it's kept moist.
Put the container is a place with natural light.
Keep it out of sight from your cat. It would be a terrible shame if it mistook the seed box for a new kitty litter box!
In 7 – 14 days you should see the first sign of growth.
From then you can put the plants in the sunlight if possible.
If you don't have sun or natural light available you can get fluorescent lighting as a substitute.
Make sure you turn off the lights for at least 8 hours a day. As much as light is essential for plant growth they also need darkness to grow.
You can also grow the cat grass in your garden if you have a good climate or in a glass house.
Once the cat grass has matured you can let your cat eat it. Cat grass grows easily and fast. You can trim the cat grass twice a month. This will help it grow faster. You will have an abundance of cat grass, much more than your cat could want to eat.
Mint, thyme and valerian are all fine for cats to eat and many seem to enjoy them. If you see your cat exploring with eating different plants you can offer it plants you know are safe. If it is satisfied with your offerings it should be less likely to roam around the neighborhood and end up trying a toxic plant.
So now you know some ferns are toxic to cats and can cause illness or even death. Most ferns and other home plants are fine for them to eat.
You should not have any toxic ferns in your house because there is a high chance your precious cat could eat some.