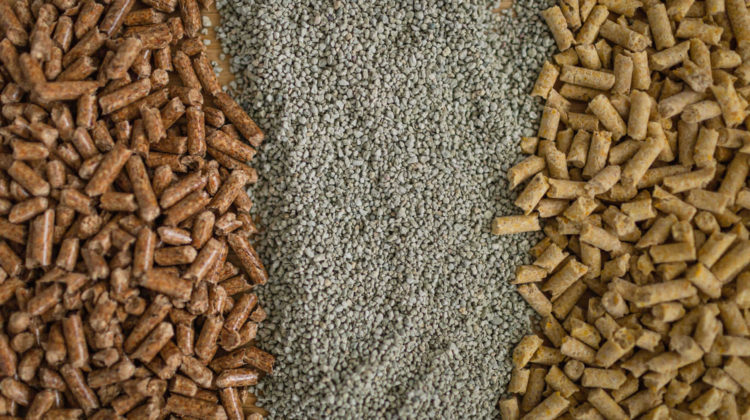 "What can I use instead of cat litter?" is not a common question among cat owners, but it should be!
Have you ever found yourself in the pet store staring at the sky-high prices of kitty litter? Buying commercial litter can really hurt your budget, and things get even more complicated if you have more than one furry friend.
Using other litter materials can also potentially prevent health issues for you and your feline, help you preserve the environment, live a more sustainable life, and save you money. Thankfully, there are several cat litter alternatives that cost less, are eco-friendly, and are easy to find. My favorite option is sand, but there are plenty of other options too.
To make your life easier, I included the top ten choices in this article. You cannot expect the same performance as store-bought litter from all ten substitutes, but most of them will do a great job. I have also included all the reasons why you should consider using another substance in place of your regular cat litter. So, let's get started!
Top 10 Cat Litter Alternatives
1. Sand
One of the most common questioned asked by pet parents is "can you use sand as cat litter?", and the answer is yes. Sand is the main litter spot for outdoor cats when nature calls and cats love doing their business in the sand. It is in their genes to use it when they need to go to the bathroom and so is a great alternative to regular cat litter.
If you forgot to go to the store and have enough sand in the garden, this can be your emergency cat litter. Sand is a material that creates clumps and is simple to clean. It is also budget-friendly and good for the environment. However, that doesn't mean that sand doesn't come without its drawbacks.
One of the main reasons that owners avoid using sand as cat litter is because it tends to retain the pungent urine smell. Thankfully, there is a solution to this problem – just add some baking soda to the mix, and you won't smell a thing.
If your cat has an open toilet and loves to dig, sand is also a messy option. You should expect to see sand all over the room. For this reason, sand is more suitable for closed litter boxes, such as hooded or top-entry designs. However, if you don't have one, you can always purchase a special mat that will gather all the sand that goes outside of the toilet.
2. Wastepaper
If you have old newspapers or any kind of paper at home, you can also use this as a substitute kitty litter. Paper is a more sustainable alternative than regular kitty litter, without a doubt as it is biodegradable. It's also inexpensive or free if you already have wastepaper lying around at home.
Besides, you can even purchase cat litters from pet stores that are made of paper, which shows just how good of a solution this is. Vets also usually recommend that owners use paper as litter for their recently declawed felines or those with injured paws as it's super soft on their paw pads.
To make DIY cat litter from paper is easy! Simply follow these steps:
Start by grabbing all the paper you want to get rid of.
Shred the paper and place it in warm water along with a few drops of dish soap.
Wait for the water to become grey and thicker, then discard the water.
Add clean water again, but this time without soap.
Wait a little longer, then discard the water again.
Add baking soda on top of the shredded paper and squeeze it to remove the extra water.
Let the paper air dry ready to start being used!
Unfortunately, paper cat litter doesn't form clumps like store-bought litter. Also, not all cats will accept it as it does have a very different texture in comparison to regular litter. However, these are the only real drawbacks, so if your feline takes to it, it's a fantastic option!
3. Wood Shavings
Wood shavings for cat litter is another genius idea. If you run out of cat litter or you want to find another alternative, check to see if you have wood boars that you don't need or if you know someone who works with wood. You can also find wood shavings at a garden center or a woodworking company.
Wood shavings are great at absorbing urine, and they also mask unpleasant odors thanks to their strong natural scent. Although they are not as durable as store-bought litter, these shavings are also biodegradable. Once your cat is done using them, you can just dump them in the garden. Another thing that you'll love is that these shavings don't get stuck on your feline's claws.
However, before deciding to use this substitute, make sure to know which wood types are acceptable and safe for cats.
4. Wood Pellets
Wood pellets are another biodegradable cat litter alternative that you can try out. The pellets that you need are made of 100% pine. You can find wood pellet cat litter in pet stores, wood pellet manufacturers, or stores where you can buy burning wood for your home stove. No matter where you purchase them from, you'll find that wood pellets are more affordable than commercial litter.
Pine is a non-clumping material that can make daily litter box scooping a little more or a chore.  However, if using wood pellets as litter, you'll notice that once your cat does its business the pellets turn into sawdust. Therefore, although wood pellets do not clump, the litter won't smell as the wood manages to mask the unpleasant odors.
5. Chicken Feed
Chicken feed also makes an excellent cat litter substitute when combined with equal parts baking soda and cedar shavings. When these three materials are mixed together, you get an excellent litter material. Besides, all these three ingredients are available for bulk purchases and so the cat litter won't cost a lot.
The only problem with this chicken feed mix is that it can attract rodents. If you decide to use it, make sure that you keep an eye on unwanted mice and rats. But, since you have a little furry hunter at home, you shouldn't have to worry too much. Also, some chicken feeds might have additives that are harmful to cats, so ensure that what you're buying is natural chicken feed.
6. Sawdust
Sawdust as cat litter is another great litter replacement, especially if you know a person that works with wood. They will most likely have a lot of sawdust left that they don't need that you can use for free! If not, you can talk to woodworkers and ask if they can sell you any sawdust they have. When you have a constant source of this material, it can turn out to be a cheap and valuable litter substitute.
One of the best things about this material is that it successfully covers the unpleasant urine odor from cats. Additionally, it's a sustainable option since the leftovers will be thrown into the garbage, and trees are a constant source of wood.
However, it shouldn't be considered as cat litter for cats with allergies as it can trigger allergic responses and promote asthma symptoms. Also, if you don't like it when the litter gets messy, you should stay away from sawdust. It tends to get very messy, especially if you're a proud owner of several cats.
7. Whole Wheat
You can also use whole wheat as a substitute and it's a much more eco-friendly option than commercial cat litter. By grinding the whole wheat, you get a wheat powder. When your cat does its business, this powder will clump but won't mask the smell. Therefore, this is is more of an emergency solution, unless you're happy with strong urine odors floating around your home!
8. Walnut Litter
Made of walnut shells, this litter is more environmentally friendly than the litter most people buy. You can find it in pet stores, and it comes in many variations. Although it's not homemade or free, it's still a great product to try. Walnut litter absorbs the smell and forms clumps. Manufacturers offer various granulations of the litter for you to choose which one works best. The finest granules are the ones that will clump the most and will be the easiest to clean.
9. Artificial Turf
Artificial turf is one of the most unexpected choices on this list. To use it as cat litter, all you need to do is cut the turf into smaller pieces and place it in the litter box. I like the idea of using turf as it looks good and is pretty simple to clean. You can buy it in so many places, even online. Plus, it is a durable material that you won't have to repurchase as often.
The main problem you can encounter when using artificial turf is that your cat might not like it. They don't find it as appealing as litter, sand, and other similar alternatives. Also, it can get quite messy because it doesn't form clumps and doesn't absorb urine.
10. Potting Soil
Cats are naturally attracted to potting soil, but it should be your last litter alternative. This is a very messy material that will most likely end up all over your house! Also, I recommend you avoid potting soil because it doesn't mask the smell, can bring germs in your home, and the cats can spread the germs everywhere. However, if you have potting soil in your garden, you can try using it as litter at home in an emergency.
Why Use a Cat Litter Substitute?
After you've read all about these alternatives, you may be left wondering why you would even need a litter substitute. If your kitty litter works well around the house, doesn't retain urine odor, and helps with overall hygiene, why would you want to change it? Well, here are several fundamental reasons that will convince you to make a change:
1. More Affordable Option
There is no doubt that store-bought kitty litter is expensive. Have you ever tried calculating how much you spend on litter every month or year? If not, you'll be shocked at the final numbers! This cost adds up even more if you have more than one cat and multiple litter boxes. So, many owners look for a more cost-effective solution.
2. Reduces Health Risks
Unfortunately, several types of commercial cat litter contain toxic chemicals. These chemicals can cause health issues for your cat, and some are even harmful to you. For example, sodium bentonite clay is an ingredient that can lead to digestive issues if your cat eats it, while silica dust is known to cause respiratory issues for felines. Both of these are common ingredients found in cat litter.
The artificial fragrances and dust found in most traditional cat litters can also trigger an allergic response. Your cat may suffer from wheezing, sneezing, and coughing. Other symptoms of allergies include watering and itchy eyes, a runny nose, and headaches. Cat litter can also cause skin irritation, such as feline acne or skin rashes.
As you can see, finding a cat litter substitute might be much more important than you think! By choosing a substitute, you can avoid these concerns and help to ensure your cat is happy and healthy. Besides, you may also be allergic to your cat's litter and not even realize it! Swapping to an alternative could be better for both of you.
3. Better for the Environment
Traditional cat litter isn't environmentally friendly. Most store-bought litters contain clay that is strip-mined. This process of mining destroys trees, forests, and the natural habitat of many different animal species. Many environmentally conscious people look at finding more eco-friendly alternatives that don't have such a dramatic impact on our planet.
Besides, mounds of cat litter end up in landfill sites every year and people are searching for biodegradable alternatives that doesn't clog up our planet. There is a type of shop-bought litter that claims it is flushable and biodegradable. However, this just causes another environmental issue as the clumps of litter will sometimes end up in water sources and easily contaminate them.
4. More Sustainable
If you're trying to live more sustainably, switching to a cat litter alternative is one step you can make in the right direction. Although some of the ingredients in commercial litter are from renewable sources, it's still not a sustainable option. However, using wastepaper or sawdust, or an all-natural material is.
The first step to a more sustainable life is getting rid of all the store-bought products that you can replace with another alternative. If this is your goal, you should go for the options that I listed above. They're all more affordable, easy to find, and will be a good substitute for the chemicals in commercial litter. The first few weeks can be a period of adaptation, but eventually, you won't even think about going back.
5. For Use in Emergency Situations
Even if you find the absolute best commercial litter that checks all the boxes, you can still sometimes end up not having enough at home. If you run out of cat litter and you cannot get to the pet store to buy a new pack, then using an alternative may currently be your only option! These are those situations when you need to experiment with several ideas and think of your feet.
Go over the different variations that I have listed to see which one works best for you and your cat's needs. Leaving a cat without litter in the litter box is not only frustrating for you, but it is also frustrating for your feline. They most likely will refuse to use their litter box altogether and you could end up with bathroom accidents elsewhere around your home, which no owner wants!
It is always good to have a backup just in case this happens. So, check if you have newspaper at home or sand in the garden that you could use in an emergency until you get a chance to buy commercial litter. Who knows, you might even like these alternative products more than the store-bought cat litter you usually use.
FINAL THOUGHTS
Next time you are wondering "What can I use instead of cat litter?", you will know all the best possible substitutes. The most common replacements include sand, sawdust, paper, wood shavings, wood pellets, chicken feed, whole wheat, artificial turf, walnut litter, and potting soil. All of these have their pros and cons, so see which works best for you!
After reading all about these substitutes, is there at least one that you think will work for you and your furry friend? Cat litter alternatives are most affordable, sustainable, and eco-friendly, so why not give one a try today?