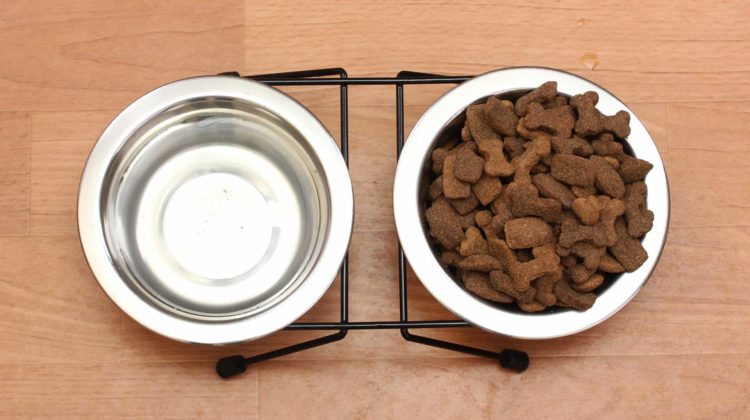 Raised cat food bowls are becoming an increasingly popular option. But is there any real benefit of using raised bowls? Should I elevate my cat's water bowl and food bowl?
When we look at the facts, the answer is clear – yes!
Sure, some cat owners probably just prefer the look of elevated bowls, but vets are now recommended switching to elevated cat food bowls to help prevent indigestion, vomiting, and strain in your cat's back and neck.
If you think about it, it's obvious. Imagine we had to eat from the floor on all fours… uncomfortable, right? We wouldn't be able to enjoy our food as much if our stomachs were bent over and our necks were aching, and it's no different for your cat! Although cats are four-legged animals, eating from a raised bowl is still considerably more comfortable and enjoyable.
In this article, I will run through in detail all the benefits of raised cat feeders and why you should consider swapping to an elevated cat feeding station.
What Are the Benefits of Raised Cat Food Bowls?
There are several reasons why using elevated cat food and water dishes are better for your cat. These include improving your cat's posture when they eat to reduce neck strain, reducing the likelihood of indigestion and vomiting, and preventing food from getting contaminated.
As an owner, there are also some benefits for you! It can mean your cat's feeding station is kept clean and tidy, saving you having to bend down frequently to clean up after your cat. Plus, for older cat owners or people with disabilities, having a raised cat feeding station can make it easier for them to pick up the bowl when replenishing food.
Let's take a closer look at all these benefits in more detail.
1. Improves Posture
The most obvious advantage of using an elevated cat food bowl is that it improves your cat's posture. Traditionally, both food and water bowls are placed on the floor. When your cat wants to eat or drink, they will then need to flex their front legs and stretch their necks down towards their bowls.
This causes their spine to curve, which over time can result in poor posture. Think of how poor our posture can get if we are hunched over a desk all day! Additionally, your cat's spine can also start to ache, especially in the lower lumbar region and their neck, similar to how our necks and lower backs hurt after sitting staring at a computer screen for hours on end.
While this unnatural position is uncomfortable for all cats, the older your cat, the more uncomfortable it will be. This is because senior cats are more likely to have underlying joint problems such as arthritis which will flare up when put under additional strain. Obese cats will also struggle more when eating from ground level as the added weight of their bodies can put further pressure on their joints.
By switching to an elevated cat feeder, you can significantly improve your cat's posture. This will make feeding time more comfortable and enjoyable for them, as well as helping to prevent any spinal problems from arising in the future.
2. Reduces Indigestion
Many cats also suffer from indigestion, and nine times out of ten this is down to the positioning of their food bowl. Indigestion in humans is where you experience discomfort in your stomach, which is usually described as an aching or a burning sensation. While cats cannot communicate how indigestion feels to them, vets make the assumption it feels the same.
On top of this internal pain, there are often physical symptoms that also indicate your cat is suffering from indigestion. The most two common symptoms are bloating and nausea, but you could also notice a decrease in appetite or your cat could start eating more rapidly.
The height of your cat's food bowls can trigger indigestion as when eating from floor height your cat's stomach is more compressed. This means they can get full much more quickly which can give them indigestion. They are also more likely to swallow air while eating from dishes positioned low to the ground, which can make them bloat.
Likewise, cats may also eat more rapidly from bowls at ground level as the position is causing them pain in the neck and back as mentioned above. By eating more quickly, they can get out of that uncomfortable crouched position! However, doing so can also trigger indigestion.
By raising your cat's food bowls, the chances of indigestion are also reduced. This will, in turn, encourage your cat to enjoy food time as well as making their lives more comfortable.
3. Reduces Vomiting
Vomiting is also more common in cats that have food dishes at floor level. This is all because when cats eat or drink from their bowls placed on the floor, their mouth is positioned lower than their stomach, and they are actually working against gravity when trying to swallow their food or water.
Because of this, your cat will be more likely to regurgitate their food. This is inconvenient for you as an owner as you will frequently be cleaning up after your cat, and is also a cause for concern. When vomiting up their dinner, your cat won't be getting the valuable nutrients that they need from their meal, which can make them unhappy and unhealthy.
In addition to vomiting, choking is also more likely if your cat is eating from a bowl at floor level. This is extremely dangerous for cats, especially if you aren't home when it happened, and could have dire consequences.
By switching to a raised cat food bowl, you reduce vomiting and choking, as well as the likelihood of your cat developing digestive disorders. In fact, if your cat has digestive problems, try using an elevated cat food bowl and seeing if the issues improve.
4. Encourages Healthy Eating
Elevating your cat's food and water bowls can also encourage them to eat and drink a healthy amount.
As cats are notoriously fussy creatures, many will not eat from a food bowl at ground level because the pain and discomfort it causes them – such as a stiff neck, back pain, indigestion, and bloating – puts them off. They would rather not eat and drink than be in discomfort! Therefore, many cats will under-eat or not consume enough water if eating or drinking from ground level.
Because raised cat feeders help to alleviate these issues by cutting the cause, your cat will then stop associating eating and drinking with pain. This will encourage them to eat and drink until they are full, rather than until they can't take the discomfort anymore.
Having your cat consume the correct nutrients is central to their overall wellbeing. They need these nutrients so that they can be delivered to their body to help them grow, provide them with energy, and give them the strength to fight off any infection. By elevating your cat's bowls, you're also elevating their wellness through promoting healthy eating.
5. Prevents Food Contamination
Another important yet often overlooked benefit of elevated cat dishes is that it keeps their food away from the dust and dirt found on the ground. This is true even if you have a spotless home, as all dust and dirt will eventually settle on the floor. The closer your cat's bowls are to the ground, the more likely these foreign bodies will get into your cat's food and water.
Aside from being pretty gross, food contamination can also be dangerous for your cat. If they end up eating bad germs or bacteria, it can make them sick. They may also be put off eating or drinking if they spy that there are contaminants in their bowls, which can mean they are not consuming enough food or water to be healthy.
Switching to an elevated cat food bowl can help to prevent food contamination as it is further from the ground where the dirt, dust, and other contaminants lie. However, using a raised food bowl does not replace the need to wash it after every use, especially if you feed your cat wet food.
In fact, one study found that pet bowls are among the dirtiest items in our homes, only to be beaten by kitchen sponges, the kitchen sink, and toothbrush holders! Considering our cats eat and drink out of these bowls every day, it is essential to stick to good hygiene measures, but having an elevated cat feeder can help.
6. Minimizes Mess
When it comes to the advantages of using raised cat feeders, you as the owners will also reap some benefits. All owners of cats who are messy eaters will be pleased to hear that elevated cat food and water bowls can reduce the amount of mess made!
If your cat's bowls are raised, it becomes a challenge for your cat to put their paws into their bowl and play with their food or water. This means there will be less water splashed and less food scattered around your cat's feeding area.
As well as being harder to dip their paws into, raised cat bowls are also more difficult to tip over entirely. This is again because the height makes it harder for your cat to apply pressure to the edge, causing the bowls to tip over. Ceramic bowls are also great if you're concerned about mess as the weight also makes moving and tipping the bowls more of a challenge.
Lastly, if you buy an elevated cat feeding station – that is two bowls on one raised platform – any food that does go astray will be caught on here. You can then simply pick up the entire feeding station and tip these spilled bits of kibble into the bin, rather than crouching down with a dustpan and brush on your kitchen floor.
Less mess is undoubtedly hugely beneficial for cat owners. You will have an easier time cleaning up and will have to spend less time doing it. This means you'll have minutes back into your day to spend snuggling up with your pet.
7. Helps Elderly Owners
Lastly, using an elevated cat food bowl and water bowl can help when it comes to replenishing food as they are much easier to pick up off the floor. For one, the shape of the bowl means there is more surface for you to grab, which makes lifting easier. Also, as the bowls are raised it is easier for you to bend down and pick them up.
This may not be a huge problem for many owners, but elderly or disabled people who struggle to bend down low will hugely appreciate this advantage. As you need to top up and replenish your cat's food and water multiple times per day, making this task easier for people who struggle is a massive bonus.
Elevated cat feeding stations are also best for elderly or disable people, as they help contain more mess. If your cat does spill food or water from their bowls, the stand holding the bowls will catch it. You can then pick up the feeding station and easily clean it standing up, rather than having to get on all fours to clean up the mess, which could be painful or near-impossible for some elderly or disabled cat owners.
How Should I Choose the Best Elevated Cat Feeder?
It is clear that having raised cat dishes come with a huge range of benefits that aid cat and owner alike. Therefore, yes – you should ideally look at elevating your cat's feeling station. However, choosing the best elevated cat bowls for you and your cat does require some thought.
Cats are all different, as well as being notoriously fussy when it comes to eating and drinking! Therefore, while a certain raised feeder may be perfect for one cat, it may not be ideal for your little furball. Here are some things you should consider when deciding which elevated cat food bowls you should buy.
Age of Your Cat
The age of your cat is an important consideration when choosing the perfect food bowl for them. As a general rule, old cats will benefit the most from a raised cat feeder as they are more prone to joint and mobility problems. In fact, if you have a senior cat I would not hesitate to switch to a raised bowl which can dramatically improve their quality of life.
Kittens can also use elevated food bowls, but bear in mind that they are only small and could struggle to reach their food! Kittens typically need smaller and shallower dishes, so it may be best to wait until they are older to get a raised cat feeder.
Size of Your Cat
Kittens not comfortably reaching their new raised food bowls is just an extreme example, but no matter how old your cat, their food and water dishes should be tailored to their height. But, what is the correct height for cat bowls?
The majority of elevated cat bowls are 4" to 6" high, which will be just right for most cats. However, the optimum height is a bowl that is just below the bend in your cat's front legs. Many owners assume this is too low, but cats are natural crouch eaters and prefer not eating in a complete standing position. Finding the correct height for cat bowls is half the key to success.
Breed of Your Cat
The breed of your cat will also determine what type of elevated cat bowl they are best suited to. This is because the type of breed your cat is will determine what face structure they have.
For example, Persian cats have flatter faces than most other breeds and often struggle with eating and drinking. For these cats, you're best getting a shallow and wide elevated cat feeder that has plenty of room to accommodate for their faces. Besides, tilted cat food bowls can help make eating and drinking easier.
Elevated Cat Bowls vs. Elevated Cat Feeders?
The phrases "elevated cat bowls" and "elevated cat feeders" or "feeding stations" are often used interchangeably, but they are actually two different things.
Elevated cat bowls are like regular singular cat bowls… only taller! These bowls will consist of a tilted bowl sat atop some type of stand. Some of the bowls will be able to detach from the stand for easy cleaning, whereas for others the stand will simply be an elongation of its base.
On the other hand, cat feeders consist of two bowls that clip into an elevated stand. These are great if you have more than one cat! Also, these are easier to pick up off the floor as you can easily grip the stand rather than fumbling with the smooth surface of the bowl.
However, if you are looking to raise your cat's food and water bowls, I would suggest opting for two separate elevated cat bowls. Cats instinctively avoid standing water that is close to their food, as in the wild this could be a source of bacteria and contamination. Therefore, you're best off placing your cat's food and water bowls separately around your home.
Can I Make a DIY Cat Feeding Station?
Absolutely! If you already have some cute cat bowls that you don't quite have the heart to throw away, you can simply elevate these. This will offer the same benefits a buying an elevated cat feeder. In fact, because you have complete control over the height of the bowls, DIY cat feeding stations are arguably better as they are tailored specifically to your cat.
They are also super easy to make! All you need apart from your cat bowls is an old chopping board, and a few bits which you can pick up from your local DIY store: a round dowel rod, a tape measure, four screws, an electric drill, sandpaper, and a saw. Once you've got all your equipment and materials ready, simply follow these steps:
Start by sanding all surfaces of the chopping board to make sure there are no sharp pieces of wood or splinters sticking out.
Put your dishes where you want them to be on the chopping board and draw around them using a pencil. Remember to leave a bit of space between the two dishes and only an inch or so around the edge.
Punch a hole in the circles you have just drawn using the drill. Then, use your saw to cut the circles out from the chopping board and sand down the edges.
Put the bowls into the holes so that they cradle them and determine where the base of the bowl is, then work out how long you need to cut the legs for the feeder. For example, if the bowl stuck out 0.5" below the chopping board and you wanted to bowls to be raised 5" off the floor, then the legs for your feeder would need to be 5.5".
Measure and cut the legs from the round dowel rod and use screws to attach the legs to the base of the chopping board.
And there you have it! I would also recommend placing some gripping pads on the base of the feet. This will make it difficult for your cat to move the feeder around the room as they eat and also is great when it comes to protecting your floor. Also, chopping boards with a ridge around the edge are the best option as this groove can catch any stray cat food!
It is also worth pointing out that this will only work for bowls that are slightly wider at the top than at the base. Otherwise, the entire bowl will just fall through the hole when you place it in the feeder.
CONCLUSION
So, to answer your question, yes! Elevated cat water bowls and food bowls are a great idea. They can help reduce the likelihood of indigestion, vomiting, and choking, as well as improving your cat's posture. Older cats are the ones to benefit the most as they have weaker joints which can be put under strain when drinking from regular cat bowls.
Besides, the reduction in mess is a bonus for you. Though of course, the fact that your cat will be happier, healthier, and more contented is also a huge relief for you also!