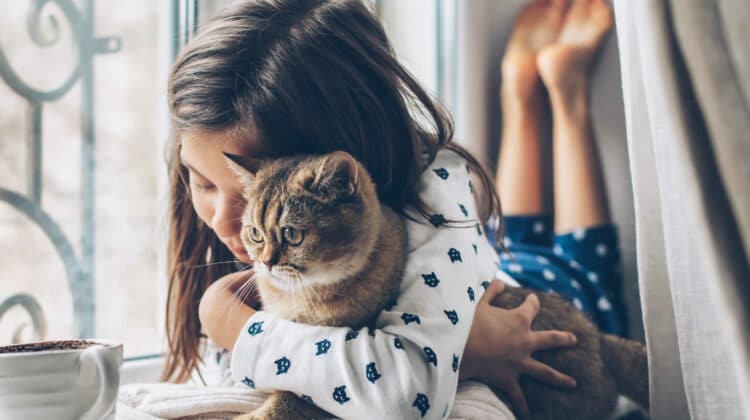 My cat died last week and I can't stop crying about it.
Many people think the loss of a pet isn't anything major, but the emotional impact of losing an animal can be huge. I loved my cat tremendously and she was with me for 13 years. Now, my life feels empty.
As you're on this page, I'm sure you're dealing with something similar. Perhaps you lost your dog, guinea pig, or hamster. Whatever pet has passed away leaves a hole in our lives. And the feelings of sadness and grief are perhaps worse if you have chosen to have your pet put down.
However, crying is a natural part of the grieving process. We need to allow ourselves the mourn the loss of our pets so that we can move on. I discuss this and all the other emotions of losing a pet that you might experience. Although you might never get over your loss, you can and will be happy again.
Why Does My Pet Dying Hurt So Much?
Anyone that has never had a pet of their own struggles to understand the emotional ties we have to our pets. My cat was with me every day and became a true member of the family. I'm sure the bond you had with your pet was just as strong. Pets are more than just animals – they're our best companions.
For one, they make our lives brighter. Cats do have a sense of humor and my cat brought me joy every day. Even little things like watching my cat make biscuits on me or when she sleeps between my legs made me smile. I'm sure your cat or other pet brought you plenty of joy too, sometimes without even meaning to.
They're also there for us on our darkest days. Whenever I am feeling low, my cat follows me everywhere and sleeps with me. My cat sits next to me when I'm feeling lonely too, and sleeps on my chest to show that she cares. Cats know when you're sick as well, and mine provided me with comfort whenever I needed it.
Moreover, they give us a sense of meaning and responsibility for another living being. We have to look after our animals and have a purpose. For anyone that relies on their cat or dog for emotional support or has a service animal, the bond is even stronger as this responsibility to care and support goes both ways.
When a pet dies, it's understandable to be extremely upset. Depending on how close you were with your pet, the loss is similar to losing a friend or relative. Although not human, you have lost a companion. I miss even the tiny things, like that my cat isn't there to lick me when I pet him nor to sleep with me at night. And I can't stop crying about it!
The important thing to remember is that we are not alone. Whatever you are feeling is valid and fair. Everyone handles grief differently and it is normal to be sad for the days, weeks, or months after a pet passes away. Sometimes this can feel overwhelming, but you can and will be okay again.
The Grieving Process After Losing a Pet
Everyone grieves slightly differently and goes through the process at their own pace. And importantly, there is no right or wrong way to mourn the loss of an animal. We each have our own way of dealing with loss and have to allow ourselves to feel whatever emotions come up.
However, the grieving process does tend to follow a similar pathway and can generally be split into five stages. People often cycle through these stages and will move forward and backward. The stages might also appear in a different order. Others might not go through the cycle at all! Like I said, grief is different for everyone. But here is a look at the most "common" grieving process.
1. Denial
When we initially lose our pet, most people will enter a state of denial. This is a coping mechanism that most of our brains use to make the pain less severe. We pretend that the reality of losing a pet isn't true and refuse the accept the truth. Because of the new and upsetting reality we have to adhere to, we deny the situation rather than process through the pain.
2. Anger
Many people will then develop feelings of anger. We aren't necessarily angry about anything in particular but are instead using anger as an outlet for our overwhelming emotions. It is easier to be angry than it is to be sad as we aren't as vulnerable. You might also feel angry at yourself, especially if your pet died for a reason within your control.
3. Depression
Next comes overwhelming feelings of sadness and depression. My pet died and I can't stop crying, so it is safe to say I am in this stage. You might also feel hopeless, helpless, and isolated. For many, the stage of depression lasts the longest. You might also cycle from depression back to anger or onto the next stage: bargaining.
4. Bargaining
Bargaining is the stage in which you feel guilt. My cat died of heart disease and I went through a while of blaming myself for not getting her to the vet sooner. You might beat yourself up for letting medical conditions go unchecked or letting your cat outside at night and getting injured. When in this stage, you'll ask yourself things like "What if I had done more?"
5. Acceptance
Having gone through the previous four stages you'll finally reach a point of acceptance. This does not mean you're happy that your pet has passed away or have forgotten about them. Instead, it means that you have finally accepted that they have died and are prepared to move on with your life without them being beside you.
What To Do if My Pet Died and I Can't Stop Crying?
Your pet has passed away and you can't stop crying. Now what? Life feels pointless and you can't carry out simple tasks without getting upset. So, what should we do? Below are some tips you can try that will help you work your way through the grieving process.
1. Let Yourself Cry
If your pet died and you can't stop crying, you probably want to bury these feelings and try to convince yourself to be happy again. You want to be able to turn off the tears. You want everything to be okay in your life again. However, if you are devastated by the loss of your pet, you need to feel these negative emotions and let yourself cry.
Don't feel ashamed to be upset or try and hide it. We cannot and should not switch our emotions off. As just mentioned, being upset is part of the natural grieving process. Without processing the emotions and allowing ourselves to feel sad, we might never truly reach the stage of acceptance. Burying your struggles will only lengthen your mourning process.
2. Confide in Friends
Losing a pet can feel extremely isolating. I know I'm struggling massively with this. I spent quality time with my cat every day that now feels empty. Cats purr when you pet them, so my home also feels quiet and lonely. Plus, no one seems to really understand exactly how I am feeling.
I found confiding in friends that have pets to be extremely helpful. It's also useful to find friends that have the same pets as you. Many of my friends have dogs and didn't understand the emotional attachment I had with my cat. But fellow cat lovers understood exactly the struggles I am going through. Even just voicing how you are feeling can be a weight off your shoulders.
3. Write Your Feelings Down
If you don't have anyone to speak to or prefer not to talk about how you're feeling, try writing your thoughts and feelings down. I personally like journaling each morning. I can unload all my negative thoughts at the beginning of each day. Getting them down on paper acts as an outlet and lets you acknowledge how you're feeling.
Another idea I came across online is to write letters to your late pet. This could be anything from how you spent your day to things that you wish you could explain to your pet if they were still alive. Keep these letters somewhere special to you.
4. Say Goodbye Properly
There is no reason why funerals have to just be for people. Although not a pleasant experience, putting your beloved pet officially to rest can help you come to terms with the loss. From here you can then begin to overcome it and move on with your life.
If you don't want to arrange a burial with loved ones, you could just write a poem or eulogy for your pet and say this out loud. This can be your version of putting them to rest. It still achieves the same thing – it makes you acknowledge the reality that your pet has gone and find peace with it. You can start celebrating their life, rather than mourning their loss.
5. Keep Active
It can be difficult to think of anything else but your pet following their death. However, you must push through and continue to do things for yourself, even if life seems pointless. One of the best things you can do is exercise. Keeping active will boost your endorphins in the brain and make you feel happier than you did before.
Keeping active will also help ensure you stay healthy. When grieving, it can be easy to let things like healthy eating, exercising, and good hygiene becomes an afterthought. Yet we need to be strong and healthy to mentally overcome the loss we are facing.
6. Find Another Source of Meaning
I certainly feel like I have lost my purpose now that my cat has died. İ used to get up early every morning to feed her, spend time playing with her every day, and give her plenty of love and affection. I had to show up for her! But now, my life lacks meaning and purpose.
If you're feeling the same, you need to find another source of meaning. And this doesn't necessarily mean rushing to get another pet. In fact, I would advise against doing this too quickly as you'll never fully process the loss. Life can have meaning in all kinds of ways! You could perhaps join a volunteer group or start a new hobby that you have been putting on hold. Do something for yourself.
7. Seek Professional Help
If you still cannot stop crying and feel like your grief is becoming unhealthy, don't be scared to seek professional help. However, as everyone processes grief in different stages and timeframes, it can be hard to know when the right time to seek help is. I recommend reaching out to a professional if any of the following apply:
Complete Loss of Energy: It is relatively normal to spend a few days upset and in bed after a pet dies. But if you are still struggling to get out of bed and carry out normal day-to-day activities after a week or so has passed, you should consider seeking help. You don't want the loss of a pet to have negative impacts on other areas of your life.
Weight Loss: When we are upset, stressed, and anxious, it is common to lose our appetite. Even just the thought of eating something can make you feel nauseous! These feelings might last for a few days or a week. However, if your lack of appetite starts to lead to weight loss then things are going too far.
Depressed Thoughts: Bargaining and blaming yourself for the loss of your pet is normal. Yet extremely damaging negative thoughts and hatred towards yourself is a sign your mental health is taking a turn for the worse. Thoughts about self-harm and that life isn't worth living also need to be taken very seriously.
Although it might feel like all is lost, it is never too late to seek help. In fact, admitting you need help is often the hardest step. Don't be embarrassed or ashamed and never give up.
When Should I Get a New Pet After One Dies?
Many people rush off to get a new pet when one does. They want to fill the space in their life with a new animal. That way, they won't feel so lonely. On the other hand, some people go the opposite way. They don't feel like they'll ever be able to share their life with another pet. They feel like no animal will ever be able to fill the void.
There is no "perfect" time to get a new pet. This is down to you and your current state of mind. What I will say though is this: avoid rushing and getting a new pet immediately. You need time to process the grief of your late pet. Otherwise, you might be upset because your new pet doesn't live up to your expectations, and you might never fully process the loss of the previous animal.
Instead, wait until you have found some kind of peace with the loss. You need to be able to look forward and get excited about building a new relationship with a new pet. For some people, this could be a few days or weeks. For others, it could take several months to be in the right state of mind.
If and when you do decide you're ready for another pet, here are some tips on doing it right:
Don't make any rash decisions and allow yourself to think about whether or not this is the right step to make. Make sure this is your decision and don't allow the opinions of friends and family to alter what you think is best. Only you know how you're feeling.
Don't get a new pet as a replacement for your old one. This will only lead to feelings of disappointment as your new pet won't be the same as your previous one and will fail to live up to your expectations. Instead, try to get a pet that is opposite to your old pet and that you can build a completely new relationship with.
Do make sure all family members are ready for a new pet to join the family. If people, especially children, are still processing the loss of the previous pet, getting a new one can be damaging. Everyone needs to be ready.
MY FINAL THOUGHTS
Losing a pet is an extremely painful experience and there is no wrong or right way to feel. It might take a few days, weeks, months, or even years until you have fully accepted the loss of your pet. If you can't stop crying, that's okay! Allow yourself to grieve and remember that you are not alone.
Remember that although your pet has gone, nothing and nobody can take away the memories you have together. And eventually, you will be able to look back on these times with a smile.