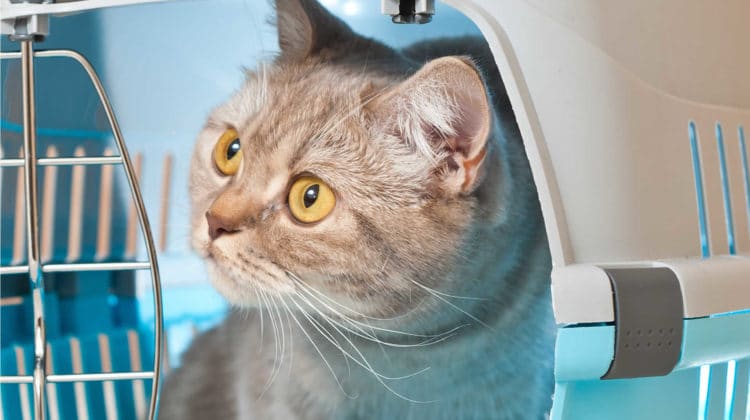 A cat carrier is a necessary piece of kit for any cat owner. Even if you don't plan on traveling long distances with your pet, you may still need to take your cat to the vet for regular check-ups or if they become ill, to a temporary shelter while you're on vacation, or to visit other furry friends.
Unfortunately, cats generally hate cat carriers, and getting your cat safely into one can be a nightmare. I have two cats who all flee at the sight of their cat carrier, and so I have spent hours poring over different cat carrier reviews and trying to find the perfect product to make travel easier. My results? Top opening cat carriers are the answer!
I love cat carriers with a top opening as you can easily scoop your cat inside, so if they are anxious, timid, or aggressive when it comes to traveling, a top entry cat carrier could help fix your problems. They are also ideal for medical appointments as your vet can examine your cat from above without needing to remove your cat, they are affordable, and there's a whole host of products to choose from.
To help you find the best cat carrier with top openings, here are reviews of some of my favorite tried and tested products. Traveling with your cat doesn't need to be difficult, and with these carriers, it won't be.
My Top Pick
The best top loading cat carrier has to be the Petmate Two Door Top Load Cat Carrier.
This cat carrier has both a top door for easy loading and a front door to make our lives easier when traveling with nervous and anxious pets. It is also extremely durable and has plenty of ventilation so your furry friend can travel in comfort.
Alongside this great product, there are some other top contenders for anyone looking for a top opening cat carrier for their pet which I have reviewed further down this article.
Best Cat Carriers with Top Opening
Cat carriers come in such a huge range of shapes, sizes, materials, and designs that it can be overwhelming when first looking for a product that works. So, what exactly constitutes a great top loading cat carrier?
There are a few things you should consider before making a purchase and the below factors are what I was looking for in the ideal cat carrier.
Security: It goes without saying that top opening cat carriers have to be safe and secure. So, I looked out for products that had secure locking mechanisms and anti-escape zips, so that I have no worries about my furry friend escaping as I travel.
Size: Finding the fine balance between a cat carrier that is large enough for your cat to move around comfortably, yet small enough that they feel enclosed and cozy is difficult. Therefore, I looked out for a cat carrier that comes in a range of sizes to suit all different breeds.
Material: Cat carriers must be durable, especially if traveling on a long journey, by airplane, or if your cat gets aggressive when traveling. You can get both hard and soft top entry cat carriers depending on your needs.
Easy Cleaning: The easier your cat carrier is to clean, the better. It means you won't have to waste as much time cleaning it after use, the lifespan of the carrier will be increased, and you can be sure your cat doesn't pick up any nasty infections following trips to the vet.
Comfort: Cat carriers also need to be well ventilated so that your cat will be comfortable and can breathe in the fresh air. Besides, this means they won't overheat on the journey. Padding, cushions, or fleece lining also helps make a comfortable environment for your cat.
Of course, there are more personal aspects to also consider, such as the aesthetic design and color of the carrier and the price range suitable for your budget. Therefore, the reviews of the best cat carrier with top openings cover a range of different products so that you can find exactly what you're looking for with ease.
The top loading cat carrier that I swear by is the Petmate Two Door Top Load Cat Carrier.
This carrier has a unique top-loading door which makes placing and removing your cat from the carrier easy. The door is both secure and extremely easy to operate, with an easy-squeeze door latch and an ergonomic handle that means the door can open and close using only one hand. Plus, there is also a side door which is great for training your cat to use their carrier.
Both doors are made from grated steel and designed to stand the test of time, as is the body of the carrier which is made from strong and durable plastic. This is safe for cats while being easy to wipe clean and secure enough to safely transport your pet from A to B.
Unfortunately, the hard plastic design does make this cat carrier a little uncomfortable for cats, especially if they are traveling on a long journey. However, I overcome this by adding a cushion or blanket to the bottom of the carrier.
On the plus side, this carrier has plenty of ventilation to help your cat relax and de-stress, and you will not run the risk of your cat overheating. This is also a top loading cat carrier large enough for almost all cat breeds, measuring 24 inches by 15 inches.
Pros
Top and side openings for convenient loading
Unique doors that can be operated single-handedly
Made from durable and easy to clean plastic
Extremely well ventilated
Secure and durable grated steel doors
Large enough to fit most breeds, measuring 24″ by 15″
Cons
Requires a blanket or cushion for added comfort
Another great cat carrier is the Richell Double Door Pet Carrier for Cats.
This is another design that has both top loading and a side entry door, but it is the mechanism behind the doors which is what makes this carrier fantastic. The doors can open in either direction, so no matter what hand you have free, you can open the cat carrier with ease. The top entry door is also clear, which makes it easier to place your pet inside and to check on them as you travel.
The front door is also fantastic as it can be removed completely. This means you can use the cat carrier as a cat caddy when you're not traveling, which is great for training your cat to warm towards their carrier and not flee in fear. Plus, removing your cat from the carrier couldn't be any easier.
As a hard carrier made from durable plastic, it is also easy to clean, especially with the double door design allowing all corners to be reached. You will also find ventilation on all sides of this top loading cat carrier so your cat can travel in comfort.
What's more, this product is available in a range of different sizes and colors. No matter what your preference, there will be something to suit! The only downside of this product is that the size labels can be misleading, so I would recommend checking the measurements and opting for a medium cat carrier if you would usually go for a small one.
Pros
Top entry and side loading doors
Can double up as a cat caddy by removing the side door
Clear top door for easy loading
Available in a range of colors and sizes
Easy to use doors that open in both directions
Well ventilated on all sides
Cons
Size labels can be misleading
If you are after a top loading soft cat carrier, you must try out the Petisfam Top Load Pet Carrier. This is also ideal if you have two cats as, thanks to the generous size of this cat carrier, you can comfortably fit two cats in side-by-side or one large breed such as a Maine Coon.
The top entry design means that you can easily place your cat into the carrier from above, and the majority of vet check-ups can also be done without needing to remove your cat. You can also conveniently unzip the front of the carrier for added convenience.
As this is a soft cat carrier, it is also extremely lightweight and is great for owners with smaller homes as it is completely collapsible. That being said, the durability has not been sacrificed, and this product is sturdy and secure to transport your pets safely. The zips are also all anti-escape and a security leash is included for added security.
You will also love that this cat carrier is easy to clean. The inside is fleece-lined which is removable and can go in the washing machine, all while adding comfort for your cat. Also, the ventilated mesh panels allow your cat to see out and take a fresh breath of air, further promoting stress-free travel.
Pros
Top and front entry design
Anti-escape zippers and security leash included
Collapsable and folds flat within 10 seconds
Lightweight yet durable
Fleece-lined and padded for added comfort
Removable lining for easy cleaning
Suitable for up to two cats at once
Cons
Soft cat carrier so not ideal for aggressive or anxious cats
If you need a top opening carrier large enough for big breeds, the Petseek Extra Large Cat Carrier is ideal. Measuring 24 inches by 16.5 inches, this will comfortably fit even the biggest breeds weighing up to 55 pounds, allowing them to travel with space and ease.
Aside from the size, this top opening cat carrier is sturdy and durable despite being a soft design. There is a steel frame on the inside providing strong support. Plus, the high-quality Oxford fabric is resistant to everyday wear and tear and wipes clean easily, helping to prolong its lifespan. Nylon mesh also provides 360-degree ventilation while also being resistant to tearing.
This carrier also has three entry points, one at the top, and one at each end. While making for easy loading, this also means that the carrier can fold flat when not in use. This is also thanks to the steel framework being expertly engineered to fold down when required.
For anyone worried about their cat being unsafe on their travels, this cat carrier will leave you at ease. There are three zipper locks to secure all three entrances, plus a clip inside to fasten to your cat's collar. If traveling by car, seatbelt loops also provide extra security.
Pros
Extra large and ideal for big breeds
Can support cats weighing up to 55 pounds
Three secure entry points
Zipper locks, inside clip, and seatbelt loops for security
Foldable steel frame for strength and stability
High quality and tear-resistant fabric
Machine washable fleece lining
Cons
More expensive than other products
Are you looking for a cat carrier to take your cat on hikes and outdoor adventures with you rather than just a trip to the vets? Look no further than the Lollimeow Pet Carrier Backpack.
This cat carrier is completely hands-free, functioning as a backpack. This is fabulous for walking and outdoor activities, while also being extremely convenient and comfortable to use. There are even pouches on the side ideal for a bottle of water or a can of cat food. As it is a backpack design, this carrier isn't suited towards large breeds but is perfect for smaller felines.
Your cat will also love traveling in this top loading cat carrier as the top door also functions as an opening window, allowing your cat to see out on your adventures. It also means you can pet your cat on the go if they feel a little nervous. You don't need to worry that they will escape either, as the inside leash attachment keeps them safely inside when using this feature.
If you don't want to use the window feature then do not worry. Your cat will still have plenty of fresh air and great visibility thanks to the breathable mesh design. The mesh is also a superior material, resistant to cat scratches, general wear and tear, and ideal for long-term use.
Pros
Available in three different color designs
Three-sided mesh for visibility and ventilation
A hands-free cat carrier, making carrying simple
Top entrance doubles as an opening window
Scratch-resistant and durable material
Side pouches for water or cat treats!
Cons
Not suitable for large breeds
Will you be traveling by plane with your cat? If so, choosing an airline-approved cat carrier is essential, and it doesn't get much better than the Maskeyon TSA Top Loading Pet Carrier.
Firstly, while conveniently being a top loading cat carrier, this product also has an optional front entrance too, which is great for training, and two extra-large side entrances. These large openings are great for big breeds, and the large carrier can hold cats that weigh up to 20 pounds.
What's more, all four sides of the carrier expand out by unzipping the anti-escape zippers. This will give your cat plenty of room on the go, helping to reduce anxiety, while folding up to an airline-approved size for easy and convenient travel. Safely attach your cat using the leash and clip and leave the top entrance open too so that your cat can poke its head out as you move.
I also love that this carrier is completely collapsible, making storage straightforward, while still being durable and sturdy thanks to the stainless steel frame. Your cat will breathe easy too as the bag is fully ventilated with mesh panels. There are even external mesh pockets for you to store food, treats, vet paperwork, or anything else you may need!
The carrier is also well-padded. Internally there is a bottom cushion and two side cushions so your cat can travel in comfort. These pads are also removable for easy cleaning. On the base, there are non-slip pads too to stop the carrier from sliding out from under your feet when flying.
Pros
Approved by most airlines
Three internal cushions and expandable sides for ultimate comfort
Can hold cats weighing up to 20 pounds
Collapsible for easy storage
Sturdy and durable with steel frame
Well-ventilated
Additional pockets for handy storage
Cons
Mor expensive than other products
Another of the best cat carriers with top openings is the Oakcat Pet Carrier Bed for Cats. I really love the style of this carrier and it had to make this list as it is different from most other pet carriers out there.
As far as top opening cat carriers go, this one reigns supreme on its top loading function. Rather than having a small door on the top which opens, the entire top of the cat carrier zips open. This is fantastic and makes it even more straightforward when trying to load nervous cats who hate carriers inside.
This product is also made from an environmentally-friendly polyester material that is thick and long-lasting, and the zippers are large and less prone to breakage than more flimsy zippers you may find on other products.
As far as convenience goes, you also have three ways to hold this carrier – as a carry bag, using the shoulder strap, or mounting it onto your suitcase. The straps are also wide which makes carrying your cat around more comfortable. What's more, when you arrive at your destination, you can simply fold the carrier down. When fully collapsed, it measures only 5.5 inches high and takes up very little storage space, making it the perfect portable option.
The only downside of this carrier is that there is only ventilation on the top and sides, whereas many carriers have mesh vents the entire way around. This still provides enough air for your cat to travel comfortably and safely but does limit your cat's vision.
Pros
Full top opening for easy loading
Suitable for cats weighing up to 25 pounds
Uses environmentally-friendly and durable fabric
Side pockets for added storage
Folds down to only 5.5 inches high
Three ways to carry including suitcase attachment
Beautiful and unique design
Cons
Not as much ventilation as other cat carriers
Good-quality cat carriers don't have to be expensive, as Amazon has proven with this product from their Amazon Basics range. This cat carrier has a top-loading door that opens both left and right, so you can easily load your cat into the carrier without causing too much stress in the process. There is then a metal front-entry door ideal for training.
The metal grate on the front-entry door also ensures your kitty is in a well-ventilated space. Plus, there are ventilation holes on the three other sides and lid. This improves the comfort factor for your cat. However, as a hard carrier, you might want to add a cozy cushion at the bottom.
Nevertheless, its hard-shell design has pros than cons. It helps your cat feel more secure when traveling and reduces the likelihood of your cat managing to escape! The steel wire front door is also spring-loaded, keeping your feline securely inside while providing you with easy access to your pet.
As a hard cat carrier, cleaning is also straightforward. You can use a damp cloth to wipe all surfaces – so don't worry if your kitty does a nervous pee in transit! The carrier also conveniently breaks down into four parts (the base, the lid, the front door, and the top door), so you can wash each piece separately.
Finally, I was very impressed with the size and durability of this product. Despite being part of the budget range, this carrier is suitable for cats weighing up to 20lbs! The dimensions are equally generous, measuring 22.8 x 15 x 12 inches, so this carrier is ideal for almost all domestic cat breeds.
Pros
Budget-friendly cat carrier
Two-door design for easy training and usage
Ventilation on all four sides and the lid
Spring-loaded door for easy access to your pet
Suitable for cats weighing up to 20lbs
Large top-loading door for easy entry
Made from solid and durable materials
Cons
Assembly instructions are a little confusing
Ideally needs a cushion in the base for added comfort
The comfier your cat's carrier, the more likely they will use it without objecting. This top-entry cat carrier from BurgeonNest has made comfort a crucial factor in its design; it's well-ventilated so your cat can breathe easily and has a washable padded mat in the base for ultimate comfort. Your cat has never been comfier while traveling!
It is a soft-shell carrier, so it isn't the best for aggressive cats. However, it is one of the most stable soft carriers on the market. Rather than bowing under the weight of your furry friend, the reinforced base remains strong and rigid. This ensures your cat doesn't feel uneasy when being carried around.
The carrier's frame is also strong, made with upgraded memory metal. This metal holds its shape and ensures the carrier never collapses. The entire product is also made from breathable fabric, with mesh ventilation on all sides so your cat can breathe easily.
Another reason I recommend this carrier is because it has not one, not two, but three doors! Of course, one is a top-loading door, so you can easily place your cat inside. Both ends then also open, providing easy access to your cat. All entries are held tightly shut with anti-slip zippers.
I also love the convenience of this design. It has shorter straps you can use as handles or a longer shoulder strap for hands-free carrying. There's even a handy pocket on the side to hold treats, toys, or anything else you might need.
Pros
Breathable material with four mesh windows
Comes with a padded and washable cushion for added comfort
One of the sturdiest soft-shell carriers available
Three doors, including a top-loading entry point
All entries are held securely closed with anti-slip zippers
Two carrying options and a convenient side pocket
Cons
May be unsuitable for cats that hate carriers
Designed for smaller pets only (dimensions: 15.7 x 10.2 x 10.2 inches)
What is your purpose for purchasing a cat carrier? Is it primarily for veterinary visits? If so, check out my final recommendation: the Van Ness Calm Carrier for Cats. This product is durable and sturdy, suitable for cats weighing up to 20lbs. As a hard carrier, it is also great for cats that hate carriers!
Unlike the other carriers on this list, this design doesn't strictly feature a top-loading door; it features a sliding drawer mechanism. The sliding draw serves the same purpose as a top-entry door, though. Simply slide the tray out, place your cat in from the top, and push the drawer back in to secure your cat inside.
This sliding drawer design is what makes this carrier perfect for a veterinary appointment. Unloading your cat from the carrier no longer needs to be stressful! Simply slide the drawer back out, and your vet can conduct an examination from inside the tray.
Further helping those stressful veterinary visits is the heavy wire door. This is secure, so your cat can't escape no matter how stressed they are. However, you and your vet can quickly gain access to your pet using the easy-squeeze latch. Plus, the metal grates provide ventilation and let you keep a closer eye on your furry friend.
Other perks include the durable construction, easy-clean surfaces, and airline-compliant size. This carrier also stores efficiently – the base and the drawer nest entirely inside the top drawer!
Pros
Innovative sliding draw design perfect for vet appointments
Able to load and unload from the top
Made from hard and durable materials
Metal grate door so you can keep an eye on your cat
Well-ventilated design with air holes on all four sides
Easy to clean and conveniently stacks for storage
Compliant size for most airlines
Cons
Less sturdy than other designs due to the sliding tray
Cat Carrier with Top Opening Buying Guide
Whether you decide to purchase one of my recommended products or shop around for a few more options, there are several considerations you must take into account to find the best top loading cat carrier for you and your cat.
Dimensions & Weight Capacity
The most important aspect to consider when purchasing a cat carrier is the size. Your cat carrier must be large enough to accommodate your cat while being cozy enough for them to feel safe and secure.
It is important when choosing a carrier to look at both the maximum weight the carrier can hold and its dimensions. The carrier needs to be long enough and wide enough so that your feline can fit inside without feeling cramped. This should be approximately 1.5 times the length of your cat, not including their tail.
Once you have checked that the dimensions are right for your cat, then look at the weight it can take. Many people assume these two things go hand in hand, but strength and size are two different things. Both must be considered before making a purchase.
Soft or Hard Carrier
You also need to decide whether you wish to buy a hard top entry cat carrier or a soft one.
The best cat carriers for cats who hate carriers will be hard. Often, cats that hate carriers can be aggressive when it comes to traveling as they are so anxious and nervous about the journey. Therefore, soft carriers may get torn and damaged more easily. Plus, hard carriers feel more sturdy which can help put your cat at ease. They are also easier to clean by simply wiping down all surfaces.
However, if you have a more relaxed cat, soft carriers can work great. These are generally more comfortable than hard carriers and are usually collapsable. This makes soft carriers ideal for people who will be traveling a lot and need an easily portable solution, or anyone short of space at home. Some cat carriers also come with expandable sides.
Safe & Secure
The last thing you want as a cat owner is for your cat to escape while you're on your journey. If your cat escapes from its carrier on a drive, it could get in the way of the peddles or act as a dangerous distraction. Similarly, if your cat escapes during a flight, it could be disastrous!
Always check that cat carriers have secure locking mechanisms, and soft carriers should have anti-escape zips that are durable and secure. Many carriers also have an internal leash that can attach to your cat's collar. This is a great feature, as if in the worst-case scenario the door or your carrier does fly open, your cat won't be able to make a dash for it.
The material your carrier is made of is also important for keeping your cat safe secure. It must be durable so that it won't get damaged as you transport your cat from A to B. If you opt for a top opening wire cat carrier or have a carrier with a wire door, always choose steel bars as these cannot easily be misshapen.
Comfort for Your Cat
Also, consider how comfortable your cat will be in the carrier.
Ventilation is essential in providing comfort, as well as being crucial for your cat's health as poorly ventilated carriers could lead to your pet overheating. Having fresh air circulating will help your cat feel at ease and be happier.
Additionally, look for top opening cat carriers with cushions or padding so that your cat can curl up and sleep while on the journey. It is mainly soft cat carriers that come with padding, but you can make a hard carrier more comfortable by adding a blanket or cushion to the base.
Easy to Clean
Lastly, the carrier must be easy to clean, especially if you are going long distances or have a nervous cat as they are more likely to have bathroom accidents or vomit en route.
Hard carriers are generally easier to clean as they are typically made from plastic. This can simply be wiped clean. Top entry designs with an additional front or side entrance also help with cleaning, as it means you can easily reach inside the carrier and clean all corners.
Soft carriers are less ideal when it comes to cleaning, however, the internal lining of some soft carriers can be unzipped and put in the washing machine. Where possible, choose a carrier with this feature, otherwise the inside can become soiled and carry bad germs or bacteria. This is especially important if you are using your top opening cat carrier for trips to the vet.
FAQs
Q: Are top loading cat carriers better than regular cat carriers?
A: Yes, cat carriers with a top opening are generally better than traditional front-opening carriers as it is easier for you to place and remove your cat. Vet appointments are also less stressful as your veterinarian can usually carry out the examination without having to remove your cat from their carrier.
Q: What is the best cat carrier with top opening?
A: In my opinion, the best top entry cat carrier is the Petmate Two Door Top Load Cat Carrier. It not only has a top loading door, but also a front opening point for added convenience, is easy to clean, and its hard shell makes it ideal for nervous and calm cats alike.
Q: What is the best top loading soft cat carrier?
A: I think the best soft top loading cat carrier is the Petisfam Top Load Pet Carrier. It is lightweight yet durable, large enough for up to two cats, and is extremely secure with anti-escape zippers and a leash inside. Plus, your cat will love that it's fleece-lined!
Q: Should I choose a soft or hard cat carrier?
A: If your cat hates its cat carrier, a hard carrier is better. These cats are more prone to aggression and anxiety when they travel and could rip through or damage a soft carrier. However, if your cat is calm when traveling, they may prefer a soft fabric design.
Q: How big should a cat carrier be?
A: Cat carriers need to be large enough for your cat to fit comfortably inside and have space to turn around. As a general rule of thumb, you should aim to find a carrier that is 1.5 times the length of your cat.
Q: What should I look for in a top loading cat carrier?
A: Top loading cat carriers must be safe and secure, made from a durable material, the correct size for your cat, and easy to clean. There are also personal factors to consider, such as what the carrier looks like, whether you and your cat will benefit most from a hard or soft carrier, and how much it costs.
MY FINAL THOUGHTS
Top opening carriers are by far a better option for any cat owner compared to traditional front entry designs, allowing for easy loading and stress-free veterinary examinations. While traveling with your cat may still not be straightforward, especially if you have a cat who is scared of its carrier, top loading carriers will make your life a lot easier.
Whichever cat carrier you choose to buy, make sure you use the buying guide in this article so you can find the ideal product for you and your cat. After all, everybody and every cat is different! So, make traveling easy again and get shopping!