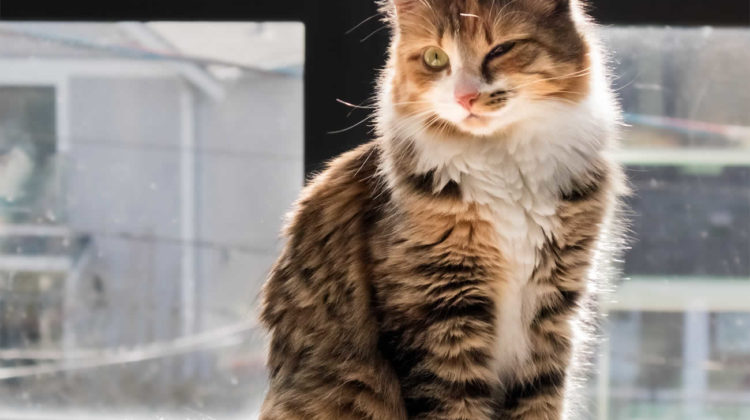 When your cat sneezes, you may find it interesting and even funny at first. But what if your cat sneezes every day and frequently? What if your cat's sneezing is accompanied by discharge from the eyes and nose?
If your cat:
Starts sneezing in a row every day,
Has watery eyes,
Has a runny nose,
Has a loss of appetite,
Displays a decreased activity level
You should take your cat to the vet immediately. These signs may indicate a serious upper respiratory problem.
Cat sneezing may be triggered by an allergen in your perfume or be a sign of a serious health condition.
In fact, there are several answers to "Why do cats sneeze?"
The top 4 reasons are allergens, vaccination, flu, dental problems.
If sneezing is persistent, the first reasons I can think of are allergens and some household cleaning products.
In this case, I try to remember if I have recently made any changes at home (cleaning products, cosmetics, air fresheners etc.) that could cause my cat to suffer from allergies.
If that is the reason, then your cat will be back to normal as soon as you remove allergens from the environment.
If sneezing is accompanied by bad breath, I recommend you also have your cat's teeth and gums checked by your vet.
Sometimes, it is combined with discharge from the eyes and nose, and fever.
Your playful cat may become sad and lose interest in food. Then you may start to worry about upper respiratory infections.
It is also common for your cat to experience sneezing after receiving an intranasal vaccine against upper respiratory infections. It should clear up in a few days.
Reasons for Cat Sneeze
The reason why a cat sneezes is highly dependent on;
How much they sneeze,
How often they sneeze,
When they sneeze,
And whether it is accompanied by any additional symptoms such as discharge from the eyes and/or nose, loss of appetite and lethargy. If your cat keeps sneezing after a guest has smoked, then smoke may be the main reason.
Your cat may be allergic to an ingredient in the new cat food and start sneezing right after eating and sometimes even smelling the food bowl.
If sneezing is caused by an upper respiratory infection, it is rarely the only symptom.
For example, a cat that has caught cat flu may have nasal congestion, breathe through the mouth and have discharge from the nose and eyes.
Moreover, if your cat is suffering from a severe upper respiratory infection, sneezing may be accompanied by blood discharge from the nose or mouth.
1. Cat Sneezing Caused by Allergens and Inhaled Irritants
A few years ago, my cat used to have sneezing attacks several times a day at least 4-5 times in a row for no apparent reason.
First, I thought it was because of her food, but it was the same fresh food I always fed her, and she gobbled up.
Apart from sneezing, she was also scratching herself very often and seemed unwell.
Then I realized her sneezing attacks appeared whenever I cleaned the house.
In those days, I was using a new cleaning solution on floors because it smelled nicer than the one I always used. I used the old one to test and my cat's sneezing just disappeared. The new cleaning solution was to blame.
A cat's immune system occasionally overreacts to certain foreign substances or ingredients. Such substances release chemicals, particularly histamine, in the cat's body.
These chemicals cause symptoms such as skin irritation, itching, wheezing, vomiting, diarrhea and swelling. The most common allergic reaction is sneezing!
Some chemical cleaning products contain harmful chemicals that can irritate a cat's nose and trachea even if they are not allergens.
Allergens Triggering Allergic Sneezing and Irritation in Cats
Certain protein components (beef, chicken, fish, egg etc.)
Pollens
Some spices (pepper, cinnamon etc.)
Tobacco smoke
Dust
Some cat litters (Some cat litters contain dust or small particles. When your cat is digging in the litter box, those airborne particles irritate your cat's sinus.)
Molds
Cleaning chemicals, perfumes, deodorants, detergents, pest sprays
Some fabrics (wool etc.)
Fleabites, mosquito bites
How to Protect Your Cat From Allergic Sneezing
If you are going to try a new cat food you think your cat will like, introduce a small amount first to see their reaction.
Keep your house well-ventilated every day.
Air purifiers are a good option to remove airborne particles and clean the air in the house.
If you suspect your cat is allergic to certain flowers and plants, place these plants in a room that your cat doesn't enter.
Whether your cat is allergic or not, avoid using heavy chemicals in your house or store them in sealed containers or cupboards when not in use. This way, you can prevent the risk of poisoning as well.
If you have a garden where you let your cat out, I strongly recommend you watch out for plants (daffodils, cyclamen, lilies etc.) and pesticides in your garden. You may have to decide between avoiding both allergic and toxic plant and soil chemicals and keeping your cat indoors.
A good exhaust fan in your kitchen prevents sniffing cooking fumes and spices that can irritate both you and your cat. Plus, always make sure spice jars are closed when you are not in the kitchen.
Choose cotton and easy-to-clean thin fabrics for your cat's bed or your sofas. Wool and feather covers may cause allergies.
Purchase cat litters that have large or crystal granules instead of small ones. Airborne particles in small litters may cause allergies in cats.
The best way to eliminate allergic sneezing in cats is to identify and remove the allergen from the environment. However, this is not always as easy as it sounds.
So, you can consult and ask your veterinarian to prescribe antihistamines if necessary.
2. Cat Sneezing as a Symptom of a Disease
Watery eyes.
Nasal discharge.
Excessive drooling.
Bad breath.
Lethargy.
Decreased appetite.
Blood discharge from the nose and mouth when sneezing.
One or more of these symptoms may be signs of mild to severe serious diseases.
If your cat sneezes but seems healthy, it is probably related to a chemical or foreign substance that causes allergies or irritation.
However, if your cat's sneezing is accompanied by any of the abovementioned symptoms, it may indicate a serious problem.
Let's have a look at when cat sneezing is a warning sign of a serious health condition.
3. Dental Problems
If your cat is still sneezing constantly after you have eliminated the risk of allergens, and has bad breath, it is time to check your cat's mouth thoroughly.
Bad breath and sneezing can be linked to a dental or periodontal infection.
Bacteria causing a tooth decay or infection can spread into the sinuses, which is, in fact, very common.
This is a painful condition and can lead to frequent sneezing as your cat tries to remove the problem in the sinuses.
Moreover, viruses building up in the mouth form plaque on the teeth and yellowish-brown tartar on the gumline, which can be the cause of your cat's bad breath.
In this case, it is essential to consult your vet and provide proper treatment. Treatment options include various antibiotics and oral sprays.
Dental problems not only hurt your cat, but they may also lead to kidney and heart damage if left untreated.
The most effective way to prevent such infections is to maintain regular dental care and schedule annual dental check-ups.
Can Cats Catch a Cold or the Flu?
Yes.
Yes, cats can catch a cold or the flu just like humans.
Upper respiratory infections are caused by one, two or sometimes more viral and bacterial agents and lead to a mild to severe condition. Cold in cats has similar symptoms to the common cold in humans, while cat flu is a general term for contagious upper respiratory diseases.
Cat Flu (Feline Influenza)
Cat flu may be the cause of your cat's frequent sneezing.
All the viruses that cause upper respiratory infections are transmitted from other cats.
For this reason, shelters and catteries are always at risk of infection.
I have both good and bad news for you:
The good news is that intradermal and intranasal vaccinations offer protection against Herpes and Calici.
The bad news is that even if successfully recovered, your cat can develop a carrier state for life, become sick again or transmit it to other cats.
Unfortunately, it is not possible to understand whether a cat is infected with the flu until they show clinical signs. However, blood and saliva tests can be used to diagnose the virus after the first symptoms appear.
Therefore, it is vital that cats should begin receiving vaccines as kittens and be revaccinated regularly every year.
If there is more than one cat in your house, check their eyes and noses daily, keep the infected cat isolated from the other cats and visit your vet immediately if you notice any discharge and frequent sneezing.
Carrier cats often shed the virus during periods of stress such as re-homing, traveling, new animal in the house or early weaning.
Further vaccination is still recommended for carrier cats that have recovered from the disease.
Vaccinated carriers develop a milder case when they become sick again.
How is It Transmitted?
An infected or carrier cat can spread the virus to a healthy cat mostly through sneezing and direct or indirect contact with saliva, ocular and nasal discharge.
Some Symptoms
Excessive sneezing.
Fever.
Excessive drooling.
Lethargy.
Depression.
White, yellowish or green and even blood discharge -in severe cases- from the eyes and/or nose.
Read and watery eyes.
Coughing.
Ulcers on the nose and tongue.
Loss of appetite and dehydration.
What Can I Do?
If your sneezing cat displays two or more of these symptoms, isolate your cat from the other animals in the house and visit the vet as soon as possible.
Treatment
Supportive treatment includes medications that alleviate symptoms and speed up your cat's recovery.
Ocular and nasal discharge may not clear up in some cats. This means they can have discharge for their whole lives -even if just a bit.
First, blood tests are used to identify the type of virus and bacteria. Your vet will advise you on treatment options including antibiotics and drops to treat nasal and ocular discharge.
Your feline friend's recovery mostly depends on how you care for them. Depending on the type of virus, the recovery time in mild cases is 5 to 10 days with proper care and treatment.
In more severe cases, recovery may require a nursing care period up to 6 weeks in an isolated room.
Some cats suffering from cat flu (cats that refuse to eat and drink water or need intravenous fluids to boost their weakened immune systems and so on) may require professional care in an animal hospital or clinic under your supervision.
Home Care Tips for Cats With the Flu
Provide a comfortable area for your cat.
When my cat doesn't feel well, she cuts off communication with everyone in the house including me and looks for a place to hide as if she is trying to tell us she doesn't want to be disturbed.
I immediately understand there is something wrong if I have to search for my cat in the house for minutes and especially if she hasn't eaten her favorite food in the bowl.
So, if your cat is suffering from cat flu, a quiet and comfortable recovery area would be great.
This will both give your cat the opportunity to have plenty of rest and help you move within a confined space fast and comfortably when taking care of your cat.
Don't keep the food and water bowls too close. Place the litter box in a location that is not too far away from your cat.
You can make a nest out of a cardboard box by cutting an opening on one side. This will make your cat feel better as they love being alone when they are ill.
Your cat may feel very weak and occasionally have accidents outside the litter box!
Place a few pieces of newspaper on the bottom of the box and provide comfortable soft bedding over the newspaper. This will enable you to replace the base easily during the day if necessary.
Use a ball of cotton wool soaked in warm water to remove discharge from your cat's eyes a few times a day. Use a new, separate cotton wool every time.
A warm, moist environment may soothe your cat's runny nose and watery eyes.
You can use a vaporizer in the room or turn on warm water for 5-10 minutes and place your cat in the steamy bathroom every day.
Alternatively, you can let your cat have a nap in the bathroom while you are having a shower.
Ensure your cat receives drops and antibiotics regularly as recommended by your vet.
It is vital that your cat eats enough and drinks plenty of water. You should monitor your cat's food and water intake.
Since dry food can be painful for mouth ulcers, try giving wet food containing your cat's favorite flavors, or meat-flavored baby food. Warming the food may make it more appealing for your cat.
You should observe your cat's eating and drinking habits carefully.
Cats often stop grooming when they are not happy. As a result, tangles form in your cat's coat. Gently groom your cat to make them feel comfortable. If your cat reacts aggressively, stop and try a few days later.
Just like how we need more affection and care when we are sick, your furry friend also likes it when you stroke them gently and speak in a soft and calm voice.
Try speaking to your feline friend softly every day.
Some Tips to Protect Our Cats From Getting Flu
It is vital to follow a vaccination schedule for kittens and adult cats since vaccination helps protect your cat against the viruses which causes upper respiratory diseases and especially cat flu.
It is especially important for cats adopted from shelters to have health check-ups and receive all necessary vaccines. If you have multiple cats, use disposable or separate food bowls, toothbrushes, and cotton wools when cleaning their eyes and noses.
Make sure to clean and dry your cat's toys and supplies on a regular basis. You should never keep an infected cat and a healthy cat in the same room. Provide a recovery area for your infected cat if necessary.
Even if successfully recovered from the flu, once infected, your cat may still transmit it to other cats.
In this case, you may have to stop letting your cat outdoors. If you have multiple cats in your house, I recommend you consult your vet for other options.
Can a Cat Die From Flu?
There is a slight possibility, but yes.
In general, cat flu is a disease that has a low mortality rate.
The answer to this disturbing question highly depends on the type of viruses and bacteria causing the disease, how early it is identified and treated, but certain cats are at a higher risk.
High-risk groups:
Kittens with immature immune systems or unvaccinated adult cats
Cats with weak immune systems
Elderly cats suffering from secondary bacterial infections (such as pneumonia)
Cats that have been kept with infected or carrier cats during recovery, malnourished or dehydrated cats[/su_service][/su_note]
What is the Ideal Home Temperature for Cats?
69 – 72 F. (20 – 22 C)
First, I would like to point out that very cold environments and even freezing temperatures do not trigger illnesses such as cold, flu or respiratory infections in cats.
On the other hand, although low temperatures do not have a direct effect on cat flu, they can affect your cat's immune system negatively.
Besides, if your cat goes outside in cold temperatures, there is a higher risk of contracting viruses from infected animals.
Cold temperatures lead to dangerous health conditions including hypothermia and frostbite.
As cat owners already know well, all cats love warmth!
There is no doubt our cats will hog the sunniest windowsill on a beautiful spring day, whereas on a winter night, they will curl up in the most comfortable spot in front of the fireplace, on the heater as well as the warmest spots on the floor.
So, what is the ideal home temperature for cats? How to determine if the weather is too cold for your cat that goes outside?
The ideal home temperature depends on various factors including the breed of your cat (For example, the Sphynx cat needs higher temperatures due to the lack of hair) and whether the cat is a kitten or an adult.
However, here are the ideal home temperatures recommended by experts:
Winter: 69-72 degrees F (approximately 20.5-22.5 degrees C)
Summer: 75-78 degrees F (approximately 24-25.5 degrees C)
It is best to keep your cat indoors if outside temperature is below 45 degrees F (approximately 7.5 degrees C).
Can I Get Flu From My Cat?
No, but there are exceptions.
You don't need to worry because the viruses causing cat flu (Feline herpes, feline rhinotracheitis, feline caliciviruses) are viral pathogens that affect cats. There are no reported cases of cat flu in humans.
Influenza viruses that affect humans are different from the unique strains of influenza in other animal species.
However, these viruses and certain types of bacteria sometimes lead to secondary bacterial infections that affect humans.
For example, Chlamydia, a bacterial infection that causes red and watery eyes with inflammation in cats, can be spread to humans through sneezing.
When infected, humans display the same symptoms of conjunctivitis including red and itchy eyes with discharge.
Therefore, I strongly recommend avoiding face-to-face contact when your cat sneezes.
Fortunately, ointments and medications prescribed by your doctor are very effective in treating this bacterial infection leading to only ocular complications in a short period of time.
A zoonotic disease is a disease caused by viruses or bacteria which can be transmitted between animals and humans.
Examples of zoonotic diseases include rabies, an infectious viral infection transmitted by bites or scratches of unvaccinated animals and mostly wild rodents, and toxoplasmosis, a disease that can be passed through contaminated cat feces.
Protecting yourself and your cat from infectious diseases is not as hard as you think.
While most of these diseases can be prevented by vaccines and medications, some of them can also be identified by certain blood tests before your cat gets sick.
It is best to ensure your cat receives vaccinations against infectious diseases such as rabies in the early stages.
A blood test is an effective way to determine whether your cat has the toxoplasmosis parasite.
Also, avoid giving raw meat or eggs that can transmit parasites to your cat.
You can protect both yourself and your cat from infectious diseases by taking simple precautions such as wearing gloves and cleaning the litter box a few times a day.
Can My Cat Catch the Flu From Me?
No, but there are exceptions.
When we have the flu or a cold, most of us are worried about transmitting the virus to our cats while stroking them. Experts say there is nothing to worry about because humans can't transmit flu viruses to cats.
In 2011 and 2012, researchers conducted a study on a limited number of animals including cats in the United States. This study showed that the H1N1 virus, also known as swine flu, can be passed from humans to cats.
Simply put, so far, there is no scientific evidence that we pose a danger to our little friends, except for the H1N1 virus.
But when we have the flu, it is still a practical measure to wash our hands before and after caring for and playing with our cat.
Other Infections That May Cause Sneezing
Vaccinated adult cats are less likely to suffer from upper respiratory infections.
Your vet can advise you on your cat's infectious disease risk and identify it through certain tests.
Most upper respiratory tract infections are caused by bacterial and viral pathogens coexisting with cat flu.
However, some of them single-handedly may have negative consequences on your cat's health. Here, I will share the two most common infections.
Chlamydia Infections
Chlamydia is a bacterial infection that causes sneezing, red and watery eyes with conjunctivitis, an abnormal eye discharge resulting from the inflammation of the thin membrane lining the eyelid, in cats.
Often coexisting with flu viruses, chlamydia is spread through body secretions of an infected cat. As I mentioned before, it can also be transmitted to humans and cause the same symptoms.
Causes: Chlamydia psittaci bacteria is transmitted from infected birds.
Symptoms: Red and watery eyes with abnormal discharge, sneezing, runny nose, and fever in severe cases.
How is it transmitted?: It can be spread through the air by sneezing or direct contact with the saliva, ocular and nasal discharge of an infected animal.
What should I do?: Keep your infected cat indoors and isolate from the other cats or animals in the house.
Because this disease also poses a threat to your health, avoid face-to-face contact when treating your infected cat, wear gloves when giving medications or eye drops, and wash your hands after nursing.
Treatment: Your vet will advise you on the appropriate medication and drop options for your cat. Also, you can gently wipe your cat's eyes and nose with a warm, damp cotton wool a few times a day to help heal.
I recommend using a separate cotton wool for each eye and nostril.
Feline Mycoplasma
Commonly causing the respiratory and urinary tract diseases, feline mycoplasma also leads to sneezing.
Causes: Mycoplasma is a type of bacteria that can be transmitted from not only infected cats, but also other infected animals or through flea or fly bites.
Bacteria parasitize red blood cells and the body destroys these infected blood cells to defend itself, which eventually leads to the collapse of the weakened immune system.
It does not only affect the upper respiratory tract, but it may also cause infections in the gastrointestinal system, urinary tract and joints.
Symptoms: Abnormal discharge from the nose and especially eyes, sneezing, trouble breathing, coughing, joint inflammation, fever, lethargy, loss of appetite, anemia, weight loss, pneumonia in severe cases.
How is it transmitted?: Feline mycoplasma is transmitted by bites and scratches through blood or body secretions of infected or carrier cats, flies, fleas, dogs or other animals. It is important to note that humans can also be infected.
What should I do?: Keep your cat isolated from the other animals in your house and take your cat to the vet by wearing a mask and gloves to avoid contact if necessary.
Treatment: Your vet will prescribe the appropriate antibiotics and other medications after identifying the type and location of bacteria through blood tests. In some severe cases, hospitalization or clinical care may be required.
4. Cat Sneezing After Vaccinations
Don't worry if your cat starts sneezing frequently for a few days after receiving a vaccination against the respiratory tract infections.
These vaccinations can be both injected under the skin or sprayed up in the cat's nose.
Frequent sneezing for the following 3-4 days is quite normal. You don't need to do anything. It will clear up on its own.
CONCLUSION
To relieve myself from the weight of the question "When I hear the little lion have a sneezing attack over the corridor, should I be worried about my cat's sneezing?", I start a close observation right away.
First, I check up on her overall condition, check her eyes and nose, look inside her mouth and teeth without disturbing her too much.
But more importantly, I carefully think whether there could be a problem with her food or with any changes in the house. Most of the time, it turns out to be a nasal irritation or an allergen that I can easily remove from the environment.
But sometimes, a simple act that we don't care about might evolve from an easily solvable problem if noticed early to a life-threatening health condition. Therefore, it is vital to observe every change closely.
I don't think you should immediately panic because your cat occasionally sneezes. But if you are an attentive cat owner, it is impossible not to realize an unusual routine, watery eyes, runny nose, and discomfort.
By the way, I would like to emphasize once more that since there is a possibility that your cat's sneezing may be contagious, you should also keep an eye on yourself.
A long, healthy and happy life we will have with our cat, to some extent, depends on our attention and care.
If you also have previous sneezing experience with your cat, share it with me and cat owners visiting this page.