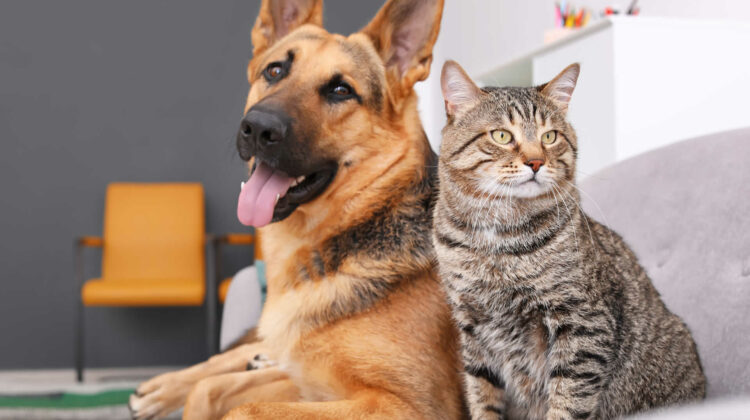 I used to have a dog and never had any issues with allergies. But when he passed away I decided to go team cat. I got two gorgeous British Shorthairs and welcomed them to the family, only to find I couldn't stop sneezing! My eyes were streaming, my nose was running… turns out I'm allergic to cats.
Now, cat allergies are extremely common. As you're on this page, there's a good chance you have one too! But I thought pet allergies were pet allergies – I didn't think you could be allergic to cats or dogs, only both. This got me thinking, can you be allergic to cats and not dogs?
As it turns out – and as I learned first-hand – you can indeed have a cat allergy and no dog allergy. And if this is true, then can you be allergic to some cats and not others? How about being allergic to cats but not kittens? Can cats be allergic to other cats?
If you've got some allergy-related questions you're dying to get to the bottom of, you're in the right place. Keep ready to discover why I am allergic to cats and not dogs, and why you might be too!
What Causes Pet Allergies?
The symptoms of allergies are all too common. I'm sure we've all experienced bouts of sneezing, watery eyes, and runny noses before. But what causes this to happen to us? Well, this is all caused by your immune system thinking something harmless is attacking the body.
This "attacking" substance is known as an allergen. Whenever this allergen is present, it triggers the immune system to create antibodies to try and eliminate the threat. These antibodies cause the allergy symptoms we sadly know too well, the same as if the body was fighting off real germs.
With pet allergies, the allergens responsible are proteins found in the saliva and/or sebaceous fluids of cats and dogs. These proteins can easily become airborne and inhaled by us. Inhaling the allergen then triggers an allergic response in the body and causes an allergic reaction.
Causes of Cat Allergies
The primary protein found that acts as an allergen in cats is Fel d1. This protein is found primarily in saliva. As we all know, cats love to self-groom. This means that the Fel d1 protein is easily spread to all areas of your cat's body through their grooming habits.
Moreover, the Fel d1 protein is also made by the sebaceous glands which are responsible for secreting oils onto your cat's skin. This helps to keep their skin supple and ensures their coats are healthy, but also causes Fel d1 to spread everywhere. Indeed, your cat will be covered in Fel d1!
Because our cats are covered in this protein, it can easily become airborne. This happens more frequently when your cat sheds its coat as all the dander and cat hair will have the Fel d1 protein attached to it. This explains why many people think it is pet hair they are allergic to when it's actually this protein.
Alternatively, the protein can transfer to any surface it touches. This could be your hand from stroking your cat or an area in your home where your cat likes to sleep. Or airborne particles can drop and settle onto different surfaces in our home. When we then touch these surfaces, the protein becomes airborne once again. Inhalation of the protein is then what causes allergies.
Causes of Dog Allergies
The primary protein in dogs responsible for causing allergens is called Can f1. Unlike cats, this protein is solely found in their saliva and is not produced in their skin. Because dogs don't self-groom, there will only ever be small amounts of this protein on your dog.
However, dogs do still lick themselves a little so will have some Can f1 on their bodies. Besides, dogs are often big droolers. All of their dribble will contain large amounts of this allergen. Whenever it is transferred into the air or to another object and ingested or inhaled by us, we experience an allergic reaction as the immune system kicks into action.
Why Am I Allergic To Cats But Not Dogs?
As you have just learned, cat allergies and dog allergies are caused by two different proteins. While anyone with a cat allergy is sensitive to the Fel d1 protein, anyone with a dog allergy is sensitive to the Cal f1 protein. Therefore, it is possible for people to only be allergic to cats or dogs.
With that being said, these two proteins are nearly identical. They have an extremely similar structure and most of us will respond to Fel d1 and Cal d1 in the same way. If the body doesn't like one of these proteins, it probably won't respond well to the other either. In other words, an allergy to cats and dogs is much more common.
If this is the case, then why am I – and countless other pet parents – seemingly only allergic to cats? As you're about to discover, there are a few possible explanations…
1. Levels of Protein Production
Dogs produce less of the allergy-causing protein than cats. As mentioned, you can find Fel 1d in a cat's saliva and sebum. The protein is even found in their urine! However, the Cal 1d protein is exclusively found in a dog's saliva. Therefore, they produce less protein overall.
This means there is much more of the protein found on your cat than there is on your dog. Depending on how sensitive your body is to their protein, the amount found on your dog might not be enough to cause an allergic response. However, as cats produce Fel 1d in multiple areas in their bodies, they appear to be more "allergy-causing" than a dog.
It is important to note that there are different levels of protein production even among cats. No two cats are the same, and some produce more of the protein than others. This explains why you can be allergic to some cats but not others. The ones you're allergic to simply produce more Fel 1d.
2. Different Self-Grooming Habits
As just mentioned, dogs will already have a lesser amount of the allergy-causing protein on their skin and fur because it is only found in their saliva. However, the grooming habits of our pets also make a big difference to how much of their protein is on their bodies.
Did you know cats spend around 30% of their time grooming? This means that for 30% of the day, your cat is covering itself in the Fel d1 protein. And the more of their protein on their surface, the much easier it is to spread around your home.
This explains why some people are only allergic to cats and not dogs. There is not enough of the protein on dogs' bodies to cause allergies. Unless your body is hypersensitive to these allergens, the amount on your canine companion probably won't be enough to trigger an allergic reaction. Meanwhile, their cats are covered in the stuff!
3. Allergies to Something Else
Have you ever thought that you could be allergic to something aside from your pet? One example is cat litter. Obviously, this is a product that you'll only be using if you have a cat. This would make it seem like you're allergic to cats and not dogs when you're allergic to neither!
Cat litter is actually one of the biggest causes of allergies in both cats and their owners. Think about it, most cat litters are extremely dusty which can't be good for our respiratory systems. Throw in artificial fragrances and chemicals and there is no surprise that litter can trigger an allergic reaction.
If you are allergic to cat litter rather than your cat, your allergies will get worse when you clean their litter tray. You could also try switching to a cat litter for cats with allergies. Do your allergies suddenly seem to disappear? If so, this could be the answer.
Top Tips for Living with Pet Allergies
Regardless of why you have a pet allergy, they are undeniably difficult to live with. Getting rid of your pets simply isn't an option! But taking antihistamines or other allergy medication isn't a great solution to the problem either…
Luckily for you (and unfortunately for me), I have plenty of experience in managing cat allergies first-hand. This mostly involves staying on top of the allergen, removing it from the air and surfaces. If you successfully do this before the allergen works its way into your system, you won't suffer from an allergic response.
With this in mind, here are just a few of my top tips to make life a little easier and less full of sneezes!
1. Keep the Air Clean
Every time a cat or dog sheds its fur, allergens can end up airborne. Air purifiers for cat hair are a great solution and remove these allergens from their air rapidly before they can trigger an allergic reaction. Before purchasing any old air filter, here are some things to consider:
Filter Type: Most filters can trap hair and bits of dander. But to successfully trap and eliminate allergens, you want an air purifier with a True HEPA filter. This is the most advanced filter type and removes 99% of allergens.
Range: Air purifiers need to have the correct range for the size room. They will only be able to clean the air of a given area, so check this before making any purchase.
2. Keep All Surfaces Clean
Allergens can end up on surfaces in two ways. Either the airborne particles will drop and settle on whatever surface is below them. Or your cat or dog will rub the allergen directly onto the object. For example, dogs' toys will usually be covered in the allergen, as will any surface that your cat sits on.
Cleaning and vacuuming regularly can go a long way in removing these allergens. I purchased a handheld vacuum for cat litter which I now use to quickly hoover my cat's favorite resting spots daily. This removes the need to get the big vacuum out every day and is a great time saver. You can also spray carpets with specific allergen neutralizers to break down the protein fast.
3. Create "Allergy-Free" Zones
Anyone with pet allergies needs to have an "allergy-free" zone. In other words, an area that is out of bounds for their pets. Whenever you need a break and your allergies are becoming intense, you can use this zone as a place of refuge.
The best room to use as the allergy-free zone is your bedroom. As you will lie in this room for long periods every night as you sleep, you'll end up having longer and more extreme exposure to the allergens. This will cause a more severe allergic response. Keep your cat out of the bedroom and use another HEPA air purifier for an extra layer of protection.
4. Brush & Bathe Regularly
Brushing your pets regularly can help to trap and remove the allergens before they make it into the air and onto surfaces. Besides, regular brushing has several other perks. It helps to keep your cat's coat healthy, acts as a bonding activity, and prevents nasty matted clumps from forming. Choose a brush that is right for your cat and try to work brushing into your daily routine.
Bathing does an even better job at removing allergens. But cats hate water and bathing them can be hard work. If you're up for the challenge, then go for it! Ensure you only use shampoos specifically made for cats to prevent skin irritation.
MY FINAL THOUGHTS
Believe it or not, people can be allergic to cats and not dogs. The allergy-causing proteins are slightly different in cats. Besides, there is a whole lot more of this protein present in the first place. Cats' grooming habits also ensure it gets all over their bodies!
If you suffer from cat allergies, dog allergies, or both, you need to keep the allergen levels down. The tips in the article are a great starting point. You can all live together comfortably and without sneezing, it just takes a little extra work.