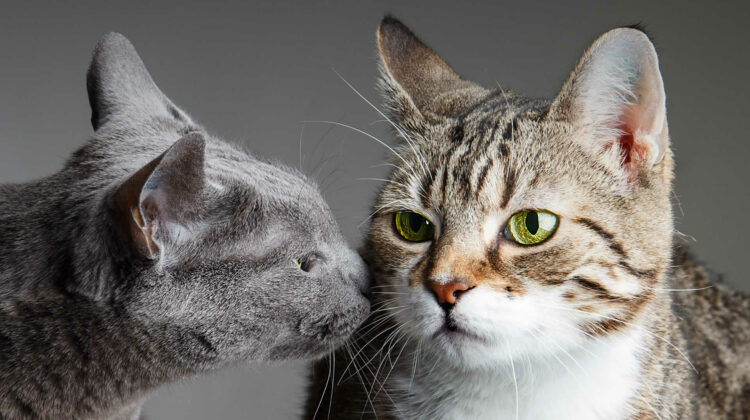 Pet allergies are common in people, being the second most common home allergy after dust mites. The dander that comes off our furry friends is an allergen and often causes us to sneeze and splutter if it works its way into our noses, eyes, or skin. Both a cat's saliva and urine can also cause an allergic reaction in humans.
However, while pet allergies are common in people, you may be wondering: Can a cat be allergic to another cat? Surprisingly, the answer to this question is yes! If you have more than one cat, your kitties may be allergic to each other, causing them to itch, splutter, cough, and sneeze.
In fact, cats can have pretty much any allergies that humans can have, including allergies to dust, pollen, kitty litter, mold, and even other pets such as dogs, too. In this article, I'll run through cat allergies in more detail, the symptoms you can look out for, and what you can do to help!
Can Cats Be Allergic to Each Other?
It may come as a surprise, but the answer to the question "Cat cats be allergic to another cat?" is yes! Just as people can be allergic to cats, our pets can elicit the same allergic response and be allergic to another cat's dander, urine, or saliva.
The primary allergen found in these substances released by your cat is a protein called Fel D1. Cats naturally produce this protein in their bodily secretions, such as in their oils and saliva. When they self-groom, their saliva is spread all over their bodies and fur coats, transferring the allergen to the dander as well.
When people, other cats, or other animals come into contact with high levels of the Fel D1 allergen, it is recognized by a type of antibody called Immunoglobulin E (IgE) found naturally in the blood. Any substances that bind to this antibody are seen as dangerous and foreign.
As such, this triggers the body to produce more IgE in an attempt to help the immune system fight off the "intruder". These high levels of IgE start a chain of events that can causes allergy symptoms in cats, which goes something like this:
High IgE levels send chemical messages to specific cells known as "mast cells", telling them to release a compound stored inside them called histamines.
The mast cells release these histamines, causing the levels of histamines in the blood to increase in the affected areas.
The high levels of histamines cause excessive blood flow to the area that the allergen has affected, leading to local inflammation.
Histamines then bind to specific receptors found in the body nearby, triggering a response to help shift the allergen, such as sneezing, producing mucus, or coughing.
It is important to note that the Fel D1 allergen is not the only protein that binds to IgE and causes an allergic response. Many other proteins are also recognized by this antibody, including compounds found in cat urine, dust mites, kitty litter, pollen, mold, and many other substances. Therefore, while cats can be allergic to another cat, this is not the only type of allergy they can suffer from.
To correctly diagnose what is causing your kitty to have an allergic response, you need to fully understand the symptoms of a cat-to-cat allergy. You also need to take your cat to the vet who can help pinpoint the allergy-causing allergen and ease your cat's suffering.
What Are The Symptoms of a Cat-to-Cat Allergy?
Allergies – regardless of the allergen responsible – are all a result of increased IgE levels in the blood, leading to increased levels of blood histamine. These histamines are what are responsible for the symptoms of an allergy.
Cat-on-cat allergies are caused mainly by the inhalation of dander containing the Fel D1 allergen. As such, the histamines trigger an allergic response concentrated in the areas affected, including the nose, mouth, and lungs. The allergens can also travel in the air and get into your cat's eyes or irritate their skin. Therefore, common symptoms of a cat-to-cat allergy include:
Excessive itching and scratching due to irritated skin
Coughing, and wheezing, sometimes leading to asthma
Discharge from the eyes and nose
Red and irritated eyes
Difficulty breathing and/or open-mouth breathing
Unfortunately, these associated symptoms are pretty much the same as the symptoms of any other airborne allergy your cat could suffer from. This includes allergies to dust mites, pollen, perfumes, kitty litter dust, and more! This can make it difficult to work out whether your cat is allergic to another cat or if they are suffering from another type of allergy.
One way to distinguish is to pay attention to when your cat is exhibiting these symptoms. Does your cat show allergy symptoms all year round? Or do their symptoms seem to change with the season? If your cat's symptoms seem to ease at certain points in the year they likely suffer from a seasonal allergy, such as specific pollen allergies in spring and summer or mold allergies in winter.
However, if they are constantly spluttering and sneezing, a cat-to-cat allergy is still a likely culprit! But that doesn't mean it's the only option. Plenty of other allergens are also floating about year-round, including kitty litter dust and fragrances, cleaning products used in your home, perfumes, and more.
How Can I Help My Cat's Pet Allergies?
If you notice your cat is suffering from any of the symptoms mentioned above, the best way you can help your furry friend is to take your cat to the vet. Your vet will perform a physical examination to try to help what it is that is triggering the allergic response – is it another cat or is it something else?
As part of the examination, your vet will likely perform blood tests. They may also suggest you carry out some trial and error to eliminate certain allergens from your home. For example, they may suggest you switch to using hypoallergenic cat litters or pet-friendly cleaning products. This can help to rule out these substances as responsible and make it easier to diagnose the specific allergy.
Once the allergy has been accurately diagnosed by a vet, they will usually recommend removing the allergens from your home environment. However, with cat-to-cat allergies this isn't possible – you can't get rid of your other cats as they're part of your family! Therefore, your vet can provide medication to help ease symptoms, which could include allergy injections or antihistamines as a preventative medication.
As a cat owner, there are a few things you can also do at home to reduce the number of allergens and help ease your cat's symptoms. Some things I recommend trying include:
Purchasing an Air Purifier: Specific air purifiers for cats are great for cats and humans that suffer from pet allergies. They have filters that catch cat hair, dander, and other airborne allergens and remove them from the air. This will reduce the number of allergens found in the air, reducing the severity of your cat's symptoms.
Switch to Hardwood Flooring: Cat dander will initially become airborne when it leaves your cat's body. However, it will eventually settle onto the floor of your home. If you haven't already, ditching your carpet for wooden or tiled flooring can be a huge help, as carpet accumulates up to 100x as many allergens as hardwood floors!
Clean Your Home Regularly: By cleaning your home regularly, you can also remove settled allergens from the floor and furniture. Be sure to use a specific allergen-proof vacuum that traps the dander rather than blowing the allergens back out into the air. When choosing cleaning products, opt for pet-safe options with minimal fragrances to reduce the chance of your cat having an allergy to these products.
Brush Your Cats Outside: Brushing your cat regularly helps to remove the loose hair and dander from their coats. Always do this outside to try and keep these allergens outside your home as much as possible.
Switch to a Self-Cleaning Litter Box: Aside from dander, cats can also be allergic to another cat's urine. As such, using self-cleaning litter boxes for multiple cats can help to limit the contact your cat has with the urine from your other furry friends. Besides, as cats prefer a clean litter box, these self-cleaning options can help promote good toilet behavior.
CONCLUSION
To summarize, cats can be allergic to another cat. A cat's immune system functions in the same way as humans and a cat's dander, saliva, and urine can all trigger an allergic response. As a predominantly airborne allergen, this causes sneezing, coughing, and wheezing. Where the allergen contacts the skin and eyes, your cat's skin and eye may also become irritated and sore.
Unfortunately, many of these cat-to-cat allergy symptoms are the same as the symptoms of all other allergies. Therefore, it is important to take your cat to the vet to help determine the exact cause. Trying some of the above tips can also help to ease your cat's symptoms and help them live a happy, sneeze-free life.