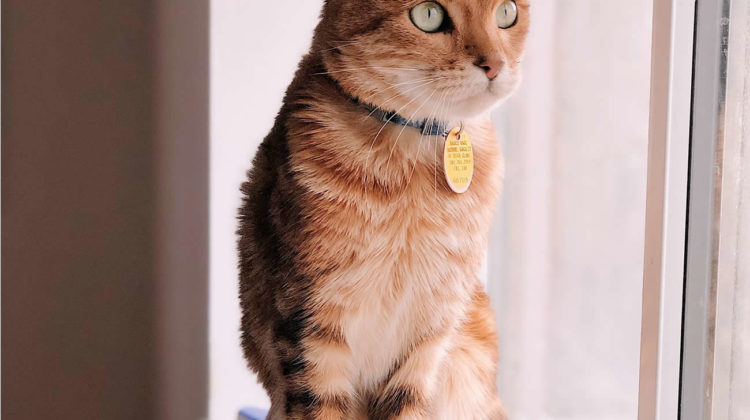 As you want to learn about flea collars, I assume your feline friend is just like mine.
Instead of spending time on a windowsill or lying on a soft pillow, I guess your cat likes to check what is going on outside.
Flea prevention is a must, especially when the weather is warming up. One of the first preventions I can think of is to use a cat flea collar.
As a pet owner who has experienced several flea infestations, I would like to add that while it can be very easy to get into this unpleasant situation, it can be very hard to notice fleas.
I hope I answered most of the questions about flea infestations and flea collars below.
But if you already know enough and want to learn my top pick:
My Top Pick

My top pick is Seresto Cat Flea Collar because this flea collar does not only provide protection against fleas, but also kills existing ones. Kills fleas through contact; no biting required. It offers long-lasting, effective protection. Even if cats don't like water, this water-resistant collar doesn't need to be removed in the rain or even for a bath. Plus, it is odorless and remains effective for up to 8 months.
Best Flea Collars for Cats
Before analyzing available collars on the market, my answer to what I expect from the best flea collar would be "I want a fast-acting collar that eradicates fleas for good".
But as you go into detail, you realize there are also other factors, such as your cat's age, product price, the chemicals used, and ease of use, that influence your expectations.
Let's keep it short here and have a look at different collars.
Highly recommended by veterinarians, Seresto is #1 in best sellers with high ratings and reviews.
I guess Bayer has a positive effect on customer preferences, as it is a well-known brand.
Moreover, Seresto is a collar that keeps all its promises about fleas, and that's why there are so many positive reviews about it. When it comes to flea collars for cats, customer reviews can be confusing, though. For example, while some customers love a flea collar, others may agree that it should be banned.
So, why do people still prefer other flea collars if Seresto is so good?
Here is the downside. Seresto is a few times more expensive compared to other products in the same category. It is even much more expensive for those who own multiple cats. And there are also flea collars that contain only essential oils instead of insecticides.
Since Seresto contains pesticides, quite a number of cat owners prefer flea collars with natural ingredients.
Below I detail several important considerations that Bayer takes into account as well:
No biting required: Some collars work only when fleas bite your cat. It doesn't make sense, right? But this is just how they work: by releasing an ingredient that kills fleas when they bite.
By contrast, a new generation flea collar like Seresto kills fleas through contact; no biting required.
It provides protection by slowly and gradually releasing low concentrations of its active ingredients into your cat's skin and fur.
Easy to use: Seresto is very easy to put on cats. This is an important consideration if you often need to take it off.
It offers long-lasting, effective protection.
It comes with reflective clips for night visibility.
A specially designed break-away mechanism: Collars can pose risks to energetic animals like cats. The break-away mechanism features a function that allows your cat to easily escape if the collar gets stuck on a tree.
Water-resistant: Even if cats don't like water, this water-resistant collar doesn't need to be removed in the rain or even for a bath.
Ingredients: It contains pesticides for sure, but it doesn't contain notorious pesticides like Propoxur, in particular, which is proved to be toxic to both cats and humans.
Pros
Repels and kills fleas, ticks and their larvae
Recommended by veterinarians
Starts killing fleas within 24 hours of initial application, and re-infesting fleas within two hours
Up to 8 months of protection
Suitable for cats over 10 weeks of age
Odorless and non-greasy
Pesticides: Flumthrin 4.5%, Imidaoprid 10.0%, other ingredients 85.5%
3-year shelf life
Water-resistant
Cons
Pricey
Contains pesticides
Hartz is the most popular choice among those who find Bayer expensive.
Most buyers are happy with the Hartz UltraGuard Collar. Even though there are dozens of affordable flea collars on the market, I think opting for a reputable brand in pet supplies poses less of a risk in terms of both effectiveness and safety. 
However, it is important to note that the active ingredients in flea collars can cause harm not only to fleas and your cat, but also young children in households with children.   
Seresto is obviously an expensive option for pet owners with multiple cats. No one can judge you to be price-sensitive especially if your cats love spending time outdoors. 
On the other hand, even though it is an affordable and desirable option, there are also other pet owners who are not happy with this flea collar. So, what could be the reason behind the disagreement among customers?
The contradicting reviews drew my attention, so I reflected on this issue. The first thing that came to my mind is the frequency of a flea infestation leads to different customer reviews about the effects of the product.
Furthermore, various factors such as the month when it is first used, and whether it is put on properly may affect the customer experience as well. Fleas in certain areas may be even more resistant to certain types of chemicals than expected.
As far as I understand, the complaints about this flea collar are mostly about the allergic reaction it causes.
Therefore, it is very important to fit the collar as directed on the instructions, and not to apply it too tight.
Some cats may develop allergies to expensive or natural flea collars, too. So, it is hard to determine whether the problem arises from the cat, product misuse or the product itself.
Hartz UltraGuard Collar is not an odorless collar, but it has a fresh, light scent. Some even say that it gives off a pleasant smell. That is a plus, because the strong smell flea collars release can be repugnant for some cats and other family members.
Pros
Repels and kills fleas, ticks, their larvae and eggs
Kills fleas through contact and provides protection from head to tail
Up to 7 months of protection
Suitable for cats over 12 weeks of age.
Pleasant scent
Water-resistant, can be used in the rain
Can be worn with a regular collar
Features a break-away mechanism, and reflectors
Cons
Can cause allergies in some cats
Adams Plus is another affordable option on the market that do not only repel fleas, but also kill existing ones.
Depending on how heavy the infestation is, you can also use the brand's other products, such as pet shampoo and pet spray. In my opinion, a wide product range is one of the factors that contribute to brand trust.
Adams Plus offers specially formulated products that can be used to remove fleas from both your cat and your house. This is an important consideration if your house is infested with fleas, as you must start treating your cat at the same time that you treat your house.
Regarding flea collars, the Adams Plus Flea and Tick collar is the most budget-friendly and reliable option for households with multiple cats.
Many customers love this collar, but let's check where most of the negative reactions revolve around.
First, some customers are skeptical about the duration of protection stated on the label.
Second, it is said that the break-away mechanism slips off so easily that some cats lose their collars. This means buying an affordable product again and again may actually cost you even more than you think.
It is not just about this brand, though. Pet owners often eliminate the flea collar option, as cats tend to lose their flea collars easily.
I think these collars are more popular among dog owners for the same reason. After all, dogs don't climb trees.
Make sure to take your own living conditions into account when evaluating such downsides. When choosing a flea collar for your cat, you should consider how often your cat goes outside or how often you have a flea infestation.
Indeed, while a collar brand works very well for one of the cats in a household, it may cause hair loss in the other cat. Whether it is the most expensive or the most popular one, not every flea collar is good for every cat.
Sometimes, cats don't like the flea collar when wearing it for the first time. Adams Plus is not an odorless collar. It doesn't really have a strong smell either, but it's not surprising if sensitive cats react to its smell at first. Of course, this doesn't mean that your cat can't wear a flea collar.
You know your cat better than anyone else. If you believe your cat's reaction is not an allergic reaction, but only against change, you can put the collar on your cat for a while every day and hope your cat gets used to it.
I think the Adams Plus collar can be a good choice if you have multiple cats that don't have a flea infestation and spend all day outside.
Pros
Repels and kills fleas, ticks, their larvae and eggs
Prevents re-infestations
Provides protection from head to tail
Up to 7 months of protection
Cons
The break-away mechanism slips off easily
It doesn't have a strong smell, but it still has some
Enriched with a variety of herbal ingredients including peppermint, rosemary, lemongrass and clove, the Arava Flea and Tick Botanical Collar for Cats takes pride in the lack of any hazardous chemicals.
The brand confidently states that it is the safest option not only for cats, but also for households with children.
Arava is a well-known company offering a wide range of products in the pet supplies sector. Even though this doesn't guarantee it is the right flea collar for your cat, it can give you an idea about how seriously they take this problem.
Just like other flea collars containing essential oils, the Arava collar gives off a strong smell when first opened, but it gets less intense in a few days. To get your cat used to the smell, try putting it on your cat for a while every day. While some cats get used to the collar right away, it may take others a few days longer.
In fact, regardless of the brand, the smell of products containing essential oils is still a subject of debate. Opinions about the smell vary among people and cats. Some love this spice-alike aromatic smell, whereas others find it irritating. It is difficult for those who are both sensitive to smells, and looking for a pesticide-free flea collar. Sometimes, your cat may find the smell unbearable, while you love it.
Keep in mind that herbal flea collars are not typically designed to kill parasites, but to repel them. So, it doesn't seem possible to eliminate existing fleas without medication. If you are going to use a flea collar for the first time, you should take this into account to avoid disappointment. It is best if you opt for natural options after you treat your cat.
I recommend choosing this flea collar for cats that don't spend much time outdoors, and in the environments that are not risky in terms of parasites. It is, of course, also a good choice for cats that are sensitive to pesticides.
Pros
Repels fleas, ticks, and hundreds of other parasites
Up to 6 months of protection
Water-resistant
A light, soothing essential oil scent
Suitable for cats and kittens of all ages
Features a micro-injection technology to infuse essential oils into the collar, using a slow-release process
No hazardous chemical pesticides, FDA-certified
If you haven't faced a flea infestation yet, and have decided an all-natural flea collar is enough, then Only Natural Pet may be a good choice for you.
It also looks suitable for owners who want to put a flea collar on their kittens, but are concerned about pesticide-based products that are not recommended for kittens.
Compounded with a natural blend of essential oils including almond, peppermint and thyme oil, this flea collar is free of traditional flea-repellent chemicals, too.
Customers including those who have reported their disappointment with the collar for a variety of reasons agree that it has a pleasant smell. Note that it still has a very strong smell when first opened.
If your cat doesn't like it or if you think your cat is sensitive to essential oils, the company suggest putting the collar on and off for a certain amount of time every day. It is recommended to get your cat used to the natural flea collar by increasing this time day by day.
Even though it sounds reasonable in theory, I still wonder whether this can be applied efficiently in practice. It's not unheard of for such budget-friendly collars to be problematic. Issues that we come across include an easy break or improper fitting. I can endure all this trouble once, but I suggest you consider whether this frequent re-buying could affect your choice.
To ensure satisfaction when buying a natural product, you should first understand its capacity well. The Only Natural Pet EasyDefense Flea and Tick Collar doesn't kill fleas or other external parasites – which means if your cat is already infested with fleas or if you are facing a flea infestation, unlike most products containing pesticides, this collar is not effective in eradicating existing flea infestations.
Of course, there is also the life cycle of fleas which makes a vicious cycle itself. There may actually be flea eggs hiding somewhere around you when you don't think you have a flea infestation. It is not easy to determine whether the fleas that emerged after using the collar are new, or among the existing ones. So, you should give flea collars a few weeks to see if they are working efficiently.
Opting for an all-natural flea collar will, for sure, increase satisfaction when used with cats that don't go outdoors much or have an existing flea infestation.
Pros
Repels fleas, ticks and mosquitoes
Up to 4 months of protection
Water-resistant
Herbal scent
Fits cats of all sizes
100% Satisfaction Guarantee
Budget-friendly
Developed by Ekoprom, these green collars feature a pleasant scent and a combination of natural ingredients. Most of the customers love this flea collar compounded with herbal oils such as citronella and rosemary oil.
It is not a coincidence that natural products stand out from dozens of flea collars for cats. As more studies show the harmful effects of pesticides on both animals and humans, the interest in products containing essential oils is also increasing.
Pros
Developed in Germany
All-natural ingredients
Up to 6 months of protection
Any cat or kitten over 7 weeks old
Safe for pregnant animals
How Do Cat Flea Collars Work?
Not all flea collars use the same method in the fight against fleas. There are different flea collar designs for cats, and they use different mechanisms to repel fleas. I will summarize these mechanisms under two headlines: traditional and new generation.
Traditional Collars
Some collars emit a gas that repels fleas. These products are cheaper, and their effectiveness is milder and relatively shorter. Moreover, these flea collars don't protect the entire body, but the areas around the head and neck. So, I can't say they are as effective in fighting against fleas.
The second type of collars release a medication that is absorbed into the cat's skin. Until recently, fleas had to bite your cat so that the medication could kill fleas by passing from the cat's body to fleas. These collars are still available today, but with emergence of new generation collars, it is becoming a thing of the past.
New Generation Collars
The active ingredients in new generation collars are absorbed through the cat's fur and skin surface, and spread throughout the body.
They kill fleas that come into contact with the cat's skin and fur. Entering the body through the lipid layer of the scruff of the neck, these active ingredients provide all-over protection against fleas. In short, they don't need to bite your cat to die. I am really glad there is no biting required any more.
Our topic is fleas, but typically, flea collars do not offer protection only against fleas. Depending on the product, most flea collars are designed to efficiently fight against fleas, ticks, mosquitoes, and flea eggs.
Some collars are even said to ward off hundreds of parasite species including internal parasites. You can check its packaging to understand what parasites a flea collar offers protection against.
They differ in designs, but all in all, these products release some type of insecticide against fleas (and other parasites). If you don't want your cat to wear a chemical-based collar, there are also herbal flea collars available today.
Natural Flea Collars
Another type of collar that requires a separate headline is flea collars compounded with herbal ingredients. The biggest difference is that they contain essential oils instead of insecticides.
Another important difference is that they don't kill fleas, but repel them. You can learn more about this type of collars in the coming pages. 
The Duration of Effectiveness in Flea Collars
The duration of protection in cat flea collars range from 3 to 8 months. While collars containing pesticides provide longer protection, natural collars can protect your cat only for a few months.
Even though brands state the promised duration of protection on the packaging, it is best to check customer reviews -especially the protection period of essential oils can be quite different from what is stated on the packaging.
Do Flea Collars Work if My Cat Already Has Fleas?
Yes, most of the time!
Apart from repelling fleas, another outstanding feature a flea collar claims to offer is to eliminate an existing flea infestation by killing fleas on your cat.
Well, why did I say most of the time? Because some natural flea collars are compounded with essential oils instead of medication, they can't kill fleas. They only stop fleas from jumping onto your cat. Depending on what you want, it is best to check the packaging before buying.
Except for natural collars, flea collars are designed to work after a flea infestation as well.
Generally speaking, I don't recommend regarding flea collars as a flea treatment. If repelling is the primary concern, then the collar will seem to be more effective.
To ensure maximum efficiency, you should be fully aware of your situation. If the infestation in your house requires a chemical treatment, a flea collar alone is probably not enough to control the situation completely, meaning flea eggs and larvae hiding in different places such as the carpet pile will soon re-infest your cat.
Make sure to get rid of flea eggs in your house before putting a flea collar on your cat. To increase effectiveness, put the collar on your cat after giving a bath with a formulated flea shampoo.
Do Natural Cat Flea Collars Work?
Should we rely on essential oils for repelling fleas?
I spent a lot of time to provide a clear answer to this question. I read hundreds of reviews and consulted my friends who use this type of collars. Honestly, I was a bit native to think that I could come up with a clear answer. What is certain is that checking reviews may make it even more difficult to decide because they fall into two opposing points of view. Here is a list of their opinions:
"Yes, these collars do work"
Some cat owners who can't use a medication-based flea collar for their sensitive and allergic cats are happy with these natural products.
Concerned about toxic chemicals, many pet lovers prefer natural products even though their cats are not allergic to medication. I think herbal flea collars can achieve satisfying results if the infestation is not heavy. After all, these collars can repel fleas, but they are not effective in killing them.
However, it is important to note that herbal products may cause some cats to develop skin irritation and hair loss around the neck. Just like chemicals, essential oils in these products may negatively affect some pets as well. Always remember that herbal or natural don't necessarily mean they are harmless.
"No, these collars are definitely not working"
Unhappy customers consider these collars as plastics soaked in essential oils.
They don't work in cats that go outdoors often, resulting in a waste of time and money.  I understand the disappointment you feel when things go wrong while you actually think you are doing something good for your cat.
As I said earlier, I think expectations beyond the capacity of a product lead to a greater disappointment. We can't expect to solve a problem with the smell of rosemary if a veterinary consultation is needed.
Another important consideration is that a so-called herbal flea collar may contain some toxic chemicals that you avoid. Always make sure to check the packaging and read the label carefully.
Even though the rumors concerning its lack of effectiveness is still around, the number of pet owners that prefer a herbal collar is increasing every day.
You may think "Everyone should prefer natural collars to toxic chemicals" at first, but the fact that natural collars cannot kill existing fleas affects the preferences of cat lovers who suffer from an existing flea infestation. They are not the first choice in most flea-infested households.
Should You Use a Flea Collar on Your Cat?
As a pet owner, you are in the best position to answer this question. Your answers to the following questions will provide you with more clarity regarding my point.
How often does your cat go outdoors? Especially in hot temperatures!
Does your cat spend a lot of time with other animals?
Do you have multiple cats?
Has your cat suffered from a flea infestation before?
Are you on a tight budget to protect your cat against fleas?
Is your cat sensitive to other flea treatments such as drops and pills?
The more "yes" you have, the closer you are to using a flea collar.
It is true that some veterinarians are against flea collars due to its active ingredients, and some customers find them useless and unnecessary. However, flea infestation experiences vary greatly across people -maybe it is better to say cats-. If they didn't, I guess there wouldn't be so many users who write positive reviews and give five-star ratings for a wide range of flea collars available today.
Let's take a different approach: Why do some owners put a flea collar on their cats? Reading the following considerations can help you decide whether to use a cat flea collar.
Affordable Price
With so many options out there, everyone can find one that fits their budget. There may be times you have difficulty financing a flea treatment, vet bills, and medications. In this case, flea collars will stand out from budget-friendly options -especially in summer when we socialize more and spend more time and money outside!
Easy to Use
Some cat owners may have difficulty putting the collar around the cat's neck, but continuous protection for months sounds great. Have you ever tried to give a cat a pill? As you might guess, this should be covered in a separate article. In short, regularly giving a cat pills or drops can be very challenging compared to putting a collar on.
Duration of Protection
Offering up to 8 months of protection, flea collars do not only relieve itching, but they also provide long-lasting protection against serious health conditions caused by parasites, such as flea bite allergy. It is a good choice for adventurous cats that come in and out of the window and get lost for days.
Topical Medication Allergy
The first solutions to a parasite problem that come to mind are topical cream or drops. However, sometimes these medications trigger an allergic reaction in the cat, making a flea collar a better option.
Flea Infestation
You may need a chemical treatment of your whole house if you don't immediately treat your cat. This is a costly operation and you may not go back to your house for a while. It is even more difficult if you have a child, or if you don't have any relatives or friends that you can go to. To prevent a flea infestation from starting in the first place, I recommend you give flea collars a try.
Can a Cat Be Allergic to a Flea Collar?
Considering that there are a variety of flea collars made from different materials and typically contain flea-repellent chemicals, a cat may, of course, be allergic to flea collars. Some cats also develop an allergic reaction to essential oils in natural products containing herbal ingredients.
What kind of allergic reaction your cat may develop depends two factors: 
Material
Different brands use different materials. So, you can't really know if your cat is allergic to the material until you use it. Different kinds of materials, such as leather, fabric, plastic, and vinyl may cause irritation in your cat's skin.
Cats experience symptoms of skin allergies including itching, redness, skin lesions, hair loss especially around the collar area.
If you notice any of these signs, remove the collar immediately and take your cat to the vet. It may take a long time for symptoms to go away after removing the collar.
Chemicals in Flea Collars
We already mentioned cat flea collars use chemical ingredients to repel fleas. Some cats develop an allergic reaction to these compounds, resulting in common symptoms of allergies including vomiting, diarrhea, and swelling rather than local redness.
Don't base your decision on the causes of allergies and assume that the most expensive product on the market could protect your cat from allergies. There is a significant number of cats that don't even like best-selling, top-rated products, and start scratching from the first day. On the other hand, there are also cats that use the collar with no problems at all and develop allergies after a long time (e.g. through direct contact of the collar with the cat's skin after a haircut).
Herbal Oils in Flea Collars
Most people think words such as herbal, natural, organic mean "harmless", but this is not the case. Certain essential oils may cause irritation in cats. Your cat may be sensitive to an essential oil known to be harmless to cats, and produce an allergic reaction.
Another thing is that if you have purchased a natural collar from an unreliable brand, it may contain a pesticide that is not stated on the label. Your cat can be allergic to one of the essential oils or an "unknown" pesticide in the collar.
Are Flea Collars Safe for Cats?
In general, cat flea collars are safe for cats.
They are manufactured to meet certain standards. As information about aging in cats, duration of protection, and what ingredient is safer is updated every day, pet supply companies are also developing their products based on this information.
Nevertheless, exceptional cases -brand's liability for negligence, or product misuse as we call it- may still arise questions regarding how safe flea collars are. Even though I believe they are safe to use, I have to say that there are also pet owners who had the worst experience of their lives because of a flea collar.
Let's find out when a flea collar may not be safe.
Chemical ingredients can be toxic sometimes. New generation collars focus on various precautions, but not everyone has the chance to get these products. Therefore, depending on the product you choose, there may be pesticides that are toxic to animal and human health in your house.
Here are additional safety considerations to keep in mind:
Considerations to Make When Buying a Cat Flea Collar
What material is used? -plastic, leather, dyed etc.
What chemicals does it contain? -pesticides, essential oils etc.
What age, height and weight ranges is it suitable for?
Does it open quickly in an emergency or in a harder pull? (break-away mechanism)
Is it easy to put on properly? Is it physically easy to do that? Are the instructions clear enough?
As I mentioned above, if your cat develops an allergic reaction to a flea collar, this product will be eliminated from your "safe category". If you think a flea collar contains herbal ingredients while it actually has 3 different toxic chemicals as shown on the label, then it will no longer be a safe product for you.
Apart from its active ingredients, a collar must be safe in terms of physical features, too.
Our primary expectations from safe flea collars in terms of use:
It can easily pop open, clip off in a harder pull, but cats can't slip out of it easily.
My cat can't lick or chew the collar when it is on.
No loose or tight fitting required.
We assume that someone designing a flea collar knows how adventurous a cat is or how they groom themselves.
Cats can climb trees, slip through the bars, or pass through an opening in a high wall. It poses a serious problem if the collar gets caught in such situations, like on a tree branch, and doesn't open. For this reason, the break-away feature is an important consideration when buying a flea collar for outdoor cats.
There is no doubt that you want the best for your cat, but to avoid any unexpected situations, we should be realistic about what kind of product we buy. Reading reviews, carefully checking the ingredients, taking actions depending on how severe the problem is, and of course monitoring your cat will help to ensure safe use.
Cat Flea Collar Side Effects
As with any chemical-based product, flea collars may also cause some side effects.
You must pay attention to any potential allergic reaction, especially if pesticides are involved.
Pesticides
We know that the main topic of discussion about cat flea collars is the side effects of pesticides used in some collars. Research has shown that these chemicals are not only harmful to pets, but also to humans that come into contact with the collar. Based on the ingredients they contain, some brands are not recommended for use in households with children.
Some of these toxic chemicals are Propoxur, MGK 264, Phenothrin, Pyriproxyfen and S-Methoprene.
If the pet is in contact with children, for example if there are children in the house, please consult your veterinarian before buying a collar, and even your child's doctor if possible.
Keeping your cat separated for one day after applying the product will ensure less exposure to toxic chemicals in the collar.
The degree of exposure to chemicals in a collar is closely linked with its design. Always make sure to wash your hands with soap and water immediately after each exposure and avoid contact with your pet right after putting on the collar.
I can hear you ask, "Who would put a potentially dangerous collar on their cat?".
The street cats we used to feed in our backyard were once infested with fleas, and one of our neighbors brought a dozen of collars that stated only "flea collar" on the packaging. This is a good example showing why you should wash your hands thoroughly.
Essential Oils
That is not the case only with collars, though. People often tend to regard a product as harmless if it says herbal on the packaging. However, essential oils contain chemical compounds as well. So, your cat and even you may be allergic to these oils.
A strong smell may trigger side effects such as dizziness and sickness. Natural collars may also lead to side effects including hair loss, redness, skin irritation around the collar area.
New Generation Flea Collars and Their Side Effects
New generation flea collars are trying to minimize the side effects I listed above. Honestly, I would be very surprised if they didn't because people are becoming more conscious about health, and it is much easier to access information now.
In addition to changes in the chemicals used, more precautions are also taken regarding the release of these chemicals from the collar to the pet's skin. Promising design innovations include slow release, using low doses of medication, releasing it only when in use, preventing immediate transfer of medication to hand.
How Long Does It Take for a Cat Flea Collar to Work?
Most of the products on the market are branded with an "instant" effect label.
A short study reveals that the "instant effect" statement usually means that the flea elimination effect will start "within 24 hours". To avoid any misunderstanding: No flea collar promises a complete elimination of fleas in one day. However, with a suitable collar, your cat will be showing signs of relief in a short span of time.
A 3-4 week of use is generally recommended to close the flea issue for good. Considering how stubborn fleas are, even one month of use can be an optimistic expectation in some households.
Why does it take so long? An important factor negatively affecting the elimination is the life cycle of fleas rather than the effectiveness of the collar. Adult fleas can't resist the medication and die quickly. However, the flea problem persists because of flea eggs, larvae, and pupas that will soon hatch into adults. It is quite hard to remove or kill them.
Not all flea collars target only adult fleas. Keep in mind that, there are products providing solutions for younger flea forms, too.
If you think that the problem is not as easy to be solved by a flea collar, consulting a vet would be the best thing to do.
Using drops or tablets alongside a collar treatment can accelerate the process considerably. Never decide on such treatments on your own. Always consult an expert to determine what other treatments can be used with a collar containing medication.
How Long Should a Cat Wear a Flea Collar?
Flea collars are designed to remain effective for a long time (7-8 months).
If you compare different products, you will notice different brands make an effort to prolong this duration. Of course, certain features such as the active ingredients and the targeted parasite forms lead to variations in durability. The duration of use varies from collar to collar.
The most prevalent periods for fleas are the spring, when cats start spending more time outside, and especially the summer. Therefore, you should be cautious for quite a long time. Your cat can use a flea collar for this whole period.
A new generation flea collar remains effective as stated on its label (3-8 months). The duration of use depends on how often your cat goes outdoors, whether your cat is allergic to a flea collar, how often it is used, the chemicals used, and any potential side effects.
However, if you are using a flea collar to eliminate a flea infestation instead of preventing it, you should follow the instructions carefully to ensure effective use. The recommended period could be around a couple of weeks.
An indoor cat may never need a flea collar. By contrast, if your cat frequently goes outdoors, you may prefer to use a flea collar.
If you put a flea collar on your cat after a flea problem, you can expect it to be totally under control. If you are sure there is no flea larvae left, and if you know how your cat got infested and that it is not going to happen again, you can stop using the flea collar.
What is the Best Flea Collar for Kittens?
In general, a cat is considered a kitten until 12 months of age.
A flea collar can be harmful to young kittens when used in the first months, and thus should be avoided.
Therefore, flea collars must clearly state the minimum age of use on the label. For example, the Seresto Cat collar is suitable for cats over 10 weeks of age, but if the product you buy has no label for age, it is best not to try it on your kitten.
There are also natural collars containing essential oils instead of insecticides. Most of them claim to be safe for kittens, too.
I recommend you check these products carefully by considering factors such as manufacturer, company references, and customer reviews. It is not worth taking risks when it comes to a kitten. Herbal ingredients, "organic" and "natural" words don't mean they won't cause an allergic reaction in your cat.
On the other hand, even if the collar is safe, some kittens may not like the smell of essential oils used in it. So, the only way to find the right natural collar for your cat is to try.
The most common flea treatments for kittens younger than 12 weeks include a bath and oral tablets recommended by a vet.
Information About a Flea Infestation
After giving information about protection from fleas, treating an existing flea infestation, cat flea collars and how they work, now I want to inform you about what a flea infestation in cats is, how it occurs, its signs, and the potential health problems it may cause.
How Do Cats Act When They Have Fleas?
Of course, there are some symptoms to list, but don't think your cat will send you such distinct signals that you can detect it right away. As you might guess, itching is one of the initial symptoms, but it may not always be enough for an early diagnosis.
While indoor cats are at a lower risk of catching fleas, free-spirit cats that occasionally go outdoors are more likely to be infested with fleas. 
Signs of a flea infestation may include scratching around the head and ears, chewing on or biting themselves, hair loss due to excessive scratching, bald patches, and dark brown dirt (flea feces) on the skin.
Lethargy and fatigue are among the behavior changes triggered by fleas.
Don't be sure that you will immediately recognize these signs. In most cases, by the time fleas bite your ankle or you notice black flecks in your cat's white fur, fleas may have already infested your home.
I think regularly combing your cat with a flea comb is one of the best ways to notice a problem before it gets out of control.
What is the Fastest & Safest Way to Get Rid of Fleas on a Cat?
Step 1: Visit your vet!
Step 2: Apply the treatment recommended by your vet!
Once fleas infest your cat, only a few of them start laying hundreds of eggs around. If not treated, these eggs, which will soon hatch into adults, indicate a weeks-long flea infestation.
Don't find it strange that I don't include cat flea collars in the first place after mentioning them so many times. It is not possible for me to know how heavy the infestation is, or how restless your cat feels. If I am going to tell you about the fastest and safest way, then I should be careful about it.
If you suspect your cat is infested with fleas, you should first consult a veterinarian. The vet will initially recommend a treatment to relive symptoms within one day. Drops or chewable tablets are effective in eliminating both existing and new fleas.
Following different treatment methods at a time can be dangerous!
Some pet owners may think using flea drops in addition to flea collars produce faster results. Honestly, after surfing on the internet, I also told myself "I can try everything here, and wait for one of them to work!". Luckily, I had a feeling that it could lead to undesirable results.
Always make sure to consult a vet before coming up with a combination of treatments in panic. If both treatments have the same active ingredients, and you don't know that, you may face a new and dangerous problem like overdosing or an allergic reaction.
Apart from the first two steps, what do cat owners do to get rid of fleas?
Bathe your cat with a specially-formulated flea shampoo.
Use a flea comb to remove fleas on your cat.
Flea collars or drops can help to keep new visitors away from your cat.
After vacuuming your house thoroughly, use a household flea spray or flea powder to eliminate fleas.
How Do You Get Rid of Cat Fleas in Your House?
If you think "I will relieve my cat's itchiness first and then treat the house,", you are wrong.
You must treat your cat and your house at the same time!
I mentioned fleas lay so many eggs around. That's exactly why many pet owners encounter new fleas on their cat, while they actually think they have eradicated all the existing fleas.
As soon as you start treating your cat, you must also vacuum the entire house thoroughly, wash and iron all fabrics such as bed covers and pillowcases, and consider extra treatment options like a steam carpet cleaner.
Make sure to eliminate fleas and flea eggs from every area and corner your cat has access to.
I am sorry it is a tiring process, but you must clean the balcony and doorstep as well.
If you check the insecticide section, you will see there are a variety of products specially designed to get rid of fleas in the house. Anti-flea powders or sprays can provide good support for your struggle. These products are used in different forms like spraying on walls or sprinkling onto carpets.
Always follow the instructions carefully when using this type of flea products. Most importantly, always make sure to learn about possible side effects that could affect your cat and other family members.
Professional Pest Control Services
There may be situations you can't handle with your own cleaning methods, which is very normal when it comes to fleas. If you can't eliminate the infestation on your own, you may need to contact a professional disinfection company.
Those who are unfamiliar with the subject may find it surprising that things can come to this point, but there is a significant number of people like me who have an appointment with a pest control company every summer.
There are numerous suggestions on the internet, including a great variety of natural options such as diatomaceous earth, vinegar, salt, and eucalyptus oil, to eliminate fleas in your house. This topic should be covered in a separate article, but if you are against medications, you can check these methods, too.
Obviously, controlling fleas on your cat alone is not enough to solve a flea problem. Besides, as fleas pose a serious health risk to both animals and humans, ignoring a flea problem is definitely not an option.
For more information about infestation, precautions to take, and disinfection process, please see our previously published cat flea infestation article.